Camp Chef Everest Overview
To me, car camping has always felt like a luxury. No worries about what to bring and what to leave, no stress about how much your pack weighs, and no dehydrated meals that all manage to taste basically the same regardless of what flavor they're actually supposed to be. Seriously people, we can send a rover to Mars and yet my freeze-dried chicken pad thai still tastes exactly like my spaghetti with meatballs?
My only complaint with car camping was that our old two burner stove could really only heat one pan at a time, meaning you had to decide between hot veggies or hot beans — never the twain did meet. That is, until we busted out the Camp Chef Everest stove. With 20,000 BTU on each burner and a wide enough surface to accommodate two real pots or pans we now get to have hot beans and weenies. What a time to be alive.
We're recommending the Camp Chef Everest stove as our Premium Pick for the Car Camper.
There were a few camp stoves that competed with the Everest for the Premium Pick category, especially freestanding stoves with two and three burners. While these are excellent, we don't think the average camper would want one, as they are heavy and huge. If you're cooking for large groups and need a master chef workspace, consider one of these stoves, like the Camp Chef Tahoe.
If you're wondering what stove to get, check out our comprehensive camping stove guide! Scroll below for the full Camp Chef Everest review.
Camp Chef Everest Star Rating
Size

Simmer

Ease of Setup

Boil Time
Summary
With every built-in feature you could want, including push-button start, a built-in windscreen, and super-precise flame control, the Camp Chef Everest camp stove allows you to enjoy all the amenities of cooking in the great indoors, but, you know, outdoors.
Update: We tested the Everest in 2017. The Everest stove is a core model for Camp Chef and it has not received any updates since. It remains an excellent car camping stove!
Camp ChefEverest Camping Stove Specifications
Feature Type
Feature Specs
What This Means
Weight
12 lbs (5.44 kg)
This is a slightly heavy weight for a compact double burner stove. The Everest is longer than most stoves, which adds up to weight. Don't plan to hike with it and you'll be fine.
Stove Type
Compact Double Burner Stove
The most popular type of camping stove. Two independently controlled burners means you can cook full meals. The Everest is a little less "compact" than others due to its size, but that means more room for large pots and pans. More on camping stove types in our Guide.
Fuel Type(s)
Propane
This stove runs on propane, specifically the 16-ounce green canisters. This works for most people, but if you want to use a propane tank you can buy an adaptor. More on camping stove fuel types in our Guide.
Output
20,000 BTU/hr per burner
Each burner can output 20,000 BTU/hr, which is double most camping or backpacking stoves. This thing can cook on high. More on camping stove output and BTUs in our Guide.
Simmer Ability
Excellent
Due to the high output, the Everest has extreme simmer control. Cook eggs, onions, and sauces at will. More on camping stove simmer ability in our Guide.
Wind Resistance
Yes
The Everest has three wind blocks, like most compact double burners. You use the lid of the stove as the back, and slide two wings into the body. More on camping stove wind resistance in our Guide.
Boil Time
2 minutes per 1 Liter of water
This is a rough calculation, but our tests showed the Everest could boil quite quickly when cranked to high.
Piezo Ignition?
Yes
An easy push button allows you to start this stove without fire. It works well, too. More on how Piezo ignition works (and what it is) in our Guide.
Included Items
Stove, Canister Connector
The Everest is basic. It serves as its own protective case (just close the top), which has a handle for carrying and built-in wind screens. The only "separate" piece is the connector for the propane canister.
Dimensions

23.5 x 

13.5 x 4 in.

The Everest is nearly two feet long, allowing plenty of room for large pots and pans.
Manufacturer Warranty
One Year Manufacturer Warranty
While Camp Chef is a reputable company that makes high quality products, the one year warranty is unfortunate. Most stove companies don't offer great warranties, but three years is more common. If you spot an issue with your stove, send it in ASAP.
Retail Price
$124.99
A high price for a fine cooking machine. If you consider yourself a camp chef, the Everest will be worth the investment.
Gear Review of the Camp Chef Everest
Revelation: The Moment I Knew
Camping in the San Gabriels was more than just a weekend getaway for my boyfriend and me. We were giving several of my co-workers their first ever taste of camping and I wanted everything to be perfect. We'd packed everything you could need to be comfortable, including all the camp chairs we own, multiple hammocks, and enough s'mores to feed every Girl Scout in Southern California.
At the center of it all was the Camp Chef Everest stove.
We arrived at camp before the rest of the group and I quickly got to setting everything up. I've never been one to read the instructions on a new piece of gear, and I'm glad to report that the Camp Chef Everest stove didn't break that streak. The set up for this stove is simple and intuitive — everything snaps easily into place.
And when it was time to cook, the push-button start made lighting the stove a breeze.
As we cooked dinner that evening, someone said with awe, "I think this stove is actually nicer than the one in my apartment," a comment which garnered nods of agreement from hungry onlookers. Certainly with its removable grills and stainless steel drip tray, the Camp Chef Everest is easier to clean than my apartment stove. Maybe it's a sign I should start living outdoors.
Digging Deeper
After testing it for the full weekend, the Camp Chef Everest leads the pack of car camping stoves, and with its myriad features it's easy to see why.
Stability
Previously I'd always been frustrated by our old camp stove. Despite having two burners it could really only accommodate one pan, and it always felt ready to tip over. The Everest provides a wide base and more than enough grill space for two pans. I never once worried about it sending our dinner onto the ground to the eagerly waiting dog.
Simmer
Here is a pro-tip for you new campers out there: anything that requires 40-50 minutes of simmer time is not ideal camping food. I didn't think to mention that to my friends beforehand, so one couple brought soup that required nearly an hour of cook time.
In the past, this would have meant hovering over the stove, managing the balancing act between roaring flame and off to keep it from burning. With the Camp Chef Everest, it meant turning the dial down to simmer and walking away. Another great example of how this camping stove is better than the one I live with on a daily basis. (I'm serious.)
Ease of Setup
As I mentioned, this stove is incredibly easy to set up and operate. Simply open the lid to snap the windscreen in place, attach the fuel line and fuel bottle, and you're ready to go. From box to first use, the Everest took less setup time than my boyfriend spent fixing my co-worker's badly pitched tent.
Boil Time
The next morning I awoke to the sun streaming through the trees and the steadily rising temperature of a Southern California summer. I bounded from my tent with the knowledge that there is one thing that stands between a good morning camping, and a bad morning camping: coffee.
Luckily for me, and our novice camping friends, the Camp Chef Everest boils water in about two minutes, thus making it more effective than both my home stove and home microwave. Seriously people, if you need to find me, I'll be outside with my new love, the Camp Chef Everest stove.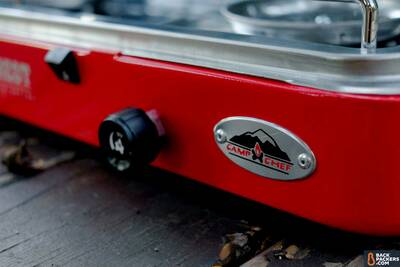 Grievances
Packing up and driving home revealed the only two issues that I found with the Everest.
The first is the windscreen connection. It feels a little flimsy where the metal sides slot into the cover to prop it up. It certainly works, but I fear that with repeated use these small metal connectors could start to warp and eventually break off. Only time will tell, but a lifetime of stove experience made me spot this one right away.
The other issue became apparent while driving at any speed over 20 mph. The Camp Chef Everest has a detachable fuel line, which makes for a smaller profile when packed. However, the fuel line doesn't have a real home other than sitting inside the drip tray, which rattled away for the two-hour drive home. In the future I'll wrap it in some newspaper or cardboard.
Final Word
The Camp Chef Everest stove performed admirably for two days of heavy use from a group of novice and experienced car campers. Its ease of use, powerful two-burner system, and stable design meant that no food was burned, undercooked, or covered in dirt, despite the pleading eyes from the camp pup.
Where to Buy Camp Chef Everest Camping Stove
We tested the Camp Chef Everest, sometimes called the Camp Chef Everest 2 Burner Camping Stove (or some variation of that). Camp Chef only offers one version of this exact stove, so it's not complicated to buy this model. That said, Camp Chef does have a ton of other stove models. We like the Everest because of its simple yet useful feature set and premium-build quality.
Compare prices for the Camp Chef Everest below.
Review Policy: We do not accept payments or gifts from brands and vendors, and strive to provide unbiased, independent advice. Brands typically provide review samples which we return, and in some cases we purchase the item so we can keep using it long after the review. Affiliate Policy: We support the hours that go into our reviews and testing through affiliate commissions on purchases made through links in this article. These don't effect the outcome of our reviews or selection of gear, as per our Review Policy.