Columbia Sandy River Shorts Overview
Are you seeking new shorts for summer that hold stuff, stay in place, and offer full-booty coverage? Then put the Columbia Sandy River shorts on your short-list (get it?!).
The Sandy River shorts are a classic loose-fitting leg opening with a hem that rests a healthy distance between the knees and rear. They're constructed with 100% nylon and 30-UPF OMNI SHADE fabric, have one zippered pocket in the back, and two side pockets. The waistband is simple, with one draw cord that rests above the hips.
And that's it. No joke.
The Sandy River shorts can pack very small and are made for all activities with the ability to dry fast from sweat or water, making them solid companions for all types of travel.
With exceptional functionality that comes at a more-than-reasonable price point, the Columbia Sandy River shorts won our Budget Pick for women for nearly every Backpacker Type. (Some Urban Hikers may want something with more style).
Columbia Sandy River Shorts Star Rating
Comfort

Durability

Dry Time

Breathability
Summary
Simple, comfortable and functional, the Columbia Sandy River Shorts are multi-use for days spent outside, inside and everywhere in-between.
Read the full Columbia Sandy River shorts review below and see where they stack up on our  guide to the Best Hiking Shorts.
Columbia Sandy River Shorts Specifications
| Feature Type | Feature Specs | What This Means |
| --- | --- | --- |
| Weight | 4.13 oz. (117 g) | Very lightweight. A combination of few features and thin material make these shorts exceptionally light. |
| Type | Casual Water | These shorts have a casual fit and are built for wet activities, whether that's swimming, hiking in the rain, or just a lot of sweat! |
| Material | 100% Nylon Perfecta Plus II with OMNI SHADE | Nylon shorts with Columbia's OMNI SHADE technology, which is their UV-protective line. Highly breathable, lightweight, and they pack up small. |
| Zippers | 1 | One zippered back pocket is great for securing small items. |
| Pockets | 3 | There are two good-sized hand pockets on the front, and one zippered back pocket. Just enough room to store a few items. |
| Waist | Elastic with drawstring | The waist is fully elastic, and there's a drawstring to hold them up! |
| UPF | 30 | Decent UPF rating, though not the highest around (typically 50). |
| Fit | Casual | These shorts fit fairly casual, with wide openings at the leg for easy breezy movement. |
| Manufacturer Warranty | 1 Year | Columbia doesn't offer the best warranty in the world, but there aren't too many pieces of this hiking short that can fail. |
| Retail Price | $24.99 | A relatively low price for brand-name hiking shorts, and they are often on sale. |
Gear Review of the Columbia Sandy River Shorts
The Columbia Sandy River shorts have a few critical things going for it. First, no PBS —  Plumber Butt Syndrome, for those who don't know. And that is reason enough in my book. But it's more: pockets that can fit a modern cell phone inside a crash-proof gargantuan case. And the back pocket that zips tight, perfect for money, keys, and seashells.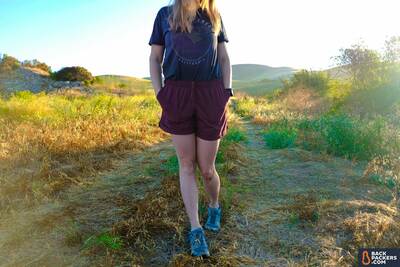 The moment of "revelation", however, was after a long, dirty day in my new garden. After moving from Seattle to a farm in California, I have reignited my passion for gardening and spend my weekends cleaning, weeding, and digging.
The Sandy River shorts, sitting at about the hips and covering just enough leg, remained in place perfectly for my entire yard cleanse. Not once did I have to pull them up, push them down, or mess with them in any way. If you have ever worn a pair of shorts that require too much attention, you will know what a lovely thing this it.
Comfort
– 5 Stars
The Sandy River shorts are some of the best athletic shorts I have worn for a variety of reasons. The material is lightweight, flexible, and airy.  The waistband does not cinch too tightly and the leg openings are billowy. They stay in place and allow you to live your life — whether that's on a trail, beach, or in the garden.
Durability 
– 4 Stars
As long as you're not scraping your bum down a gritty rock face, the Sandy River shorts hold up and stay intact. The material is thin, but I never felt like it would tear easily. Keep in mind, then, that these may not be best for adventuresome bushwackers and climbing enthusiasts. There are other shorts for that.
The reason for one less star is because the strings that tighten and secure the waistband seem to be loose. They just don't hold as easily as they could. That said, it does not seem to compromise the integrity of the product.
Finally, the material is quite thin and shows dirt and sunscreen easily. I don't mind much, especially for outdoor activities, but some folks might.
Dry Time
– 4.5 Stars
The Sandy River shorts are made of lightweight nylon and dry fairly quickly. Also, since they're a looser fit they will dry while worn.
The waist band does not rub (and stays in place), making them a continually comfortable short, even after a few drops of sweat or a full dunk in the river.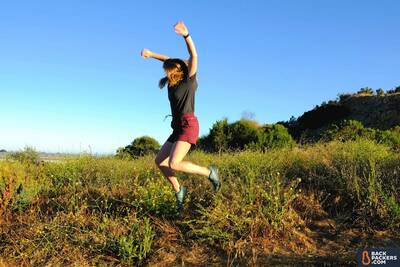 While at a Central California coast lake during 98 F weather the shorts dried in less than 20 minutes. This experiment may not be the best, since not all wearers will be at excessively hot lakefronts in a desert climate, but it's a basic frame of reference.
Breathability
– 5 Stars
The Sandy River shortshave a loose fit and lightweight materials, making them automatically breathable. You won't feel constricted in the slightest with these shorts.
Fit
With wider leg openings and a higher waist, the Sandy River shorts fit just fine for a variety of bodies. While I typically wear a Medium in clothing, I could have sized up or sized down in these, just because of the stretchy waistband and wide leg openings.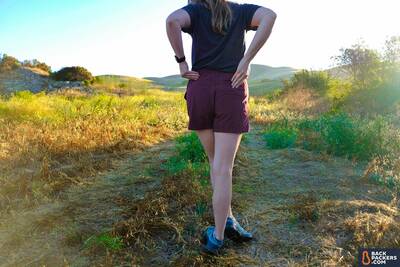 While they have a slightly longer inseam length than most female-specific shorts, the Sandy River shorts did still "ride up" between the thighs. Let's just acknowledge that everyone has different width thighs and this is a very normal thing to think about when purchasing shorts. If you are looking to avoid the "ride up" between the thighs experience, consider getting shorts that come closer to the knee.
Another note, the Sandy River shorts are a good fit for most people. My boyfriend put them on, thinking they were his, and did not notice until he asked if I shrunk his clothes in the laundry — no, darling, those are lady shorts.
Grievances
The Columbia Sandy River shorts perform as they should — easy to wear, fairly durable, and packable for any trip.
My main concern comes from a shallow point, that may (or may not) speak to other women. Since they sit a bit higher than the hips, the flowy fabric has an unforgiving tendency to make the wearer look bloaty, or chunky, when a shirt is tucked in or even over the waistband. But since they sit higher, it was kind of nice to wear these shorts with solely a sports bra and not feel entirely naked, as more fabric was covering your torso.
Given the above, these shorts don't make sense for most Urban Hikers, who may want something stylish in the city. If you care about this sort of thing, check out our guide to the Best Hiking Shorts and see if a certain style works for you! If you don't, then it ain't no thang.
Final Word
Easy, breezy, and made for those not interested in being Cover Girls, the Columbia Sandy River shorts are ready for adventures, errands, and outside play.
Where to Buy Columbia Sandy River Shorts
We tested the standard Columbia Sandy River Shorts. Columbia offers this model in plus sizes as well, which is awesome!
Columbia also offers the Sandy River Cargo Short, which is similar, but more rugged. The Cargo Short version comes with a belt, more pockets, a thicker fabric, and a six-inch inseam. If you're looking for a more cargo-oriented hiking short that's heavier, this is a great short to look at!
We love the original Sandy River shorts as they are so breathable and easy to use in most environments, especially when you're not carrying many items in your pockets.
Compare Columbia Sandy River Short prices below.
Review Policy: We do not accept payments or gifts from brands and vendors, and strive to provide unbiased, independent advice. Brands typically provide review samples which we return, and in some cases we purchase the item so we can keep using it long after the review. Affiliate Policy: We support the hours that go into our reviews and testing through affiliate commissions on purchases made through links in this article. These don't effect the outcome of our reviews or selection of gear, as per our Review Policy.