Hiking shorts are the all-stars of hiking and backpacking gear. The best hiking shorts kick sweat and chafe to the curb, provide functional pockets for your essentials, and give your derriere a sporty sense of style. There are many types of shorts to choose from, including running shorts, cargo shorts, and tights. What's your preferred style?
The best hiking shorts can be seen gracing the backsides of outdoorsfolk from the trailhead to the taproom. They're one of the most versatile pieces of gear in your outdoor arsenal, and they ought to be one of the most scrutinized items on retail shelves. They're great for summer, but many adventurers wear shorts year-round.
That's why we've filtered through the best hiking shorts on the market today and detailed them below. Remove thigh chafe from your memory by researching and selecting the perfect hiking shorts for your needs. Keep reading to see our top picks and important information to help you choose your next pair.
Best Hiking Shorts Comparison Table
The Best Lightweight Hiking Shorts
Patagonia Quandary Shorts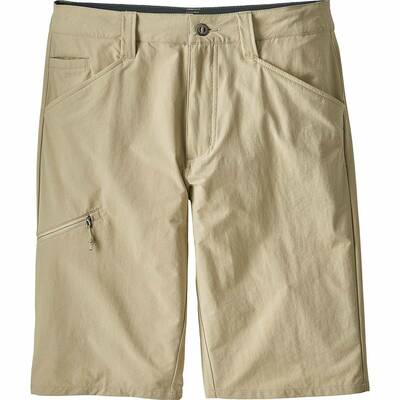 The Patagonia Quandry Shorts are a classic pair of stylish cargo hiking shorts. Similar to the prAna Stretch Zion and Columbia Silver Ridge, the Quandry shorts are do-it-all protection for your legs while hiking, backpacking, walking, and just hanging out. They are also cut down from the Quandary Pants, a premier hiking pant from Patagonia.
The Quandry Shorts utilize stretch nylon and spandex to create a very comfortable, flexible fabric that moves as you move. They have belt loops and a button and zipper closure like normal shorts and come in three ranges of inseam for men (8-, 10-, and 12-inch), and in 5-inch inseam for women. These shorts (as are most cargo shorts) are all about the pockets: two front hand pockets, two back drop-in pockets, a zippered thigh pocket, and a small coin pocket allows you to store items in multiple places, perfect for hiking. The women's version has just four pockets, with a single zippered back pocket for secure storage.
Overall, these shorts are slim fit, very active, provide sun protection and dry quickly when wet, all while weighing well under 10 ounces. If you want a premier hiking short of the cargo variety, and want something lighter than the Stretch Zion and higher quality than the Silver Ridge, the Quandary are for you!
Patagonia Quandary Shorts Star Rating
Comfort

Pockets

Durability

Dry Time

Breathability
Summary
With the Patagonia Quandary Shorts, the only quandary you'll have is finding space in your closet for the full collection of these stretchy, durable adventure shorts.
Read Full Review
See Women's Patagonia Quandary Shorts
See Men's Patagonia Quandary Shorts
---
The Best Hiking Shorts for Men
prAna Stretch Zion Short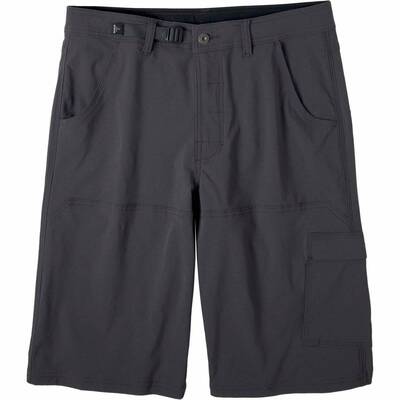 The prAna Zion Shorts are high-end, iconic hiking shorts. They're made of incredibly abrasion-resistant fabric, known as Stretch Zion, which can take a beating against rock faces, gravel, thorny trees, and beside the campfire. The fabric also dries relatively quickly and stretches incredibly well.
The Stretch Zion shorts have five pockets, four of which are fairly standard front and back hand pockets, and a hook-and-loop closure cargo pocket. This allows easy storage, but not quite as much as other cargo shorts on this list. The Stretch Zion is the more hiking-oriented version of the Brion Short and compares well to the Patagonia Quandary and Columbia Silver Ridge. They're heavier than Quandary and more durable, and better overall than the Silver Ridge.
If you want the premium cargo hiking short, get the prAna Stretch Zion. They are ranked number two on this list because there's no direct women's counterpart. A similar women's hiking short from prAna is the Olivia.
See Men's prAna Stretch Zion Short
---
The Best Hiking Shorts for Women
Columbia Sandy River Shorts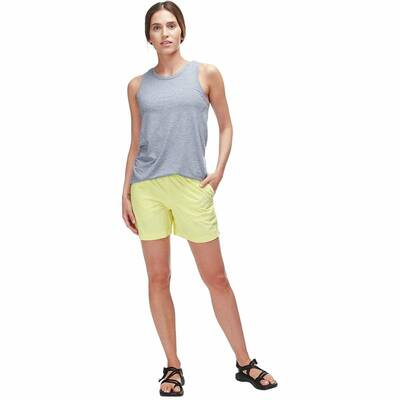 The Columbia Sandy River shorts are very comfortable quick-dry shorts made for women. They are casual and can be worn in the backcountry, around camp, at the beach, or even around the house.
Pretty much a universal-style hiking short that is easy on the features, with just an elastic waistband, one zippered back pocket that has a drainage hole, and two open hand pockets. They're quite lightweight and airy, meaning perfect warm-weather hiking pants, and dry quickly, meaning you can dunk in the river and keep on moving.
If you need affordable quick-dry hiking shorts that are often on sale, the Sandy River shorts are an easy choice. There's no directly comparable men's model, but the Washed Out Short is similar if you want to stay with Columbia.
Columbia Sandy River Shorts Star Rating
Comfort

Durability

Dry Time

Breathability
Summary
Simple, comfortable and functional, the Columbia Sandy River Shorts are multi-use for days spent outside, inside and everywhere in-between.
Read Full Review
See Women's Columbia Sandy River Shorts
---
The Best Cargo Hiking Shorts
Columbia Silver Ridge Shorts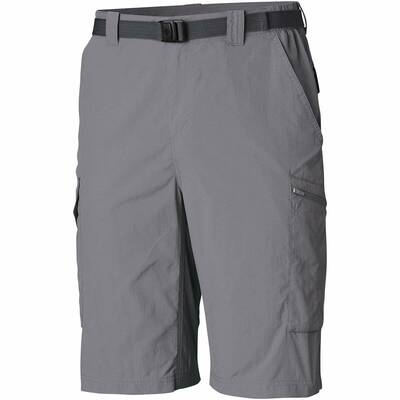 The Columbia Silver Ridge Shorts are probably what you think of when the words "cargo shorts" are uttered. They come in neutral colors, are equipped with five pockets that each have decent space to hold any number of objects, are made with synthetic quick-drying material, and also come with a belt.
The Silver Ridge are the go-to moderately priced hiking shorts in the outdoor world and work well for backpacking, hiking, car camping, and if you're fine wearing cargo shorts around internationally (style!), then abroad as well. The Silver Ridge are so popular because they're often on sale, fit well, have models for all genders with many sizes, and aren't overly baggy while still providing plenty of casualness. There's one zippered pocket if you need things super secure and hook-and-loop closures to store other items, and they have sun protection built right in.
If you're looking for a classic cargo hiking short, start with the Columba Silver Ridge shorts.
See Men's Columbia Silver Ridge Shorts
---
The Best Hiking Shorts for Water Sports
Patagonia Baggies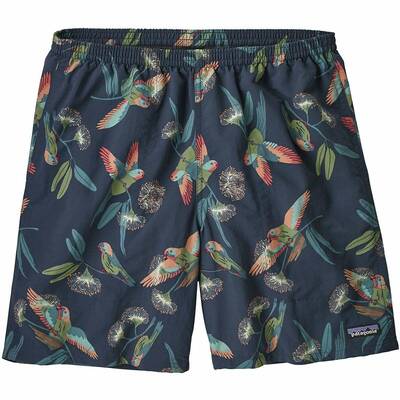 The Patagonia Baggies are iconic and fit rather loosely (but exceedingly well) into this guide for the best hiking shorts. Are they the best hiking shorts for hard treks? No. But they do a simply amazing job as the all-purpose short, which can be worn in water, on the trail, at home, and in town. We wouldn't recommend wearing it to work unless you work outdoors and are ready to relax.
The Baggies are almost board shorts, they're almost swim trunks, and they're almost quick-dry paddling shorts. They perform in all of these activities, have a loose and casual fit, and breathe exceptionally well. The material is surprisingly durable, and there are plenty of fun prints (or basic colors) to suit your style. They're also bluesign approved and Fair Trade Certified sewn, so you know the quality is excellent.
The Patagonia Baggies are great for anyone who wants a multi-purpose hiking short that can be used across many activities. They're offered in two different seam lengths, all genders, and with plenty of color options.
Patagonia Baggies Star Rating
Comfort

Durability

Dry Time

Breathability
Summary
The Patagonia Baggies thrive in the "chill" department, whether that chill is hiking hard uphill, kayaking, or literally chilling around camp. They are no-fuss, good-looking, surprisingly quick-drying shorts that you can wear for days on end.
Read Full Review
See Women's Brand Patagonia Baggies
See Men's Brand Patagonia Baggies
---
The Best Hiking Shorts for Backpackers and Trail Runners
Patagonia Nine Trails Shorts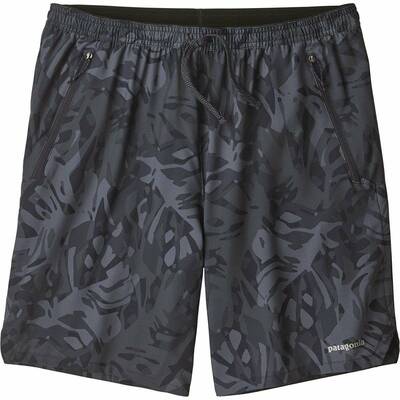 The Patagonia Nine Trails are a bit of an outlier on this list, mostly because they're more commonly referred to as "trail running shorts" than "hiking shorts." But we know that most backpackers actually use trail shorts when heading into the backcountry, as do many day hikers. The Patagonia Nine Trails are some of the best trail shorts around and offer full zippered pockets, a feature that makes them good for both hiking and running.
They also have a built-in boxer brief so you can go underwear-less if you want — another weight-saving tactic for ultralight backpackers. The Nine Trails are very light, dry out from moisture like no other, and pack down to almost nothing when not in use. The materials used are high quality and environmentally friendly, and they have a lifetime warranty as well.
If you're looking for lighter, faster, more streamlined hiking shorts, the Nine Trails may be a good option. They're offered for all genders, but the women's version has only one zippered pocket instead of the men's three.
See Women's Brand Patagonia Nine Trails Shorts
See Men's Brand Patagonia Nine Trails Shorts
---
The Best Urban Hiking Shorts for Men
prAna Brion Shorts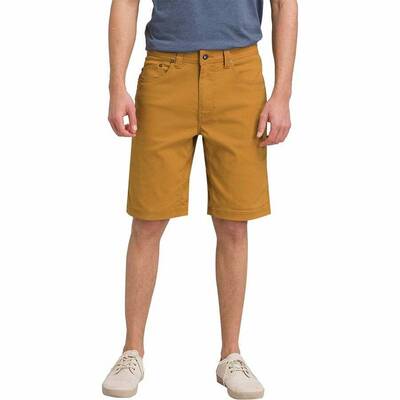 The prAna Brion Shorts are excellent hybrid hiking shorts that work equally well for city use and trail use. The Brion uses the legendary Stretch Zion fabric, made uber popular by the Stretch Zion Hiking Pants — it is crazy tough, super stretchy, repels water, and lets your body breathe as you move. In the realm of fabrics, Stretch Zion is one of the best out there and has been described by members of our team as "apocalypse surviving."
The Brion Shorts are the more urban-oriented line from prAna (as opposed to the Stretch Zion, also in this list). This means there are four open pockets with mesh interiors, a standard button and zipper closure, and standard belt loops. They're just between slim and standard fit and are tailored to look good while still being a bit outdoorsy.
If you want some of the best material around in an urban hiking short that can perform double duty on road trips, car camps, and most hikes (but not backpacking), the Brion Shorts are a fantastic (if expensive) option. The women's version of the Brion Short is the Olivia, and map closely, but not exactly.
See Men's Brand prAna Brion Shorts
---
The Best Relaxed Hiking Shorts for Yoga and Climbing
prAna Mojo Shorts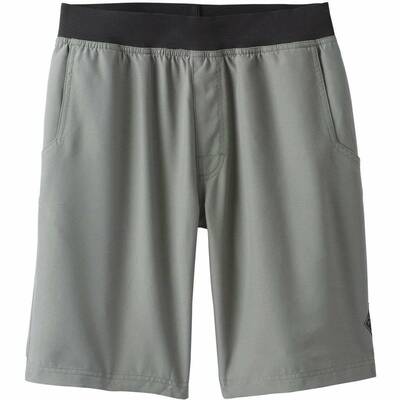 The prAna Mojo Shorts are another unique pair of shorts. Initially built for yoga, they were quickly adopted by climbers, and are now used for all sorts of activities, including hiking, paddling, beach days, summer city walks, and everything in between.
The Mojo shorts are made of 100% recycled polyester, which is quick-drying, lightweight, stretchy, and incredibly comfy. This comfort factor is enhanced by the large, plush elastic waistband, which makes the Mojo stand out from other shorts. It fits well to your body (though it runs a tad small overall) and provides great mobility. The Mojo shorts have a 50+ SPF rating built-in, are easy to slip on and off, and have three basic pockets for storage.
prAna only offers these in men's, and there's no identical women's counterpart, which is a shame. That said, they're pretty unisex in design and, if ordered in the right size, could fit anyone.
prAna Mojo Shorts Star Rating
Comfort

Durability

Dry Time

Breathability
Summary
If old-fashioned hiking shorts have you feeling like you lost your mojo, look no further than the prAna Mojo Shorts! Durable, lightweight, and ready for the crag or the couch, the prAna Mojo Shorts are the multi-sport athlete's dream.
Read Full Review
See Men's prAna Mojo Shorts
---
The Best Casual Hiking Shorts for Women
The North Face Aphrodite Shorts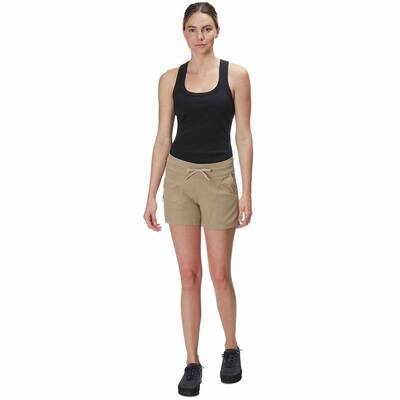 The North Face Aphrodite shorts are made only for women and, as such, are a perfectly balanced mix of casual, hiking, and stretching legwear. With a large elastic band waist and a drawcord, the Aphrodite Shorts slip on and off easily and comfortably. The shorts have a 3.5-inch inseam, so they offer some protection but are not overly bulky or droopy.
There are two easy-access vertical hand pockets and a small stealth cargo snap pocket for storing keys or basic items, and that's about it. Touted for their comfort, stretchiness, and low weight, the Aphrodite shorts work well for casual walks, hikes, and exercise sessions.
While we don't think they're the best for backpacking due to a lack of quick-drying ability, for nearly everything else, they're excellent and tailored well.
See Women's The North Face Aphrodite Shorts
---
The Best Rugged Hiking Shorts for Women
prAna Halle Shorts II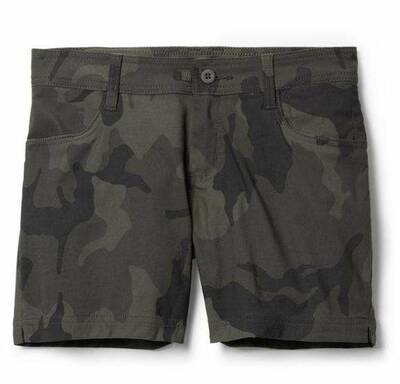 The prAna Halle Shorts II round out our love of the legendary "Stretch Zion" fabric, which is used in three products on this list. These use an upgraded  "ReZion" fabric that's even more durable. The Halle shorts are women-specific and strike a good balance between the two men's versions we have on this list — the prAna Brion and Stretch Zion.
The Olivia shorts can be worn in cities with no problem, but can also be taken on the trail. They excel at bouldering, and due to the super-tough yet super stretchy fabric, they will survive any scrapes against a rock. They're fairly lightweight and fitted well, making them an excellent pair of shorts for many activities.
See Women's prAna Halle Shorts II
---
The Best Premium Hiking Shorts
Fjallraven Abisko Shorts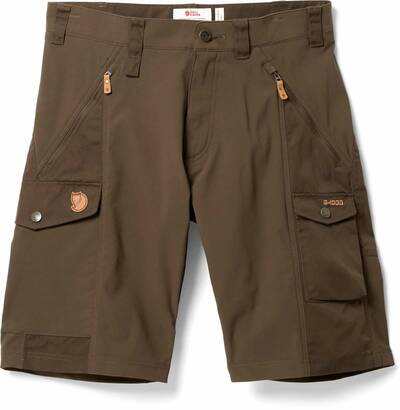 The Fjallraven Abisko Shorts are made of a high-quality polyester and cotton blend with stretch panels to provide unhindered movement when you are out on the trail. These shorts have an assortment of handy-dandy pockets with zips and snaps to keep your personal belongings in place.
What's more, these shorts have been designed specifically for when you're wearing a pack. The back of the shorts sit higher than the rest of the waistband to provide extra comfort and protection for your lower back—this prevents your pack from rubbing you the wrong way. These shorts come highly rated by users for their comfort, utility, and durability.
See Men's Fjallraven Abisko Shorts
---
The Best Budget Cargo Hiking Shorts
RedHead Beachcomber Shorts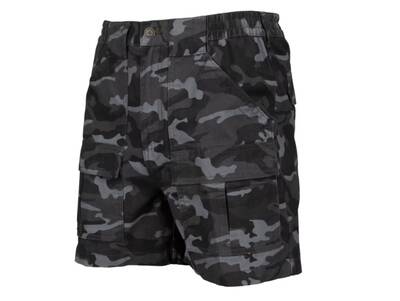 In the quest for the best hiking shorts, the RedHead Beachcomber Shorts are a good go-to budget option. They are made from decent materials, have pockets in the right places, and look the part for classic hiking cargo shorts. They're often on sale and have thousands of reviews on Cabela's. This doesn't mean they're going to outperform many of the shorts on this list, but they'll more than get the job done.
See Men's RedHead Beachcomber Shorts
---
The Best Hiking Tights
Rockay Flare Half Tights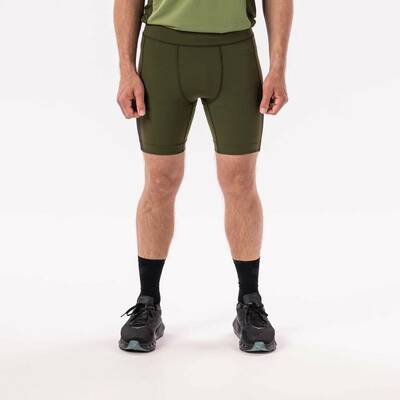 The Rockay Flare Half Tight Shorts are form-fitting multisport performance shorts that are eco-friendly, wonderfully comfortable, and chafe-proof. Rockay is a sustainable performance wear brand. As such, the Flare Half Tight Shorts are made from recycled materials, and dozens of plastic bottles are removed from the ocean with a single purchase.
These shorts are comprised of a comfortable jersey-knit fabric that is securely held in place by a wide comfort waistband and thigh cuffs that have been fitted with silicone dots for a grip that won't slip and ride up. The sweat-wicking material pushes moisture away to keep you cool, HeiQ Fresh odor control eliminates bacteria and unwanted smells, and the stretchy side pockets are perfectly sized for smartphones and snacks.
Rockay Half Tight Shorts Star Rating
Comfort

Pockets

Stretch

Durability

Dry Time

Breathability
Summary
The Rockay Flare Half Tight Shorts are form-fitting multisport performance shorts that are eco-friendly, wonderfully comfortable, and chafe-proof. Those boons come with few drawbacks, though the waistband can get a bit sweaty.
Read Full Review See Men's Rockay Flare Half Tight Shorts See Women's Rockay Flare Half Tight Shorts
---
Hiking Shorts Features
Hiking Shorts vs. Hiking Pants
We've found it surprising that there are more people looking for hiking pants than hiking shorts. Sure, pants cover more of you, but for most backpackers, shorts are actually a lot more practical.
Hiking shorts can be more beneficial than hiking pants in a number of ways. Hot weather hiking is the most obvious scenario where hiking shorts rule. In the extreme heat of summer, hiking shorts provide excellent ventilation that will keep your legs and nether regions drier than any pair of pants ever could. This includes most mornings, afternoons, and evenings, especially if you tend to trek through the hottest part of the day.
Even when out venturing in more mild conditions, an astute hiker prefers to wear hiking shorts, knowing that they're bound to work up a sweat as they hike. A cool, airy pair of shorts will dry out fast and keep the risk of chafe to a minimum. Just add a few-ounce pair of wind pants (or a skort) to your emergency gear, and you'll be able to cover up if necessary.
Ultralight-minded hikers will make sure to note that hiking shorts weigh less than pants. When ounces matter, so does the length of your pantaloons. Save weight by showing some shin.
Hiking pants, on the other hand, do have their uses. When the weather turns brisk, or when the hordes of mosquitoes decide to make an appearance, hiking pants become the far better alternative. We've found the best case for pants is in the depths of winter, or if you plan for a lot of bushwhacking. Bar those scenarios—hiking shorts should be your legs' new best friend.
Pro Tip: Nothing beats a good hiker tan. Short shorts, long socks, and dark pair of sunglasses will leave your skin burned in all the right places. Let others see that you've earned your outdoor stripes!
Choose the Right Hiking Shorts for your Activity
There are some quality hiking shorts out there that will perform well in just about any outdoor scenario. Our top pick for men, the prAna Stretch Zion Shorts, have the fit, style, pocket space, and quick-drying fabric necessary to make the best of your lower half no matter if you're backpacking over a mountain range or speed walking to your favorite brewery.
There are situations, however, where you want to make sure you've got the right hiking shorts for the job. Long-distance backpackers would fair better in shorts that are more lightweight and less restrictive, like the Patagonia Nine Trails (often referred to as "trail running shorts"), whereas an urban hiker would look and feel like a rockstar in the prAna Brion Short.
Using what you've learned so far in this guide, you're already well aware of the different hiking short types available. Utilize that information to plan ahead for events, whether it's a 60-mile thru-hike (Nine Trails or Quandary) or a lakeside summer party (Baggies or Sandy River). Grab the pair that makes the most sense.
You can also choose the minimal route — get a single pair of shorts that function decently (but not perfectly) for nearly every scenario. If this is how you roll, we tend to like the Patagonia Quandary Shorts. They're offered for all genders, in different lengths, have durable yet quick drying material, and get you out of most environments.
Pockets!
Cargo shorts reign supreme when it comes to total pocket volume, but each pair of shorts has its own purpose and style that are worth considering. Do you need pockets big enough to cram an entire Happy Meal against the side of your leg? Rarely, if ever– unless, of course, you're on a short hike with a picky child who wouldn't dare snack on a PowerBar. Sometimes, though, a small back pocket to store your wallet will be enough.
Different styles of shorts are equipped with different pocket types. Front or back, snapped or zipped, mesh or cloth — it all depends on the intended purpose of the shorts.
Figure out what you're going to need to carry on your person, if anything, and leave the rest in your pack or at home. It's the only way to know what your pocket needs are going to be.
How to Buy Hiking Shorts
To choose the best hiking shorts, you will want to anticipate the conditions and activities in which you expect you will be wearing your new shorts. Focus your search on function over fashion, for the most part, though with the variety of hiking shorts on the market, there is little reason you would have to settle for an unattractive pair of shorts.
Buying Hiking Shorts Online vs. Retail Stores
Unless you're a stickler for trying on clothes in person, online shopping is a perfectly reasonable way to find your next pair of hiking shorts.
Generally, the only measurement you're likely to be concerned with is waist size. Like standard shorts and pants, some hiking shorts come in a range of standard waist measurements. If you're concerned about your dimensions, it may be best to visit a store to try on differently sized shorts, but it is pertinent to note that the majority of hiking shorts have more stretch at the waistband than your typical blue jeans. You should be able to find a pair online that fits you well.
Many hiking shorts forego strict measurements, instead offering elastic or drawcord waistbands that are available in more broad Small/Medium/Large sizes. Length from waistband to hem will also vary, so be sure to find shorts in a length that appropriately suits your tastes.
The only other measurement worth looking at is the inseam. Do you like short-shorts and roasted thighs or the board-short look? Different models have a few ranges of sizes, which you could also measure, but it's easier to try on a general size in-store and then extrapolate to online shopping if that's your preferred shopping method.
Used vs. New Hiking Shorts
Finding a quality pair of good hiking shorts can be difficult, but if you're lucky, you can save good money on a high-end pair.
Inexpensive hiking shorts tend to be worn until they become rags. Your best option for an inexpensive pair of gently-used hiking shorts will be at the bargain bin of an REI Garage Sale. Otherwise, expect to pay a few dollars more at your local thrift store for a discounted pair of pre-owned prAnas, especially if you live in a beach town.
New hiking shorts can be quite expensive, but a well-made pair will last you a long time. If you're really excited about hunting for a good deal, search for shorts at the end of summer or early fall when retailers are switching over to their cold-weather merchandise. We're talking about clothing, with new styles announced yearly, meaning that the "old" styles often go on sale once a year too. Look for those sales!
Multifunctional Versatility
The versatility of hiking shorts spans way beyond the backcountry trail. The best hiking shorts work well in a multitude of athletic endeavors, and they can be just as appropriate to sport downtown as in the woods.
Choosing the right hiking shorts really comes down to either finding a pair that meets a specific set of criteria meant for excelling in a specific set of circumstances or a great do-it-all pair that you can wear just about anywhere.
Hiking shorts are getting cooler, both in overall ventilation and style. There may not be a real game-changer in this product field for quite a while, but each year we're seeing minor improvements that offer more versatility and better function. Good luck choosing your next pair!
---
Backpackers.com Affiliate Policy: This guide contains affiliate links, which help fund our website. When you click on the links to purchase the gear, we get a commission, and this goes a long way to creating guides, gear reviews, and other excellent content.