Columbia Steens Mountain 2 Overview
You know that friend who's always game for any sport or outdoor activity regardless of their skill level? The Columbia Steens Mountain 2 is that friend. A midweight fleece with simple design and super-plush face fabric, the Steens Mountain will be the jacket you stuff into your daypack last minute and the piece you keep on when cozying up to a pint at your favorite brewery.
Classic styling, a wallet-friendly price tag, decent warmth, and a handful of pockets make the Columbia Steens Mountain 2 our Budget Pick for the Car Camper and Urban Hiker.
Columbia Steens Mountain 2 Star Rating
Comfort

Durability

Warmth

Breathability
Summary
The Columbia Steens Mountain 2 is a go-to inexpensive fleece from a large brand. It has a durable full main zipper, two zippered hand pockets, and a very plush midweight fleece for maximum coziness and decent warmth. Some of the hardware, like the hem cinch, doesn't use the highest quality materials, and may break with heavy use. The fleece also tends to pile quickly, so you may have to wash and treat it carefully. Typically on sale, and styled as a loose fit.
If you need more information on fleece jackets, check out our comprehensive guide. And be sure to read the full review (with pictures) of the Columbia Steens Mountain fleece jacket below.
Columbia Steens Mountain 2 Specifications
| | | |
| --- | --- | --- |
| Feature Type | Feature Specs | What This Means |
| Fabric Weight | Midweight | Material thickness is not listed, but it's a midweight fleece around 200 g/m2. Not too thin, not too thick. |
| Fabric Material | MTR Filament Fleece | A generic brand and make of fleece. Not Polartec. |
| Fit | Casual | Not overly baggy or athletic. Fits slightly small. |
| Number of Pockets | 4 | Two external zippered hand-warmer pockets, two internal drop-in pockets. |
| Thumb Holes | No | Regular old sleeves. |
| Hood Option | No | Only offered as a jacket. Has a cozy collar though. |
| Zipper Options | Full Zip, 1/4 Zip | We like the full zip for breathability. |
| Adjustable Waist | Yes | Hem is adjustable, though the toggle is cheap. |
| Average Weight | 16 oz. (453.5 g) | On the heavier side for a fleece. Weight is due to the midweight fabric and hefty zippers. |
| Gender | Men's, Women's | The Women's version is called the Benton Springs. |
| Sizes Available | Any | Literally all sizes. Offered in Plus sizes and Extra Tall sizes as well. |
| Manufacturer Warranty | Limited Lifetime | Typically works on parts that fail of their own accord, and you need to be the original owner. |
| Retail Cost | $60.00  | A seriously low price for a solid fleece jacket. |
Gear Review of the Columbia Steens Mountain 2
Origins: Easing You In
Here in southern California we are beyond fortunate to have access to world class hiking, surfing, and beer. Especially the beer. Late fall in SoCal has my definition of ideal camping weather: highs in the 60s, lows in the 40s, breezy, and mostly dry. A dream come true compared to what other states are working with this time of year.
When I received the Columbia Steens Mountain 2 on a Wednesday, I knew I needed to take it out ASAP. I wore it around the house for a couple days before hitting the trail; we keep our apartment pretty cool in winter, so I always reach for a fleece first thing in the morning. I headed for the coat closet to take out the Steens Mountain — not only because I was on assignment, but because it was a welcome respite from the chilly air and a high heating bill.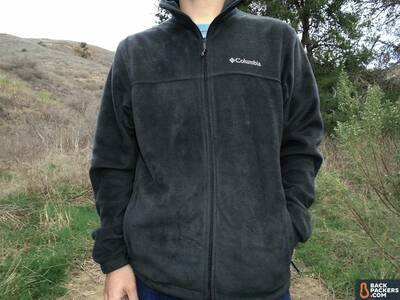 Sunday morning came around quickly: I filled a pack, threw in the Steens Mountain, and headed to Santa Paula Canyon for an overnight — a favorite trail among local hikers and only 15 minutes from my apartment. The hike into Santa Paula Canyon is a classic LA-style start that requires you to park on the street and walk a mile through a local college campus and avocado orchard to access the trailhead. Once you pass the last semblance of agriculture, you're in a gorgeous gorge of gorgitude.
Now, as an environmentalist and outdoors person, I have to make a plug for Santa Paula Canyon. This place is gorgeous. But its beauty and proximity to several towns has created an overuse situation. An underfunded and understaffed National Forest district can only do so much with the help of local non-profits like Los Padres Forest Watch and the Los Padres Forest Association. As outdoors people, it is our duty to advocate for the places we love, and now I have. If you hike in this area, consider getting involved.
Revelation: The Moment I Knew
I setup camp around 3:30 p.m. and the sun was starting to dip behind the mountains. As I pulled out my tent I slipped on the Steens Mountain and my wind pants. Mmmm, toasty.
I'm not going to pretend I'm not a gear snob. I am. So, although Columbia makes solid gear, I do have some higher-end personal preferences. Yet the longer I wore the Steens Mountain the more I fell for the plushness in which I was ensconced. I have to admit this was early in the trip to be so easily convinced of a jacket's merits, but cozy always wins.
As temps dipped into the 50s, I found myself surprisingly comfortable in just the Steens Mountain and a wicking tee. Admittedly, this jacket is a much heavier fleece than what I normally carry — a Patagonia R1 Hoody/Pullover. Columbia uses a roughly 200 g fleece fabric in the Steens Mountain, which makes it midweight. Fleece weights and relative warmth are measured in grams per square meter and are categorized loosely as 100 g (lightweight); 200 g (midweight); and 300 g (heavyweight). More on that in the fleece guide.
The Steens' fabric thickness and overall weight (a cool pound) push it into the Car Camper, Urban Hiker, and Day Hiker Backpacker Types, where weight is less critical to mission success and comfort is most important.
I'm a true believer in the power of layering, so 3+ light layers in the backcountry is my usual solution to dealing with the uncertainty of weather and the wild. But, in this case, I was happy to wear two layers instead of three as I moved about camp and settled in for dinner. On a mellow frontcountry trip like this one (I was out for less than 24 hours on a trail I've walked a million times) more layers would have been overkill. The Steens Mountain was a welcome living room luxury to bring along.
The inner face of the fabric has a felt-like feel that's very soft and the outside is a low-pile shaggy fleece (think Mountain Hardwear Monkey Man, but less shaggy). What does this mean? Super soft, super comfy. Yes, ladies and men alike will be lining up to caress your bicep.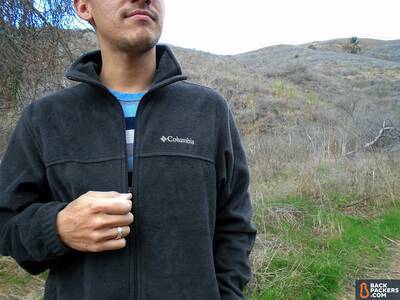 I returned to my tent after dinner to lay down for a few. Waking up 30 minutes later still wearing the Steens (I run pretty hot) was the moment I knew I had truly bonded with this fuzzy friend.
Digging Deeper
The Steens Mountain's résumé is more than just a warm hug. Two generous, zippered hand-warmer pockets hold essentials and warm your hands effectively (as they should). The zipper pulls are huge compared to other brands and have accessory cord threaded through making for easy manipulation even with gloves on.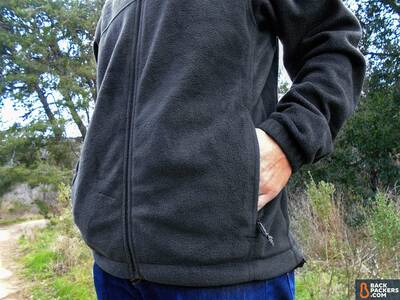 The bottom of the pocket bags are sewn to the hem (one thing I always look for in a jacket), doing double duty as drop-in internal pockets — great for drying gloves, stashing a beanie, holding a flask, etc. (Mostly holding that flask.)
Wide elastic cuffs cap the sleeves and comfortably seal out the chilly night air. Plus, the cuffs actually stay pushed up when you want them to and stay at your wrist when you want them to — is that so much to ask from other manufacturers?!
Comfort
The Steens Mountain is extremely cozy. I wore it around the house, to the grocery store, and all over campsites and trails. It felt great in every situation. (Unlike me in most social situations.)
Durability
After a couple weeks of wear and two nights on the trail, the Steens Mountain is still in great shape, even with me: a notorious spiller and snagger. The jacket is well made with solid stitching and hardware. My only concern is the hem cinch, but I'll touch on that later.
Warmth
The Steens Moutain uses 200-weight fleece, and is quite warm because of it. While it will never rival true outer layer insulating, it makes for a warm mid-layer and is very practicable around town or the house. The throat guard is also a nice touch of warmth. That said, the fleece is seriously subjectable to even a light breeze; wind will take away that warmth in an instant.
Breathability
That midweight fleece is only so breathable, and I tried not to push it on long hikes. But you can unzip the jacket completely, which allows it to breathe. Also, if a wind kicks up you will no longer be too warm, which is almost like breathability.
Fit
This fleece jacket has an easy, regular fit. I'm a true medium in most brands, and the Steens Mountain is no exception: I'm 5'8, medium build. The sleeves and overall fit are relaxed and just a touch long, but this would be good for those tall, slim guys out there who don't need more width. I also don't mind a little extra length to cover my keister and arms when reaching up, like one does when climbing or scrambling.
Style
The Steens Mountain is a casual fleece made for the "light" outdoor crowd. It works great as a layer on the trail, the street, or in the office. I also love that the logo is embroidered instead of screened on. Always classy.
Grievances
I have three gripes about the Steens Mountain.
First, the cuffs use a sewn-in elastic. It's a less expensive way to bind a cuff to keep weather out, but it also tends to stretch out more quickly, is more difficult to repair, and doesn't look as clean versus a piped cuff or a hook-and-loop (off-brand Velcro). Probably not a problem for the light user, but could be an issue down the road.
Second, and more egregious, is the hem cinch. The toggle is cheap. Columbia used high quality YKK zippers and good construction throughout this fleece, but the cinch toggle is pretty dinky. Also, the toggle is free-floating instead of being anchored to the garment. I can see this catching and tearing off or stretching out the cord.
Third, on a subsequent hike into the North Fork Canyon of Matilija Creek, a biting wind blew in as the sun set and I discovered the wind-resistance of the Steens Mouintain: not great. But it's not marketed as a wind-resistant jacket, and fleece is notorious for being a poor wind blocker without added materials. Pack an outer layer to stay toasty if you're expecting extreme cold or wind. I was glad to have my windbreaker and a down sweater when I woke to a crisp 27-degree morning and a layer of frost on the ground.
Final Word
If you need a trusty companion at a reasonable price the Columbia Steens Mountain 2 is a safe bet. Plush fleece, simple design, and classic styling keep me coming back for more.
Where to Buy Columbia Steens Mountain 2
We tested the Men's Steens Mountain 2 for this review. The jacket is also offered in a Women's version; it's called the Benton Springs Full-Zip Fleece Jacket. Everything is the same except for the fit, which is cut for a woman's physique. Both of these jackets are offered as a 1/4 zip as well, but we like the versatility of the full-zip.
Compare Steens Mountain and Benton Springs Full-Zip Fleece Jacket prices below.
Review Policy: We do not accept payments or gifts from brands and vendors, and strive to provide unbiased, independent advice. Brands typically provide review samples which we return, and in some cases we purchase the item so we can keep using it long after the review. Affiliate Policy: We support the hours that go into our reviews and testing through affiliate commissions on purchases made through links in this article. These don't effect the outcome of our reviews or selection of gear, as per our Review Policy.