Exped MegaMat 10 Overview
The Exped MegaMat 10 bucks the ultralight trend, and remains crazy comfortable. In many sectors of innovation, smaller, lighter, and faster is better. The same is true for most outdoor activities, with the ultralight movement taking hold and every single product getting cut in half (at least).
For camping, though, that just isn't the case. Deluxe comfort is becoming the pinnacle of the car camp experience, yet there's one component that seems to elude brands: sleep. Most people that don't like camping don't like it because they can't get a good night's sleep. And it's hard to blame them, really.
Exped, a Swiss company with a reputation for innovative design, has essentially solved the problem of sleep with the MegaMat 10. A combination of self-inflating deluxe foam, simple valves, rugged design, and the smartest carrying case in the market are the defining points of the Exped MegaMat 10. We're talking four inches of height, oversized width and length, and an adjustable firmness that's kind of hard to believe. "I'm a real bed!" the MegaMat 10 version of Pinocchio would say, if someone were to write a Disney-esque fable about sleeping pads. (Coming to a Barnes and Nobles near you…)
If there's one caveat to the comfort, it is cost. You can't get the best night's sleep on a budget.
With the above attributes mind, we've awarded the Exped MegaMat 10 our Premium Pick award for the Car Camper.
Exped Megamat 10 Star Rating
Comfort

Durability

Inflation and Deflation

Packability
Summary
The Exped MegaMat 10 is more than a sleeping pad, it's a real bed that happens to pack up small and fit in tents. If you want to know true comfort while sleeping at camp, experience the MegaMat. It is high off the ground, full of premium foam, holds air extremely well, and is pretty easy to pack up come morning.
If you're curious about sleeping pad technology, and where the MegaMat 10 fits into a crowded market, check out our comprehensive guide. Scroll below for the full Exped MegaMat 10 review.
Exped MegaMat 10 LW Specifications
Feature Type
Feature Specs
What This Means
Weight
5 lbs (2275 g)
This is fairly heavy for a sleeping pad, even a car caping pad. The high quality foam is heavy, and this pad is quite large.
Type
Self-Inflating Pad
The MegaMat 10's foam automatically expands when the inflate valve is open. This helps to create a stable, even surface to sleep on. It doesn't get fully inflated on its own, so you'll need to inflate it with the included pump or your breath. More on sleeping pad inflation in our Guide.
R-Value/Temperature Rating
9.5 R-Value/-48 °C
Incredibly high R Value. This pad can be used in four seasons, down to extremely cold temperatures. More on sleeping pad R-Values in our Guide.
Shape
Rectangle
The MegaMat 10 series is built for comfort, which means a rectangular shape. More on sleeping pad shapes in our Guide.
Sizes
MW, LW, LXW, Duo
We tested a LW version of the MegaMat 10. They make many sizes. "W" means a 25-inch width, while "XW" means a 30-inch width. "MW" is shorter than the "LW", and the Duo is the size of a full size bed. Pick the size that best suits your height and needs.
Thickness
4 in. (10 cm)
A whopping four inches high, the MegaMat 10 uses 3D walls to really keep you off the ground.
Length
77.6 in. (197 cm)
The long pad is six feet four inches, which is big enough for most people. Get the MW if you're shorter.
Width
25.5 in. (65 cm)
A twenty-five-inch width is decent, and gives most people room to rest their arms. If you want a truly deluxe experience, get the LXW, which has a 30-inch width.
Packed Size
26.4 x 8.7 in. (67 x 22 cm)
The size of this pad is large, and so is the packed size. The high quality foam doesn't pack down very small, so prepare for it to take up some extra room in the car. More on sleeping pad packed size in our Guide.
Baffle Type
Flat
The MegaMat 10, and most self-inflating sleeping pads, don't have a baffle pattern. They are flat, which means stable. More on sleeping pad baffle types in our Guide.
Valve Type
Flat Valve
The MegaMat 10 series (and all Exped pads) use flat valves. The MegaMat has a separate valve for inflation and deflation. They work great. More on sleeping pad valve types in our Guide.
Material Type/Thickness
Top: 50D Polyester
Bottom: 75D Polyester
This pad uses 50D and 75D polyester fabric on the top and bottom respectively. These are high thread counts and have proved to be very durable, especially the bottom. More on sleeping pad materials and Denier in our Guide.
Breaths to Inflate
15-20 Pumps
The MegaMat 10 comes with the Mini Pump, which is used to bring the pad to full inflation. It requires a decent number of pumps, but is simple. You can also fill with your breath, but it's not usually necessary.
Manufacturer Warranty
5 Year Warranty
Exped offers a five year warranty on the MegaMat. This is a decent amount of time, but most higher-end companies offer Limited Lifetime Warranties, which is certainly better. The MegaMat is constructed excellently, and we don't foresee issues with pieces breaking after 5 years, unless you abuse them. That said, keep your receipt and send in a claim if it stops working.
Retail Price
$209
This is arguably the most deluxe pad on the market, and you will pay for it. If you value sleep, invest in the MegaMat 10.
Gear Review of the Exped MegaMat 10
Origins: Easing You In
I was brought up a Wilderness Backpacker. Get away from the crowds, head into the woods, and disconnect from modernity. It's only in the last ten years that I've experienced car camping at its finest, and I can say confidently that I no longer have a favorite outdoor experience.
The trout, bonfire, and camaraderie of car camping are just as alluring as the solitude and quietude of the backcountry. And car camping is more comfortable. It just is. That said, sleep was never really more comfortable for me, because I used the same sleeping pad for backpacking and car camping.
It's what most people will do if they have a pad for backpacking, or if they want a cheap, small pad. A suggestion, though. If you car camp frequently, get a dedicated car camping sleeping pad. It's akin to dropping 15 pounds off a backpacking load and will get you into the wild way more often.
I've been testing the Exped MegaMat 10 all summer. It tagged along for a handful of car camps, most notably an overnight at the Leo Carrillo campground off the scenic Pacific Coast Highway. I also let friends and parents sleep on it whenever they came through town and grilled them the following morning on its comfort.
The jury is in: the MegaMat 10 is basically a real bed.
Revelation: The Moment I Knew
With a high-end product, the revelatory moments typically come in waves. This was true of the MegaMat, and I could probably list every feature it has in this section of the review, but I'll stick to one distinct experience.
Cuddle time. My partner and I occasionally head into the backcountry, but a pull-in camp spot for an easy weekend getaway is way more common. We could bring the foam topper off our mattress at home so we can sleep side by side, but that can't fit in the car easily. So we make do with two separate sleeping pads. You put them close together, throw a blanket over your sleeping bags, and attempt to cuddle throughout the night. But it never really works.
We took the MegaMat 10 on its trial run in Leo Carrillo Campground for a celebratory birthday experience, and we were treated to the luxury of a pad that can handle more than one person.
While the MegaMat 10 LW is not big enough for two people to sleep comfortably side by side, it is wide enough and firm enough for two people to be curled up for a while. No other pad I've used makes this easy, mostly because the air whooshes out whenever somebody moves around.
The MegaMat mattress has give, but there is zero flop. We were using the REI Camp Bed 3.5 as my partner's mattress, and even that pad (which is awesome) didn't have the same cuddle factor despite the same 25-inch width. A lot of this has to do with the 3D sidewalls of the MegaMat 10, which are roughly four inches thick. The surface is stable all the way to the edge, so you know your boundary and stick to it.
Exped offers the LW and LXW versions of the MegaMat 10. I tested the LW, but the LXW is 30 inches wide instead of 25, so you'd have even more room to cuddle. Then there's the MegaMat 10 Duo, which is the size of a full bed, and more than enough room for two people to lounge and sleep side by side.
If you're looking for a pad that can hold you, your cuddle-buddy, or even a child without issue, this pad is it.
Digging Deeper
Cuddle-factor aside, the MegaMat 10 has a lot of unique features.
The valves are Exped's proprietary flat-valve technology, which are (in my opinion) the new industry standard for sleeping pad valves . There's one valve for inflate and one for deflate, making the process as simple as can be.
The pad uses 50D polyester on top and has a beautiful (yes, beautiful!) honeycomb pattern. It caught the light on all my trips and sort of mesmerized me. The bottom is 75D polyester, and feels almost rip-proof. I'm sure if I sliced it with a knife it would rip, but I've never seen a pad that has such a durable bottom.
The MegaMat 10 comes with the Sidewinder stuff sack (which I'll detail below), the Mini Pump, and a repair kit. The Mini Pump is handy and pretty fun — just snap it into the flat inflation valve and give it a dozen pumps until you've reached full inflation.
Finally, the MegaMat 10 has an R-Value of 9.5. You read that right. It's one of the warmest pads on the market, and will keep you warm (with the appropriate sleeping bag or quilt) in any temperature.
Comfort
Honestly, it's as comfortable as the fancy latex mattress I have at home. The foam has give and firmness, and I have yet to feel any lopsided-ness when rolling around. The four full inches off the ground also means you can sleep on pretty much any surface and retain the comfort.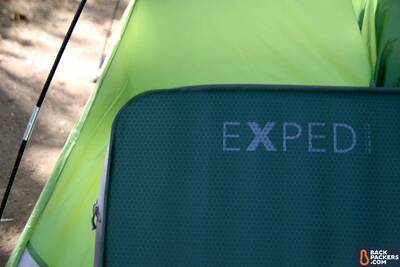 Durability
While I haven't put this thing to years of use, I have trekked it to multiple campsites, used it in my home for a handful of nights, and examined the materials thoroughly. It looks about as bomb-proof as any sleeping pad can be.
My cat likes to sleep on it when she can, and she's not declawed. Sketchy, I know, but it's not even close to showing a hole.
Inflation and Deflation
Self-inflating sleeping pads are the peak of luxury in the frontcountry. Set up your tent, roll out the MegaMat 10, and open the "inflate" valve. You hear the soft whooshing of air and know that when you come back it'll be mostly inflated.
That said, the MegaMat 10 takes longer to self-inflate than other pads I've used. It has a lot of foam. The pad is mostly inflated in 15-20 minutes, rather than the 3-5 minutes of other, smaller pads.
After that you do need to top off the pad with the Mini Pump or with your breath — either works. The Mini Pump requires a dozen (or so) pumps, and it's a bit laborious. The design is very clever, but it doesn't put in as much air per pump as you'd think. Feel the mattress to see how firm it is, then use the inflate flat valve to adjust as needed (just press it to release some air).
For deflation, close the inflate valve, open the deflate valve, and fold it up. It works best if you fold it in half over itself, then in quarters, etc. until most of the air is out. All in all this takes about five minutes.
My favorite part of the deflate and inflate of this pad — and other Exped flat valve pads — is that the air never enters or escapes when you don't want it to. Air can only go into the pad when the inflate valve is open, and it can only go out when the deflate valve is open.
Packability
While the MegaMat 10 doesn't pack down tiny, it does pack away in seconds because of its stuff sack. Exped calls this updated sack the Sidewinder Stuff Sack, and it completely changes the pack-up experience.
I am notorious for not rolling up pads small enough. I just don't take the time to get them as small as possible so they can fit in their super-tight stuff sacks. I'd rather be on the road, drinking tea, or hiking.
The Sidewinder inverts the age-old stuff sack on its head: put the entire pad in at once lengthwise. No more sticking it down a long tube. This allows you to roll the pad hastily and still fit it in easily, or take your sweet time and get it compact as possible. It has a roll-top closure to accommodate whatever size you've rolled it to, and a handy carry strap.
Grievances
I have no real issues with the MegaMat 10. It is durable, reliable, and as comfortable as a real bed! That said, if I had to get nitpicky, I'd pick on two things.
First, the inflation time is a little longer than I'd like. I pulled into a campsite at 10 p.m. one night, quickly set up the tent, and opened the pad. I didn't want to wait for it to self-inflate for 15 minutes, I wanted to sleep. I had to blow it up by mouth, as that's the fastest method. This was easy and took about five minutes, but if the self-inflate time was brought down it'd be near perfect.
Second, it's not a small pad. This isn't really a fault, just an observation for potential buyers. Even when it came in the mail, and was packed as tightly as possible, the MegaMat 10 (in any size) is quite large.
Final Word
You can't get a better car camping sleeping pad — the Exped MegaMat 10 is simply the most comfortable experience around. In fact, if you're frequently in the outdoors and considering a new mattress for your bedroom, get this instead.
Where to Buy Exped MegaMat 10
We tested the Exped MegaMat 10 LW version in Green, which has a 25-inch width and a 76-inch length. You will find the MegaMat 10 series also offered in Ruby Red and in MW and LXW, which vary the width and length. The construction of these pads is identical, so pick the size that is best suited for you.
Exped also makes the MegaMat 10 Duo, which is a couple's sleeping pad and the size of a Full Bed.
Compare Exped MegaMat 10 prices below.
Review Policy: We do not accept payments or gifts from brands and vendors, and strive to provide unbiased, independent advice. Brands typically provide review samples which we return, and in some cases we purchase the item so we can keep using it long after the review. Affiliate Policy: We support the hours that go into our reviews and testing through affiliate commissions on purchases made through links in this article. These don't effect the outcome of our reviews or selection of gear, as per our Review Policy.