Feathered Friends Egret Nano 20 Overview
Sleeping bags are like cars. There are lots of models out there, but when it boils down to it, you want something that offers the specific features you need and want, right? It's got to be roomy enough to feel comfortable and it can't take up your entire garage — or backpack, as it were. On top of all that, everybody and their mom has their own preferences for what they want out of a car/bag, years of experience on buying the "best" car/bag around, and opinions on price and material construction. Yet, when an undeniable classic comes along, almost everyone recognizes it for what it is.
In this case, the specific sleeping bag is the Feathered Friends Egret Nano 20, which I might compare to a 60's Mustang. It's legit. The Egret is packed to the seams with clever features, offers high quality (traceable) down, a spacious interior and seating for four. No, wait, not that last one. The thoughtfully designed silhouette will work for side, back, stomach, and flamingo sleepers, and it comes in gender specific models (the men's is the Swallow).
That's why we're recommending the Feathered Friends Egret Nano 20 as the Premium Pick for the Wilderness Backpacker. If you're willing to drop cash on a sleeping bag, this is close to as good as you can get. You can even space out the cost via monthly installments! (Kidding, you can't, that's cars again).
Learn more about the wonderfully complex world of sleeping bags in our guide, it'll give you all the specifics you need to sleep warm and comfortable outdoors. Below, you'll find the full Feathered Friends Egret Nano 20 review.
2018 Update: In May of 2018 Feathered Friends updated the Egret Nano 20 to the Egret 20 YFuse. This change is mostly due to a change in shell fabric — from Schoeller Nanosphere to Pertex Quantum 20D YFuse. It's a line-wide change, and all Nano bags have become YF bags. Feathered Friends is using the new tech because it is more downproof (down can't get out) and has better water beading properties than the Nanosphere. These bags also have a slightly updated lining fabric, which is softer. The price has increased by $10, and the rest of the materials and fit are the same for men and women. It's  about 60 grams lighter, too!We feel this is a positive change, and continue to recommend the Egret and Swallow YF line for serious backpackers. We have updated the spec sheet below to the YFuse version.
Backpackers.com Star Rating
Comfort

Warmth

Durability

Fit
Summary
Our star rating system highlights the most important features for sleeping bags and quilts and judges them based on our experience.
Egret Nano 20 YF Specifications
| Feature Type | Feature Specs | What This Means |
| --- | --- | --- |
| Weight | 1 lb 12.9 oz (820 g) | At under two pounds, this is a very light sleeping bag. Especially for the durability of its shell fabric. |
| Type | Mummy Bag | Mummy bags are still the most popular for backpackers. They keep you warm and pack small. More on different sleeping bag types in our Guide. |
| Size | Medium, 5′ 9″ (175 cm) | We tested the women's medium. It's also offered in a Small, which is 5'3″ long. If you're taller than this, consider the Swallow, which is the men's version of the bag. |
| EN Testing/Temperature Rating | 20ºF (-6.67ºC) | The Egret is warm down to 20 degrees, as long as you have a sleeping pad with a decent R-Value. It's packed with down and plenty warm. More on sleeping temperature and EN Testing in our Guide. |
| Insulation Type | 900+ Traceable Goose Down | Basically the highest quality down around. Also it's traceable, and Feathered Friends includes a link for you to check out where the down in your bag came from. More on insulation types in our Guide. |
| Fill Weight | 17.3 oz. (491 g) | More than half the weight of the Egret is entirely from down. That's a lot of down! |
| Water Resistant? | Yes | The Pertex YFuse shell fabric helps to shed water, and doesn't wear out over time like DWR. |
| Shell Fabric | Pertex YFuse | Pertex YFuse is a new material for Feathered Friends, and improves the downproofing (ability of down to get out of the bag) and water resistance from the last fabric. Overall a burly fabric that packs small and weighs less than the previous version. More on shell fabrics and Denier in our Guide. |
| Lining Fabric | Pertex 20D nylon taffeta | An industry standard for comfort and strength, this lining fabric is that classic cozy sleeping bag feel. |
| Baffle Pattern | Horizontal Continuous | The "best" baffle type for custom warmth. This lets you move the down into the right position for custom temperatures. More on baffle patterns in our Guide. |
| Zipper Length, Type, Placement | #5 YKK | This high quality zipper is a two-way, separating zipper with locking sliders. The zipper is on the right side of the bag. |
| Draft Tube? | Yes | Large, down-stuffed tube along the zipper helps to block incoming cold and wind. The draft tube is stellar on the Egret. |
| Neck Baffle? | No | This is a down-filled collar/baffle that warms your neck during sleep. The Egret and Swallow lines do not have one. |
| Pocket? | No | High-end sleeping bags for backpacking don't often have pockets. |
| Manufacturer Warranty | Lifetime Manufacturer's guarantee | All Feathered Friends products are guaranteed for their lifetime against manufacturers defects. They have a tiered return and repair policy, so make sure to read it thoroughly. Overall it's very fair. |
| Retail Price | $419 (for Medium size) | A high price for the sleeping bag you'll have for the next decade. Is it worth it? That's up to you. |
Gear Review of the Feathered Friends Egret Nano 20
Origins: Easing You In
The wind was whipping off the Sierras as we attempted to set up our tent in the bare-bones campground, known affectionately as "the Pit." We were there for a weekend of hiking in the snow, skiing, and lounging in the increasingly popular hot springs near Bishop, CA. As the sun set behind the looming Sierras, the temperature quickly began to drop into the low 40's.
For the time being, however, I was simply worried the wind would make it impossible to build a campfire, we would end up eating cold dinner, and I'd spend a chilly night in an untested sleeping bag. I'm glad to report that I was only right about two of those things.
During my first night testing the Feathered Friends Egret Nano I was coddled in a downy fluff-ball of warmth, thus erasing the miserable fact that I'd eaten cold beans for dinner while staring dejectedly into an empty fire pit.
There's something unmatched about the comfort of 900 fill down. Fluff and more fluff. As close to clouds as you can get, which was a relief after the frankly miserable evening. But beyond the fill, the Feathered Friends Egret Nano is an smartly designed bag. Most of that intelligence is centered around fighting off the cold, which is exactly how a sleeping bag should be smart.
The Egret Nano features a baffle around the neck to lock in warmth; a large, durable zipper that is easy to locate and use; and a thick, overstuffed draft guard baffle that extends the entire length of the zipper. The draft guard baffle is even hemmed with a stiff, durable material, meaning you won't be snagging your zipper on the lining of your bag in the middle of the night when trying to get warmer (or when getting up to pee).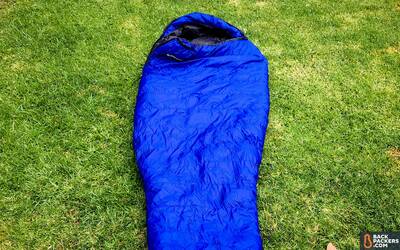 That night I realized it — this baby is the Rolls Royce of sleeping bags.
Revelation: The Moment I Knew
That first night, as I wormed my way into the Feathered Friends Egret Nano 20, I was struck by the almost immediate need to shed the down booties that I have grown accustomed to sleeping in. The Egret Nano 20 boasts a roomier foot box than other bags I've slept in, and smartly places extra fill around that foot box to keep your toes from freezing. This means your feet will have room to roam without getting cold. Most bags are either roomy and cold, or suffocating and warm, but Feathered Friends fine-tuned this so it's just right for cozy feet.
The real moment, after my toes were warm, was when I tried to get comfortable. This is a different process for everyone in the backcountry. It may involve stuffing all available clothing under your head and lying completely rigid on your back with ear plugs. Or putting your puffy between your knees to side-sleep.
I do the prone flamingo. Think one leg pulled up, the other straight out. Apparently, the Egret is intentionally designed and cut to accommodate those who like to sleep with their legs pulled up towards their chest. (It turns out there are a lot of us!) I had read about this clever little feature on their website before taking the bag out, and as someone who sleeps in prone flamingo without fail, this feature proved to be magic.
Warm and comfortable, all while inside a tight mummy bag? It's one of the little details that takes the Feathered Friends Egret Nano 20 from just another down bag to a bag that I'll be personally recommending to anyone in the market for a new sleep set up.
Digging Deeper
The next morning the sun blazed through a clear blue sky. It looked spectacular, but did absolutely nothing to warm our campground. Mercifully, the wind had abated, but it had also swept away any of the spring warmth that had filled the Owens River Valley just a day before. Today was a day for eating breakfast in your sleeping bag!
Food consumption and traipsing around camp while wearing your sleeping bag is typically a good way to injure it, but the Egret Nano 20 comes prepared. It's constructed with Schoeller NanoSphere on the exterior fabric. This is a fabric treatment that utilizes nanoparticles to give fabric water and stain resistance far beyond a typical DWR treatment. I know that sounds like some crazy future speak, but what it actually means is that this bag is durable enough to take out of your tent without the fear that it will spontaneously disintegrate or rip a hole so big you'll be cold no matter what.
It also means that the Feathered Friends Egret Nano does an absolutely stellar job of shedding dirt, water, or your morning oatmeal, which I of course managed to spill all down my front like the true dirtbag that I am.
The rest of the Egret Nano specs read like a high-end magazine for the sleeping bag elite: horizontal continuous baffles, a fully enclosed mummy hood, a lightweight stuff sack, a large storage duffel, and compressibility like you wouldn't believe.
Comfort 
4 Stars
As I sat pondering the snowy slog of a hike that awaited us, I reflected on how the Feathered Friends Egret Nano 20 is comfortable for both your body and your mind. Let me explain. The bag uses more than 16 ounces of 900+ fill down, making it incredibly warm and luxurious feeling. That's the body part. On top of that Feathered Friends sources all their down from traceable sources, and designs and makes their bags in America. You literally get a tracking tag with your bag that tells you where your down came from. This means that you can rest easy knowing that you've purchased a well-designed, conscientious product. That's the mind part.
Warmth 
5 Stars
The Feathered Friends Egret Nano 20 is listed as a 20 degree bag, rated specifically for women. While I tested this bag in temperatures that were only in the low 30's, I have a distinct feeling it could accommodate temperatures down to the low teens, especially if it was paired with a high R-Value sleeping pad.
Durability
5 Stars
I love light gear and the freedom it affords when moving in the mountains, but sometimes it feels like the material is so thin and flimsy it's going to evaporate under your hands. Not true with the  Egret Nano! The NanoSphere exterior coat and overall fabric feel solid. And, At 1 pound 15 ounces (women's size medium), you've got a lightweight, fully-featured bag made of a durable material that it will stand up to years of heavy use. (To be fair, that's still a very lightweight bag.)
Fit 
5 Stars
From the first night I climbed into this bag I realized that when Feathered Friends set out to make the Egret Nano 20, they really listened to what women want from their sleeping bags. As I've mentioned, the bag has a larger toe box, which means that whether you're a back, stomach, or side sleeper, your feet will be able to relax naturally without compressing the down on either side of your bag. And the roomier cut around the hips and elbows means that if you're prone to rolling around a lot before settling on your go-to flamingo position, the bag won't become tangled or feel constricting.
I can't speak to the Swallow, which is the men's version, but Feathered Friends claims to have made both bags to be comfortable for either gender.
Grievances
Even a Rolls Royce has problems.
The one issue I took with the Feathered Friends Egret Nano 20 became apparent on that first chilly night in the foothills of the Sierras. The construction of the hood is decidedly on the small side. It can feel a little constricting and my head kept popping out of the opening.
While this isn't by any means a deal breaker for me, it is worth being aware of if you're going to push the boundaries of the temperature rating on this bag.
Final Word
The Feathered Friends Egret Nano 20 is like a luxuriously toasty hug from your favorite childhood stuffed animal: comforting, warm, and perfectly welcome in nearly every situation.
Where to Buy Feathered Friends Egret Nano 20
The Egret 20 is a women's specific sleeping bag, and is what was tested for this review. The Feathered Friends Swallow 20 is the men's version, and everything is the same except for cut and length. We find both sleeping bags to be a worthy investment, so you'll find both below. In 2018 the "Nano" line was updated to the "YFuse" line, which is a change in shell fabric. We think the change is positive, and recommend the new bag.
Feathered Friends is a relatively small company that makes and designs all of its products in Seattle, Washington. It doesn't sell its products at any online retailers, so you'll have to buy directly from their site. This means sales are few and far between — but you get exactly what you pay for.
Review Policy: We do not accept payments or gifts from brands and vendors, and strive to provide unbiased, independent advice. Brands typically provide review samples which we return, and in some cases we purchase the item so we can keep using it long after the review. Affiliate Policy: We support the hours that go into our reviews and testing through affiliate commissions on purchases made through links in this article. These don't effect the outcome of our reviews or selection of gear, as per our Review Policy.