Klymit Pillow X Review
The Klymit Pillow X is a marvel of ultralight engineering. Weighing in at an unnoticeable 1.95 ounces and folding flatter than your wallet, the Pillow X packs away as well as that forgotten Blueberry Clif Bar in the bottom corner of your backpack.
Klymit Pillow X Star Rating
Comfort

Durability

Adjustability

Packability
Summary
The Klymit X Pillow is an ultralight, highly packable backpacking pillow with one key design feature: an X where your head goes. This keeps your head in place while sleeping, allowing for surprising comfort on your back. It weighs under two ounces, inflates in a couple breaths, and is a no-brainer when backpacking.
Expanding to an adequate size when fully inflated, this otherwise unassuming air-filled backpacking pillow stands out from others because of its unique "X" design. Rather than marking some pirate's forlorn buried treasure, the pillow's X creases center your head for a well-positioned night's rest, cradling your cranium with four lofty inches of comfort.
We find that the "X" design works best for people who sleep on their back because the centering effect is most effective for the smooth, round shape of the back of the head. Side sleepers won't be horribly uncomfortable, but the self-centering "X" design will position the bulk of your head in its center, which may leave your nose scrunched into the raised exterior cushion.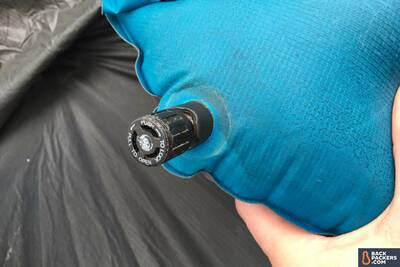 A few breaths into the run-of-the-mill twist and pull valve is enough to fully inflate the pillow. Once full, a delicate twist of the valve will release a minuscule hiss of air, allowing you to adjust the pillow's inflation to your desired level of firmness.
Due to its advanced "X" design, extremely light weight, and compact packability we have named the Klymit Pillow X out Classic Pick for the Ultralight Backpacker.
See where the Klymit Pillow X ranks on our guide to the Best Backpacking Pillows!
Review Policy: We do not accept payments or gifts from brands and vendors, and strive to provide unbiased, independent advice. Brands typically provide review samples which we return, and in some cases we purchase the item so we can keep using it long after the review. Affiliate Policy: We support the hours that go into our reviews and testing through affiliate commissions on purchases made through links in this article. These don't effect the outcome of our reviews or selection of gear, as per our Review Policy.