Even the most spectacular outdoor getaways can be ruined by an uncomfortable night in a tent. Being unprepared has its consequences, and a night without a proper backpacking pillow may result in a painfully kinked spine. No one wants to see you emerge from your tent with a bent neck like some kind of horror movie monster.
So, how do you avoid crawling out of your backcountry shelter looking like the girl from The Ring? Use a backpacking pillow, of course! We're giving you the skinny on the best backpacking pillows around. The information below will show you which pillows are best for your sleeping position, the type of cushy insulation they're filled with, and how easily they will pack away. Backpacking pillows can be ultralight, they can be deluxe, and they can give your neck the much needed support it deserves.
We've spent many, many nights in the great outdoors and are happy to use our experiences to put together this Best Backpacking Pillows guide for you. I don't want to see anymore creepy early morning wendigos walking the trail. Get a proper pillow below!
Backpacking Pillow Comparison Table
The Best Luxury Backpacking Pillow
NEMO Fillo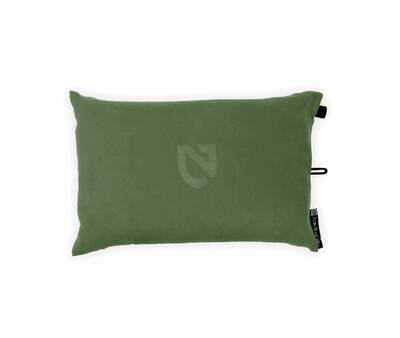 The NEMO Fillo is a powerhouse of comfort when it comes to your typical backpacking pillow. NEMO utilizes a combination of air and high-grade foam to turn an otherwise airy sleep experience into something that's more akin to the memory foam pillow you have at home.
The pillow has NEMO's Twist and Pull Valve, which works well and has a satisfying lock sound to signal the air is in. The model we prefer also has a removable micro-suede exterior, which is comfortable against the face. The air chamber can be blown up to be quite puffy, or much less for a more relaxed (flat) pillow. When combined with the foam this makes the Fillo great for those who don't want a fully inflated pillow. That said, it's pretty heavy for a backpacking pillow at nine ounces, and still doesn't come close to your actual pillow at home. It also doesn't pack nearly as small as other pillows, if space is your concern.
See Pillow
---
The Best Ultralight Backpacking Pillow
Sea to Summit Aeros Pillow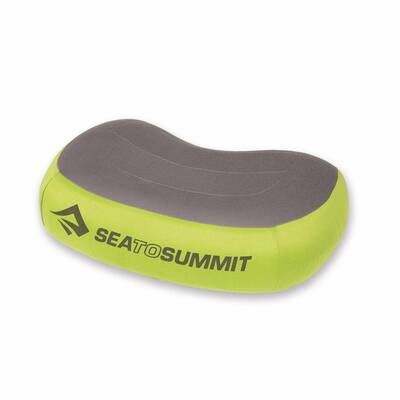 The Sea to Summit Aeros Pillow has become the tiny, ultralight standard of backpacking pillows. It packs to what is often described as "nothing", which in reality is just a couple inches that can be stuffed anywhere in your pack. It weighs under three ounces as well, and yet uses high-quality 50D polyester fabric and a solid flat valve for easy inflation and deflation. The shape is what we call kidney bean, in that it's not a full rectangular pillow, and it has a small indent near your neck for solid positioning.
The Aeros Pillow has roughly four inches of height when fully inflated, and isn't too bouncy. That said, it's a full air pillow, and won't be as comfortable when partially inflated because it will be bouncy or feel like it lacks air. If you want one of the lightest backpacking pillows out there, and prefer air over a rolled up jacket, this may be your best bet. Sea to Summit also offers different versions of the Aeros, like the Ultralight and Deluxe, which are lighter and more supportive, respectively.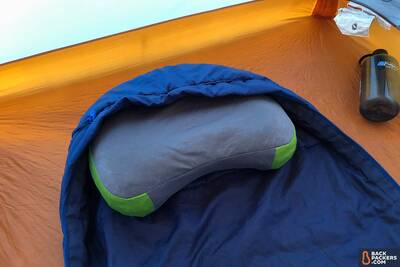 Sea to Summit Aeros Pillow Star Rating
Comfort

Durability

Adjustability

Packability
Summary
The Sea to Summit Aeros Premium Pillow takes the traditional travel pillow to the next level with plush fabric and an easy-adjust valve for customizable comfort on the trail or anywhere you'll find a weary traveler.
Read Full Review
See Pillow
---
The Best Backpacking Pillow on a Budget
Therm-a-Rest Compressible Pillow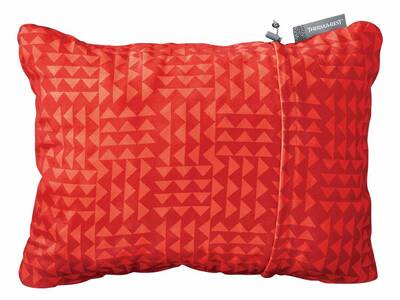 The Therm-a-Rest Compressible Pillow may be the most comfortable on this list if foam support is what you're into. Unlike the other pillows here the Compressible Pillow uses a lot of foam, and no valve inflation, to create a sleeping surface you can dream upon. The specs listed are for the "small" pillow, which is still decently sized, and competes in terms of height and head-resting space with other pillows on this list. But, because it uses upcycled foam from its pad manufacturing process, the Compressible Pillow is much more comfortable and has almost none of the inflated-feeling that you get from air pillows. The Compressible Pillow is so-named because it can roll and stuff into itself — just crunch it down into the attached flap, then drawstring cinch it tight, and you've got a relatively small, fully foam pillow to carry. You can use this packed-up pillow as a lumbar pad or thick headrest, making this the only pillow with a "packed" purpose on this list. All this for a 7-ounce pillow, which contends well with the competition. That said, the big downside is packability — the Compressible Pillow is much larger when packed than any pillow on this list. If foam-based support is what you need, and space isn't an issue, you can't go wrong here. Especially for the price. Make sure to get the size you want, as Therm-a-Rest has pillows that range from Small to Extra Large (almost the size of your pillow at home!) (https://www.thermarest.com/compressible-pillow).
See Pillow
---
The Best Backpacking Pillow for Back Sleepers
Klymit Pillow X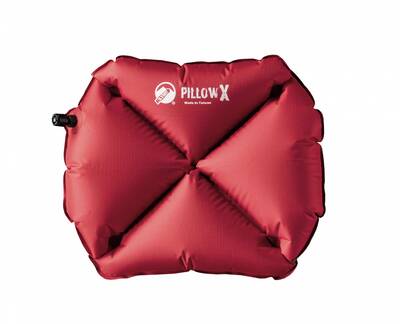 The Klymit Pillow X's price, size, and simple design has taken the backpacking market by storm, and many people are popping this in their packs without a second thought. It's a very basic air pillow with a twist and pull valve, four inches of height, and a sturdy 75D bottom to keep you from popping. The unique design feature (typical of Klymit) is the large X in the middle, which helps to cradle your head. This is best for back sleepers who want their head in one position for the night. The Pillow X has similar design features as the Luxe, but is much smaller and uses only air. It's also not the most comfortable fabric, especially against your skin, so covering it with a shirt or something is recommended.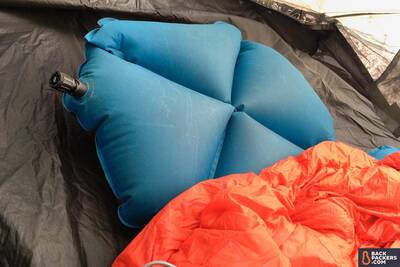 Klymit Pillow X Star Rating
Comfort

Durability

Adjustability

Packability
Summary
The Klymit X Pillow is an ultralight, highly packable backpacking pillow with one key design feature: an X where your head goes. This keeps your head in place while sleeping, allowing for surprising comfort on your back. It weighs under two ounces, inflates in a couple breaths, and is a no-brainer when backpacking.
Read Full Review
See Pillow
---
The Best Down Backpacking Pillow
Sierra Designs DriDown Pillow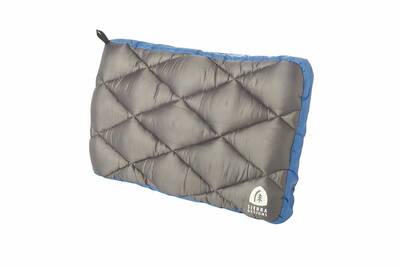 The Sierra Designs DriDown Pillow is unique in a couple of ways and differentiates itself from others on this list. First, the DriDown Pillow actually has two separate pillow components — a quilted down sleeve that has comfort, warmth, and some height to it all by itself, and then a synthetic-fill pillow insert that goes in the topper. You can combine these for a full pillow experience, or leave the insert at home and stuff the quilted topper with a jacket on the trail, thereby saving space and making a piece of gear multipurpose. The second major differentiated factor is the down. There are lots of pillows that use down, but we think the Sierra Designs DriDown Pillow is the best of these. The down is used only in the quilted topper and provides a fine layer of comfort and warmth right where you put your face. The pillow has a nice and even shape, does not use air for height, and packs up quite small. Its main downsides are thicknesses — because of the synthetic fill and down feathers it compresses quite a bit, so is best for those who like a very flat pillow (stomach sleepers!). The insert, overall, could be better, or made of down, or foam, which would make it a must-have. Currently, the DriDown pillow actually makes more sense when only taking the quilted topper and stuffing with a jacket, but you then shouldn't be paying roughly $30 for a quilted stuff sack. All that said, this is a unique pillow with multiple options, an included stuff sack, and that sweet down sleep experience. (https://sierradesigns.com/dridown-pillow-650-dridown/).
See Pillow
---
The Best of the Rest
Exped Mega Pillow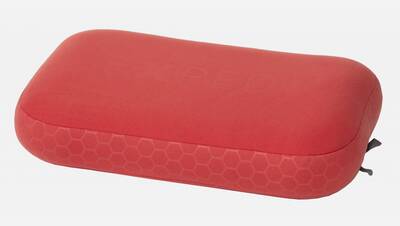 The Exped Mega Pillow takes after its name — it's huge, provides lots of cushion, and is more about comfort than anything. The Mega Pillow also takes after the semi-legendary MegaMat, Exped's outstanding 3D-walled camping mattress (LINK), and its goal is maximum comfort and size. It also pairs well with the MegaMat pad, but that's really for car camping, not backpacking. That said, for a backpacking pillow the Mega Pillow does work — it comes in at 6 ounces, which is not light, but not exorbitantly heavy for true comfort seekers. It has the second-largest footprint and height after the Klymit Luxe, but has an added dose of comfort due to the fleece synthetic fill in the pillow itself. This creates a soft, warm surface for your head — who hasn't curled your fleece jacket into a ball to sleep on? The Mega Pillow has a two-way flat valve that allows fine-tuning of air pressure, and the top is a comfortable material to rest your head on. The main downside is packed size, which, like the Therm-a-Rest Compressible Pillow, is quite large. Fleece just doesn't compress well. If comfort is your main component and you want a large pillow that works on backpacking and camping trips, Exped's Mega Pillow is certainly worth a look. (http://www.exped.com/usa/en/mega-pillow-1).
See Pillow
---
Exped Air Pillow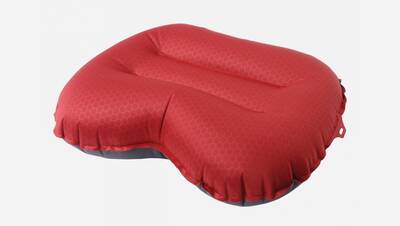 The Exped Air Pillow utilizes a thoroughly engineered design from the Swiss experts on outdoor equipment to create a fairly large, very light air pillow perfect for backpacking. Exped's Air Pillow weighs just 2.5 ounces and packs up tiny, yet has an impressive 15 x 10-inch footprint when fully inflated, with just over 4 inches of height. This creates a large surface to rest your head on — larger than comparable air pads, so if you want a lot of pillow but little weight, this is a good bet. The Air Pillow has a small indent for side sleepers and is higher on one side than the other, allowing you to find the perfect adjustment level for your needs. Finally, Exped put two baffle depressions in the middle, which lock in your head to keep from sliding at night. This couples with separate inflate and deflate flat valves — the best in the industry. The inflate flat valve can be depressed to let out a little air, too. Overall the Exped Air Pillow is comfortable, light, and quite large. You can get it in the Large version, or you can go the Ultralight or Lite route, which utilize thinner materials and slightly smaller design to save a bit of weight, but we feel this thing is already quite light. (http://www.exped.com/usa/en/air-pillow-m).
See Pillow
---
Klymit Luxe Pillow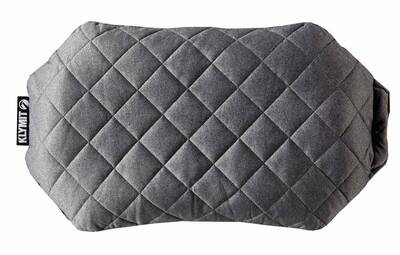 The Klymit Luxe Pillow will surprise you with its size. The weight makes it a backpacking pillow (just over 6 ounces), but the impressive 22-inch width gives it a true-pillow ability, allowing you to roll your head side to side like you're on a real bed. The Luxe also uses a removable and washable quilted soft fabric sleeve, which provides a soft surface to sleep on. The twist and pull valve is tucked under the sleeve, a nice touch that keeps it out of the way, and you can adjust the inflation level to up to 5 and a half inches of height, quite a bit more than other pillows on this list. Finally, it uses Klymit's iconic X design in the center, which cradles and rolls your heads towards the center of the X, giving back-sleepers an upper hand. The Klymit Luxe Pillow is an excellent choice for comfort-oriented sleepers, and won't totally kill your pack weight. (https://www.klymit.com/luxe-pillow.html).
See Pillow
---
Cocoon Air Core Ultralight Travel Pillow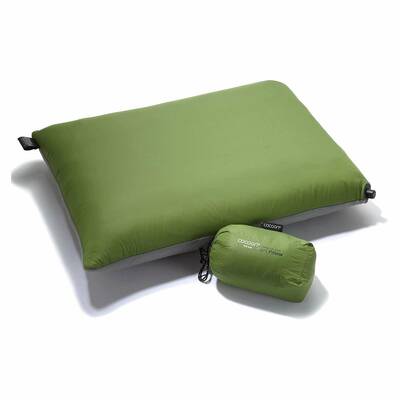 Cocoon is well-known as a travel accessories brand, and they have a large line of camping and travel pillows. The Air Core Ultralight pillow is the most appropriate for backpacking, and is a good mix of air and insulation to create a warm, comfy sleeping experience. It's in the mid-range of weight, coming in at under 7 ounces, but has a little more size than the lighter pillows. The main difference is the synthetic insulation inside the Air Core Ultralight pillow, which acts like foam to create a combination of air and material, allowing you a more substantial surface to rest your head on. The Air Core Ultra also has a warm microfiber side to sleep on during cold nights, and a cooling micro-ripstop nylon side for warm nights. You can remove the cover for washing and repairs, and the twist valve doesn't pull, which makes it easier to operate, and allows you to adjust while laying on it. Overall Cocoon is actually quite good at making comfort accessories for traveling, and the Air Core Ultralight travel pillow is a good mix of everything, retaining decent comfort in a small package. (https://www.cocoon.at/products/index.php/p/kissen_en).

Cocoon Pillow Air Core Ultralight Star Rating
Comfort

Durability

Adjustability

Packability
Summary
The Cocoon Air-Core Pillow in the ultralight variety strikes an excellent balance between packability, weight, and sleep comfort. It has a synthetic layer that's removable and washable, and, depending on the size you pick, weighs well under 5 ounces.
Read Full Review
See Pillow
---
Trekology Pillow Ultralight Inflating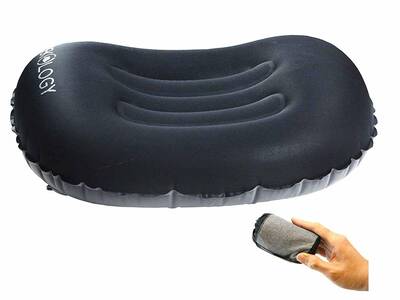 The Trekology Pillow is one of those Amazon only products that has taken a top performing pillow (the Sea to Summit Aeros) and copied it as closely as possible, with a few design tweaks, and offers it for much less money. We put it on this list, despite having less specs than we prefer, because the price savings is pretty enormous, especially for a small item like a pillow. The Trekology pillow, like the Aeros, weighs 2.8 ounces, packs up incredibly small, has a rough Kidney shape, and utilizes a flat valve, though the valve isn't as robust. The Trekology Pillow has a different ridge and dip system on top to keep you from slipping, and is a little larger overall. It has a one year warranty, and there are reports of individual units not holding air, but that's to be expected with a product like this. If you aren't concerned about name brand or a lifetime of backpacking pillow functionality, the Trekology may be the cheap and easy choice for your adventures. (https://www.amazon.com/Trekology-Ultralight-Inflating-Camping-Pillows/dp/B07BWFJVPH).
See Pillow
---
Your Pillow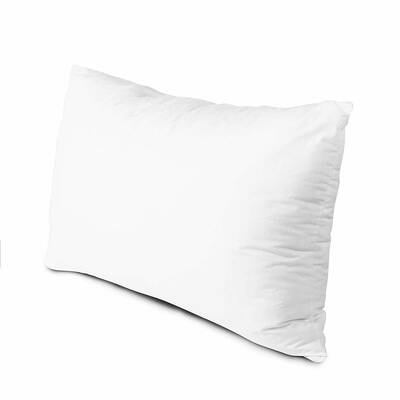 We like to be practical, and it would be impractical to leave out a common and easy choice for backpacking pillows. While taking your own pillow is not the lightest or most packable option, it certainly works. Most backpacks allow you to strap a last-minute item between the brain and the body of the pack, ostensibly the perfect place for a pillow. If you value sleep and don't mind the extra weight, we don't really see a legitimate reason why bringing a pillow is a terrible idea, so consider it. It's cheaper than buying the above, and it might be more comfortable, too. That said, if you want to skimp entirely, you can just ball up some jackets/clothes and use that as a pillow.
---
Backpacking Pillows vs Camping Pillows
The primary differences between backpacking and camping pillows are weight and packability.
A good camping pillow can offer the same luxurious comfort as your pillows at home. Heck, your favorite camping pillow may just be your nightly bedroom pillow. When car camping, you need not worry so much about how bulky your pillow is — you can cram that baby into any nook or cranny in your trunk, even if it's full of camping chairs, propane canisters, and overloaded coolers.
Backpacking pillows, on the other hand, need to fit snugly into your backpack — along with everything else you need for a night (or many) in the wilderness. The best backpacking pillows weigh about as much as a full bag of chips and pack down nearly as well as an empty bag of chips, however, backpacking pillows are significantly more comfortable to rest your head on for extended periods of time than said bag of chips.
The less weight on your back, the more you can snack! No wait, that's not the saying — I must have chips on the brain. What's the backpacker's mantra again? Oh, yes. Less weight equals more fun. That's right!
But seriously, your backpacking pillow should be lightweight and packable enough so as to be nearly unnoticeable inside of your backpack while you're hiking. A good backpacking pillow is also versatile. If you pack it away in an easily accessible location it can be a comfortable seat or snack table on short rest breaks. Who says pillows are only for sleeping?
Sleeping Positions and Your Pillow
It's important to consider the way you sleep before purchasing a backpacking pillow. These aren't your standard one-size-fits-all fluffy rectangles from Target. Backpacking pillows have highly-refined designs which cut down on size and weight, and, as a result, many are engineered for a specific sleep position — two at most.
Those who religiously sleep on their sides should look at sleeping solutions like the Exped Air Pillow. This backpacking pillow has an indent for your shoulder, and it sleeps higher on one side than the other to help side sleepers find the perfect sleeping position. The NEMO Fillo and Therm-a-Rest Compressible Pillows are also good options for side sleepers, as they use foam, which compresses nicely to fit in between the space between your neck, jawline, and the ground.
Back sleepers will find the Klymit Pillow X to be a comfortable ultralight option. The intentional "X" creases of the pillow keep your head centered while the surrounding cushion raises to support your head. Side sleepers would end up with a crooked nose come morning time as a result of this pillow's shape. The Sea to Summit Aeros works well for back sleepers, too.
Pro Tip: Personally, I've found that I'm a side sleeper at home, but I sleep on my back when lying on a backpacking pad, and so the Klymit Inertia O Zone sleeping pad with attached X Pillow is my go-to backpacking set up. Do you sleep differently on the trail than you do at home? Best find out!
Backpacking Pillows Types
There are a number of backpacking pillow insulation and interior constructions to choose from. Here's a breakdown of the various materials inside a backpacking pillow and what you can expect from them.
Air filled backpacking pillows are inflated via your own breath through flat or twist-and-pull valves. Air pillows, like the Sea to Summit Aeros Pillow, are the most lightweight and most packable backpacking pillows on our list as they're full of nothing but your very own hot air. Excessive inflation can make for a bouncy pillow, though you can adjust the pillow inflation to the exact amount you prefer. Once you're done catching Zs you can roll the pillow into a little taquito that will pack away into literally any crevice.
Foam pillows provide firm support and cradle your face with specifically engineered material, much like a memory foam mattress, rather than air pressure. No huffing and puffing is required, and the comfort is typically more like a real pillow at home. Then again, foam pillows like the Therm-a-Rest Compressible Pillow don't pack down nearly as small as air pillows and weigh quite a bit more. Many people prefer the supportive cushion of foam pillows and consider their ample comfort to outweigh their bulk.
The best of both worlds (or worst, depending on your needs), can be found in a combined Air + Foam pillow, such as in the NEMO Fillo. This is the same tech used in most self-inflating sleeping pads. The interior foam fluffs up once it has the chance to decompress, pulling in outside air through a valve as it does, and then you can add in a few breaths to dial in the perfect amount of firmness. We think this makes for an ideal combo (as do many people), but your preferences may differ.
Down and synthetic fill pillows combine comforting physical material like foam pillows, along with some insulation properties, but also have the lighter weight of air pillows. The downside (ha) is that these materials compress while you sleep. This won't be an issue if you prefer flat pillows, but if thick, cushiony support is your game you'll have to look elsewhere. That compression does have its benefits, however, such as when you need to stuff the pillow into your pack. The main down pillow we recommend is the Sierra Designs DriDown pillow, though it does suffer from the "flatness" mentioned above.
How to Buy Backpacking Pillows
Understanding the different types of backpacking pillows, along with their costs and benefits, goes a long way to finding your perfect pillow. We've gone over much of what the different  backpacking pillows have to offer, and now let's discuss a few key considerations to think over before choosing your next pillow.
Consider Your Other Sleep Gear
Your outdoor sleeping setup will greatly affect your backpacking pillow needs. If you're like the majority of backpackers out there who sleep in a tent on top of an inflated sleeping pad, most pillows will work for you.
Depending on how plush your sleeping pad is, you may need to consider how thick your backpacking pillow will be, or get an air pillow that can be adjusted on the fly. If your body sinks into your luxuriously-soft sleeping pad, you can rest assured that a thick pillow will not, and so you may find your head held too high for comfort.
Consider the fabric that your face will be rest on as well. A silky fleece will feel great against your rosy cheeks while direct contact with rubbery plastic will make your face sweat. Gross. Though, if you use a sleeping bag with a hood, you'll find that stickier pillow fabrics will help to keep your head from slipping off in the middle of the night. Tossing and turning with nylon on fleece will cause you to shoot your pillow into your tent wall like a slippery bar of wet soap.
Lastly, if you tarp or cowboy camp, thin, ultralight materials may not be your best bet. Look for a backpacking pillow with thicker walls, like the Klymit Luxe, that can withstand brushing up against a renegade twig.
Buying Backpacking Pillows Online vs in Store
Unless you're completely new to the outdoor gear world, there's nothing surprising to be found in a backpacking pillow. The exterior fabrics and interior insulation materials are all familiar to anyone who has browsed the racks at REI before.
That said, if you really want to check out backpacking pillows in person, go for it. You'll likely see a few on display at your local gear store and you may be able to unpackage some, with permission from an employee, to experience first hand.
Most shoppers, though, will be able to choose a great backpacking pillow while browsing online. The specs and materials are all laid out in orderly fashion on every gear site and online store. Using the information we've provided in this article, and scrutinizing the fantastic backpacking pillows showcased on our list, will give you a head start on the hunt.
Used vs New Backpacking Pillows
Normally, I have no problem with buying used outdoor gear. I've perused my fair share of Craigslist ads and REI Garage Sales, but for a backpacking pillow I'd prefer to buy brand new.
As far as gear goes, new backpacking pillows aren't all that expensive. I'd rather save face (ha, again) and get a new pillow that hasn't been inundated with someone else's sweat, oils, and moisturizing lotion.
That's just my opinion and you might not care about old face grime so much. If that's the case, go ahead and keep your eye out for someone else's "like new" backpacking pillow.
Then there's the fact that most backpacking pillows can be "popped", just like a sleeping pad, which is something you'd have to test at length before buying used.
Keep in mind, though, that if you're looking to save a few bucks, why not carry your home pillow or ball up a bunch of your hiking clothes into an on-the-go pillow? I'll throw my down jacket into a bug head net as a last-minute alternative — works great for a night or two on the trail! And you can always take your pillow from home — just sandwich it between your backpack's top lid and main chute. Yes, the extra weight will suck, but a good night's rest is worth it.
Backpacking Pillows are like Electric Cars
They keep improving year after year.
Like their brother-from-another-mother sleeping pad companions, backpacking pillows are consistently getting more refined as outdoor tech improves. Lighter, more comfortable materials are paired with the latest innovative insulations in each new rendition. New valves, baffle designs, and synthetic materials are just a few of the advancements to look forward to.
And yet they're still a fairly inexpensive product that holds tremendous value to anyone who covets a good night's sleep. Grab one now, but keep your eyes peeled for more advanced backpacking pillows in the years ahead.
---
Backpackers.com Affiliate Policy: This guide contains affiliate links, which help fund our website. When you click on the links to purchase the gear we get a commission, and this goes a long way to creating guides, gear reviews, and other excellent content.