Lems Boulder Boot Overview
Lems Boulder Boots are versatile, lightweight travel shoes that excel as casual urban footwear and hold up well against the rigors of the trail. They're also incredibly packable. Whereas most boots take up as much storage space as a bowling ball (and prove to be more awkward), the Boulder Boots pack away better than a water bottle.
It's all in the design philosophy. Lems puts the foot above all else — on a pedestal, if you will. The company is known for creating minimalist footwear that supports the natural foot shape with a zero-drop design and roomy toe-boxes. The Boulder Boots encourage the natural walking rhythm of your feet rather than forcing them into an artificially bolstered gait, and happen to look suave too.
Lems Boulder Boot Star Rating
Comfort

Durability

Soles

Uppers
Summary
Capability, versatility, and convenience are the key qualities of the Lems Boulder Boots. They're like the little black dress of boots– they'll work great for any occasion, including light hiking, and you should take them wherever you roam.
The Lems Boulder Boots are best for Urban Hikers, Day Hikers, and Car Campers They perform exceedingly well for anyone accustomed to zero-drop shoes, and would be ideal for international adventures due to their packability. That said, a more technical boot is best for long wilderness backpacking treks.
Check out our full review of the Lems Boulder Boots below, then take a look at our comprehensive Hiking Boot Guide to compare them with other popular footwear options.
Lems Boulder Boot Specifications
| Feature Type | Feature Specs | What This Means |
| --- | --- | --- |
| Weight | 5 oz. (141 g) per shoe | Incredibly light boots. And they pack up extremely well, too. |
| Category | Lightweight | We categorize boots in three classes, and Lightweight boots are great for lighter hikes and warmer weather. |
| General Fit | Zero-Drop | The Boulder Boots have a zero-drop fit, which means a natural, semi-narrow heel and mid-foot, with a very wide toe box for natural splay. |
| Upper | Leather + 1200D nylon | A combination of leather and heavy-duty nylon create a breathable, durable boot. Good looking, too.. |
| Waterproof | No | There's a Waterproof version of the Boulder Boot. This one is not waterproof. |
| Sole | 9mm LemsRubber | In-house sole that's fairly thin. It uses air-injection rubber and performed very well. |
| Lace System | Traditional | Two pairs of laces included.. |
| Sizes Available | 6-15 for Men, 5-12 for Women, with half sizes | Very large range of sizes. |
| Manufacturer Warranty | 1 Year Warranty | A decent warranty for shoes. |
| Retail Price | $125 | A medium-to-high price for boots. You're paying for the lightweight and collapsible nature, the quality of the build, and zero-drop design. |
Gear Review of the Lems Boulder Boot
Origins: Easing You In
I first laced up the Lems Boulder Boots at the tail end of winter when rain and snow were the daily norm here in the Pacific Northwest. It was boot season, the time of year when sidewalks were speckled with puddles and the local trails were squishy with mud and slush.
I wondered how these zero-drop, water-resistant boots would fare. Everywhere was wet, and I was accustomed to wearing waterproof hiking boots when I ventured out on anything more sloshy than a gravel road. Lems does offer waterproof versions of the Boulder Boots, but I tested the standard edition.
And I have to say, I was duly impressed. Through mud and muck, rain and more rain, my feet were kept dry. Not only were they dry, but they also felt comfortable over the various terrain I traversed.
These boots have a zero-drop design, meaning that there is no slope from heel to toe, unlike traditional boots that often feature a moderate rise in the heel to support and soften your step. This flat style can take some getting used to — which is a nice way of saying don't walk 10 miles during your first day in a zero-drop shoe.
For context, I have been running in Altra shoes for the last nine months and have become accustomed to the zero-drop style. The beauty of zero-drop — beyond the relief if it suits your feet and gait — is that each zero-drop shoe is the same. A boot, a trail runner, a basketball shoe, if they are zero-drop it'll feel similar to your foot.
Revelation: The Moment I Knew
Two specific moments light up in my brain whenever I think about these boots. These thoughts define the affection I have for the Lems Boulder Boots, and they give my heart a fuzzy feeling. Is this love? Boot love, perhaps.
The first time I slid my feet into the Boulder Boots I knew they were much different than any other boot I had ever worn. The nylon uppers were pliable, the interior plaid cotton was soft, and the flat, cushioned insole left my feet feeling as if I had put on my favorite pair of slippers.
It was a fantastic experience. The boots felt like they were molded to my feet right out of the box (not the case for basically any outdoor hiking boot), but the question remained: would they be durable and supportive enough for daily all-purpose duty and a weekend full of hiking?
Short answer: Yeah.
Through town I felt like I was walking around in plush high-top sneakers, but with a stitched-leather exterior that looked mature and professional. Out in the woods, though, is where I became confident that the Boulder Boots could handle it all.
I hiked a few trails in the foothills of the Cascades where everything was covered in moss and dripping with rainwater. Standing atop Royal Terrace Falls, looking down at the muddy and root-filled path I had scaled, is when I first understood that these were serious hiking boots.
The rubber outsole held tough as I stepped over large rocks and fallen trees, and the wide toe-box allowed my forefoot to naturally spread out for better grip and comfort.
Digging Deeper
The Lems Boulder Boot has a few unique design features beyond the zero-drop.
The 9 millimeter injection blown rubber outsole performed much better than I had expected it to. It's an extremely lightweight material that is more flexible than my own aging joints could ever hope to be. Naturally, I assumed there would be a compromise and that the underfoot protection would be lacking, but I was wrong.
That said, the waffle pattern of the sole doesn't have much depth to it. While it's plenty grippy for urban use and light to moderate trails, they will likely slip on slick rocks and other treacherous surfaces one finds when backpacking for long stretches.
Next, let's talk about the midsole. There isn't one.
Somehow Lems designed a comfortable, supportive boot without a midsole, which is traditionally what gives the foot the most "comfort." How? I don't know.
The 3.5 millimeter removable moisture-wicking insole provides all the cushion you're going to get, but it is enough, even for long walks, much to my surprise.
That's because the zero-drop design and wide toe-box allow your feet, tendons, and calf muscles to act as a natural suspension system rather than making the shoe do the work with unnatural supports in the heel and elsewhere. Think about it, do you really need to wear high heels every day? While most boots don't raise your heel quite as much as high heels, it is a significant amount, and we've all grown accustomed to wearing them.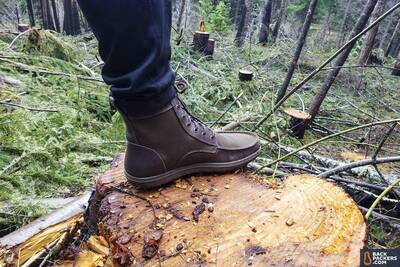 On the outside of the Boulder Boot, the leather trim acts as a durable barrier in all the right places, and strong, yet flexible 1200D nylon gives these boots their unmistakable look and feel.
The entire package weighs in at a featherlight 10 ounces. That's not per boot, that's the weight of the entire pair. I cannot stress how light this is.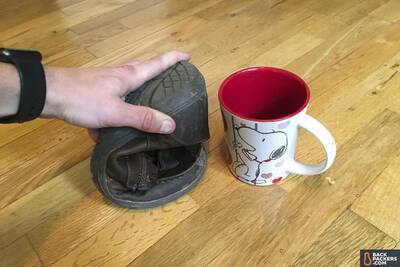 The Boulder Boots are also extremely packable. Each boot can be flattened to an inch-thick slab, and I was able to scrunch one down into a ball the size of my favorite Snoopy coffee mug.
Comfort
– 4.5 Stars
The Lems Boulder Boots are wonderful to wear with the caveat that you need to adjust to the zero-drop style if you're not already accustomed to it. I prefer zero-drop shoes over sloped designs, but I do admit that it took a couple of months for my feet, ankles, and calves to fully adjust.
Even without a midsole, and on serious day hikes, the Boulder Boot proved more than comfortable.
Durability
– 4 Stars
The Boulder Boot design and materials are top-notch. I have no doubt about the long-term durability of these boots, but the soles are rather thin. This shouldn't be an issue for most people, but if you plan on undertaking frequent hardcore hikes I suspect the soles will wear down faster than you would like.
Soles
– 5 Stars
Again, it comes down to getting comfortable in zero-drop shoes, but walking in the Lems Boulder Boots is a joy. I could parade around in them all day without issue, and my blister-prone feet have not suffered a single hotspot thanks to the cushioned insole and wide toe-box.
Uppers
– 4 Stars
I like the moccasin-style of the stitched leather and nylon uppers of the Boulder Boots. The material has proven to be quite water-resistant (despite not being the "waterproof" version) and breathable to boot. The flexibility of the nylon will take some getting used to — see below for more on that.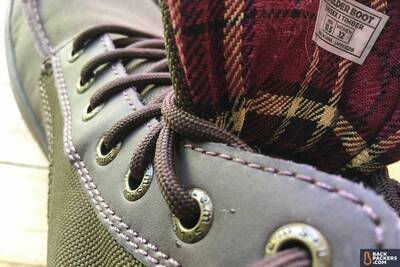 Fit
Highly flexible with plenty of lace control, these boots are easy to get comfortable in. There is spacious wiggle room for your toes, but your heel, midfoot, and ankle all can be locked in as tight as you need thanks to the robust lacing system and flexible nylon uppers.
Grievances
I have one issue with the Boulder Boots: those nylon uppers can be irritating from time to time.
I may be biased because of my history with more rigid boots, but the pliability of the nylon upper on the Boulder Boot shows itself on uneven terrain. This isn't an issue on flat surfaces because the boots maintain their shape, but when your foot and ankle are being forced into extreme angles, such as when you're hiking on uneven trails, the nylon collapses and, being that it is a thick and durable fabric, it has a sharp edge on those creases that can dig into your skin despite the interior cotton lining.
This crease of fabric tends to poke and scratch at my achilles tendon and under my ankles, which is less than ideal for long, technical treks.
That's the only reason why I wouldn't take these boots out on anything longer than a moderate day hike.
Final Word
Lems Boulder Boots are lightweight, durable, and comfortable zero-drop boots that wear well on trail and on pavement. They're versatile travel shoes that'll pack down as small as your favorite puffy jacket, and weigh as much, too.
Where to Buy Lems Boulder Boot
We tested the Lems Boulder Boot Nylon, which is the standard edition of the boot. It's made for men and women.
There is also a Waterproof Boulder Boot, and a full Leather Boulder Boot, for both men and women.
Compare Lems Boulder Boot prices below.
Review Policy: We do not accept payments or gifts from brands and vendors, and strive to provide unbiased, independent advice. Brands typically provide review samples which we return, and in some cases we purchase the item so we can keep using it long after the review. Affiliate Policy: We support the hours that go into our reviews and testing through affiliate commissions on purchases made through links in this article. These don't effect the outcome of our reviews or selection of gear, as per our Review Policy.