Montbell UL Thermawrap Parka Overview
Who doesn't love a lightweight, comfortable, packable jacket that keeps you warm? Like most backpackers, I typically obsess over anything made from down. Anything that makes me feel like I'm wrapped in a giant cotton ball is a win! Synthetic insulated jackets haven't always emulated that feeling for me…until I tried the Montbell UL Thermawrap Parka.
The UL Thermawrap Parka is a synthetic insulated jacket that compares to down jackets favorably. It weighs in just under 8 ounces, compresses into a tiny package, has water resistant insulation to help stay warm when wet, and quick drying elements so you won't be wet for long.
These features, along with a relatively low price tag, make the Montbell UL Thermawrap Parka our Budget Pick for the Ultralight Backpacker and Urban Hiker. We don't often highlight gear that fits both of those Backpacker Types, but the UL Thermawrap Parka is unique. It's the lightest legitimate synthetic insulated jacket we've found, compresses almost as good as down, and works as a midlayer in the backcountry. The lightness, comfort, versatility, and clean-cut lines (and color options) also make it excellent for around town. It provides an opportunity for Ultralight Backpackers and Urban Hikers to reap the benefits of synthetics while not having to spend an arm and a leg to get it.
You can read the full review of the Montbell UL Thermawrap Parka below, but if you're curious (or confused) about synthetic insulated jackets, read our comprehensive Guide. It's worth it.
UL Thermawrap Parka Specifications
Feature Type
Feature Specs
What This Means
Average Weight
9.3 oz. (265 g) Men's, 7.9 oz. (224 g) Women's
One of the lightest fully-featured synthetic insulated jackets on the market, by a couple ounces. The hoodless model weighs about an ounce less.
Insulation
STRETCH Exceloft
New proprietary insulation from Montbell. It's moderately stretchy, decently warm, and very lightweight. More info on synthetic insulation our Guide.
Shell Fabric

Sleeve: 15-denier Ballistic Airlight rip-stop nylon

Body: 12-denier Ballistic Airlight rip-stop nylon

Montbell uses proprietary shell fabric in both 15- and 12-denier for this jacket. The body is slightly stronger and thicker, while the sleeves are thinner for increased mobility. The shell fabric is soft to the touch, but not as nice feeling as more expensive synthetic insulated jackets. More information on shell fabric in our Guide.
DWR Treatment
Standard DWR treatment
This jacket repels water pretty well. It will get soaked if left in the rain, but dries out quickly.
Number of Pockets
Two Hand Pockets, One Chest Pocket (Men's Only)
Two roomy pockets keep your hands warm. The men's version has an external chest pocket, but the women's doesn't. This is a bit of a bummer.
Stuffs Into Itself
Yes, into included stuffsack
This is a truly packable jacket. The included stuff sack is easy to use, but make sure it doesn't get lost! You can compress the jacket much smaller than the stuff sack, and stuff it just about anywhere in your pack.
Hood/Jacket Option
Yes
Montbell offers the UL Thermawrap Parka and UL Thermawrap Jacket for both genders. The Parka has a hood, the Jacket does not.
Adjustable Hood
Yes, Hook and Loop Closure
The hood has a hook and loop closure (like Velcro) on the back for minor adjustments. It has elastic around the brim to keep it close to the face, but no specific toggles to really tighten it down.
Adjustable Waist
Yes
Two toggles at the base of the jacket allow you to adjust the hem. Keep in the warmth!
Gender
Men's and Women's
Available for both genders in a hooded and hoodless version.
Sizes Available
S, M, L, XL
Montbell doesn't make every size imaginable, so know your dimensions before buying.
Manufacturer Warranty
Lifetime Manufacturer's Warranty
Montbell's warranty covers all defects in materials and workmanship to the original owner for the lifetime of the product. This doesn't include normal wear and tear, but they do have a repair service.
Retail Price
$209
Not exactly cheap, but inexpensive compared to other synthetic insulated jackets.
Gear Review of the Montbell UL Thermawrap Parka
Origins: Easing You In
As I got ready to head to the Sespe Wilderness for the weekend, I threw my stove, instant coffee, favorite camping mug, and the Montbell UL Thermawrap Parka into the top of my backpack for easy accessibility. I closed up the drawstring and weighed it: 15 pounds, right where I wanted to be for this overnight!
With my usual gear I struggle to close the top of my pack, sitting, kneeling, and squeezing to make everything fit. Swapping out my typical puffy (an old North Face model) with the Montbell UL Thermawrap Parka somehow freed up a ton of space. It's a seriously packable jacket.
Everything was set, so I walked outside and it was a crisp 58 degrees Fahrenheit. This is a cold spring day for us in Southern California. I dug the Montbell UL Thermawrap Parka out of my pack to get warm (a satisfyingly simple process) and hit the road.
As I drove towards the land of no cell service, thousands of wildflowers, and preying mountain lions, I found myself getting hyped. With this extra room I was going to be able to dig through my backpack as needed without being forced to completely unpack. This level of excitement doesn't usually set in until I'm pulling up to the trailhead, but I felt it as soon as I hopped in the car. The Montbell UL Thermawrap parka was snug on my body and Journey was on the radio (Hey, Journey is awesome!) as I sped to the trailhead.
The first thing I noticed was all the wildflowers. California in bloom, after a drought, is beautiful. So-long dead bushes, brown mountains, and hard dirt that you can barely hammer tent stakes into! When I stepped out of my car, I could tell this was going to be an amazing hike. By this point, it had warmed slightly to 65 degrees with a cool breeze and the UL Thermawrap Parka kept me warm without overheating.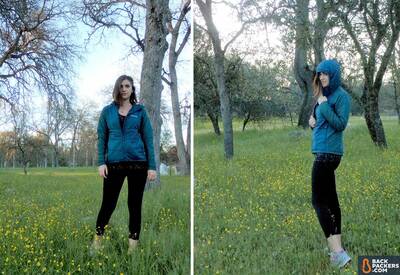 About a mile into my hike, I could finally test the UL Thermawrap Parka during high exertion. In this temperature, I usually stick to wearing a lightweight, long-sleeve shirt and only throw on a insulating layer when the wind picks up. But with this jacket, testing the breathability was essential so I kept it on for the majority of the hike. Although it was lightweight, it didn't breathe as much as I had hoped.
By the time I got to the campground and set up my stuff the temperature had dropped into low 50's. I made dinner, still in my tank top and the UL Thermawrap Parka. These two layers provided enough warmth for me to enjoy dinner and head to bed without feeling like I needed anything extra.
I woke up to the sounds of birds chirping, crawled out from my sleeping bag, and tossed the UL Thermawrap Parka back on. Outside the tent it was a brisk 40 degrees. I boiled water for instant coffee and oatmeal and watched the fog turn to blue sky. The jacket was warm enough; temperatures were much cooler as I hiked out. On a chilly day the Parka regulated my temperature perfectly, and I didn't overheat at all.
Revelation: The Moment I Knew
The Montbell UL Thermawrap Parka provided me with a couple 'ah-ha moments'. The first was when I was packing it into my backpack. It compressed into a cylinder smaller than my 30-ounce water bottle and made navigating through my backpack as easy as mixing hot water into freeze-dried pasta.
Another moment was on my way to the campground in the Sespe. The wind was howling later in the day; I was able to put the hood up and block my ears without worrying about it flying off my head. I can't stand the feeling of wind through my ears, so the fact that it hugged my head like a beanie made me comfortable enough that I didn't need to break out a wind-specific layer.
The final moment came from continued use: the overall comfort of the Montbell UL Thermawrap Parka is incredible. It fit my body like a glove without causing any discomfort. I wore it on backpacking trips, daily runs, and nights out at local breweries. While hiking in the backcountry, it never felt tight enough to cut off circulation around my wrists, and it wasn't so loose that it couldn't insulate correctly.
Digging Deeper
The Montbell UL Thermawrap Parka has many key features that make it a great pick for an all-around synthetic insulated jacket, whether you're on the town or hiking in the backcountry.
The first of those is its versatility as a light wind breaker or rain jacket (light being the key word!). The fit of the Thermawrap Parka hugs your body to provide enough warmth and coverage in breezy conditions, which I don't find to be the case for other synthetic jackets. If the wind really starts to howl, you may have to opt for a windbreaker to layer on top.
If you're wearing this parka and it begins to rain, it provides decent, basic protection. It's treated with DWR (durable water repellent), which, when combined with the Exceloft fabric from Montbell, works well to repel water and then dries quickly.
Walking through the rainy streets of Santa Monica without an umbrella and only the UL Thermawrap Parka to keep me dry and warm, I was surprised by the effective, water-resistant material. Most of the water just sat on top of the jacket and then dried while I ate breakfast. Just remember: it won't be effective in a heavy rainstorm.
The jacket has a hook and loop closure on the back of the hood and elastic around the edges. While the hood fit me well without needing much adjustment, I did notice that in the rain the hook and loop closure seemed to lose some of its strength and didn't hold its position as well as dry conditions. Also, there are no adjustable toggles to really keep the hood in place. This cuts down on weight, but is a feature some might miss.
The Montbell UL Thermawrap Parka has different fabric thicknesses — the sleeves are thinner than the core, which helps regulate warmth and breathability. The jacket also layers well. It's plenty warm on its own and can be used as an outer layer at 50 degrees and above, but when you drop below that you'll want to put on another layer.
While on a short hike around Yosemite, it got to be cold at dusk and luckily I had my wind breaker. With this outer layer I had no problems at all, and the Thermawrap Parka fit perfectly as a non-bulky midlayer. The jacket fits pretty slim, so layering anything thicker than a long sleeve baselayer underneath will be tough in a normal-sized coat.
Comfort
If you can close your eyes and imagine being wrapped in a cloud while drinking a strong cup of coffee in the morning, that would be the Montbell Thermawrap UL Parka. It's so comfortable I found myself wearing it even when it was warm outside, blasting the A/C in my car so I didn't have to take it off!
Durability
On my backpacking trip in the Sespe, as I was setting up my tent, I pulled out all the poles and started to hook them together. I accidentally hooked one of the metal poles onto the wrist of the jacket. I figured the pole had torn through the jacket, but was pleasantly surprised to see it was unharmed and didn't leave more than a dirt stain. I couldn't say the same for my arm, but small scrapes heal fast. As a klutzy person, having a jacket with material that will last through my falls and mishaps is essential when picking out gear.
Fit
I said this before and I'll say it again, this jacket fits just like a glove. Not too big and not too small, it's now one of the most comfortable jackets I wear when the wind starts blowing and it's time for a light extra layer. I wear a size small, and a women's small was used for testing. I'd consider going up a size depending on how I plan to layer. If I wanted a light jacket underneath, I would need to go up to a medium but with just a lightweight workout top, it does the trick.
I can't speak to the men's fit, but I imagine it's similar.
Style
In every James Bond movie, they have a scene of 007 getting out of his car in a fancy suit and strutting with a confidence unlike anything else. With the Montbell UL Thermawrap Parka, I feel the same way on the trails. As I take my first steps from the trailhead, I have a new sense of confidence and think, "Okay, let's do this!"
Grievances
My main grievance with the Montbell UL Thermawrap Parka is the lack of breathability. While hiking in the Sespe it bordered on being too warm, and when I took it off it stuck to me like glue. There's not a ton of airflow in the fabric, so when I'm trying to cool down I would need to either keep the jacket unzipped or take it off to be sure I don't overheat. Due to the quick-drying synthetic material, it won't stay wet for long.
Another issue I had were the pockets. There are two external pockets for your hands, but none on the inside or on the chest. The men's version of the UL Thermawrap Parka includes the chest pocket, but the women's does not. Come on Montbell, get it together! Even though I understand that some cuts need to be made with ultralight gear, I enjoy having a chest pocket to put my phone into. Plus, the difference for genders doesn't make a ton of sense to me.
Final Word
The right features with none of the weight is what the ultralight-minded individual wants. The Montbell UL Thermawrap Parka delivers as a super-light, super-cozy synthetic insulated jacket that won't break the bank.
Where to Buy Montbell UL Thermawrap Parka
The women's Montbell UL Thermawrap Parka was tested and used for this review. There is also a men's version available. The men's version uses the same fabric, zippers, and insulation, but has one additional chest pocket and a different fit. It's also offered in different colors. Both of these Parkas have a hood. If you want this synthetic insulated jacket but don't want (or need) the hood, check out the Montbell UL Thermawrap Jacket. It's the same exact jacket for both genders except for the hood. These are also the newest version of the UL Thermawrap line, where Montbell made significant changes. Links to all of these jackets are below.
Review Policy: We do not accept payments or gifts from brands and vendors, and strive to provide unbiased, independent advice. Brands typically provide review samples which we return, and in some cases we purchase the item so we can keep using it long after the review. Affiliate Policy: We support the hours that go into our reviews and testing through affiliate commissions on purchases made through links in this article. These don't effect the outcome of our reviews or selection of gear, as per our Review Policy.