MSR Guardian Purifier Overview
When I think of the word "guardian" it conjures up images of an old-world protector, decked out in the heaviest armor, carrying a two-handed broadsword in one hand and a shield with the crest of the sun in the other. Yeah, I'm a nerd, but that description transfers pretty well to the MSR Guardian Purifier. It follows in the old tradition of hand pumping, weighs a solid amount, and is not miniscule — but it gets the job done in such a thorough, satisfying, and basic way that all those marks against it fall away. This device is, all things considered, the most badass water filter and purifier on the market.
The MSR Guardian Purifier is a water purifier that pumps roughly 2.5 liters per minute, backflushes automatically, attaches to wide-threaded bottles and bladders, and is one contained unit. It strains out protozoa, bacteria, and viruses, which is everything you'll encounter on the trail or in cities abroad.
Rightfully, the MSR Guardian Purifier is our Premium Pick for the Urban Hiker and Day Hiker.
MSR Guardian Purifier Star Rating
Ease of Use

Compatibility

Portability

Filtration Rate
Summary
The MSR Guardian Purifier was built to cleanse water, wherever you may be. It's heavier than most filters, but will last longer, rarely need to be serviced, gets out viruses and protozoa, and makes your water taste delicious. It is a pump filter, but one that is surprisingly easy to use while filtering extremely fast — it makes that typical chore seem almost fun.
If you want the best in portable water filtering and purification, the MSR Guardian is it.
Read the full review of the MSR Guardian Purifier below. If you're confused about the difference between a filter and a purifier, want to know what protozoa are, or have a slight obsession with gear, check out our Guide to Water Filters and Purifiers — it's a beast.
MSR Guardian Purifier Specifications
Feature Type
Feature Specs
What This Means
Weight
21.7 oz. (615 g)
The Guardian is heavy, weighing well over a pound. The case is another 2.4 ounces. High quality construction, a double tube, and a beefy filter/purifier unit make up the weight.
Filter or Purifier?
Filter and Purifier
The Guardian is the only filter purifier combination on the market. It takes care of anything you'll encounter. Specifics on the difference between filters and purifiers in our Guide.
Treatment Type
Pump
Yes, it's a pump filter. The pump itself is easy to grip and moves quickly when pulled. But it does take effort! Specifics on treatment types in our Guide.
Effective Against
Protozoa, bacteria, and viruses
All pathogens you commonly encounter in the U.S. and abroad are strained out by the MSR Guardian. Specifics on pathogens in our Guide.
Filter Pore Size (Microns)
.02 microns
Most known viruses in water are not smaller than .02 microns in size. Your eye can't see this, but the Guardian can separate the water from any particles this size or bigger. Specifics on micron size in our Guide.
Filter Media
Advanced Hollow Fiber
Hollow fiber filters are common, but this one is special. Medical-grade, it blocks viruses, withstands near-freezing temps, and can survive falls. Also made in the U.S.
Flow Rate
2.5 liters per minute
Incredibly high flow rate, especially for a pump filter. If you pump really hard you can fill your bottle or bladder quicker.
Filter Life
10,000+ liters
Very long filter life. Most people won't need to replace for years (even decades) unless you use a filter for most water consumption. You can purchase a replacement cartridge, but it's quite expensive.
Filters Particulate?
Yes
Comes with a fine mesh pre-filter attached to the intake tube, meaning large particles never make it in. Then the Guardian filters smaller particulate and backflushes out anything left.
Components

Filter, tubes, and pre-filter are all one unit

Carrying case

The Guardian works out of the box with no adjustments. Everything is attached, and stays attached. Fits in a carrying case.
Works With

Standard Wide-Mouth Threads

MSR Dromedary Bags

Hydration Tube

The bottom of the Guardian screws into any standard wide-mouthed bottles or bags, like wide-mouth Nalgenes or MSR Dromedary bags. You can also attach a hydration tube.
Manufacturer Warranty
3 Year Limited Manufacturer Warranty
MSR is a reputable company that stands by its products. If components of the Guardian fail, send it in.
Cost
$349.95
A very high price for the only purifier filter combo on the market.
Gear Review of the MSR Guardian Purifier
Origins: Easing You In
Anything that claims to guard and purify needs to live up to the hype, and the hype for the MSR Guardian Purifier is quite large. It has been heralded with awards since its debut in 2015, and remains the most expensive and coveted water treatment system on the market. I wanted to test these claims out, in addition to stacking it up against other, much more common (and cheaper) water treatment methods like squeeze filtration, gravity filters, UV filters, and chemical treatments.
To do this, and to really test the magic of the Guardian, one has to travel internationally. The "purification" aspect of this product means it filters out viruses, which is excellent for sketchy tap water and questionable streams in underdeveloped countries, but a bit overkill for your common U.S.-based backcountry lake. The Guardian still works great for both, but using it in truly dangerous water is the ultimate litmus test.
So, I went to Thailand. There are two scenarios I used the Guardian for while traveling — the first is filtering tap water before long, hot treks; the second is in the jungle next to rivers and waterfalls. The purifier performed like a powerhouse in both situations, and has continued to impress every time I take it out.
Revelation: The Moment I Knew
The revelatory moment came to me 15 minutes before a trek into the Mu Ko Lanta National Park on the southern tip of Koh Lanta, a large, chilled-out island on the Andaman Sea. My travel partner and I were prepping for the hike; it was hot season (as opposed to monsoon season), so the amount of water on the trail was unknown, and likely low. This meant we had to prep our water beforehand.
As budget travelers who don't like waste, we were sick of buying bottled water. The Guardian Purifier was practically begging to be used, so we did. This epic moment is not a glamorous nature scene, but rather a humid, sink-filling ritual in which the Guardian Purifier became my favorite water purifier to date.
My accommodations had a sink with a plug, which allowed me to turn on the tap water and fill up a small reservoir of water to be filtered. I waited until the water line was about four fingers thick (a quad shot for those wondering) and uncoiled the tubes, which come attached and ready to use out of the box.
At this point I noted the prefilter and float. The prefilter is the rectangular screen at the very end of the two hoses, and it's the part that sucks in the water. I stuck that in as best I could, though it can be hard to keep it submerged due to the float. The float is the large black foam panel attached to the tubes, which keeps the prefilter bobbing on top of the water. This can be annoying until you get the right angle, and then it keeps the prefilter down perfectly.
I unscrewed the clean side cover (the red bottom cap), and noted the small hole underneath. This is where the filtered water comes out. I brought a wide-mouthed bottle on the trip, which threaded perfectly onto the bottom of the Guardian. If you don't have a bottle like this (or MSR's Dromedary bladders) you just have to line up the small hole on the Guardian with your water bottle or bladder.
Everything was in place, so I began to pump. Yes, it's a pump filter, and for a moment I remembered all the painful backpacking trips in which I've filled liter after liter of water for a group, arms burning after a tiring hike. But before that thought was even finished my one liter water bottle was halfway full. Another few seconds and it was completely full.
The Guardian is really fast. So noticeably fast that my partner exclaimed, "Wow, that was easy!" She got our hydration bladder and opened it for a full three liters of pumping. The bladder was full in just over 60 seconds, and we had 4 liters of sparkling water, sans cost or waste, to take into the jungle.
Digging Deeper
There are many standout elements of the MSR Guardian Purifier, which makes sense due to its high cost. The best part, though, is the fact that all of these fancy components are in a single unit that's ready to use the moment you take it out of the box. You can't say that for most filters or purifiers out there, and it makes the Guardian foolproof.
The feature that a filter and purifier connoisseur will appreciate most is the automatic backflushing. The Guardian has two thick tubes: one for intake, one for backflushing. After you pull in water through the prefilter, it travels into the pumping chamber. The water is pressed down through the device into the bottom, and most of it goes into your bottle, but some of it is automatically turned away and pushed out of the second tube.
The prefilter helps to screen out sediment, but this secondary backflush mechanism makes it so that every time you filter water you are also backflushing the device. I found no slow-down of the filter rate in my month of heavy usage, and I don't expect to in the future either.
The other important features are not things you can see. The Guardian filters to .02 microns, which means it gets rid of viruses. This is the only filter on the market that purifies water (the rest are chemical treatments or UV light), so if you enjoy filtering but need purification, this is the model to get. The lifespan of the cartridge is 10,000 liters, meaning you won't need to replace it for years (unless you use it every day for all your water). It can withstand falls and cold, but in sub-freezing temperatures you want to keep it as warm as possible.
Finally, the unit comes with a nice carrying case, which has open mesh to help the exterior dry off.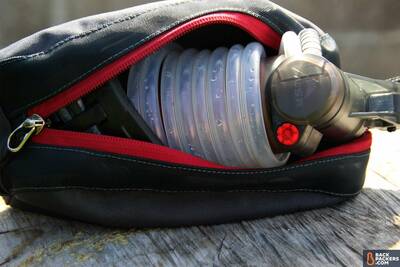 Ease of Use
Almost as simple as drinking the water you're about to filter. Uncoil the tubes, plop the prefilter in the water, attach a bottle or hover over your bladder, and pump. No backflushing required, and no real maintenance.
A tip: to get the prefilter to settle correctly, make sure the curve of the tubes makes a circle (or close to it). That way when you pump the prefilter won't jump out of the water, and it will stay facing the correct way.
Compatibility
The MSR Guardian comes ready to thread onto a most wide-mouth water bottles, specifically of the Nalgene and Camelbak variety, so if you have one of those you can very easily fill that bottle up quickly.
If you're not using that, there's an open hole where the purified water comes out — this can be placed over pretty much anything, and makes filling rather easy. The only place this is difficult is with tiny-mouthed bottles (like a Smartbottle), because it's hard to keep that hole in a steady position.
The hole connects to a bladder hose by pushing it on, which is handy, but a Quick Connect would be even more handy, and reduce leakage.
Overall this bottle is quite compatible. MSR sells another set of threads and Quick Connect separately, which makes it pretty much compatible with everything, but I think that should be included for the high price of the original.
Portability
Portability is all relative, right? It's very portable in that it comes with a case, is all one unit, and curls up into itself nicely. However, as far as other filters go, the Guardian is quite large. It weighs 22 ounces (that's 1 pound, 6 ounces) and is roughly 8 inches long. It will fit in a day pack or larger backpack, but you'll notice the room it's taking up.
Filtration Rate
As I've already said, the filtration rate is incredible. MSR markets it as 2.5 liters per minute, and I'd agree with that. You can get it even faster if you're pumping hard. I was blown away by this filter rate, and it seriously makes me consider taking the Guardian on all of my excursions, whether viruses are present or not.
Grievances
Could MSR have done more for its flagship, pricey, over-the-top water purifier? Yes, I think so. At $350, this is the most expensive water purifier a normal backpacker could buy, and it might be the most expensive piece of gear you own. For that price, I wish it had a few very nitpicky things.
First, there's the hole at the bottom where the purified water comes out. It's a small hole with a lip meant for a bladder hose to slide onto, which is nice, but not very practical. Most bladder hoses today have Quick Connects, and the Guardian should really have (and come with) an easily attachable Quick Connect port to that hole. That way I could pump water directly into my bladder without leakage or a second person to hold it. You can buy a separate adaptor kit at the moment, which also helps it filter into smaller threaded bottles, but for the price I think all that should be included.
Second, I wish the hoses were a little longer; they are roughly four feet. I understand why they're not: MSR wanted them to coil perfectly around the unit, and the added length would increase weight. The length works if you filter into the screwable water bottle, but when I had to place the hole over a bottle or bladder that didn't move seamlessly with the device itself, I found myself having to make sure everything was close at hand, even when using a sink.
Finally, I wish the float was movable or detachable. MSR engineered the prefilter to work with the float, but with river currents it often displaces the angle and gets frustrating to use because you can't suck in water if the prefilter is sticking up. If the float was movable, you could easily adjust it to make the prefilter sink an inch below the surface while the hoses float, allowing a steady intake of water.
Final Word
The MSR Guardian Purifier is a beast. It will treat your water in seconds, cleans itself while you pump, and is one self contained unit. If you need to to thwart viruses and have the money to spend, you can't do better.
Where to Buy MSR Guardian Purifier
he MSR Guardian Purifier was used in this test. There is only the one model, and you'll know it when you see it. The unit is self-contained and will work alone, which is great because it's expensive!
That said, MSR offers a number of attachments, replacement parts, and a cleaning kit for the Guardian. The Universal Bottle Adapter + Clean Cover is useful if you want the Guardian to screw onto a different kind of bottle. The Dromedary bladders are excellent if you want to pump directly into a bladder.
Compare prices for the MSR Guardian Purifier below.
Review Policy: We do not accept payments or gifts from brands and vendors, and strive to provide unbiased, independent advice. Brands typically provide review samples which we return, and in some cases we purchase the item so we can keep using it long after the review. Affiliate Policy: We support the hours that go into our reviews and testing through affiliate commissions on purchases made through links in this article. These don't effect the outcome of our reviews or selection of gear, as per our Review Policy.