Osprey Manta AG 28 Overview
The Osprey Manta AG 28 leaves all other day packs in the dust. After spending hours on the trail under the weight of a heavy load, a serious Day Hiker knows there are two things that really matter when choosing the right backpack: comfort and capacity.
With its unique, cushy mesh suspension system and a multitude of cavernous internal spaces, the Manta AG is a 28 liter backpack (26 liters in women's version) ready to handle any trail you pit it against.
The ingeniously designed Anti-Gravity mesh suspension system, sheer organizational space, and updated hydration reservoir make the Osprey Manta AG 28 our Premium Pick for the Day Hiker. 
Osprey Manta AG 28 Star Rating
Comfort

Durability

Packability

Fit and Adjustability
Summary
The Osprey Manta AG 28 is a fully featured day pack with an included hydration reservoir and rain cover. It has Anti-Gravity suspension for all-day carry, a fully attached hip belt with zippered pockets, and plenty of storage options for a long day on the trail.
Journey through the world of backpacks with our comprehensive backpack guide, and see the full Osprey Manta AG 28 review below.
Update: We tested the Manta AG 28 in 2016. In late 2018/2019 the line got a major overhaul from Osprey. Now, instead of three liter-sizes, there are only two: the Manta 24 and the Manta 34. There's also the Mira 22 and 32 for women-specific physique. We think the Manta 24 best replaces the Manta 28, and are in the process of testing packs for 2019. The overall design is the same, with a few key changes, beyond 4 less liters. The harness is now adjustable in a slider fashion, meaning this pack can fit an even wider range of people. The LightWire frame has been redesigned for a better curve along your lumbar, making for a better carry. Finally, the Manta 24 has a side-zip secondary pocket for stashing, instead of a full zip with more organization. Overall we like all these changes and very highly recommend this pack.
Osprey Manta AG 28 Specifications
Feature Type
Feature Specs
What This Means
Frame Type
Internal, Lightwire frame
Advanced frame for a day pack.
Number of Pockets
8+
Two mesh side pockets, large mesh front pocket, two hip belt pockets, three zippered pockets to main pack with storage compartments inside.
Other Attachment
Yes
Trekking pole loops, external mesh pocket, helmet clip and bike-light clip.
Hydration Sleeve
Yes, included
A separate zippered compartment for the included (fancy) Hydrapak reservoir.
Sternum Strap
Yes
With magnetic attachment for Hydrapak tube.
Hip Belt
Yes, included
Super fancy hip belt with AG suspension (and pockets).
Materials

Main and Bottom: 210 High Tenacity Nylon

Accent: 100D Nylon Mini Hex Diamond Ripstop

Sturdy materials with a lot of tenacity! (We love tenacity.)
Load Range
10-30 LBS
Yes, 30 LBS. Huge range for a daypack.
Warranty
All Mighty Guarantee
Lifetime. One of the best in the business.
Pack Sizes
S/M
M/L
Capacity
26 L, 1587 in3
28 L, 1709 in3
Dimensions
20H x 13W x 12D in.
22H x 13W x 12D in.
Weight
2.6 LBS, 41.6 oz.
2.69 LBS, 43.04 oz.
Retail Price
$165.00
A high price for one of the best daypacks around.
Gear Review of the Osprey Manta AG 28
Origins: Easing You In
We get it, the designation "Day Hiker" is really broad. It includes the "I just got off work for the day and would love to catch the sunset from the trail before dinner" kind of person and the "All I wanna do is spend every waking moment of my life exploring new trails" type of person, and everything in between.
I'll admit, I'm die-hard Day Hiker at heart, but often find myself catching a quick one in-between various responsibilities. However, the times I really live for are those days when I mark off hours at a time to get "lost" in the woods so that I can "find" myself again.
It's on those epic hiking days that I find the high quality gear really makes a difference in the experience I have. After many hikes with over a gallon of water on my back, my food for the day, my usual trail gear, and extra clothing for handling climactic surprises, it's become clear to me that every way that I can reduce physical discomfort in my body will help make my treks more enjoyable, and I'm willing to pay up for it.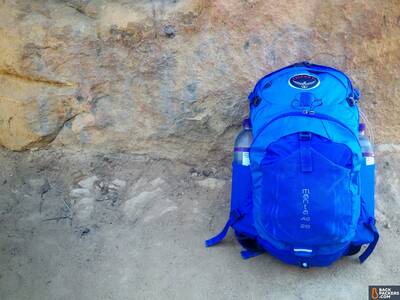 That's where the Osprey Manta AG 28 comes into the picture. The designers at Osprey have clearly thought through their products to create some of the most functional and comfortable backpacks I've ever used. The Manta AG 28 lives up to that high standard, and is designed to keep you company during those long days on the trail. What's more, in my experience it'll even get you back to the car "smelling like roses"!
Revelation: The Moment I Knew
It was when I first mounted the loaded up Manta AG 28 onto my back at the Pacific Palisades trailhead and dialed in all the straps that I knew that this backpack was categorically superior in comfort to anything else I'd tried previously. I've used some very high-end packs over the years, but none have been as forgiving on the back and shoulders as the Manta AG 28.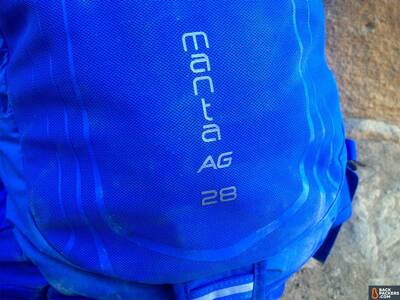 As I ascended through the network of oak-lined single tracks and fire roads I was shocked at how my shoulders and hips felt under the weight of all my gear. There was no soreness or chaffing under the straps and, thanks to the suspended mesh padding on its lightweight aluminum frame, much of the chaff-producing sweat below the pads was able to evaporate as I trekked.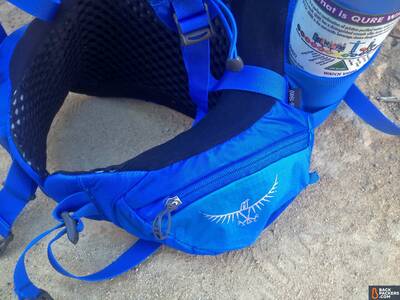 When I arrived at the ridge line overlooking the expanse of the Pacific Ocean I had one thing on my mind: "Let's see how dry my shirt is."
It was still damp, but certainly not like the "swamp back" I typically get from other packs. (I tend to be a sweaty dude.) The Anti-Gravity Osprey packs are constructed to allow airflow between your back and the inside of the pack to keep you significantly drier, and it works.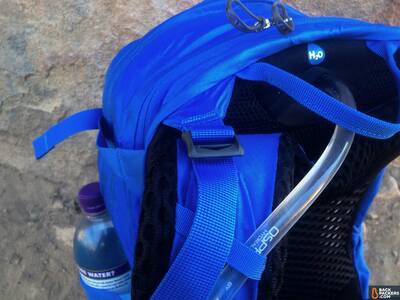 Finally, thanks to the load lifter straps, the "sway factor" is greatly reduced. It still feels snug against your back no matter the load.
Digging Deeper
There are so many features I love about the Manta AG 28 that it's hard to decide where to begin.
How about its well-placed storage? In addition to a massive main compartment with a small internal mesh pocket, there are nine other spaces to house whatever gear you could possibly wish to bring on a day hike.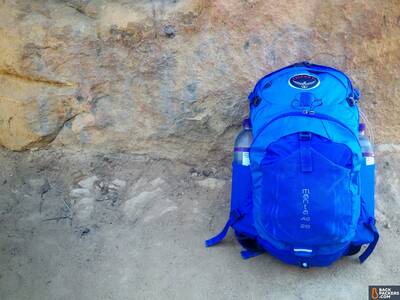 In general, I want to access certain pieces without needing to stop and remove my pack. Gear like water, athletic tape, headlamp, lip balm, pen and paper, phone, sunglasses, beanie, gloves, map and compass, to name a few. Between the included BPA-free Hydrapak reservoir and the two hip belt pockets, I've been able to conveniently access many of these items while wearing the pack.
Speaking of the Hydrapack reservoir, that's another piece of the pack that stands out. I've used many different brands of hydration bladders, but eventually gave up on them out of sheer frustration.
This 2.5 liter Hydrapak is the first hydration reservoir I've tested in several years, and they seem to have worked out many of the kinks. The first thing I noticed about this reservoir was the softer vinyl feel of the material compared to some of the harder plastics that have cracked open in my pack, soaking all my gear. As I made my way up the winding trail, I delighted at the immediate access to water that the Hydrapak system afforded me.

I also really like the large fold top opening for filling it with water. The design seems strong, unlikely to leak, and would be easy enough to squeeze a towel in for drying. The Hydrapak also comes with a quick connect hose to make it easier for loading the reservoir without having to undo the hose from the shoulder strap loops.
The bite valve seems to stay leakproof even when left unlocked, and it attaches so conveniently to the sternum strap buckle due to the unique magnetic attachment. (Talk about a premium feature!)
The last point on the reservoir system design that is valuable is its packability. I was able to load the freshly-filled Hydrapak back into its compartment without needing to unload gear from the main compartment to make it fit. Since it has its own zippered compartment just behind the suspended back mesh, it's easily able to expand into that open airspace, all without feeling like a lump against your back.
Hydration is one form of water, but rain is another. The Manta AG 28 comes with a rainproof pack cover that can be easily accessed in a downpour from its own zippered compartment at the bottom of the pack. (Another included nicety.)

Finally, on top of all the other great features of this pack, it even comes with loops to hold your trekking poles, loops for a helmet and a tail light for those nighttime neighborhood bike rides, and four compression straps to keep the load tight even with a partly-filled pack.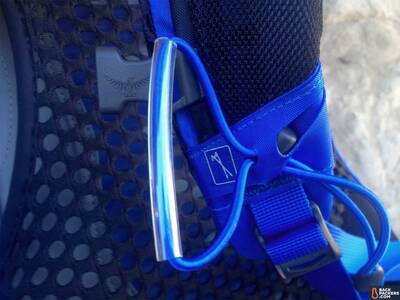 Comfort
Just like laying in a hammock on a hot summer day with those cool tropical trade winds on your back…only vertical The AG back panel and suspension is more like a full backpacking pack, but for a day pack. As comfortable as it can get for a simple walk in the woods.
Durability
The pack and its materials feel tough and solid. It uses the standard Osprey ripstop line up, which proves to be quite sturdy on a huge line of products. The zippers are made well, and only the mesh is a little bit finicky.
Packability
While there are tons of options for packing on the Manta AG 28, we think they're a little too much. There are multiple zippered comparments, water bottle pockets, a mesh pocket, all of which allow you store a lot and in different places. But for the size of the pack, we think it's one or two too many spaces.
Likewise, the straps, especially over the top, get in the way of some of the functionality of the packing.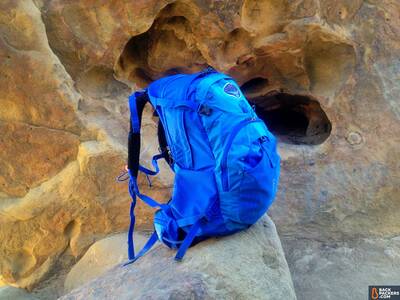 Fit and Adjustability
It's rare that a day pack has load lifters, a fully lifted mesh back panel, hip belt pockets, and ways of tightening everything down. The Manta AG 28 has it all, and you can dial in your fit no problem.
Grievances
No piece of gear is perfect, and there are three main aspects of the Manta AG 28 that I wish were a bit different.
First, the magnet on the bite valve tends to throw off my compass. Make sure you're aware of this before you take off in the wrong direction.
Next, if there were two more pockets on the shoulder straps (just like the ones on the hip belt) I'd be able to access all my essentials without having to take off the pack.
Finally, I love the fact that the side mesh pockets are designed with the ability to load the water bottles either vertically or diagonally for easier access. The only problem I found was that although the bottles were easy enough to reach for a drink, it was impossible to reload them back into the pockets without removing the pack.
Final Word
Say "goodbye" to your massage therapist and say "hello" to the Osprey Manta AG 28. Yes, the Manta AG 28 is, hands down, the best-designed daypack I've ever used. More comfortable than my bed and nearly as spacious as my tiny house, it's an ideal pack for those extra long day hikes.
Where to Buy Osprey Manta AG 28
We tested the Osprey Manta AG 28 backpack in this review. There is a women's specific version, the Osprey Mira 26, which is two liters smaller and molded to fit the female body. The packs have all the same features otherwise, and we recommend either depending on your gender and preference.
Osprey also sells the Manta series in a 20 and 36 liter version, and the Mira in a 18 and 34 liter version. These offer more (or less) features and space. While they are all excellent packs, we think the 28/26 Liter capacity is just about right for most Day Hikers.
Compare Osprey Manta AG 28 and Mira AG 26 prices below.
Review Policy: We do not accept payments or gifts from brands and vendors, and strive to provide unbiased, independent advice. Brands typically provide review samples which we return, and in some cases we purchase the item so we can keep using it long after the review. Affiliate Policy: We support the hours that go into our reviews and testing through affiliate commissions on purchases made through links in this article. These don't effect the outcome of our reviews or selection of gear, as per our Review Policy.