Osprey Talon 22 Overview
Light as a feather, tight as a glove! Is that a saying? Well, it should be, because it perfectly describes how the Osprey Talon 22 backpack fits. This pack might be on the smaller end for day packs, but you'll manage to find a place for everything. It's decked out with standard mesh water bottle pockets, a comfy hip belt with pockets, a large main pocket with internal storage, trekking pole loops, water bladder storage, and an adjustable torso.
The comfort of carry and number of features in such a lightweight pack is why we have chosen the Osprey Talon 22 as our Classic Pick for the Day Hiker.
Learn about backpacks (in general) and our process for choosing Day Hiker backpacks in our comprehensive backpack guide, and see why we recommend the Osprey Talon 22 below.
Osprey Talon 22 Star Rating
Comfort

Durability

Packability

Fit and Adjustability
Summary
Hit the trail with the Osprey Talon 22: it can do almost everything, and does everything it can do extremely well. Exterior mesh pockets, small-item organization, hydration capable, and super adjustable.
2019 Update: Osprey released a new version of the Talon series of backpacks in 2018, including the Talon 22. This model is the same in 2019, but did receive some color updates. The new Talon 22 is very similar to the model we recommend. The key differences are a continuous hip belt and updated AirScape back panel. Both of these aim to improve comfort and breathability. Overall we think the improvements are solid, and are testing new day hiking packs for 2019.
Talon 22 Specifications
Feature Type
Feature Specs
What This Means
Frame Type
Airscape Backpanel
Ridge molded foam that breathes well. Nice mesh panel that reduces sweat.
Adjustable Torso
Yes
Easy torso adjustment through velcro and shoulder harness. Quite a feat for a tiny backpack.
Number of Pockets
7+
Two mesh side pockets, large mesh front pocket, two hip belt pockets, one small zippered stash pocket, main zippered pocket, extra pockets in main pocket. (Let's say pocket again!)
Other Attachment
Yes
Trekking pole loops, LidLock helmet attachment.
Hydration Sleeve
Yes
Exterior slide-in compartment for hydration sleeve. Sleeve not included.
Sternum Strap
Yes, adjustable
With whistle!
Hip Belt
Yes, included
Biostretch built-in hipbelt with pockets. Very breathable, made out of stretchy plants like seaweed. (Joking.)
Materials

Main and Bottom: 70D X 100D Nylon Mini Shadow Check

Accent and Bottom: 210D Nylon Black Dobby

Shadow Check and Dobby may sound like house elves, but they're fabric types. Strong fabric.
Load Range
11-20 LBS
Tiny pack with a hefty range.
Warranty
All Mighty Guarantee
Lifetime. One of the best in the business.
Pack Sizes
S/M
M/L
Capacity
20 L, 1220 in3
22 L, 1343 in3
Dimensions
20H x 10W x 9D in.
22H x 10W x 9D in.
Weight
1.32 LBS, 21.12 oz.
1.65 LBS, 26.4 oz.
Retail Price
$99.00
A solid price for a solid day pack.
Gear Review of the Osprey Talon 22
Origins: Easing You In
I decided to test this pack on a 16-mile hike up Cucamonga Peak in the San Gabriel Mountains of Southern California. We hit the trail at 7 a.m and I was lead on this hike, so I packed more than normal in case someone needed extra water or food.
I knew the Talon 22 had a weight limit of 20 pounds, and I filled it up to 18 pounds for this trek: 3.5 liters of water, 8 pounds of camera gear, food for a day, emergency rations, and other essentials. For reference, I'm used to carrying a 44 L pack on day hikes (I like the extra room). I was concerned that the Talon 22 might be too small for my liking but had no trouble fitting what I needed.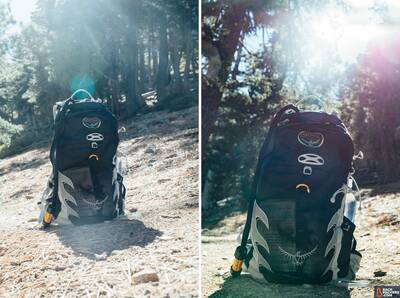 Considering the pack was stuffed, I was pleasantly surprised with how well it fit my body. With the adjustable torso I was able to get the Talon 22 to fit snuggly against my back and low enough to have the hip belt fit right on my hips!
As we made our way through the trail and the many (too many) people hiking this route, I was amazed at how light the pack felt despite the load. I thought for sure I'd start to feel strain on my shoulders; I typically get shoulder pain when the straps aren't wide enough.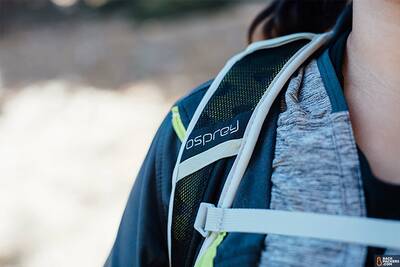 But no, the Talon 22 balanced the load perfectly.
Nothing slid around on my back and everything stayed secure. All the little straps and pockets, which I'll detail below, held during the 16 uphill miles.
We made our way to the summit around noon, where we were met with a hub of roughly 60 people and a drone flying over us. The Talon 22 is wonderful, but it can't exactly make up for overcrowded, noise-filled peaks…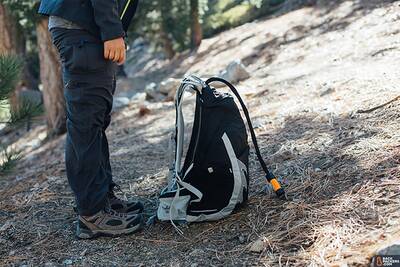 As we went down Cucamonga Peak I hiked much faster, running at points, jostling the pack side to side. The Talon 22 remained stable. It didn't slide at all, which is always an issue with my 44 L backpack.
Revelation: The Moment I Knew
On my Cucamonga hike I was starting to see the light when it came to packing a lightweight pack. To make sure it could hold up for multiple body types I used the Talon 22 on another hike the next day: 11 miles up Boney Mountain in the Santa Monica Mountains.
This time though, I had my boyfriend wear the pack.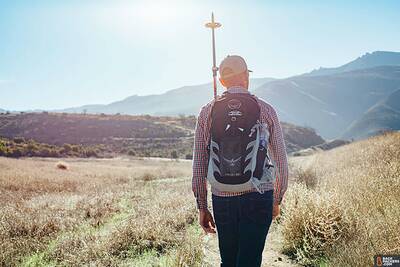 To be clear, the Talon is Osprey's men's line of packs; the Tempest is the women's line. The differences are how big the backpack is, the color scheme, and some minor adjustments in hip belt and shoulder straps. Despite wearing the men's pack, the Talon 22 felt amazing during my hike.
But having a guy test it out was critical. To give you an idea on how awesome that adjustable torso is: I am 5'4" and my boyfriend is six-foot. It fit like another tight glove on him.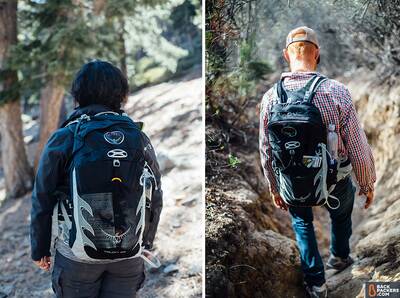 I knew the Talon 22 was a keeper the moment he dialed it in. A day pack that can fit almost any user and still be super comfortable and practical is more than you can really ask for.
Digging Deeper
I've been waiting to dig deeper into this pack like an Osprey's talons into prey. There are just so many features.
First, that AirScape back mesh knows what's up!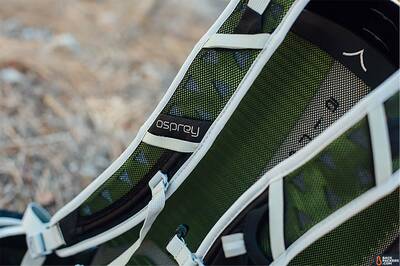 Breathability on a pack is a bonus. I hate feeling sweat collect on my back. After hiking for 16 miles in Southern California you really notice and appreciate the little things — like what isn't drenched in sweat! If you want super deluxe no-sweat mesh, check out the Osprey Manta AG 28. But, all things considered, the Talon 22 kept me dry.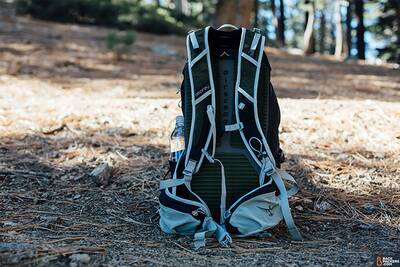 Second, the pockets. Everyone loves pockets. Osprey knows this.
It may not look like much on the outside but once you open the Talon 22 it'll shock you how much can fit inside. The main zippered compartment is a standard stuff area — large bulk items go here. But within that area are small organizer pockets, which were the perfect place to store my memory cards, ID, and keys.
The top zippered pocket and hip belt pockets were great for my quick snacks, and will work for anything you need on the go.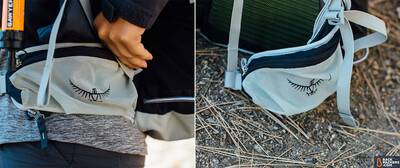 Organization is more than just pockets, though.The overall look of the Talon 22 is sleek and clean. This helps when trying to organize what'll go into your pack and where.
I knew my map and ziplock baggies for trash (pack everything out!) were in the front mesh of the Talon 22 (another pocket). I knew my camera and extra clothes were in the main compartment. Everything else had a smaller, well designed area to call home.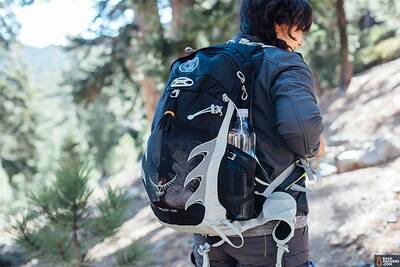 Finally, there's the pack's durability. A great backpack must last. Going up Boney Mountain you'll find yourself doing some rock scrambling and rubbing up against very tight corners, mostly between tree roots, dirt, and giant rocks.
I paid close attention to what potentially might rip the backpack (partly because my editor wouldn't appreciate a torn sample) and how it moved while jumping from rock to rock. To quote my boyfriend, "I hardly feel I have it on."
Comfort 
4 Stars
The Osprey Talon 22 is like wearing another shirt on your back it's so light. The air-mesh panel breathes very well, and it has a hip belt to share the load. The only issue is that when heavily weighted down it can feel cumbersome on the pack, and the soft panel means the pack doesn't stand up easily.
Durability 
5 Stars
Tree roots, rocks, and dirt, oh my! We scraped and scrambled and loaded it down. Still looks new.
Our in-house staff took this same pack on a trip to Thailand and, after a mellow motorbike accident (those happen!), the pack was a bit scraped up. But the mesh water bottle pockets barely ripped, and the pack is 100% functional. Quite durable.
Packability 
5 Stars
The large single pocket allows for unceremonious shoving of puffies, food, and other essential gear you probably won't need. The small top zippered pocket is great for easily reached chapstick and keys, and the exterior mesh pocket (which Osprey is known for) is perfect.
Overall packability is excellent for a day hike.
Fit and Adjustability 
5 Stars
The Talon 22 excel in this department. The yoke of the harness is adjustable up to about 3 inches, which is rare for medium-sized day pack. It also works simply — just remove it from the hook-and-loop closure in the back, move up, then re-attach. This means you literally size the pack from a small woman to a large man, all in one size.
Standard adjustments are there two, with load lifters as well! Overall excellent.
Grievances
While the Talon 22 surpassed many of my initial concerns, in the end I still wished it was slightly larger. Keep in mind I'm a photographer and carry a lot of gear, and that I'm used to a 44 L backpack for day hikes.
Everything fit, but it was filled to the brim. I like to have room in my backpack in case I need to lighten someone's load, especially if they are new to hiking and I'm the leader. I didn't have any room for that. I'm a hiker that likes to assume I'll need something extra, which isn't how everyone else thinks.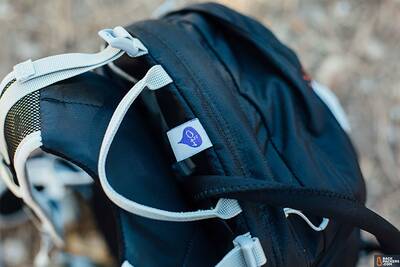 While I'm at it about size, I wish the hydration compartment of the Talon 22 had space for a three liter bladder instead of a 2.5 liter bladder. It's a very small detail but when it comes to the details, every little bit counts! The compartment for the bladder itself is nice, and located outside the main part of the pack. But a little more size would go a long way here.
Final Word
The Osprey Talon 22 is the little pack that could. It proves itself on the first trek, fits like a glove on multiple body types, and is lighter than air. Almost. Hard to ask for more.
Where to Buy Osprey Talon 22
The Osprey Talon 22 was tested for this review. The Talon is the men's line of this model; the Tempest is the women's line. The Osprey Tempest 20 is the same pack with two less liters of volume and women-specific hip belt and shoulder straps. We recommend the Talon for either gender due to its adjustability. The Tempest will work great for women that want a more dialed in fit or specific color options, but we've found a lot of women want the color options chosen for men. So, yeah. Take your pick.
Compare Osprey Talon 22 and Tempest 20 prices below.
Review Policy: We do not accept payments or gifts from brands and vendors, and strive to provide unbiased, independent advice. Brands typically provide review samples which we return, and in some cases we purchase the item so we can keep using it long after the review. Affiliate Policy: We support the hours that go into our reviews and testing through affiliate commissions on purchases made through links in this article. These don't effect the outcome of our reviews or selection of gear, as per our Review Policy.