Patagonia Down Sweater Hoody Overview
Do you like to be constantly cuddled as you walk through the forest? Do you want to feel like a warm cloud hanging low along the tree-line of a mountain? Whether it's an extreme winter or a casual, cool night's walk, the Patagonia Down Sweater Hoody will provide superior comfort, keep you warm in almost all scenarios, and look good the whole freakin' time.
At just under a pound and made with 800-fill Traceable Down goose feathers (a program pioneered by Patagonia itself) the Down Sweater Hoody does everything a down jacket should do. Also, it's warm. Really warm. Like, warmer than other down jackets of equal cost.
These hot features (get it?) make the Patagonia Down Sweater Hoody the Classic Pick for the Wilderness Backpacker and Car Camper. We think it will perform excellently for either of these activities because cost, style, long-lasting materials, and sheer usability are what one hopes for in a Classic Pick.
Patagonia Down Sweater Star Rating
Comfort

Durability

Warmth

Packability
Summary
The Patagonia Down Sweater Hoody is a down jacket with a reputation for warmth and durability. It doesn't care much for the ultralight tendencies, and uses more down and thicker materials than comparable (and lighter) jackets, but this extra beefiness adds up a longer lasting product, and a warmer product in most cases. Patagonia's attentinal to detail, from the felt-lined neck zipper to the evenly spaced (and filled) baffles to the high quality zippers all make this an excellent pick for outdoor enthusiasts.
Learn about the unparalleled wonder of down in our comprehensive down jacket guide, and see why we recommend the Patagonia Down Sweater Hoody below.
Update: The Down Sweater Jacket and Hoody from Patagonia is a staple, and the line has not been updated since we tested this jacket. There are new colors, and the fit changes slightly from year to year, but overall this product is the same for 2020.
Down Sweater Hoody Specifications
| Feature Type | Feature Specs | What This Means |
| --- | --- | --- |
| Weight | 14 oz. (396 g) | A respectable weight. The burly fabric is a bit heavier than most other jackets. |
| Insulation Quality | 800-fill power | In the upper echelons of down. |
| Down Type | Traceable Down, goose down | Animal-rights friendly goose down. |
| Fill Weight | 3.0 oz. | Standard for down jackets. |
| Shell Fabric | 20D x 30D 100% recycled polyester ripstop | Super burly and environmentally sound. |
| DWR Treatment | Yes | Water repellant sprayed all over it. |
| Number of Pockets | 3 | Two hand warmer pockets and an internal chest zip. |
| Stuffs Into Itself | Kind of | Claims that it stuffs into internal zip, but it's very large when you do that. Easier to stuff outside of pocket. |
| Hood/Jacket Option | Yes, both | Get one with a hood, or without. Your call. |
| Adjustable Hood | Yes | Single pull at the back of the hood. |
| Adjustable Waist | Yes | Inside hand warmer pocket. Stay toasty! |
| Gender | Male, Female | Options for all. |
| Sizes Available | XS-XL | Runs true to size. |
| Manufacturer Warranty | Ironclad Guarantee | Gnarly lifetime warranty, the best in the business. |
| Retail Cost | $279.00 | A solid price for a solid down jacket. |
Gear Review of the Patagonia Down Sweater Hoody
Origins: Easing You In
I took the P. Hoody (shortened for reading pleasure) on a Pacific Northwest excursion, putting it through the wringer in The Goat Rocks Wilderness of Washington. My friends and I set out on the trail around 9 a.m. The forest was cold and foggy — I tackled the inclement weather with four layers despite carrying a 35 pound pack. Why? Well, I'm from Southern California, where 90% of the year we get heat, and only heat! Anything remotely cold is addressed with "MAXIUM EFFORT!"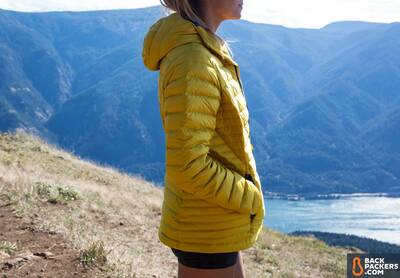 The clothing went on as such: base layer, long sleeve wick-away shirt, the fabulous P. Hoody, and my newly acquired waterproof jacket. Everything layered seamlessly, even the P. Hoody, which was a size too large for me. The weight after layering wasn't noticeable at all — though the decently heavy pack might have distracted me from the four layers. My body temperature was nicely regulated (cozy) until about two miles into the hike. We were past the trees and finally in the sun — I was ready to be free of at least two of these layers for the rest of the hike.
It wasn't until I was at the peak of Old Snowy that I placed my jackets back on, and once again fell into the marshmallow warmth of the P. Hoody. The Goat Rock Wilderness is reported to have some of the most epic views of the entire Pacific Crest Trail. Old Snowy sits in the middle of Mt. Adams, Mt. St. Helens, and Mr. Rainier — kind of a who's who of stunning mountains. You get this amazing 360 panorama of epic volcanoes.
Throughout the evening the weather developed harsher winds and, as the sun started to set, the temperature dropped. The snow we passed on the way up made a lot more sense now, and I realized I'd never fully considered Old Snowy's name — it's not "Old Warm Mountain-y" for a reason.
The wind picked up and I had to put rocks on any of my gear so it wouldn't fly (there are no do-overs on a mountaintop). I had to cover my face because I already felt the wind burns developing. Mother nature was giving us a taste of what happens on top of a real (extinct) volcano. With my face covered I noticed that, despite the howling wind and icy air, my body temperature wasn't affected. The P. Hoody kept me incredibly warm, and the hood added more protection then my beanie could (along with my medusa-like hair).
Revelation: The Moment I Knew
The ultimate test! During the day most gear is fine, but at night it's a different story — especially for a warm mid-layer. The whole game changes once that sun is gone and the weather is free to unleash it's full fury!
I was getting to know a whole new environment as well as it's weather patterns, and was somewhat concerned when I looked over at Mt. Rainier and saw grey clouds coming in fast. I huddled in my bivy sack, which is basically a body bag with an air mattress and sleeping bag. I had all my layers on, inside my sleeping bag, and felt super snug, like a bug, you know, in those rugs.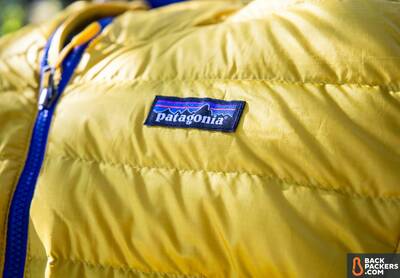 Mist, maybe a little rain, kissed my face. After a few minutes, it was gone. After a few hours the winds died down, making for a restful night. Well, it would have been restful but I really had to pee and I was not getting up in the middle of the night to do that. It was still freakishly cold! I tried not to think about it and let my mind wander. I kept thinking one of those white mountain goats was gonna sneak up on me — also, spiders. Spiders looking for a warm place, that place being my sleeping bag! I tend to overthink things, which leads to fear. In this case, I was so warm that worrying didn't stand a chance, and soon I drifted off.
I woke up at some point and felt sweat around my neck, and that was the moment I knew the P. Hoody was a keeper. If it could make me sweat at the top of Old Snowy, Patagonia was doing something right.  This jacket acted as a constant sleeping bag (even more so inside an actual sleeping bag), and provided it's most important function all night: warmth.
Digging Deeper
The P. Hoody really earns its place in my kit. Despite it being a size too big, I still found the fit to be perfect. I enjoy something that shows off the shape of your body, instead of just a straight rectangular shape that hangs off you. This contour fits the women's physique well,  and the quilted horizontal baffles (those rectangular lines) get tighter on the arms and side panels, giving more warmth in those areas. Women have different areas that get cold compared to men, so Patagonia's attention to detail makes me give it high marks on this part!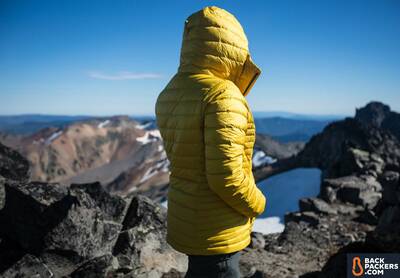 The P. Hoody's treated exterior and internal recycled polyester fabric gives this jacket more versatility in it's uses, including fending off a light dust of mist. This means you'll pretty much make it your default jacket every time you go out into the wilderness. Lastly: it's packable! Life in the wild is so much easier if I can stuff something into a tiny, self-contained ball.
Comfort 
5 Stars
I felt like a walking pillow! Every single goose feather worked it's magic to keep me warm, despite all the snow.
Durability 
5 Stars
I took it to the top of Old Snowy, slept at the summit, and sweated through it in the night. Next morning it performed exactly the same.
Warmth 
5 Stars
The Down Sweater Hoody is quite warm. I wore it in freezing, top-of-mountain conditions, and it was amazing. The hood in particular is great for keeping in warmth. The burlier fabric helps with wind, too.
Packability 
3 Stars
As I say in the grievances below, the Down Sweater Hoody doesn't pack down very small. The fabric is thick and the jacket quite fluffy, so if you don't care about packability then no worries. But if you're looking for the most compressible down jacket around, this isn't it.
Style
I may be a walking sleeping bag, but a really good looking sleeping bag. The loud colors it comes in are just icing on the cake! I happen to really enjoy loud colors (and cake) — it's the photographer in me that looks for a focal point in photos. These jackets stand out perfectly!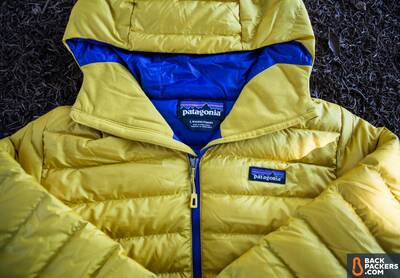 Grievances
Given the awesomeness of the P. Hoody, I don't have too many issues. One thing I remember bugging me during my trip was the whole "packable" aspect. While it's a great feature, it should be able to pack down much smaller than it currently does. The end result is a pretty big ball, and I know it can pack down smaller. I love jackets that are small enough to fit in one of my side pockets (normally reserved for a water bottle or small tripod).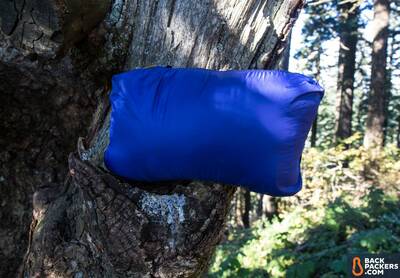 Final Word
This jacket will take you as far as your fear will let you go and even push you past that! It lets you focus on the task at hand, paying attention to the terrain, not on the weather.
Where to Buy Patagonia Down Sweater Hoody
The women's version of the Patagonia Down Sweater Hoody was used for the review; a men's version is also available. The materials are the exact same.
Patagonia also offers this in a non-hooded version: the Patagonia Down Sweater for Men and the Patagonia Down Sweater for Women. They are the same in every aspect, minus the hood.
Compare Patagonia Down Hoody and Sweater for both genders below.
Review Policy: We do not accept payments or gifts from brands and vendors, and strive to provide unbiased, independent advice. Brands typically provide review samples which we return, and in some cases we purchase the item so we can keep using it long after the review. Affiliate Policy: We support the hours that go into our reviews and testing through affiliate commissions on purchases made through links in this article. These don't effect the outcome of our reviews or selection of gear, as per our Review Policy.