Patagonia R1 Hoody Overview
Hello, my name is Josh, and I've never owned a piece of Patagonia equipment. There, I've admitted it. I have no excuse. I know Patagonia is the Michael Jordan of outdoor brands. And yes, I take my gear seriously. Maybe I'm just cheap — OK, I'm definitely cheap. But, there are some things worth spending your hard earned dollars to procure — the Patagonia R1 Hoody tops this list.
While the R1 Hoody asks a lot of your wallet, it lays out a veritable buffet of fleece-awesomeness for the gear addicted backpacker. Can we agree that comfort, weight, and warmth should be your top priorities when evaluating a piece of cold weather clothing for the backcountry? The R1 Hoody nails each of these, making a fleece perform in ways you might not have thought possible. This is why the Patagonia R1 Hoody is our Premium Pick for the Wilderness Backpacker, Ultralight Backpacker, and Day Hiker — essentially all active backpacker pursuits.
Take a fleece deep dive with our comprehensive guide to fleece jackets and see the full review of the Patagonia R1 Hoody below.
Update: The R1 Hoody is such a staple in the Patagonia collection of alpine fleeces that they're scared to change the design! (They told us this.) That said, we tested this in 2017, and in 2019 Patagonia did release an update to the line. It is now called the "R1 Pullover Hoody" and uses two slightly different thicknesses of fabric in the body, increasing durability in key places and stretch/breathability in others. We think this is a good change. Patagonia also now offers the R1 in more varieties, like a crew style for Women and a Full Zip style.
Patagonia R1 Star Rating
Comfort

Durability

Warmth

Style
Summary
The Patagonia R1 Hoody is a high-performing active fleece. This works wonders as a midlayer around camp and as an outer layer while moving through chilly backcountry or while climbing. A baclava style hood, thumb holes, and extra long hem make it highly versatile, while the quarter zip allows for heat venting or solid protection.
This layer goes just about anywhere, and will last a lifetime.
R1 Hoody Specifications
| Feature Type | Feature Specs | What This Means |
| --- | --- | --- |
| Weight | 12.85 oz. (364 g) | Standard weight for a high-performance fleece. |
| Fabric Weight | Lightweight, 178 g/m2 (6.3 oz/y2) | A very lightweight, breathable layer that's solidly constructed. |
| Fabric Material | Polartec Power Grid | Advanced square-based material that wicks moisture and breathes well. |
| Fit | Athletic | Hugs your body. |
| Number of Pockets | 1 | The Hoody has just one slim chest pocket. The Jacket has two zippered hand-warmer pockets. We like the Hoody. |
| Thumb Holes | Yes | Advanced thumb holes that double as basic gloves. Very comfy. |
| Hood/Jacket Option | Hooded and Jacket Options | Sold as a Hoody, Pullover, and Jacket. The Hoody is the most versatile. |
| Zipper Options | 1/2 Zip, Full Zip | Hoody and Pullover have a deep 1/2 zip for great ventilation. Jacket has a full zipper. |
| Adjustable Waist | No | It's very slim fitting to start, and trapping in warmth ins't the point of this fleece. |
| Gender | Male and Female | Options for all genders. |
| Sizes Available | XXS-XXL | Will have your size. Runs slim and long in the torso. |
| Manufacturer Warranty | Ironclad Guarantee | Lifetime warranty on everything. One of the best in the business. |
| Retail Cost | $159.00 | A high price for an excellent technical fleece. |
Gear Review of the Patagonia R1 Hoody
Origins: Easing You In
If you've read any of my other gear reviews you know I'm easily excited — think Labrador retriever waiting for its owner to throw a tennis ball — and this time was no exception. Not only was I about to rock a piece of Patagonia gear for the first time, but I've never actually used an honest to goodness, made for the wilderness, middle layer fleece jacket. (I typically opt out of my more casual fleeces when heading into the backcountry.) I felt like Pinocchio ("I'm a real boy!") as I loaded my backpack and headed to Pinnacles National Park.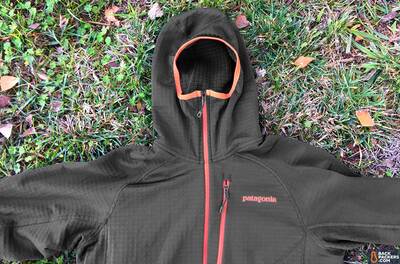 The crisp December weather and plush backcountry trails turned out to be the perfect backdrop to see what the R1 Hoody was made of. In almost exactly 24 hours I was able to use the Hoody as a top layer while packing in and trail running, and as a middle layer at camp while enduring a frosty downpour. And let me tell you — this is one sweet fleece jacket. It kept me warm when I was cold, but didn't cause me to overheat after a few minutes of heavy exertion (like most outerwear garments are wont to do).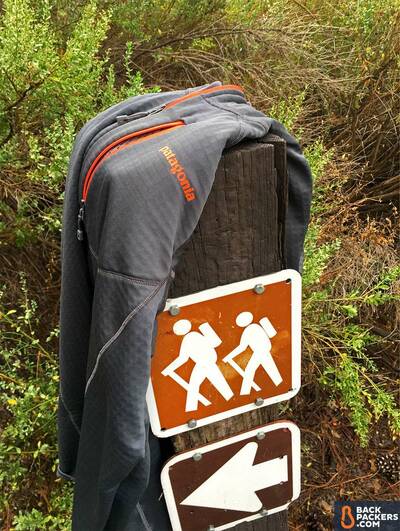 Revelation: The Moment I Knew
My revelation "moment" with this jacket was more of a continuous awakening. As the temperature and my activity level ranged broadly, I was able to use the R1 Hoody as my primary enforcer of comfort. While dappled in winter sunshine and on the move I was easily able to push up the sleeves and drop the half-length zipper for some manual air conditioning. Then, when the temperature nosedived (nosedove?) into the mid 30's and my pluming breath mingled with raindrops, I stayed cozy inside the balaclava hood.
That said, the coolest feature of the R1 Hoody are the built in gloves made possible by the thumb holes strategically placed at the end of both sleeves. These kept my hands warm and fingers nimble. There are many mid-layer garments that boast this feature, however the execution isn't always on point. This design is beautiful on the R1 Hoody.
I was able to put up the rainfly, turn on my headlamp, and flip my steak (yes, we were attempting to cook slabs of meat by the campfire in the rain) with warm hands and exposed fingers. I never had to put on bulky gloves, which would have made everything much more difficult.
Digging Deeper
I have to give the R1 Hoody my official reviewer nod of approval for two other reasons as well.
First, have you ever tried to pack a fleece jacket? They are obnoxiously heavy and bulky. I can't count the amount of times I've looked at the traditional fleeces laid out on my packing table and thought to myself, "Self – it sure would be nice to have that fleece when it gets arctic out there, but I just don't want to deal with it."  With the R1, you don't have to make that sacrifice! It's remarkably packable, and stays fairly lightweight for an extra warm layer.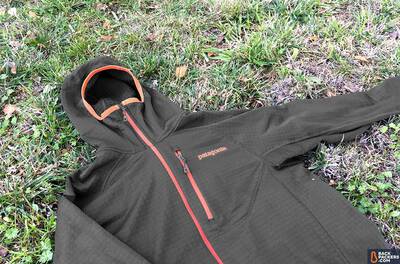 Second, the R1 Hoody is a fleece you can actually tie around your waist when you get hot. The material is thin and creates enough friction against itself to maintain a knot. This may seem trivial but it really stood out to me — most fleeces are awkward and slip. I used the R1 Hoody at the beginning of a run, secure in the knowledge that when I warmed up I wouldn't have to worry about carrying it. Since we have so many options for awesome outdoor gear at this point in time, it is little things like this that make the difference.
Comfort 
5 Stars
Fantastic. I am in love with this jacket and have been using it almost every day for almost every activity. Light, snug without being uncomfortably tight, and warm without being cloyingly hot. Standing ovation.
Durability 
5 Stars
So far so good. I've used the R1 Hoody backpacking, during running races, on an unsuccessful hunting trip (I don't relish the idea of killing something but feel like it's my moral responsibility as a meat eater to know what it feels like), and around town. I've also washed it a number of times. It still looks and feels as good as new.
Warmth 
5 Stars
Most fleeces provide a bit of warmth and a decent amount of breathability, but don't do well in heavy wind. The R1 Hoody is quite warm, has great breathability, and blocks wind relatively well. Overall it's much warmer for the weight than most other fleeces, especially due to the hood and thumb holes.
The zipper allows for complete coverage, or for tons of venting for when you get too hot.
Style 
5 Stars
Great lines, a couple nice pops of color, and wonderfully well-fitting around the "show" muscles (chest, shoulders, and biceps). Patagonia is known for sexy clothes, and the R1 Hoody is no exception.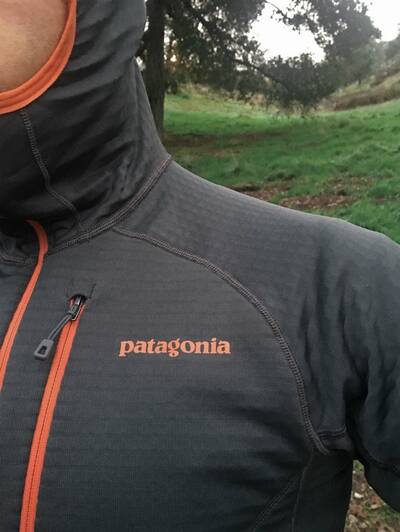 Fit
I am 5'9" and built like a muscular runner — the medium R1 Hoody was the perfect fit. The fleece also sports a long torso, which is ideal for my build, but if you are all legs you may want to consider getting a smaller size
Grievances
Only one grievance, which is how a Premium Pick should be. While the material is comfortable, warm, light, and durable…it also smells. I wish it didn't, and I choose to ignore it because I love everything else about the R1 Hoody, but it's a little funky.
When I first took it out of the box I noticed a synthetic, chemical smell — this is fairly normal for a synthetic coat. But that has evolved into something else as I've continued to wear it, even after multiple washes. The smell isn't prohibitive, and I wear the jacket without having people scrunch up their faces and move away from me, but I notice it. However, for a hiking layer, especially in the backcountry, a little stank never hurt anyone.
Final Word
I like bang for my buck. And I love the idea of having one piece of gear I can use for a variety of different outdoor pursuits. Or even indoor pursuits (did I mention that my guns look particularly good in this fleece?). The comfort, warmth, design, and sheer versatility of this jacket are remarkable. Well done Patagonia R1 Hoody. Well done.
Where to Buy Patagonia R1 Hoody
We tested the Men's version of the Patagonia R1 Hoody for this review. It's also offered in a Women's version, which is exactly the same except for the cut. The R1 Fleece is also offered for both genders as a quarter-zip without the hood, as a full zippered jacket with two-hand warmer pockets instead of a chest pocket, and as a crew (which is new). While these all offer the same material and a similar experience, the R1 Hoody is our pick for versatility's sake.
The newest version has a two-tone fabric, which is an update from the model here.
Compare Patagonia R1 Hoody and other model prices below.
Review Policy: We do not accept payments or gifts from brands and vendors, and strive to provide unbiased, independent advice. Brands typically provide review samples which we return, and in some cases we purchase the item so we can keep using it long after the review. Affiliate Policy: We support the hours that go into our reviews and testing through affiliate commissions on purchases made through links in this article. These don't effect the outcome of our reviews or selection of gear, as per our Review Policy.