prAna Mojo Shorts Overview
Hiking shorts are not exactly the splashy gear category you dream of when thumbing through your favorite catalog, but literally everyone has a pair in their outdoor wardrobe. And the prAna Mojo Shorts are actually in a few catalogs.
Many things make a good hiking short, and there are quite different elements for different folks. Are you a cargo short fan? Synthetic quick dry? Mesh liner or no? The list goes on and on.
In the hiking short category, prAna demands your attention, packing plush fabric, a crazy-comfortable elastic waistband, and simple design into their Mojo Shorts.
Originally built for yoga, the prAna Mojo Shorts have turned into the ready-for-anything shorts, whether you're hiking, training, or binge watching Golden Girls reruns. (Yeah, I do that in these shorts!)
prAna Mojo Shorts Star Rating
Comfort

Durability

Dry Time

Breathability
Summary
If old-fashioned hiking shorts have you feeling like you lost your mojo, look no further than the prAna Mojo Shorts! Durable, lightweight, and ready for the crag or the couch, the prAna Mojo Shorts are the multi-sport athlete's dream.
Read the full prAna Mojo Shorts review below and see where they stack up on our  guide to the Best Hiking Shorts.
prAna Mojo Shorts Specifications
| Feature Type | Feature Specs | What This Means |
| --- | --- | --- |
| Type | Casual Stretch | The Mojo shorts have mechanical stretch due to the recycled polyester fabric, but are not super stretchy. They generally follow your range of motion. |
| Material | 100% recycled polyester | A fairly simple fabric that is easy to wear, stretches decently, and is environmentally friendly. |
| Zippers | 0 | No zippers on the Mojo. This means no failed zippers! Also means no ultra-secure storage. |
| Pockets | 3 | Two hand pockets are well-placed but slightly shallow, not great for big phones. The back pocket is a good size, but uses a hook-and-loop closure that doesn't secure small items, like chapstick, 100%. |
| Waist | Plush Elastic | The Mojo Shorts have an incredibly comfortable, secure elastic band. It does have strings for tightening, but fits very well. That said, it takes a while to dry out the band. |
| UPF | 50+ | Sun protection is built into the Mojo Shorts at a high level. |
| Fit | Casual | Not slim fit, and not overly baggy. |
| Manufacturer Warranty | Not Listed | prAna doesn't list its warranty period. You can return or exchange items you buy directly from them, and they don't state a time limit for that. |
| Retail Price | $50 | An expensive pair of hiking/yoga shorts. You're paying for the high quality elastic band, brand name, and its general comfort and versatility for many activities. |
Gear Review of the prAna Mojo Shorts
There's something to be said about a piece of equipment you bring with you on every outing. I'm not talking about something from the 10 Essentials or a favorite fuel bar. I mean a piece of gear you actively work into any and all scenarios you encounter.
I received the prAna Mojo Shorts to test for the summer, and I knew I'd be hiking in them, but I struggled to envision what other adventures I might take them on. At first glance, they essentially look like fancy lounge shorts.
To start my testing, I took the Mojo Shorts out on a few day hikes. Solid, all around. Then on a weekend backpacking trip in the Cascades with some coworkers. The shorts worked well, but were nothing to sing and dance about. I shrugged and threw them into the washing machine.
Then, something interesting happened. I decided to throw them on for a few other activities, too. I ran in the Mojo Shorts. I road biked in the Mojos. I swam in the Mojos. I slept in the Mojos. I did yoga in the Mojos. Two weeks passed and I realized I had used the Mojo Shorts for almost every activity in my life — literally! The best sign of a comfortable piece of clothing is one you don't ever take off.
The prAna Mojo Shorts transitioned seamlessly (the shorts do have seams, just to be clear) from sport to sport and even to dreamland. I just couldn't wait to put them back on! This was the moment I knew these shorts packed some serious punch — ah, mojo.
Comfort
– 4.5 Stars
The prAna Mojo Shorts are pure comfort in a simple, no-frills silhouette. Soft, quick-dry fabric (100% recycled polyester) and an extra-wide waistband take the Mojo Shorts  from technical garment to lounge time favorite without a second thought. I didn't have to think about my clothes while stretching during yoga and rock scrambling on hikes thanks to the freedom of the gusseted inseam, and just how easy they are to wear.
That said, I don't give them 5 stars because I wish the fabric had more stretch and I'd like them to be a couple inches shorter (I'm a short-shorts kind of guy). Or at least have multiple inseam size options!
Durability 
– 4 Stars
The Mojo Shorts have proven to be durable in light applications like hiking, biking, and sub-alpine, highly-technical hanging in the outdoors. I didn't take them full-on climbing to truly test the fabric, but the shorts show almost no signs of wear even after bushwhacking and butt-slide scrambling on a hike in the central Cascades. I would want to use the Mojos for an entire summer to get a better sense of their durability over time, but initial results are good.
Dry Time
– 3.5 Stars
The prAna Mojo Shorts dry relatively quickly, but not as quickly as other multi-sport shorts like the Patagonia Baggies or some running-specific models. The plush fabric and waistband are on the thicker side and contribute to the longer dry time.
That said, I found the Mojos dried quickly enough when wearing them while hiking or backpacking, even under a pack's hip belt. Jumping in a lake mid-hike, loading up the pack, and continuing down the trail wasn't a problem.
Breathability
– 4.5 Stars
The Mojo Shorts breathe well during aerobic activities. A relaxed (not sloppy) fit and mesh pockets contribute to the comfort when really moving. I tested the shorts in mild weather and they performed well, but I predict the thicker Mojo fabric and waistband would be warm in seriously hot weather.
Fit
I really like the fit of the Mojo shorts. They are relaxed and breezy like you want in an active-lounge short, but they fit nicely enough to wear to the store and don't feel like you just rolled out of bed. I would love a shorter version of the Mojo and would likely live in them permanently. Yes, that means weddings and funerals.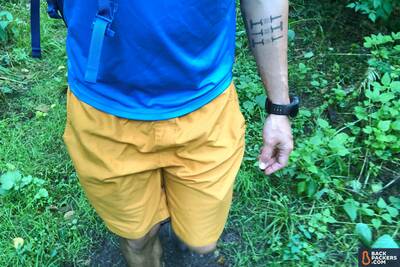 I am 5'8, 165 pounds, and I normally wear a medium. I was very pleased with a medium in the Mojo Shorts, but they seem to be designed for taller individuals based on hem length.
Grievances
The prAna Men's Mojo Shorts hit the mark for me in a lot of ways, but there are areas for improvement.
I would really like to see even one or two percent spandex or elastane in the Mojo's fabric. The polyester has some mechanical stretch (mechanical stretch is achieved by the type of weave rather than a stretchy fiber), but not much. The cut and gusseted inseam made contortions easy, and a tiny bit more stretch could really elevate the Mojo shorts.
To be fair, prAna makes a Super Mojo Short II, which has an 87% polyester and 13% spandex blend, that is also lighter weight for warm weather.  I would be interested to try the Super Mojo Shorts in similar conditions to the Mojo Shorts and compare the performance of the lighter weight fabric.
Pockets are the other issue and for a couple of reasons. First, the hand pockets are too shallow. A large cell phone or wallet and keys filled the pocket and items would sometimes fall out when I was seated. This wasn't an issue while hiking or walking, but I definitely had to check my chair before leaving the car or couch.
Second, the back pocket just didn't do it for me. I generally don't like hook-and-loop for pocket closures. No one wants to announce the removal of their wallet with a scrrriip. Also, I didn't trust small items not to fall out of the back pocket while on the move. I'd like to see a second back pocket on the left with a micro-zipper closure to more securely hold items like a key or cash and ID while running. I'd also be ok with a small key loop in the existing pocket for some extra security
Finally, I have to mention the inseam length again. The Mojo Shorts have a 10-inch inseam, and I would love to see 8-inch and 6-inch models. These would be killer for running, swimming, and general summer merriment. #FreeTheKnee!
A small note: the Mojo Shorts are only offered in a men's specific cut. In addition to adding inseam options, having a women-specific model would enable this excellent short to fit more body shapes and activities!
Final Word
The prAna Mojo Shorts are the multisport shorts to take you from climbing gym to trailhead to yoga studio and back to Netflixing without so much as a wardrobe change. You'll feel groovy for sure, baby, yeah! Austin Powers is still relevant, right…?
Where to Buy prAna Mojo Shorts
We tested the prAna Mojo Shorts in bright yellow. This model is not made for women unfortunately, but is a loose-fitting garment that could theoretically be worn by anyone, given that you try it on. We encourage prAna to offer this for all genders.
prAna does offer something similar in the Super Mojo Short II, which uses a lightweight 4-way stretch fabric (which is 87% polyester/13% spandex instead of 100% recycled polyester). If you want a stretchier, more lightweight version, try the Super Mojo Short II on!
Compare prAna Mojo Short prices below.
Review Policy: We do not accept payments or gifts from brands and vendors, and strive to provide unbiased, independent advice. Brands typically provide review samples which we return, and in some cases we purchase the item so we can keep using it long after the review. Affiliate Policy: We support the hours that go into our reviews and testing through affiliate commissions on purchases made through links in this article. These don't effect the outcome of our reviews or selection of gear, as per our Review Policy.