REI Flash 22 Overview
When you find yourself cooking up more and more reasons to use a piece of equipment, you can be sure the manufacturer is on to something. Day packs are a crowded category, yet the REI Flash 22 stands out as a versatile, lightweight travel and outdoor backpack that can pivot quickly and perform admirably across many activities. I didn't want to take it off!
The seemingly innocuous and simple day pack is thoughtfully designed, with a cinch-close and buckle top, large mesh water bottle pockets, a hydration port, and a very straightforward main chute for storage. That's coupled with lightly padded shoulder straps and a mesh back panel and foam framesheet that can be removed for use as a sit pad! Some ultralight gear-head must have pitched that in the design meeting.
Backpackers.com has chosen the REI Flash 22 as our Budget Pick for the Day Hiker due to its wide feature range and accessible price point for a multi-sport day pack.
REI Flash 22 Star Rating
Comfort

Durability

Packability

Fit and Adjustability
Summary
The REI Flash 22 packs serious features into a medium-sized day pack that excels in a multitude of scenarios. From cycling to hiking to farmers markets, the REI Flash 22 offers a stable carry and tons of pockets for all of your outdoor essentials.
Our previous Budget Pick for the Day Hiker was the REI Trail 25 — REI clearly makes excellent slightly cheaper gear. That said, the Trail 25 is still an expensive pack, and beefier than most people need. The REI Flash 22 is less expensive and way more versatile.
See the full REI Flash 22 review below.
REI Flash 22 Specifications
| Feature Type | Feature Specs | What This Means |
| --- | --- | --- |
| Weight | 13 oz. (368 g) | Fairly light (and compressible) for a functional day pack. |
| Capacity | 22L | A good size to carry a day's worth of goods. You won't want to take it for heavy, extended day hiking, but anything else will work. Learn more about backpack capacity in our Guide. |
| Frame | Frameless | There's no real frame in this basic day pack. There is a removable back pad that doubles as a sit pad though! |
| Hip Belt Fit | 26-42 in. (66-106 cm) | A very basic hip belt that fits most people. Learn more about backpack hip belts and how to measure in our Guide. |
| Torso Fit | Not Adjustable, 16-20 in. (40-50 cm) | The torso is not adjustable, but this pack isn't meant to carry extreme loads. To learn more about backpack torso measurement and adjustable torsos see our Guide. |
| Number of Exterior Pockets | 4 | Two large mesh water bottle pockets, a zippered small pocket for carrying essentials, and a vertical zippered pocket on the front. |
| Hydration Sleeve | Yes | A basic hydration sleeve secures a 2-liter bladder decently. |
| Main Pack Access | Drawstring, Buckle Closure | The Flash 22 has two top closures. First, a standard drawstring stuff sack closure. Second, a lid that comes over the drawstring and clips via buckle to the bottom of the pack. Very secure. |
| Detachable Top Lid | No | The lid is attached. |
| Trekking Pole/Ice Axe Loops | Yes | There are a few basic (but functional) loops for hiking poles or other long items. |
| Sternum Strap | Yes | A standard sternum strap helps to balance and carry the load. |
| Materials | Nylon | REI doesn't list material specs, which is a shame. Some portion of the materials used are bluesign approved, but they don't say which ones, or what percentage. |
| Load Range | 7-9 lbs. (3.1-4 kg) | A fairly low load range, based on our extensive testing. Perfect for an easy day hike, but if you want to haul a lot, consider another pack. |
| Warranty | Limited Lifetime | REI offers a limited lifetime on all its products, and they have a 1-year return policy (no questions asked). |
| Retail Price | $54.95 | A decent price for a brand-name backpack. You're paying for the warranty, the thoughtful design, and fabric quality. |
Gear Review of the REI Flash 22
Origins: Easing You In
When I pick up a new piece of gear, I obviously get excited about its potential, but there's also a level of anxiety around taking untested equipment into the field. I spend a lot of time outdoors, and, as most people do, I get comfortable with my tried-and-true kit. My kit keeps me alive, after all, and certain items become creature comforts. That said, there is something (actually, lots of things) about the REI Flash 22 pack that immediately intrigued me and made me want to get out with it as much as I could.
Taking the Flash 22 on easy walks was a no-brainer and I immediately started using it on local day hikes and even trail runs (more on the latter below) near my seasonal home in Washington's Skagit Valley.
But I quickly realized I could use it for much more than basic hikes. The Farmer's Market in Bellingham? I needed something to carry pastries and other hand-crafted goods (mostly pastries, let's be honest), and the Flash 22 was ready and waiting. Backpacking in the North Cascades? Got to have a lightweight pack that packs down small but still can hold enough to stay safe while day hiking out of basecamp. The REI Flash 22's features, capacity, and weight factored seamlessly into my kit and adventure flow.
Revelation: The Moment I Knew
The REI Flash 22 is another piece of gear that I've continued to reach for after work and every weekend. On backpacking trips, I've used it as a double-duty stuff sack for my sleeping bag — which in itself is a little pro tip! It's also perfectly sized for day hikes when stuffing extra layers (Pacific Northwesterners know!), the ten essentials, and plenty of snacks for objectives beyond camp.
Plus, the water bottle pockets are actually useful and large enough to hold a 32-ounce Nalgene bottle, a SmartWater bottle, or a travel mug for hot drinks on cold, misty Pacific Northwest days.
For frontcountry hikes and urban excursions, the REI Flash 22 provides plenty of spots to stow small valuables, keys, layers, and all the finds from a day of exploration.
The REI Flash 22 kept surprising me with its versatility and functionality. Each time I picked it up was a new opportunity for the Flash 22 to shine.
Digging Deeper
The REI Flash 22 has a simple design with key enhancements that elevate it from glorified stuff sack to essential item. The cinch closure on the main pack bag is easy to open and close, and is hidden under a top lid flap pocket. The top pocket is small, but easily fits my headlamp, compass, knife, cell phone, wallet, keys and a snack bar — pretty impressive for such a small pack.
Securing the pocket is an adjustable side-release buckle which compresses loads nicely for a stable carry. I sprinkled in some trail runs while hiking with the Flash 22, and items stayed in place inside the pack even on jostling, uneven terrain.
REI uses a durable, smooth nylon ripstop fabric for the body of the Flash 22 making for a dependable design and an easy clean after being set down on the wet forest floor. Stretch mesh side pockets with a high-profile cut hold water bottles and other small items securely, but it can be challenging to tuck items back in when wearing the pack tightly against my back. I found it much easier to stash items in the water bottle pockets if I loosened the shoulder strap on the same side.
The Flash 22 has comfortable stretch mesh shoulder straps and an area where the material is doubled to create a tunnel of fabric. This doubled section of the strap increases comfort on the shoulder and collarbone and makes it easier to heft heavier loads on long days. A removable sternum strap nicely distributes weight across the chest, which (of course) increases the carrying comfort. And the sternum buckle includes the ubiquitous emergency whistle found on almost all backpacks these days, and it's moveable as well, making it comfortable for different-sized hikers.
The doubled tunnel of fabric on the shoulder straps also acts as a guide for a hydration bladder hose. A dedicated hydration hose port, internal sleeve, and hook-and-loop hanger integrate with a hydration bladder (hydration bladder sold separately).
That said, the diameter of this fabric tunnel may be slightly small. If the hydration bladder's hose doesn't detach from the bladder, inserting the hose can be challenging if you also can't remove the bite valve easily. The narrowness of this fabric tunnel also pressed the hose into my shoulders, creating a hotspot. Bypassing the fabric tunnel and routing the hose through the sternum strap anchor webbing helped increase comfort when using a bladder.
The back panel has sewn-in foam panels for comfort and breathability, but in a unique design move, there's a removable foam panel that adds support and cushion from rigid items and acts as a sit pad. I removed the pad when backpacking to reduce weight and increase packability, but I was glad to have it on forested day hikes when every surface is wet and not particularly comfortable.
That's already a ton of features, and there are still more. All this on a wallet-friendly day pack. Phew!
Let's talk more about storage and lashing. The Flash 22 has an additional front zipper pocket with a flat profile that's great for keys, maps, or snacks. One set of stashable high and low tool loops grip trekking poles or even a light ice axe when not in use, and additional lashing loops on the sides of the pack make adding compression cord or attaching items (via carabiner or rope) a breeze.
Rounding out the long list of practical details on the REI Flash 22 is a key loop on the inside of the pack, and a removable hip belt for stabilizing the pack when loaded down or when moving quickly.
I haven't been trail running as much in recent years due to knee pain, but I've used a couple trail running packs. To be honest, the REI Flash 22 out-performed the other sport-specific models I've tried in the past. The close fit provided by the comfortable shoulder straps and hip and sternum belts really stabilized loads when negotiating rooty and rocky terrain at higher speeds. Impressive, to say the least.
Comfort
– 4.5 Stars
The REI Flash 22 provides great comfort for being only 13 ounces. The removable foam back panel and foam shoulder straps make the pack comfortable for carrying up to about 7-9 pounds. This is plenty of weight for a couple liters of water, snacks, and the ten essentials.
The Flash 22 isn't made for big loads, but it keeps things stable and feeling good on your back if the maximum isn't exceeded. I docked half a point for a hot spot I developed from the hydration tube routing through the shoulder strap.
And, to be clear, the high star rating is specific to the weight range I list above. If you try to carry 20 pounds in this pack, it will not be comfortable.
Durability
– 4 Stars
I've been using the REI Flash 22 for almost every day hike and bike ride over a month period (I hike a lot), and it's looking good for the most part. The pack developed a hole in the lid pocket from an unusually sharp corner of my sunscreen bottle — and I know what you're thinking, but this sunscreen bottle is really sharp.
This will be an easy fix with adhesive ripstop tape, but it's a good reminder that even fabrics with average durability can be susceptible to puncture while still resisting abrasion and rips.
Packability
– 5
The REI Flash 22 has storage and gear hauling abilities not normally found in this weight class and price point. Pockets, lash points, bungees, and yeah, more pockets, make the Flash 22 a hyper-organized traveler's dream while still keeping weight down.
Keep in mind that stuff-sack-style-packs don't have any internal organization, so additional smaller stuff sacks can elevate the organization game. Not only does the Flash 22 deftly hold gear for a full day of hiking, but you can remove the foam sit pad/back panel for comfy resting, and it rolls down to about the size of a 32-ounce Nalgene bottle. The Flash 22's compact size makes it easy to stash for day hikes and peak bagging while backpacking.
In short, it packs other items quite well, and it packs up itself just as impressively!
Fit and Adjustability
– 5
I found the fit of the REI Flash 22 to be spot on for me. I could wear the pack with no shirt or with cold-weather layers and still find a comfortable fit, whether loaded down with gear or carrying the minimums. I could see the pack being a bit small on someone especially tall or broad.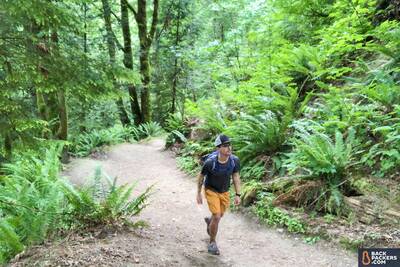 The Flash 22 does have a simple webbing hip belt, but it's not padded, so manage your comfort expectations. Likewise, there are no load lifters on this pack, mostly because it's not meant to haul heavy loads.
Grievances
My grievance with the REI Flash 22 is the clumsiness of using a hydration bladder with the pack.
First, the hook-and-loop hanger for the bladder is weak. When carrying a full two-liter bladder, the hook-and-loop would release the bladder if it bumped around too much.
Second, the sleeve for the bladder is a little small. A full two-liter CamelBak bladder was difficult to wedge in, and that's pretty much industry standard. When the pack was especially stuffed with gear and the full bladder, the pack would take on the shape of a football and wouldn't be as comfortable to carry against my back.
Finally, as I mentioned before, the hose routing through the shoulder straps needs a lot of work. The tunnel of fabric on the shoulder straps is tight for a standard CamelBak hydration tube and I developed a pressure point and hotspot on my collarbone because of it. Carrying less weight while using a hydration bladder may decrease this issue. I've begun using water bottles more frequently recently, so this isn't a huge issue, but it does decrease the practicality of carrying a hydration bladder with the Flash 22.
Final Word
Just when I thought I had my ideal day pack locked in, the REI Flash 22 came along and turned my world upside down. I'm stoked to have found a new trustworthy lightweight day pack with tons of features, plenty of space, and comfort to boot! Now, if REI can just come out with a Tex-Mex food patterned edition of the Flash 22 I'll be in heaven.
Where to Buy REI Flash 22
We tested the REI Flash 22 backpack in Cobalt. It's offered in many other colors, and in a smaller variation called the REI Flash 18. We like the Flash 22 for its increased carrying capacity, and slightly more robust feature set. That said, if you want a more basic, smaller (and cheaper) backpack, the Flash 18 might be right!
Compare REI Flash 22 and Flash 18 prices below.
Review Policy: We do not accept payments or gifts from brands and vendors, and strive to provide unbiased, independent advice. Brands typically provide review samples which we return, and in some cases we purchase the item so we can keep using it long after the review. Affiliate Policy: We support the hours that go into our reviews and testing through affiliate commissions on purchases made through links in this article. These don't effect the outcome of our reviews or selection of gear, as per our Review Policy.