REI Igneo 17 Overview
I used to work for REI. I've toured their warehouses, talked shop with product designers, and climbed mountains with members of the executive team. These people live to create innovative outdoor equipment that elevates the entire industry, and I have been warmed by their passion and purpose. So, it is with admiration and respect (and perhaps a twinge of jealousy — man those people are good at what they do) that I tell you the REI Igneo 17 is a virtually unrivaled sleeping bag.
It is, simply and joyfully, what a sleeping bag should be. Lightweight for its price point, slim cut with 700-fill power duck down, packable, comfortable, warm, and even water resistant. The Igneo 17 doesn't know the meaning of the word "compromise".
With trumpets blaring and the soft whooshing wingbeats of doves overhead, we officially proclaim the REI Igneo 17 our Classic Pick for the Wilderness Backpacker. (That's how we usually announce things in the office.)
REI Igneo 17 Star Rating
Comfort

Warmth

Durability

Fit
Summary
The REI Igneo 17 is a standout mummy bag that braves sub-freezing temperatures with ease. REI uses RDS certified 700-fill duck down that's been treated to repel water, a burly 20D ripstop nylon shell, and a cozy neck warmer to keep you comfy. The fit is a mummy with a bit of room to move, and every component is made smartly, warmly, and durably. The REI Igneo 17 is priced lower than comparable bags, and shines in the backcountry at just under two pounds.
For the complete low down on this critical piece of equipment, head to our comprehensive sleeping bag guide, and see why we recommend the REI Igneo 17 below.
Update: The REI Igneo 17 came out in 2017, and is a fully updated line from REI. There are no changes to the bag for 2019.
REI Igneo 17 Video Review
REI Igneo 17 Specifications
Feature Type
Feature Specs
What This Means
Weight
1 lb. 15 oz. (879 in g)
At just under the two-pound mark, this is a seriously lightweight bag. It competes with more expensive bags and almost tips into the Ultralight Backpacker category.
Type
Mummy Bag
Traditional mummy bag. Tight around your body, traps in warmth, and isn't the best for sleepers that roll around a bunch. More on different sleeping bag types in our Guide.
Size
Regular, 72″ (183 cm)
Standard length for a men's sleeping bag. Can also be bought in a Long and Long Wide for those who want more room.
EN Testing/Temperature Rating

EN Lower Limit: 17°F

EN Comfort: 28°F

The Lower Limit means this bag is technically warm enough for men down to 17 degrees. But for cold sleepers (or women), it's more realistically rated to 28 degrees. A solid three season bag that could serve in a true cold snap. More on sleeping temperature and EN Testing in our Guide.
Insulation Type
700-fill-power duck down
REI cuts costs by using duck down instead of goose down, but there is no substantial difference for this bag, which is still lightweight and very warm. We're not quite sure how they manage this, but they do. More on insulation types in our Guide.
Water Resistant?
Yes
The shell fabric is treated with DWR, the black fabric uses a waterproof/breathable material, and the duck down is polymer-coated. It has solid water resistance for a sleeping bag.
Fill Weight

15.87 oz. (450 g)

Fill weight is the weight of just the down in the sleeping bag. Roughly half of this bag's weight is down, which is how you know it's warm and light.
Shell Fabric
20-denier ripstop nylon and regular nylon
The Igneo 17 has two shell fabrics. The black material along the outer is ripstop nylon, a thicker denier, treated more heavily with DWR, and has waterproof/breathable properties. The red fabric is thinner, but still has DWR. More on shell fabric and denier thickness in our Guide.
Baffle Pattern
Horizontal and Vertical
REI uses horizontal baffles along the top and bottom of the bag, which is traditional. Along the sidewalls it uses vertical baffles, which helps to keep the fit comfortable and the bag warm. More on sleeping bag baffles in our Guide.
Zipper Length, Type, Placement
Full Length, Left
It's a full-length zipper and on the left-hand side. Meant for zipping up with female REI sleeping bags. The zipper itself has a large, durable pull.
Draft Tube?
Yes
Standard draft tube, which runs along the zipper keep out the cold!
Neck Baffle?
No
No neck baffle on this bag, though it does have a little blanket that folds out of the top of the bag.
Pocket?
No
This is a lightweight mummy bag meant for sleeping, not relaxing.
Manufacturer Warranty
Limited Warranty
You can return anything at REI for up to a year after purchase (literally, anything). This is their own product, so it's warrantied for life against material defects and workmanship, but sometimes REI lines go out of production and it's not easy to return/replace.
Retail Price
$299
A stunning price for this bag's quality and weight. Worth the investment, especially if it goes on sale.
Gear Review of the REI Igneo 17
Origins: Easing You In
A sleeping bag is perhaps the single most important piece of gear in a backpacker's arsenal. It is the difference between a cozy snooze and a shaking, hallucinating suffer fest. Or, you know, death. Having experienced two of these extremes (I'm not writing this from the great beyond) I have become somewhat of a sleeping bag aficionado. A backcountry shelter cognoscente, if you will.
Currently I switch back and forth between an ancient, 20 degree North Face Cat's Meow and a -20 degree REI Expedition. The Cat's Meow is like an aging soldier: it has served me well but retirement is imminent, both because it is heavier/bulkier than newer options and it no longer sports the temperature rating it came with. The Expedition is utterly and completely amazing, but major overkill in terms of weight, bulk, and warmth on all but the most gelid excursions. With this in mind, I was stoked to try out the REI Igneo 17 — a bag that aims to hit the lightweight, warm enough, and quite compressible mark.
I like to line my pack with a trash bag and then pack my sleeping bag and clothes inside of it.  A little waterproofing trick I learned from a mountaineering guide. Anyway, when I stuffed the Igneo at the bottom of my bag I was instantly struck by how much room remained! Way more packable than any synthetic bag I've tried. And when you factor in the temperature rating — comfortable for men down to 17 degrees — the packability is incredible.
Revelation: The Moment I Knew
As I live in Sacramento I will often take a quick jaunt up the hill and stay a night or two in Tahoe, and this trip was one of those, "I'm just going to revel in the fact that I live so close to paradise" weekends. I took off near Fallen Leaf Lake and quickly forgot about the weight on my back as I marveled at the juxtaposition of snow capped peaks and mid-70's weather. That said, with the Igneo there is barely any weight to feel — this homeboy lightly tips the scales at 1 pound, 15 ounces. (It helps that I have a solid ultralight setup, too.)
I found a shady nook to set up camp just as the sun started to hide behind the Jeffrey pines, and when I unfurled the Igneo a small jolt of anticipation ran through me — there is nothing quite like a comfortable night's sleep after a long day in the backcountry. I noticed that the bag easily retained its loft (even after being stuck in my pack all day), but that it wasn't overly bulky or fluffy like some down bags. After making dinner and falling into the mundane and wonderful rhythm of camp life, I tucked into the Igeno 17 and passed out.
When I awoke, I knew the Igneo was going to be my new main squeeze. I was warm, yes. I was comfortable, sure. But mostly I noticed the water. Even though it was a dry evening, the Igneo had plenty of moisture on it. My breath had condensed on the inside of the tent and dripped down onto the bag.
Real water resistance makes me happy. Maybe I've been burned by false advertising too many times, but noticing that this down bag was keeping me warm and dry despite being covered by water was better than waking up to a hot cup of coffee. (I know, that's just crazy talk!)
With a Durable Water Repellant (DWR) ripstop nylon outer shell, hydrophobic duck down, and doubled protection on the hood, sides, and footbox (areas likely to touch the sides of a tent), REI clearly made water resistance an extreme point of emphasis when designing this bag.
Digging Deeper
The easy answer to the question "What else did you like about this bag?" is…everything. But that's too generic, so let's break it down.
First, I was comfortable sleeping in the Igneo. Like, fall asleep in two minutes and wake up ten hours later in the same position gurgling in my own drool comfortable. The Tahoe night dropped into the low 30's, and I was wearing long underwear and a t-shirt with the sleeping bag zipped all the way up.
Typically temperature ratings seem to fall about 10 degrees short of their advertised limits, which would still put the Igneo in "plenty warm" range on a literally freezing night. I could see taking this into the 17-degree range, as long as I had plenty of layers and a warm sleeping pad.
The mummy hood (which adjusted easily) and draft collar tube helped keep me pleasantly toasty. I wasn't even slightly cold (not even my feet, which are usually cold no matter what I do). But, I also wasn't overheated. If you've spent any time in sleeping bags you know how rare this is. To just get in, and fall asleep? Never happens. Except it did when I passed out in the Igneo 17.
Comfort 
5 Stars
The best. Seriously. In 30 years of backcountry travel I have never slept better than I did in the Igneo. I think a tear just came to my eye…and no, I'm not just saying that to convince you. It's like the bag was made for me.
Warmth 
5 Stars
Fantastic. The Igneo is rated at 17 degrees and, while I only tested it in near-freezing conditions, my experience with other down bags gives me confidence this would work down to that range.  Plus it's comfortable, sustainable warmth.  Not the kind you can feel slipping away through the zipper and footbox.
Durability 
5 Stars
This is a tough bag and the DWR ripstop nylon outer shell is no joke. The way the down is organized and baffled is genius, requiring minimal (or maybe even zero) shaking and gyrating to move around and re-fluff,the way you might have to with another bag.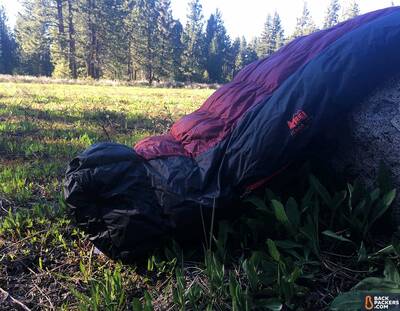 Fit 
4 Stars
It was perfect for me. I am 5'9" with broad shoulders and was sleeping in a Regular. All Igneo lengths are slim fit to increase warmth and decrease weight, but I never felt constrained and was easily able to move around in the bag. At the risk of my chiropractor seeing this, I spent much of the night on my stomach — however I was comfortable on my side and back as well.
Grievances
The first time I tried to unzip the Igneo 17, the zipper stuck. And then came off the track. This happens to sleeping bags at times, and if it was a consistent issue I'd give it a big black mark. But it only happened once, and only the first time I used the bag.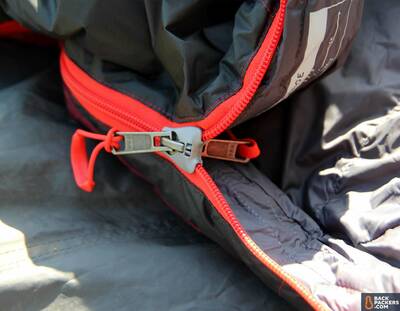 It was definitely annoying, but I fixed it quickly and never had the issue again, so it was most likely user error, or over-excited hands with a new sleeping bag.
Final Word
Holy cow what a sleeping bag. I love REI for many reasons, but as a consumer I have always been impressed by the creativity and quality of their gear, coupled with the often affordable price point. The Igneo 17 is a paragon for this ideal. With this almost flawless bag you will be will warm, you will be dry, you will be light, and you will sleep so, so good.
Where to Buy REI Igneo 17
We tested the men's Regular version of the REI Igneo 17. The same bag style is offered in a 25 degree version, which is blue instead of red. Last year's model of Igneo is also still around, but we like this one a whole lot more.
The women's version of the Igneo is the Joule. It's offered in 21 and 30 degree versions. The construction is the same as the men's, but the fit and warmth are different. If you're a cold sleeper or want more room around the hips (and less around the shoulders) consider a women-specific sleeping bag.
The Igneo 17 and Joule 21 are true three-season bags, and both are listed below. The Igneo 25 and Joule 30 are for two seasons, but are excellent choices for backpackers that go in summer and want a super lightweight down bag that won't break the bank. You'll see them below as well.
Review Policy: We do not accept payments or gifts from brands and vendors, and strive to provide unbiased, independent advice. Brands typically provide review samples which we return, and in some cases we purchase the item so we can keep using it long after the review. Affiliate Policy: We support the hours that go into our reviews and testing through affiliate commissions on purchases made through links in this article. These don't effect the outcome of our reviews or selection of gear, as per our Review Policy.