REI Magma 850 Overview
Over here in outdoor gear nerd land — Seattle, WA — people are rejoicing: it is Winter Time! This is when cold-defending goodies come onto the market, demonstrating the adventure-inspiring products born from a collaboration of technology, fashion, and passionate outdoors-people. This year, REI released its own version of the high-end-yet-casual down jacket with the Magma 850. This goose down jacket is a full-zip, non-hooded piece designed for both men and women. The Magma 850 is a jack(et)-of-all trades and manages to master all of these trades in a sleek, moveable, soft puff of warmth.
For fellow animal lovers (who approve the use of animal-based products): The Magma 850 is filled with goose down that has been certified through a third-party organization, Responsible Down Standard, that ensures the animals are allowed to express their innate behaviors, are treated with morality, and do not get live-plucked.
This do-it-all jacket with ethical down is new, but it's a standout for the cost. We've awarded it our Classic Pick for the Day Hiker and Urban Hiker. You can use it for any outdoor activities, but we feel there are more specialized jackets that work better for backpacking and camping.
REI Magma 850 Star Rating
Comfort

Durability

Warmth

Packability
Summary
The REI Magma 850 down jacket uses classic design for a semi-affordable down jacket with premium materials. The goose down is 850 fill, it has three zippered pockets, packs up small, and weighs roughly 10 ounces. It's a sharp looking jacket as well, and works well in urban or outdoor environments.
If you are on the fence of synthetic or down, check out our comprehensive down jacket guide. Read the full REI Magma 850 review below to see why we are keen on this newbie puffy.
Update: We tested the REI Magma 850 jacket in 2017. REI has since updated the jacket to a hoodie-only version, and changed the coat in a few other ways. The newer version uses Pertex Diamond Fuse ripstop nylon for the face fabric, wheras the version we tested uses a regular Pertex fabric. The newer fabric adds abrasion resistance, which is good. This one is a little heavier, mostly due to the hood, it comes in a two-color pattern, and it's more expensive. While functionally it's similar, we feel that REI changes up the design of new products a bit too frequently, and wish this were offered in full jacket and hood versions. Other than that gripe it's still an excellent jacket. 
REI Magma 850 Specifications
| | | |
| --- | --- | --- |
| Feature Type | Feature Specs | What This Means |
| Weight | 8.8 oz. (249.5 g) | Quite light, and about average for a higher end down jacket. You won't feel this on you or in your pack. |
| Down Quality | 850-Fill | High quality down is used in this jacket. We're stoked to see REI using such nice down. |
| Down Type | Goose Down, Water Resistant, RDS | Goose down is typically higher quality, and this down is treated to be water resistant, which means it dries quickly. It's also been certified by the Responsible Down Standard. |
| Fill Weight | Not Listed | We really wish REI would list the fill weight. This helps determine how warm the jacket is, and is the overall weight of just the down in the jacket (not the other materials). |
| Shell Fabric | Pertex ripstop nylon shell | Pertex is the industry leader in down shell fabrics, and this jacket feels and looks good. Performs well, too. |
| DWR Treatment | Yes | The down and shell fabric are both treated with DWR. This helps them shed water and dry quickly. |
| Number of Pockets | 3 | Two zippered hand pockets that sit a little higher than normal for hipbelts, and one internal zippered pocket. |
| Stuffs Into Itself | Yes | Stuffs into the left hand pocket. |
| Adjustable Waist | Yes | The waist hem is a drawcord that helps to seal in warmth. |
| Hood/Jacket Option | Just Jacket | At the time of testing, there is not a hooded version of this jacket. |
| Gender | Men's, Women's | REI offers this jacket with the same features and materials for men and women. The cut is different. |
| Sizes Available | Women's: XS-XL, Men's: S-XXL | A decent amount of sizes, but not the most possible. |
| Manufacturer Warranty | Limited Lifetime Guarantee | REI is best known for its one-year return policy, in which you can return for any reason. Technically this jacket has a limited lifetime guarantee for defects in workmanship and manufacturing issues, but it can be hard to process those through REI after the year is up. |
| Retail Cost | $189.00 | An incredible price for a down jacket with high-end materials. |
Gear Review of REI Magma 850
Origins: Easing You In
Guys, I have to tell you something. I have fallen in love. Yes, head-over-heels, heart-eyed, in love. With who you might ask? Well, actually, it is more of a what…and I am not ashamed. Its name is the REI Magma 850 down jacket. The name does not inspire romance, nor does the idea of wearing goose feathers spark flints of joy in me, but the Magma 850 knows how to keep a girl (or dude) cozy, while also being practical.
Much like many love affairs, our first encounter was by fate — timing is everything. It was the first week of chilly weather after a glorious summer in Seattle and I was already questioning the capability of my Southern California wardrobe. And that Friday night, as I was unwinding from my work week and packing for my weekend adventure, I heard a knock on the door. I was greeted by a smooth cardboard box, seemingly filled with air. Within a minute the box was gutted, revealing a sleek, black puffy jacket.
The Magma 850 easily slid over my sweatshirt and zipped up, adjusting to my figure like we were long-lost friends. The black fabric is not too shiny, but a nice matte, flattering in all situations. I even went so far as to send my mother some selfies, proclaiming my love (to which she replied, "With who? I only see you…"). No matter, the Magma 850 and I were destined for greatness.
Revelation: The Moment I Knew
Part of a hazard I often run into as a city-dweller is running after busses to catch them. This means I have a higher rate of losing objects that fall out of my bag or jacket or pants if I am not cautious. The no-name jacket I was wearing before had done a poor job of keeping in my essentials while on one of these mad-dashes and my company bus pass flew out of my pocket.
Since wearing the Magma 850 my pocket-stashing confidence is reignited. I even keep my phone, headphones, debit card, and lip balm in the three pockets on this jacket — a major upgrade from anything previous — and can run to catch the bus without issue.
The Magma 850 has deep, angled pockets with small zippers that do not catch on the fabric. A bonus pocket is hidden in the left interior chest panel, and yes, it is also equipped with a zipper. Zip-a-dee-doo-dah! This goes without saying that running in this down jacket is also a downright comfy experience.
Digging Deeper
The Magma 850 has crazy good warming skills, quality zippers, and is easy to care for — gotta love low maintenance gear.
In the damp, sometimes rainy air, the Magma is resilient; it always kept my bones dry and warm. While it's not a rain jacket by any means, it does repel water and dries off quickly. This is due to a DWR coating on the shell of the jacket, and the DWR-coated goose down, which helps immensely with drying.
Perhaps the best part of this? The jacket can be washed and dried. This is especially handy for city-dwellers that want to hike. The Magma 850 is also a decent companion on windy hikes.
Comfort
Wearing warm and cozy jackets often means sacrificing arm maneuverability. The Magma 850 defies that stereotype — it's plenty cozy and allows me to move my arms in an almost full range of motion. This means it's a solid companion for all ranges of activity. It doesn't have a hood though, and REI doesn't offer one with a hood (right now), so make sure you have a beanie at home.
Durability
In the pursuit of a full relationship with the Magma 850, I took this jacket on all of my adventures. We scrambled, ran, wandered, backpacked, and snuggled, in all weather conditions from rain to snow to sun to rain again (hey, I am in Seattle, what do you expect?). Short of going through narrow caves or fighting fires, I feel like I wore this baby out.
Don't be fooled by the soft nylon shell. It held up to most of my adventures, and then held up to being washed. This jacket stood up to many tumbles in the washer-dryer (I recommend washing it after heavy-duty cardio sessions). To wash the Magma I tossed it in with my lightweight clothes, like shirts and socks, and washed on cool-delicate, and tossed it in the dryer on cool until dry. The tag has instructions but I have vetted the process. Hooray for washable down gear!
Update: after many months and many wears I discovered a tiny hole on the front of the jacket. It was punctured by an unknown source, perhaps my own negligence. I have remedied this with Tenacious Tape to ensure all the feathers don't gush out.
Warmth
The Magma 850 aspires to live true to the "magma" name. The horizontal baffles, nylon shell, and goose down really work together to create a pod of warmth around your torso, even in lower temperatures. The jacket is well insulated, but at the armpit region, it is lightly insulated, offering some breathing room.
While I would not take this jacket on a full-blown snow expedition, I do trust it while wandering downtown Seattle, getting blasted by cold ocean air that spills between the highrises.
Packability
As far as puffy jackets go, the Magma 850 is a very lightweight contender: the women's medium weighs in at 8.8 ounces. This jacket traveled with me everywhere — from work to the gym to the mountains to parties and, finally, to the airport. Each time I had to take off the jacket and stash it, it easily stuffed into whatever compartment I had available, like the water bottle holder in my Cotopaxi backpack or between tupperware in my generously packed carry-on. Don't be fooled by the puffiness — this goose down packs down!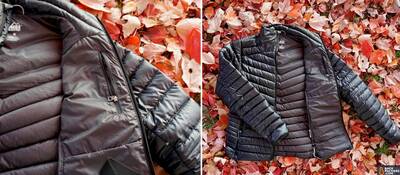 Fit
The Magma 850 is a fairly adaptable jacket, conforming to many body types. The longer, semi-fitted cut offers waist drawcords and elastic hemmed sleeves. At 5'6'', I wore the Medium. This accommodated layers, such as blazers and fleeces, and still easily zipped up. The jacket fit perfectly over the widest point of my hips, and while I did not need to use the draw cord, it is a good option to have if your hips do not have Beyonce-ambitions.
Style
When the cold weather first hit the Pacific Northwest I immediately saw a collective fashion-shift in Seattle. Everyone busted out their full-length pants, beanies, and boxy black puffy jackets. Yes, everyone has one. In fact, I just saw a woman leave the coffee shop wearing hers with a pair of sweats. Mine is sitting on my chair, patiently waiting to go outside.
Why do I tell you all of this? Well, there 's a reason everyone has a black puffy jacket — it works with everything. The women's Magma 850, especially, has a nice slightly curvy fit, with a longer hem in the back (hiding the dreaded gap between your pants and top), and can easily layer over blazers, vests, and scarves without looking boxy.
Grievances
When in the honeymoon stage with someone or something (in this case, a jacket), it is easy to disregard your lover's flaws. While I am still swooning over the Magma 850, I confess that it does have one flaw: it molts.
Yes: between the tiny well-sewn seams, the little goose feathers escape. These feathers come out infrequently, but consistently. The tiny feathers latch onto my clothes underneath, they float around my face while I am having discussions with my boss, and they land on my keyboard while I type these words.
In the grand scheme of things, this does not change my mind about the Magma 850 because the overall construction of the jacket is solid. The molting effect is inevitable in down jackets and it will take thousands of years for every single feather to fall out, but I did notice the rate of the molting was a bit fast.
Final Word
It is a rare but lovely experience to fall immediately in love. And while I am a strong, independent woman, I have to admit, my life in the winter would not be the same without the REI Magma 850. Warmth, solid zippers, and a crazy lightweight package make this a jacket for any cold city-dweller.
Where to Buy REI Magma 850
We tested the women's REI Magma 850 in a size medium. It is available as of 2017 from all REI stores, and their online store. It's only available at REI (go figure!). The men's version is the same except for cut, and we think it's an awesome jacket as well.
In 2018 REI updated the Magma 850 to a hoodie-only version, with a slightly upgraded face fabric. That is listed below.
Compare REI Co-Op Magma 850 prices below.
Review Policy: We do not accept payments or gifts from brands and vendors, and strive to provide unbiased, independent advice. Brands typically provide review samples which we return, and in some cases we purchase the item so we can keep using it long after the review. Affiliate Policy: We support the hours that go into our reviews and testing through affiliate commissions on purchases made through links in this article. These don't effect the outcome of our reviews or selection of gear, as per our Review Policy.