REI Trail 25 Overview
Utility is the word that comes to mind with the REI Trail 25. For a pack that provides a day's worth of adventure, you'll not only feel comfortable but safe knowing all the supplies you need fit with room to spare.
There is a lot to be said about such a simple looking pack: the panel loading system for easy access to the main compartment, tons of straps and loops for additional gear, and included rain cover are what stands out.
We chose the REI Trail 25 as the Budget Pick for the Day Hiker due to seeming simplicity that shows a depth in usability. Let it be known: There are cheaper, worthy Day Hiker backpacks out there. However, none we found have this much space and ease of use. If you want a much smaller backpack look elsewhere, but the Trail 25 shines for the price at 25 liters.
Read the full review of the REI Trail 25 below, and see why and how we went about choosing backpacks in our comprehensive guide.
REI Trail 25 Star Rating
Comfort

Durability

Packability

Fit and Adjustability
Summary
The REI Trail 25 day pack is a simple top-loader with ample storage for a full day on the trail. With exterior mesh water bottle pockets, lots of gear loops on the exterior, and a small-items pouch that's easily accessible, it's a very functional backpack. Rain cover included, too!
Update: We tested the Trail 25 in 2016. In 2019 REI updated the Trail 25 to have a slightly more rigid frame, allowing you to carry heavier loads. They also re-tooled the color and made small fabric updates. Finally, they have increased the price to $79.95. While we like the pack still, there are cheaper packs that perform as well, or slightly more expensive packs that provide a lot more support.
REI Trail 25 Specifications
| Feature Type | Feature Specs | What This Means |
| --- | --- | --- |
| Frame Type | HDPE Framesheet | "High Density Polyethylene" is rigid plastic. Provides surprising comfort in this pack. |
| Adjustable Torso | No | Most daypacks do not have adjustable torsos. |
| Number of Pockets | 7+ | Three mesh side pockets, one zippered side pocket, one rain cover pocket, one small stash pocket, main panel loading compartment, which has plenty of pockets inside. (Let's say pocket again!) |
| Other Attachment | Yes | Trekking pole loops, many hooks, loops, and daisy chains for securing objects on the outside, and small bottom loops for a sleeping pad or hammock. |
| Hydration Sleeve | Yes | Basic internal flap for hydration bladder with hook for keeping it upright. Bladder not included. |
| Sternum Strap | Yes, adjustable | With whistle! |
| Rain Cover | Yes | With its own pocket! |
| Hip Belt | Yes | It has a hip belt, but it's very basic. Mostly a strap with no padding. Useful when necessary, but not very helpful. Can take off. |
| Materials | Nylon | Literally what REI has to say about the construction. It's a nice enough nylon, but some more details would be great. |
| Load Range | Unlisted | REI again does not provide specific information here. We tested it up to 15 pounds and it held comfortably. |
| Warranty | REI One-Year Return | With no specific warranty, this pack falls under the standard one year return policy of REI. If a part of the pack fails after that you may return it, but we can't be sure. |
| Pack Sizes | Men's | Women's |
| Capacity | 25 L, 1525 in3 | 25 L, 1525 in3 |
| Dimensions | 20H x 13W x 8.875D in. | 18H x 12.25W x 8.875D in. |
| Weight | 1.78 LBS (28.5 oz.) | 1.78 LBS (28.5 oz.) |
| Fits Torso | 17-19 in. | 17-19 in. |
| Fits Hips | 28-44 in. | 28-40 in. |
| Retail Price | $69.95 | A budget price for a decent day pack. |
Gear Review of the REI Trail 25
Origins: Easing You In
The harder I try staying away from the San Fernando Valley outside Los Angeles the more I find myself stuck in traffic, attempting to spot the houses where I assume amateur pornography films are being made. Despite the traffic and questionable activities, there are so many hidden gems across the Valley — my favorites are the hiking trails. You can find amazing views with ease after some trekking through steep hills and rocky crests. If you're lucky, you'll run into one of the caves Charles Manson used to hang out in: the most romantic spot in the Valley.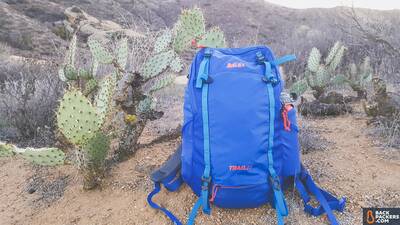 The REI Trail 25 was my companion for day-long journeys through some beautiful trails in the middle of one of the most urbanized areas in Los Angeles: Rocky Peak, Limekiln, Bell and Corbin Canyon…all just minutes away from the hustle a big city boasts.
I had planned an entire day with this fella, from morning until sunset. In doing so, I packed to the brim: at least 25 liters worth of material was stuffed in the REI Trail 25 and this impressed me. It should not impress me, but I've seen my fair share of packs that promise a certain volume and fail to deliver. It's refreshing to know that the REI Trail 25 promises a specific volume and hits the mark.

The U-shaped zipper and panel loading design also made the packing very easy — in fact the REI Trail 25 is almost too easy to pack, as if it's just challenging you to do so.
Revelation: The Moment I Knew
I was most impressed by the REI Trail 25 because of how complex it is despite its simple, distinctive design. You can see how good it looks, but this functionality is all in the placement and types of pockets.
There are two zipped pockets on the outside: one below stores the included rain cover and the one on top is for miscellaneous, easy-to-reach items like a wallet and some snacks.
The rain cover is a wonderful addition itself, though I haven't needed it. (It rains in the Valley as much as Chuck Norris cries…yes, I'm trying to bring back Chuck Norris jokes). You can ditch the rain cover and have some extra space seeing as that rain cover pocket, while a tad awkward because it's on the bottom, is deep and spacious.
For the sake of this review I wrapped the rain cover over the REI Trail 25. It was snug. There are elastic straps for tightening based on how much you have in the pack, and it feels well-made overall.

I loved the side pocket of the main compartment — perfect for a large water bottle if you're a camel like me and need more than what a water bladder can offer. It also works for separating specific clothes (or anything else) from the main area.
There are also three more mesh pockets on the outside of the REI Trail 25. One is standard, but the left side actually sneaks two pockets in one area.
These are spacious and can fit a lot, like a thermos or Nalgene. Seeing these extra additions in what could have been a conventional area was surprising and refreshing.
Lastly, inside of the main compartment of the REI Trail 25 there is another pocket slightly larger items you want to reach easily, like your lunch.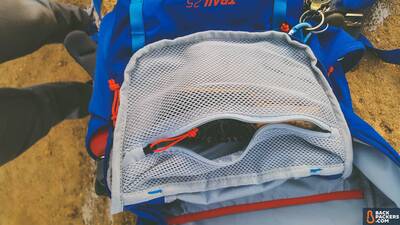 Many pockets, and boy do I love me some pockets.
Digging Deeper
While I spent most of my time on the trails of the San Fernando Valley, I had to journey back into civilization for a number of reasons: one work related, the other because I am in love with this hole-in-the-wall Cajun eatery in Chatsworth. While grabbing a po'boy I was complimented on the REI Trail 25 and even had the dude try it on for himself. I don't know who he was, but he liked it, and seeing that I had met him at one of my favorite food joints, I'd say he has impeccable taste.
I showed this random the two other main features of the pack. One is the sternum strap, which is comfortable and made decently. I will always use the sternum buckle if it's available to me, and it's a nice touch when it doesn't feel constricting. The REI Trail 25 did not slip in the slightest.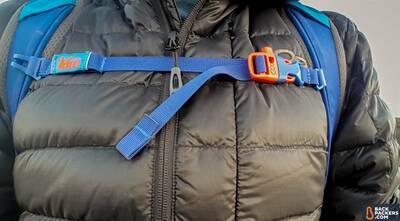 Second, there are a ton of places to hook anything onto the REI Trail 25. The dedicated loops for trekking poles are a nice touch, but the extensive and organized set of daisy chains give you an array of options for whatever you need to hook on externally.
Seriously, if for some reason you have 27 sets of keys and they all needed to be separate, you would have no problem finding space to clip them all on.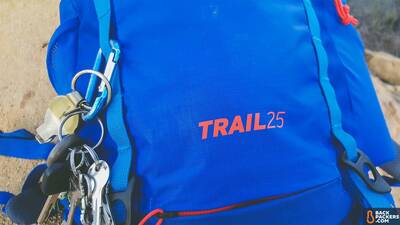 There is even a place to store a sleeping pad or hammock on the bottom like a traditional backpack. Yes, you could theoretically overnight with this 25 liter pack if you wanted to!
Comfort 
4 Stars
The REI Trail 25, when packed to the brim, felt like an average-weight koala bear hugging me. Except the Trail 25 didn't trash about and try to kill me (koalas can be mean, and that's another story for another time). It was actually one of the more comfortable daypacks I have worn despite a simple, unobtrusive back paneling.
No padded hip belt though.
Durability 
4 Stars
The REI Trail 25's resilience compares to that of John Cusack's face: that dude does not age. Perhaps he is God in disguise. I feel like God would have disguised himself as an actor whose career was largest the 1980's anyway, because who would find him out? Nobody, that's who. What were we talking about again?
The Trail 25 doesn't easily show signs of wear, but after repeated use you'll notice a slight decrease in cushion.
Packability 
4 Stars
The REI Trail 25 is a panel-loading pack, which means the top opening gives you access to everything inside. While this was nice, the lack of multiple functional exterior pockets took a point off. The many tie-off points in lieu of pockets may work for some, but since this pack doesn't have a hip belt you don't want to tie off too much weight that way.
The rain cover is a nice touch, as is the internal zippered pocket.
Fit and Adjustability 
3 Stars
This is a budget pack, so I never expected the sun and stars, but no hip belt or load lifters means you can't do much adjusting.
Grievances
To be honest there was not too much I disliked about this pack, but nothing is ever perfect.
I would have appreciated an extra pocket or pouch in the empty space on the exterior of the pack in between the top pocket and rain cover pocket. Even an extra mesh pocket would have been nice (like what the Osprey Talon 22 or Osprey Manta AG 28 packs have).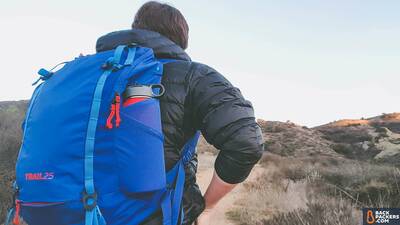 Yes, I have gone on and on about how well-developed the pack is, but it seems silly to have a blank space in the middle of the pack when every other aspect of the REI Trail 25 has a purpose. You could argue it's open for lots of outside chaining, but a pocket would be sweet.
Second thing: a more solid hip-belt is in order. I was comfortable with the pack filled to the brim, but some people want the weight on their hips when they hike. The included hip belt is pretty flimsy — just a strap and buckle without any padding.
Final Word
Just like the Valley, there is much more than meets the eye with the REI Trail 25. It's compact yet intricate, full of conveniences, and retains all day comfort with a full 25 liter load. As a 1980's valley girl would say, "Like, oh my God, please do not gag me with a spoon, this daypack is fer sure bitchin.'"
Where to Buy REI Trail 2
We tested the Men's REI Trail 25 backpack for this review. It's also available in a Women's version. It's the same pack with a sternum strap and back padding engineered for a woman's shape.
Compare REI Trail 25 prices below.
Review Policy: We do not accept payments or gifts from brands and vendors, and strive to provide unbiased, independent advice. Brands typically provide review samples which we return, and in some cases we purchase the item so we can keep using it long after the review. Affiliate Policy: We support the hours that go into our reviews and testing through affiliate commissions on purchases made through links in this article. These don't effect the outcome of our reviews or selection of gear, as per our Review Policy.