The North Face Denali 2 Overview
The North Face Denali 2 fleece jacket is a classic. Originally released in 1988, the Denali has commandeered icy metropolitan centers, chilly college campuses, and more brisk cookouts than the scarf and a cup of tea combined. (We have literally no proof for that statement.) Twenty-seven years later, The North Face has decided to re-tool the classic, resulting in the Denali 2.
Is it a marketing push that turns an all-too-familiar jacket into a very similar jacket? Yes. Is it still worth the top dollar you have to pay to get it? Yes.
The North Face Denali 2 is the heavyweight classic we all know and love with modern touches, most noticeably in style and specific performance enhancements, making this coat our Premium Pick for the Car Camper and Urban Hiker.
The North Face Denali 2 Star Rating
Comfort

Durability

Warmth

Breathability
Summary
The North Face Denali 2 is a heavyweight, heavy-duty fleece jacket that comes with four zippered pockets, large wind-blocking elements over the chest and arms, comfortably jersey cuffs, and a seriously cozy fleece. It will last nearly a lifetime, and is warmer (and heavier) than most fleece jackets out there.
Get the in-depth review of The North Face Denali 2 below, and make sure to check out our comprehensive guide to fleece jackets if you're unsure about the merits of this magically synthetic layer.
The North Face Denali 2 Specifications
| | | |
| --- | --- | --- |
| Feature Type | Feature Specs | What This Means |
| Fabric Weight | Heavyweight, 333 g/m2 | Super warm for a fleece, not very breathable. Feels like an outer layer. |
| Fabric Material | Recycled Polartec 300 Series, 118 g/m2 nylon overlay | One of the best and heaviest fleece fabrics in the industry. It has DWR coating which is unique, and a nylon overlay in the chest for increased wind and rain resistance. |
| Fit | Baggy | Lots of room in the chest and waist, torso is long, sleeves fit fairly standard. Lots of room to layer underneath. |
| Number of Pockets | 4 | Two zippered hand-warmer pockets, two zippered chest pockets. Very nice. |
| Thumb Holes | No | Not a midlayer fleece, so no thumb holes needed. |
| Hood/Jacket Option | Both | Offered as a jacket or hoody. |
| Zipper Options | Full-Zip | Only offered in a full-zip, which makes sense for a bulky outer layer fleece. |
| Adjustable Waist | Yes | Two adjustable toggles in the hand-warmer pockets for complete cinching. |
| Average Weight | 24.7 oz (700 g) | Very heavy for a fleece, but it's as warm as can be. |
| Gender | Men's, Women's | Offered in both genders in multiple variations. |
| Sizes Available | XS-3XL | Nearly every size you need. Remember it's a baggy fit. |
| Manufacturer Warranty | Limited Lifetime | Covers manufacturer defects for lifetime of product for original owner. Generally helpful and honored, but not applicable for normal wear and tear. |
| Retail Cost | $179.00 | A premium price for a burly, heavyweight fleece jacket. |
Gear Review of the The North Face Denali 2
Origins: Easing You In
When I go about testing a piece of gear, especially clothing, I live in it. I cook it in and watch movies in it and stoke the fire in it; it goes on my morning walks and weekly hikes and to the beach for my dawn patrol surf. This is true in general, but especially for the Denali 2. When testing a premium-priced product that is as cozy, warm, and durable as this coat aims to be, it's important to throw everything you can at it to see how it performs.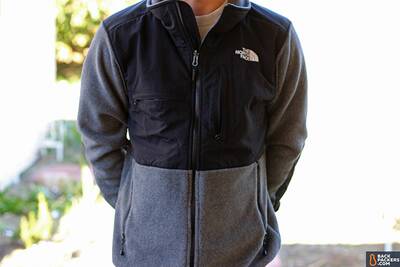 The good news: it performs as it claims, and then some. I'm wearing it now, as I write, not because I have to anymore, but because it embodies the warm, fuzzy hug of a llama paired with a sheep paired with a gorilla. If that sounds ridiculous and uncomfortable, you've got think about the fur and tenderness in each of those animals.
Revelation: The Moment I Knew
While I got to know this fleece's merits and pitfalls over a cold California December, the grand test of the Denali 2 came in the form of a car camping trip north of Santa Barbara to ring in the new year. Up on the bluffs of El Capitan the wind blew, the temperature dropped, and the Denali 2 stayed firmly (and cozily) on my body.
After setting up my tent, our New Year's Eve group walked along the cliffs and down to the beach. In the Deanli 2, a base layer, and a fuzzy hat, with the temperature around 48 degrees, I was toasty — anything more than a light stroll and I had to zip open the jacket for airflow.
The beauty of the Denali 2 is that it's burly. You can really use it as an outer layer (unless it's pouring), and I felt that most in the wind, as the sun set, on the last day of December. Sure, California is not all that cold. Fleece will never be the ultimate warming layer for the icy winters of many northern states, but the Denali 2 stands a full head and shoulders above others for warmth in these conditions.
The moment of revelation came later, when we had a roaring fire. The temperatures fell into the low 40s that night and I stayed in my two layers. I had gloves and a hat (no hood on the model I tested), but did not find myself shivering, even as I moved away from camp to stargaze.
The Denali 2's warmth allowed me to avoid what I often feel when overly layered: like a hoarder who can't move. Layering in the backcountry is done out of necessity, which I understand. But putting on layer after layer when car camping or walking around the city leaves for a lot of unnecessary changing, playing with zippers, and being too hot or warm.
The Denali 2 seemed built for this exact experience, and kept me toasty the entire time.
Digging Deeper
Warmth is the obvious element of the Denali 2, but the jacket has a number of features that make it extremely versatile.
The first is the pockets. Who doesn't love a pocket? Well, the Denali 2 has four of them, each of which zips nicely. The two hand-warmer pockets are deep, fleece-lined, and work for your hands or storing any items you may need.
Then there are two chest pockets. They are opposite each other — one zips horizontally, one vertically. At first this seemed like a gimmicky style element (it looks cool), but after days of use I began to see the light.
The vertical pocket is perfect for a wallet, map, or any paper-based thing you want to pull out swiftly. The horizontal pocket is great for holding smaller items, like chapstick or a lighter. Both pockets are huge (and fleece-lined), which means you can fit gloves or a bunch of stuff crammed inside if necessary, though the more you put in the bulkier your chest area will feel.
These chest pockets also highlight the trademark of the Denali 2 — a nylon outer fabric along the middle-to-upper half of the jacket that extends to the shoulders. This look has defined the Denali jacket for years, and The North Face kept it here for good reason. Again, it's more than style. The nylon is more water resistant than the fleece itself (both are DWR treated), and blocks wind a lot better too. This material is also used on the bottom section of the arms, which is perfect because that's what typically gets wet.
The heating power of the Denali 2 (llama + sheep + gorilla) would do you very little if it all escaped. To counteract this The North Face put an adjustable hem in the waist of the jacket, controlled with two pulls in either hand pocket. These are simple to use and hold extremely well.
There is also elastic in the cuffs, which are more of a jersey style than your typical fleece. This ups the cozy ante significantly, but doesn't sit completely tight on your wrist. These cuffs let out a little heat, but feel soft and hold well when the sleeves are pushed up.
Comfort
I'd prefer not to take it off, morning, noon, and night. When I do, I miss the plush material, cozy cuffs, and gaping pockets. The closest thing to a blanket I've worn that's not actually a blanket.
The only slight issue, and reason for 4.5 stars instead of 5, is that when fully zipped up the neck protrudes awkwardly into my chin. This may just be a fit issue, but it's annoying.
Durability
While I haven't thrown the Denali 2 under my car and given it a run for its money, the build of the jacket is solid. The stitching is well done, the zippers are burly and do not catch, and the nylon and fleece exterior stands up to rain with aplomb.
After over two years of use, the jacket looks brand new.
Warmth
The Denali 2 truly shines in warmth. As a heavyweight fleece, this uses over 300 g/m2 throughout the jacket, and to add to that is wind-blocking fabric over the chest and arms. The main reason fleeces aren't as warm as other insulators is that the wind cuts right through them, but the Denali 2 does away with that problem.
The cut of the jacket is very baggy, so this is really meant to be worn as a warm outer layer, unlike a lot of fleeces which are a thin mid-layer. One of the warmest fleeces I've worn.
Breathability
The exchange for warmth is almost always breathability. The Denali 2 will definitely heat up if you start to hike heavily in it, and it's not really meant for that activity. The wind-blocking panels also block in your sweat, so I don't suggest taking it on backpacking trips or long hikes.
That said the arms and bottom of the jacket do breathe, and it never feels suffocating.
Fit
Super baggy. I'm a small guy — 5'6", slim build — and am wearing a Small Denali 2. However, the jacket is supposed to be baggy because the sleeve length is perfect, and the waist is a little long. It's meant as an outer layer fleece, and I can put on t-shirts, base layers, and even a down jacket underneath. A rain shell does fit over the coat, but I end up a bit puffy.
Grievances
I do want to wear this all the time, but there are a couple distinct issues I've had with the Denali 2.
First, the collar. In my experience the best collars on a fleece jacket (especially a men's fleece jacket) are those that zip up smoothly and sit right along your neck. Not too tight, but close enough that you get the feel of fleece on you. This warms up your neck, traps your body's heat, and looks good.
The Denali 2 collar is just too wide for this. It feels like I could wrap a scarf inside the collar. The outside goes up to my mouth, so it may be oversized for ducking your face in the collar when truly freezing, but I'd prefer another piece of clothing for that. (Look back through all the photos above…the jacket is never zipped all the way up, mostly because it annoyed me.)
Second, the quality of fleece used. On a big, bulky fleece meant to keep you warm, I expect the fleece to be extremely lofted and fuzzy to the touch. The Denali 2 fleece does keep you extremely warm, but the fleece itself also has a subdued quality to it. The individual tendrils aren't wild; they are flat. Older Denali jackets, and other fleeces on the market, have much fuzzier fabric. It's still incredibly cozy, but the feel of it isn't quite as nice.
Finally, and this isn't really a grievance because it's built this way, but the Denali 2 is extremely big and bulky. If you want a fleece that hugs the body more, fits better in a backpack, or can be used as a midlayer, this isn't for you.
Final Word
The North Face Denali 2 reimagines a classic in all the best ways. It keeps you toasty, performs admirably as a wind blocker, and feels like home, if home were a fleece jacket.
Where to Buy The North Face Denali 2
The Men's Denali 2 was used in this review. There is also a women's version of the Denali 2 — everything is the same except for the cut of the jacket, and one less chest pocket.
The Denali 2 is also offered with a hood in both genders. If you like hoods and want the added weight and warmth, it's worth getting the hooded version. The North Face also offers the Denali 2 in a huge number of color schemes and variations. We like the standard version, as it's more basic.
Compare The North Face Denali 2 prices without a hood and with a hood below.
Review Policy: We do not accept payments or gifts from brands and vendors, and strive to provide unbiased, independent advice. Brands typically provide review samples which we return, and in some cases we purchase the item so we can keep using it long after the review. Affiliate Policy: We support the hours that go into our reviews and testing through affiliate commissions on purchases made through links in this article. These don't effect the outcome of our reviews or selection of gear, as per our Review Policy.