Therm-a-Rest ProLite Plus Overview
Therm-a-Rest has been making sleeping pads since 1971, and their ability to reimagine the classics and stay at the forefront of the category keeps backpackers coming back year after year. The Therm-a-rest ProLite Plus continues the tradition with solid insulation, self-inflation, and a new pattern featuring some mountain-view inspiration.
The ProLite Plus has a single twist and pull valve and inflates about 85% of the way in a few minutes, creating a fairly slim yet surprisingly comfy 1.5-inches of pad. Self-inflating foams means no lopsided air, and the ProLite Plus is both flat and supportive. It doesn't pack up tiny, but it's not gigantic either.
Therm-a-Rest ProLite Plus Star Rating
Comfort

Durability

Inflation and Deflation

Packability
Summary
The Therm-a-Rest ProLite Plus is a tried-and-true self-inflating pad perfect for backpacking, car camping, and floor-surfing. Warm enough to get you through any season and light enough to bring on almost all your adventures, the ProLite Plus sleeping pad has staying power in an increasingly crowded category.
While the Therm-a-Rest ProLite Plus is an excellent and well-loved pad, we find the advancements in air pads to be greater, so the it narrowly misses an award. Our current Classic Pick pad for the Wilderness Backpacker is the NEMO Tensor, which costs about $30 more and is not as insulated, but weighs significantly less and packs absolutely tiny. The Tensor is thick and comfortable, but if you don't love air pads, or don't want to spend that kind of dough, the ProLite Plus is an excellent choice. It also works well for car camping, and can be used as a dual pad for many activities without issue.
Read the full Therm-a-Rest ProLite Plus review below and see how it stacks up in our guide to the Best Sleeping Pads!
Therm-a-Rest ProLite Plus Specifications
| Feature Type | Feature Specs | What This Means |
| --- | --- | --- |
| Weight | 1 lbs 7 oz. (650 g) | A bit heavy for a backpacking sleeping pad, but very light and small for a camping sleeping pad. A good hybrid and not too heavy to carry if necessary. |
| Type | Self-Inflating Pad | Lots of foam is used on the inside of the ProLite Plus, which sucks in air and expands. Comfortable, and auto-inflates about 80%. More on sleeping pad inflation in our Guide. |
| R-Value | 3.4 | Solid warmth that will work in 3-season environments, and some 4 -season. You won't find yourself freezing on this pad. More on sleeping pad R-Values in our Guide. |
| Shape | Mummy | The ProLite Plus is a tapered mummy shape, like most backpacking pads. This provides support where you need it and cuts weight. More on sleeping pad shapes in our Guide. |
| Sizes | Small, Regular, Large | The ProLite Plus is offered in three sizes, with the Regular a standard 20×72. The small is meant for children or thru-hikers (though it's quite heavy for that), and the Large for bigger folks or those that want a deluxe sleeping experience. We tested the Regular. |
| Thickness | 1.5 in. (3.8 cm) | The ProLite Plus is not very thick. This is the primary complaint, especially for side sleepers, as your hips can dig in and hit the ground. Surprising comfort for the thickness though! |
| Length | 72 in. (183 cm) | Standard length for backpacking pads. Size up if you're over 6 feet tall. |
| Width | 20 in. (51 cm) (tapers) | Standard width for backpacking pads. Probably not enough room for your elbows/forearms to rest comfortably. Size up if you like to sleep splayed out. |
| Packed Size | 11 x 4.8 in. (28 x 12 cm) | Not a very small pack size when compared against air pads. Quite small for self-inflating pads. More on sleeping pad packed size in our Guide. |
| Baffle Type | Flat | Most self-inflating pads don't really have baffles because of the foam. There are some quilted dimples in this pad, but they don't do much for your back. More on sleeping pad baffle types in our Guide. |
| Valve Type | Twist and Pull | Standard twist and pull valve. Works and is durable, but not the best valve around today. More on sleeping pad valve types in our Guide. |
| Material Type/Thickness | 50D mini hex rip polyester/50D polyester | The ProLite Plus has very durable materials. You still need to be somewhat careful (it's a sleeping pad!) but you can be rougher on this pad than most. More on sleeping pad materials and Denier in our Guide. |
| Breaths to Inflate | 3-5 | The ProLite Plus inflates about 80% by itself in under 10 minutes. You just need a few breaths to inflate fully, and it gets quite hard! Our tester actually inflated 100%, then released a bit of air for a medium-hard pad. |
| Manufacturer Warranty | Limited Lifetime | Therm-a-Rest makes some of the most durable sleeping pads out there, and has the best warranty. If something breaks on this pad, send it in. |
| Retail Price | $99.95 | A moderate price for an excellent, if heavy pad. You're paying for the classic-ness (this has been a go-to pad for years), the warranty, and the highly durable materials. |
Gear Review of the Therm-a-Rest ProLite Plus
Origins: Easing You In
I recently moved to the Pacific Northwest, and it's been an adjustment planning for actual weather while in the backcountry. Surprisingly, silnylon tarps are officially my new best camp friend when wind and rain are on the menu.
I took the Therm-a-Rest ProLite Plus on my first two backpacking trips in the local backcountry where the forests are dense, damp, and literally crawling with a myriad of slimy and beautiful creatures I've never seen before.
I hiked along the Boulder River in the wilderness of Mt. Baker-Snoqualmie National Forest for my first overnight, and enjoyed the company of friendly locals on a popular, easy-access trail.
Later, when a three-day weekend manifested on my work schedule, I rallied a coworker to suit up for 80-percent rain predictions in the Ross Lake National Recreation Area in the North Cascades of Washington state. Lush forests, glaciated mountain peaks obscured by moody fog, and a few hot toddies offered a feast for the senses and a perfect testing ground.
Revelation: The Moment I Knew
I'm typically a 2.5-inch-thick-minimum sleeping pad kind of person. I like to walk long miles during the day, and I need a cozy pad to settle on or I will be about as pleasant as an ornery possum (and just as cute in the morning).
I'm no stranger to the Therm-a-Rest ProLite Plus model: it was the first decent sleeping pad I ever owned, back when I was working at a gear shop shortly after graduating college. That was 8 years ago, though, so when the 1.5-inch sleeping pad entered my testing queue, my joints and I had mixed feelings.
The moderately difficult hike into Ross Lake's Pumpkin Mountain camp was picturesque despite low lake levels due to a drier than average winter and spring. Towering peaks, surging waterfalls, and few hikers on the path more than made up for the otherworldly appearance of the reservoir.
After settling into camp on a sandy beach, we hunkered under our tarp and made dinner. Ready for sleep, I crawled into bed as the summer sun's last light lingered.
I woke up with a stiff back, more possum than man. Was it my soft muscles waking up from their winter rest? Was it the Therm-a-Rest ProLite Plus lacking in comfort? Or was it just first night creakiness, a common syndrome on backcountry adventures? I brushed it off as we ate breakfast and prepared for a 10-mile day hike up canyon from our base camp to the day's objective, 39 Mile Creek.
After a quick lunch by the snowmelt-filled river at the end of our out-and-back excursion, we returned to camp in a real downpour. Tired and damp, we took out our books and quickly fell into an afternoon nap.
Before falling asleep, I managed to deflate the ProLite Plus a bit from ultra-firm to medium-firm. I felt the pad cradle my aching hips and back and I napped for two hours without even closing the tent door! In an attempt to eke out every bit of that 1.5-inch thickness, I had over-inflated the pad the previous night. After making this minor adjustment was the moment I knew the Therm-a-Rest ProLite Plus still packed serious comfort.
Digging Deeper
At the core of all Therm-a-Rest self-inflating sleeping pads is open-cell foam that expands as it draws air into the pad, which happens immediately after opening the twist and pull valve. The foam in the ProLite Plus makes inflation easier than an air pad and provides decent three-season (occasionally four-season) insulation with an R-Value of 3.4.
The Therm-a-Rest ProLite Plus uses diagonal-cut urethane foam, which the brand claims reduces air flow when compared to vertically cut foam and therefore boosts warmth. I can attest: Therm-a-Rest pads hold their warmth, and the ProLite Plus has worked well in the damp and cold Pacific Northwest.
The ProLite Plus version I tested uses a durable 50D mini hex ripstop polyester fabric for the bottom and a 50D polyester fabric for the top. For reference, many ultralight air pads use fabrics in the 10-30D range. In general, the higher the denier (a measurement of thread diameter) the higher the durability, but you take a weight penalty. The ProLite Plus's fabric feels noticeably thicker and tougher than air pads I've used (and tested), but it's still prone to popping like any inflatable.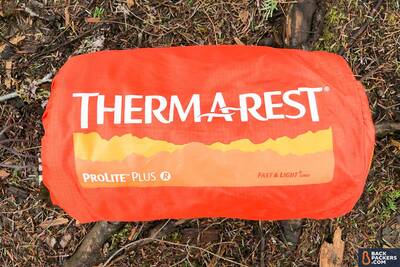 Measuring a standard 20 inches wide by 72 inches long, the ProLite Plus's mummy shape may be narrow for some broad-shouldered users. Even being medium build, when sleeping with my Marmot Trestles 15 sleeping bag unzipped, I found my arms sliding off of the pad during the night. When I zipped up the bag, it was less of an issue, but I did put my hands in my fleece jacket pockets or in my waistband a couple times to keep my limbs under control. Note: Therm-a-Rest does offer the ProLite Plus in a Large size, which adds 5 inches to the width and height, but for an extra 8 ounces.
The ProLite Plus uses Therm-a-Rest's standard, easy-to-use stem valve. The pad inflates to a medium firmness in a few minutes and you can add or remove air to achieve your desired comfort. The first few inflations are slow from the pad being compressed in its packaging, and cold weather delays deflation even more.
I like to set up the pad early in the evening so it's done most of the inflating work for me by the time I'm ready for bed. l topped off the pad with a couple breaths to get it just right. I recommend storing self-inflating pads flat with the valve open when not in use to keep the foam fluffy and to fight internal moisture which can lead to mold issues if the pad is stored incorrectly.
Comfort
– 4
I'm mostly a back and side sleeper and found that both my hips and shoulders could have used a bit more padding — but I did get some great sleep on the Therm-a-Rest ProLite Plus. It's no 3-inch luxurious pad, but I woke up refreshed after I found my preferred firmness level. Side-only sleepers may find the ProLite Plus lacking in cushioning: I woke up with a dead arm after my decadent nap at Ross Lake.
Durability
– 4.5
I wouldn't glissade down a snowfield on the ProLite Plus, but the 50D polyester fabrics are burly! No signs of wear on the pad yet, but I do baby my inflatable pads. I've always been fearful of breaking a Therm-a-Rest valve in the field, but it's yet to be an issue after many nights on the trail with a number of their pads.
I only used the ProLite Plus for a few nights, so I can't comment on long-term durability.
Inflation and Deflation 
– 3.5
Like I said, you can't get much easier than self-inflating pads: they do most of the work, which is key at altitude when your lungs just can't get it together.
Deflation is where self-inflating pads struggle. I found it challenging to purge all of the air from the pad when rolling it up to pack. This is partly due to the valve, which sucks air in while you're trying to expel it, and partly with the nature of the foam, which is much thicker than air!
With practice, I found a good method but still had to strong-arm the ProLite Plus into the included stuff sack.
Packability
– 2.5
If you haven't noticed, sleeping pads are getting smaller and smaller with each product revision or reveal, which means they're easier and easier to pack. The ProLite Plus falls behind other pads in this regard with a sizeable packed size of about 3.5 liters. As mentioned above, removing all of the air from the pad was difficult and wrangling it into the small stuff sack proved tricky.
Grievances
In case you haven't noticed from my above issues, it was hard to deflate the ProLite Plus and put it back into the stuff sack. This can be the case with many sleeping pads if you don't roll them super-tightly, but it seems worse with self-inflating pads. The user sacrifices easy deflation for plug-and-play inflation.
The packed size of the ProLite Plus is big compared to the latte-sized air pads on the market today. When pack space is a premium, it can be hard to justify such a large pad when making decisions about a sleep system.
Not only is the ProLite Plus bulky, it's relatively heavy. At 23 ounces, the ProLite Plus is 9 ounces heavier than our current Wilderness Backpacker Classic Pick, the NEMO Tensor. I could definitely make the case for carrying the ProLite in winter since I might carry an air pad and a closed-cell foam pad for extra insulation — but for most people, I'd say fork up the extra $30 and get an air pad if space and weight is a factor for you. Unless you don't want to spend that much, or don't care all that much about weight and space — these are personal preferences.
With the vast number of sleeping pads on the market come many innovative valves that make inflation and deflation easy. Therm-a-Rest is still using the same valve it has used for many, many years. I would like to see a one-way valve from Therm-a-Rest to make inflation even easier, as you have to keep pressure on the valve to reduce air loss between breaths.
Finally, a small gripe. Therm-a-Rest did not include a field repair kit with the ProLite Plus. Therm-a-Rest sells separate repair kits for quick patches and more permanent repairs at home. Backpacking gear isn't cheap, and a couple of patches and a tube of sealant can go a long way in winning me over when it comes to brand loyalty.
Final Word
Few things say "backpacking" quite like Therm-a-Rest's classic self-inflating sleeping pad, the ProLite Plus. This one didn't say all that much, but its comfort, warmth, and durability were loud and clear.
Where to Buy Therm-a-Rest ProLite Plus
We tested the Regular-sized Therm-a-Rest ProLite Plus in a very pretty multi-colored print. They offer the pad in the normal color (Poppy) in Small and Large as well. The Small is best for kids or thru-hikers, with the same 20-inch width but a much shorter 47-inch length. The Large is in charge — it has a 25-inch width and a 77-inch length.
The ProLite is a popular line of pads, and Therm-a-Rest does have a few varieties.
First, there's a women's specific ProLite Plus, which is a bit shorter, lighter, and has a higher R Value (4.2), as women tend to run colder than men.
Then there's the standard ProLite for men and women. The regular ProLite pads are not as insulated, weigh a little less, and have a 1-inch thickness instead of 1.5-inch of the Plus. They also cost $10 less than the Plus. While these are good pads, we think the ProLite Plus has better features for a small increase in cost.
Finally, there's the brand new ProLite Apex. It has an increased R-Value of 4, making it more winter-ready, and it weighs six ounces less than the ProLite Plus of comparable size. Everything else is the same, except cost, which is $20 more. This is a good pad, and has baffles to help reduce weight. Time will tell if it's a keeper!
Compare Therm-a-Rest ProLite Plus prices below.
Review Policy: We do not accept payments or gifts from brands and vendors, and strive to provide unbiased, independent advice. Brands typically provide review samples which we return, and in some cases we purchase the item so we can keep using it long after the review. Affiliate Policy: We support the hours that go into our reviews and testing through affiliate commissions on purchases made through links in this article. These don't effect the outcome of our reviews or selection of gear, as per our Review Policy.