The backcountry is a lot less fun to explore when you can't get a comfortable night's sleep. It's a dilemma backpackers have faced for years and is the main reason the entire product category of sleeping pads were created.
We're in an age where the materials, methods of inflation, and sheer comfort a single sleeping pad provides can significantly increase your enjoyment of the outdoors. Sleeping pads today are light, easy to carry, durable, and span a wide range of budgets. We have extensive experience sleeping outdoors, and have tried innumerable pads to create this best sleeping pad guide.
Below you'll find the best sleeping pads for backpacking with different styles and budgets in mind. If you're looking for larger, warmer, and heavier camping pads (mattresses), see our recommendations for the Best Camping Mattress.
Best Sleeping Pad Comparison Table
The Best Sleeping Pad for Backpacking
Therm-a-Rest NeoAir XTherm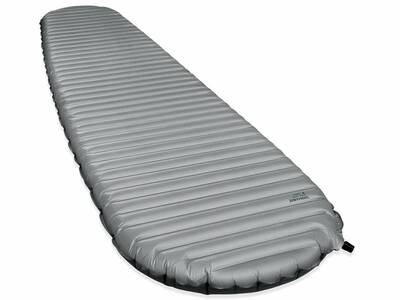 The Therm-a-Rest NeoAir XTherm is a sleeping pad worth writing home about. It has an outstanding set of features, including a winter-ready 5.7 R Value, 2.5 inches of height, and 70D nylon fabric on the bottom to reduce the chance of tears, all while weighing just 17 ounces. This pad does suffer from the "crinkle" noise, which is annoying, but if you can handle that it is the most capable sleeping pad for those watching their pack weight. Our team uses it, many on thru-hikes use it, and those who want a premium pad should seriously consider using it.
Therm-a-Rest NeoAir XTherm Star Rating
Comfort

Durability

Inflation and Deflation

Packability
Summary
The Therm-a-Rest NeoAir XTherm lives up to the phrase "go big or go home" — except that it packs up quite small for an ultralight backpacking sleeping pad. The "big" refers to the price, the comfort, the warmth, and the durability, all of which have made it the go-to high-end pad for many backpackers.
The NeoAir XTherm has horizontal baffles, a simple valve for inflation, and will keep you well off the ground, night after night.
Read Full Review
See Therm-a-Rest NeoAir XTherm
---
The Best Ultralight Sleeping Pad with Insulation
Therm-a-Rest NeoAir XLite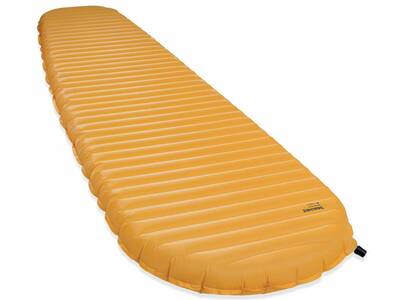 The Therm-a-Rest NeoAir XLite is the lighter, warmer, slightly more popular younger sibling of the XTherm. The construction is identical, with comfortable and even-spaced horizontal baffles, 2.5 inches of height, and Therm-a-Rest's outstanding build. The XLite has an R Value of 3.2, making it work for 3-season backpacking, but we don't recommend it for winter. It also has a much thinner 30D riopstop nylon on the bottom, making it less durable than the XTherm. Arguably the most popular sleeping pad on the market, the NeoAir XLite is a common choice for backpackers who want a long-lasting, ultralight pad.
Therm-a-Rest NeoAir XLite Star Rating
Comfort

Durability

Inflation and Deflation

Packability
Summary
The Therm-a-Rest NeoAir XLite is a sleeping pad that has groupies. A tried and true choice for thru-hikers, the XLite is known for its minimal weight (12 ounces), tiny volume when packed up, and 2.5-inches of horizontal baffled comfort. The pad does crinkle a bit when rolling around, but provides enough warmth (through R Value) to keep you toasty, and well off the ground, all night.
Read Full Review
See Therm-a-Rest NeoAir XLite
---
The Best Uninsulated Sleeping Pad for Backpacking
NEMO Tensor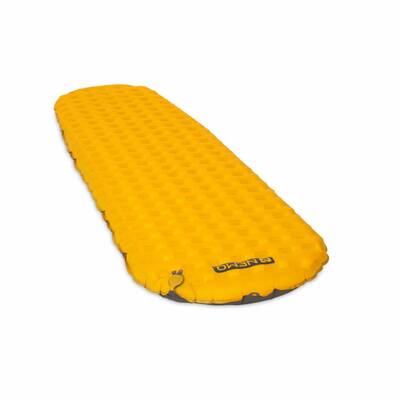 The NEMO Tensor sleeping pad is a hot contender to the more well-known Therm-a-Rest pads above. It is an air pad that boasts 3 solid inches of height and an extremley comfy quilted baffle pattern that mimics your bed at home. The Tensor uses ultralight 20D PU Polyester on the top and bottom, yet doesn't suffer from durability issues. The updated version has a flat valve, which we prefer, and comes with a pump sack. NEMO offers this in a lightly insulated version that works to about 35 degrees F, and in an insulated version that can handle winter. It's not crinkly and packs up extremely small, making it an excellent choice for anyone who wants a slightly different pad to the Therm-a-Rest model.
NEMO Tensor Star Rating
Comfort

Durability

Inflation and Deflation

Packability
Summary
The NEMO Tensor is a sleeping pad that hits nearly every mark well in an overcrowded field. In both insulated and non-insulated versions it has a respectable weight for an air pad, has 3 inches of cushion that's dispersed very evenly through the quilted baffles, and is nice and quiet when you roll over.
The Tensor is priced competitively, and holds up over time, making it an excellent choice for your backcountry sleeping pad.
Read Full Review
See NEMO Tensor
---
The Best Budget Air Sleeping Pad
Klymit Insulated Static V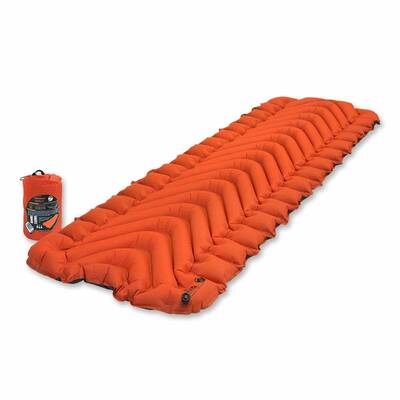 The Klymit Insulated Static V is a unique, budget-friendly pad from an up-and-coming brand. The "V" in Static V is all about the baffle shape of this pad — it is an air pad with a large ribbed V throughout, which, according to Klymit, is better for your back and creates a more comfortable sleep experience. The air pad has a standard 2.5 inches of height, and weighs a slightly hefty 22 ounces, which is largely due to the highly durable 75D polyester fabric on both top and bottom. While this isn't as comfy as the higher-end pads, it's nearly winter-capable with an R Value of 4.4 and only costs $90. If you want to test a solid budget air pad, start here. And, if you don't backpack in cold temperatures, Klymit has the Static V2, a lighter, warmer, even cheaper pad.
Klymit Insulated Static V Star Rating
Comfort

Durability

Inflation and Deflation

Packability
Summary
The Klymit Insulated Static V is an air pad with a unique baffle system that provides 2.5-inches of thick, premium air cushioning. It's a budget-conscious pad from an innovative company. Plus, it manages to blow up with only 10-15 breaths, which is less than other air pads.
Read Full Review
See Klymit Insulated Static V
---
The Best Self-Inflating Sleeping Pad for Backpacking
Therm-a-Rest ProLite Plus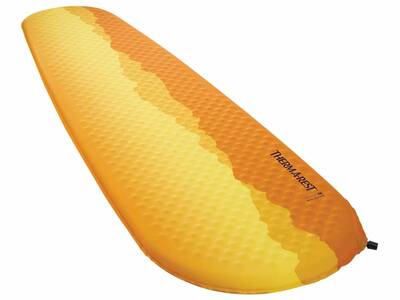 The Therm-a-Rest Prolite Plus is that iconic self-inflating sleeping pad you've seen your whole life. An evenly shaped mummy with a flat, semi-dimpled surface, this pad does not pack tiny, and it doesn't weigh a minuscule amount, but it performs year after year for introductory and experienced backpackers alike. The ProLite Plus is the only self-inflating pad on this list, so if that's your preferred type of pad, we suggest starting here.
Self-inflating pads inflate faster (duh), provide a more even sleep experience, and have some foam to help cushion your back, even though the overall height of the pad is only 2 inches. The ProLite Plus uses a highly durable 50D mini hex ripstop and polyester for the top and bottom respectively, and has a decent R Value of 3.4, making it usable in 3 seasons. This pad also doubles well for car camping, crashing at friend's houses, or just about anywhere else.
Therm-a-Rest ProLite Plus Star Rating
Comfort

Durability

Inflation and Deflation

Packability
Summary
The Therm-a-Rest ProLite Plus is a tried-and-true self-inflating pad perfect for backpacking, car camping, and floor-surfing. Warm enough to get you through any season and light enough to bring on almost all your adventures, the ProLite Plus sleeping pad has staying power in an increasingly crowded category.
See Therm-a-Rest ProLite Plus
---
The Best Closed-Cell Foam Mat
Therm-a-Rest Z Lite Sol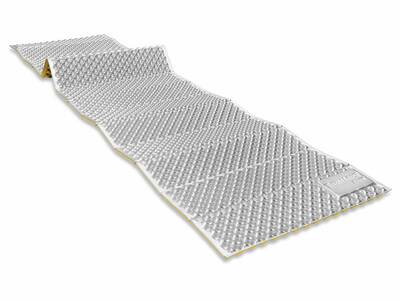 The Therm-a-Rest Z Lite Sol is the runt of this sleeping pad list, mostly because it's the least cushioned at .75 inches and costs the least at $44.95. The Z Lite Sol is a closed-cell foam pad, meaning there is no air at all, just foam to lie on at night. To be clear, this is NOT as comfortable as any pad on this list. It provides a very minimal, basic level of support, which is a step up from sleeping on the ground. That said, it weighs just 14 ounces, folds up easily, can be cut to your length, and has egg-carton ridges which are actually pretty comfy.
Hardcore ultralighters take this and only this for their pad, mostly cause it's cheap, indestructible, and easy to customize. However, this is also a great pad to take as a seat, as an R Value booster for another pad, or as a "just in case pad" if you're sleeping in a rather poky area. Closed cell foam pads were the first kind of sleeping pads for backpacking, and this is the creme of the crop.
Therm-a-Rest Z Lite Sol Star Rating
Comfort

Durability

Insulation

Packability
Summary
The Therm-a-Rest Z Lite Sol is time tested closed cell foam sleeping pad, meaning it does not inflate, deflate, or keep you very far off the ground. It's a simple pad, about .75 inches thick, with a dimpled, egg-crate like surface that gives you a bit of cushion in camp. While comfort is not the primary purpose, this pad is extremely durable (it can't pop!), weighs about a pound, is easy to hang off your pack, and will not break the bank.
If you sleep like a log no matter what, don't like air pads, or want a cheap but rugged option, consider the Z Lite Sol.
Read Full Review
See Therm-a-Rest Z Lite Sol
---
The Most Comfortable Lightweight Sleeping Pad

Sea to Summit Comfort Plus Insulated
The Sea to Summit Comfort Plus Insulated is a beast of a sleeping pad. Sea to Summit released this line of air sprung cell style pads a few years back, and the Comfort Plus Insulated is the top-of-the-line model. It features two separate inflatable sides, so that if one pops you still have the other to use, and flat valves, making inflation and deflation extremely easy.
The pad is a standard 2.5 inches in height, but has a little extra width in the Regular size. The cells model your mattress at home, and Sea to Summit put a huge number in this pad, making it the most comfortable air mattress sleeping experience we've had. That also means it's a heavy pad at 27.7 ounces, and quite pricey at nearly $200 for the Regular. The materials used are top notch and it'll give you plenty of support, and it can be used in the depth of winter.
Sea to Summit Comfort Plus Insulated Star Rating
Comfort

Durability

Inflation and Deflation

Packability
Summary
The Sea to Summit Comfort Plus Insulated sleeping pad is a burly air pad that aims for extreme comfort in a relatively lightweight package. At 27 ounces, the pad features quilt baffles the likes of which you may have never seen in the backcountry — they most resemble your bed at home. That combines with a comfy 2.5 inch height, two two-way flat valves for inflation, and a bit of extra width to keep your elbows from sliding onto the ground.
The Comfort Plus Insulated actually inflates on both sides, so if you spring a leak in one you'll be fine. Hard to ask for more in an air pad.
Read Full Review
See Sea to Summit Comfort Plus Insulated
---
The Best Ultralight Insulated Sleeping Pad with Rails

Big Agnes Insulated AXL Air
The Big Agnes Insulated AXL air pad is new on the market, and aims to compete with the popular Therm-a-Rest NeoAir XLite. It is built for ultralight thru-hiking and has a very minimal weight no matter the size you get. It's an air pad with a flat, single valve for inflation and deflation, which works best with a Big Agnes pump sack. It is quite thick at 3.75 inches, has a softer fabric than most pads, and has two raised baffles on either edge to help keep you in the middle. The baffles are quilted like a real bed, and comfort is key.
While the pad is insulated, Big Agnes doesn't give a temperature range, and it runs colder than other insulated sleeping pads in the same class. Overall an excellent pad, and an exciting addition to the ever-increasing competitive field of sleeping pads.
Big Agnes AXL Star Rating
Comfort

Durability

Inflation and Deflation

Packability
Summary
The Big Agnes Insulated AXL Air sleeping pad is ultralight, quite warm, and uses a quilted baffle pattern for extreme comfort on the trail. It uses a new flat valve for easy inflation and deflation, and Big Agnes' custom patterned ripstop for heightened durability. This pad is meant for the fast and light backpacker, and does its job well.
Read Full Review
See Big Agnes Insulated AXL Air Insulated
---
The Best REI Air Pad
REI Flash Insulated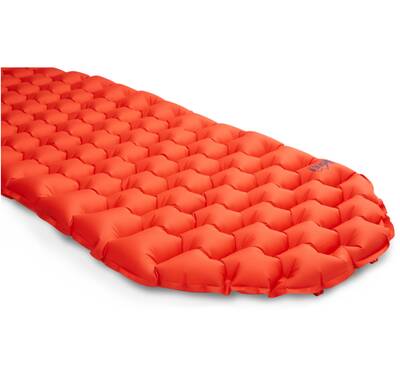 The REI Flash Insulated takes REI's classic approach of noticing a trend, making their own, and making it for cheaper. The Flash utilizies the now-popular mattress-style baffles (many of which are on this list), giving you a more even, bed-like sleep. It also uses two flat valves for inflation and deflation and 30D ripstop nylon for decent durability. The insulated has an impressive R Value of 5, meaning it is winter ready.
The main things lacking in this pad are height — it's just 2 inches, which for an air pad is low — and some issues with durability. This is more of a model by model problem. We find the Flash Insulated to be an excellent value in this field, and is a good place to starting looking when shopping for an air pad.
See REI Flash Insulated
---
The Most Stable Air Pad
Sea to Summit UltraLight Insulated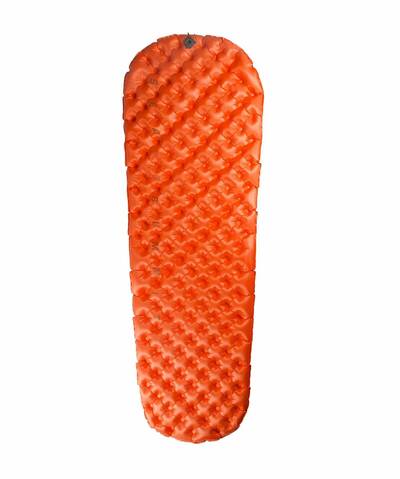 The Sea to Summit UltraLight Insulated is the last, but not least on this list. The mode is very similar to the more beefy Comfort Plus Insulated above, but the UltraLight Insulated is the fast and light version. It has medium stats across the board, with a $130 price point, an R Value of 3.3, and a height of 2 inches. While it's not the most comfortable, lightest, cheapest, or warmest, it has a good mix of everything and is quite durable.
See Sea to Summit UltraLight Insulated
---
Sleeping Pad Features
Air Pad vs. Self-Inflating Pad vs. Closed-Cell Foam Pad
When it comes to sleeping pads for backpacking, there are three main types to choose from: air pads, self-inflating pads, and closed-cell foam pads. Each has their merits and issues, so it's important to know what you're getting into when selecting one.
Air pads are now the most common for backpacking. They are typically thin shell fabrics (in the 20-70-Denier range) with nothing on the inside. This means they are fully inflated by air (via your lungs or a compression bag), are very light and packable, and more prone to popping than other kinds of pads.
The majority of pads on this list are air pads, mostly because they are so much lighter and smaller than the other types, while being as comfortable, or even more comfortable in some cases. Air pads can also cost a fair amount because they utilize a lot of highly-engineered materials, like fancy insulation linings, and design features, like perfectly stretched quilted baffles for an even night's sleep.
Self-inflating pads are what most outdoor people are familiar with, and were the classic choice for backpackers before air pads hit the scene. These pads have a similar shell fabric as air pads, but are usually more durable. The main difference though (as the name implies) is the foam on the inside. This allows you to open the inflation valve and let air seep inside by itself, so you can go around setting up camp as needed.
Self-inflating pads typically inflate about 85% of the way in under 30 minutes, and the final inflation is done by mouth. They sleep much more evenly and flatly than air pads, as there is actual material you're resting on, not just air. They can be quite comfortable, though backpacking self-inflating pads are usually thinner (closer to the ground) than air pads. They don't suffer from small leaks as much, and take up much more room when packed due to all that foam!
Finally, closed-cell foam pads are the most basic and simple of the three. They don't use any air, have no inflation valves, and don't pack up complexly. Typically they are just a piece of foam about the length and width of your body, and fold up like an accordion. These were the original types of sleeping pads, and are very thin (unless you want to bring a huge one). They are relatively lightweight, by far the most durable of any pad, and typically have a lower price point because it's a simple product to design and manufacturer.
The downside? They're just not as comfortable. That said, they work well as a backup pad, a pad for a friend, or for increasing the R Value of a summer pad you already have (by bringing along both pads in winter).
Pro Tip: Sleeping pads are all about how you feel. Outdoor stores like REI typically have many different kinds of pads that are blown up already so you can go try them out. We suggest trying out all three types, and finding what range of price, comfort, and packability makes the most sense to you, then find a model within that type that fits your comfort level the best.
What is R Value, and Why It Matters
R Value is a national testing standard for the warmth that a sleeping pad can provide. The measurement is more complex than that, but for most users it easily translates to a number.
The higher the R Value, the more insulation the pad provides. Cold air seeps from the ground into your sleeping setup, and a pad can help to keep that cold air away and keep your warm body air around you.
We typically recommend and prefer pads that have an R Value of at least 3, because this is the lowest you'll need for most 3-season use (not too cold). That means a single sleeping pad will be all you need for the significant portion of the year. If you love backpacking in cold climates, we definitely suggest a warmer pad, with options like the Therm-a-Rest NeoAir XTherm, Sea to Summit Comfort Plus Insulated, REI Flash Insulated being the warmest.
The added insulation — often in the from of a thin lining inside the pad — does add weight though, so if you backpack mostly in summer and want the lightest pad possible, a lower R Value might be good, like what's in the NEMO Tensor.
Finally, most manufacturers make a pad that's insulated and non-insulated. So, if you particularly like a model you see above, but we've only listed the insulated version, you can likely get the non-insulated for a little less money and weight!
Does every brand use R Value?
Short answer: no. Brands are not required to use R Value to sell products, and it's costly to run the test. Some brands on this list, like NEMO and Big Agnes, make great pads but don't use official R Value testing. Instead, they test the pad internally and publish a degree range in which it will work — this is often accurate, but there's no third-party (except for testers and users like us!) to accurately measure such a thing.
Pro Tip: R Value is pretty accurate, so you can trust it (as opposed to sleeping bag ratings). Choose a pad that will best fit for your typical coldest weather trips, unless you want more than one sleeping pad.
Best Valve Types for Sleeping Pads
One of the key considerations when choosing a sleeping pad is the type of valve.
Therm-a-Rest is kind of the godfather of sleeping pads, and developed the first highly usable inflation valve — what we call the "Twist and Pull". You have likely used or seen one of these: a black vertical valve that twists open for inflation (via air or your breath), and then twists and pushes close to keep in the air.
Twist and Pull valves work well, but they have some flaws. Most of them don't keep air inside while inflating, so you have to do it in one go. (This is not true of all Twist and Pulls). Mostly, though, they are bulky and can be really in your way, depending on the placement.
That said, the best pads around — the Therm-a-Rest NeoAir XTherm and XLite, and really all of the Therm-a-Rest pads — use them.
The main other kind of valve is a Flat Valve. Flat valves are newer, and were developed to do away with a lot of the issues of Twist and Pull. Like the name, they lie flush against the pad, meaning they're not bulky or in your way at all.
They also typically keep in the air while inflating, so you can take a break, and sometimes pads have two of them for separate inflation/deflation. Finally, you can easily attach accompanying stuff sacks to them, which allow inflation without breath, which is a huge advantage after a long day on the trail.
Many pads now use flat valves — on our list, the updated NEMO Tensor, the Big Agnes Insulated AXL Air, and the Sea to Summit Comfort Plus Insulated and UltraLight Insulated pads use them well.
We much prefer Flat Valves over Twist and Pull!
Sleeping Pad Height
The final main consideration for sleeping pads is the height of the pad. Do you want to sleep .75 inches off the ground, or 3.5 inches off the ground?
As you can imagine, this height makes a lot of difference in your rest. We've found that the height of a pad is actually highly subjective — similar to mattress shopping, where people either like firm or soft or somewhere in between.
We've found that the lower the pad is, the firmer it is, with the closed-cell foam mat being the most firm and the flattest, though this depends on the ground you're on.
The higher up you are, the more squishy and "soft"-esque your sleeping experience will be.
This also changes depending on the type of pad — closed-cell foam pads are generally very thin, self-inflating pads are relatively thin but quite comfy, and air pads range a lot in height.
Air pads with a 2.5 inch height, like the NeoAir XTherm, XLite and Klymit Insulated Static V, are your standard, even-keel sleep experiences.
Some air pads are now broaching 3.75 inches of height, which, when done correctly, works well. However, the construction of the pad has to be really solid at that height, or it'll flip and flop quite a lot.
How to Buy Sleeping Pads
Knowing a product category, and what products you might want, goes a long way towards the actual purchase. Below we discuss the key elements of finally choosing a sleeping pad.
Test Pad Types
As we mentioned in a Pro Tip above, the best way to go about sleeping pad shopping is to try some pads in real life. Outdoor stores like REI typically have a few (or a lot!) blown up and ready for you to test.
While you may not find your exact model or size, you can get a sense of the different construction types, what height you like, how the valves work, and what baffles feel best.
Much like a mattress, a sleeping pad needs to be comfortable for you, and nobody can really tell you what the most comfortable is because it changes person to person.
Test them!
Sleeping Pads in Online Retailers vs Real Stores
Following from the above, once you've made a general decision, you can definitely buy the pad online or in stores.
In fact, when you buy online there is a much greater selection of sizes, so it may be a better bet. Your typical "Regular" pad is 72 inches long (6 feet) and 20 inches wide, which is enough room for most people, but not exactly luxurious comfort.
Because pads are so light now, it's common to size up the width to 25 inches for a bit more roll-around room. If you're a taller person definitely consider a longer pad, as you'll want your feet to be on it or they'll get cold!
Used Sleeping Pads vs New Sleeping Pads
Sleeping pads are considered "bedding" — in California, anyway — so most big stores won't sell old pads. Even if they did, the main concern is popped pads, which can be difficult to repair. You might luck out and find a perfectly used pad, with no rips or tears or holes, but it's unlikely.
That said, you can blow it up and sit on it for about 20 minutes — that's usually enough time to see if it's losing air.
Other than the air factor, sleeping pads maintain their function and value.
If you're looking for a closed-cell foam mat, used is just fine.
Sleeping Pads Advance Year After Year
In the realm of backpacking, sleeping pads are one of the fastest evolving product categories. As materials get stronger and lighter pads are decreasing in weight every single year. In fact, there's a bit of a foot race among brands for who can have the lightest pad on the market.
That is coupled with new valve concepts, advanced lining materials, and different baffles designs all aimed to get you comfortable when your head hits the pillow (or pile of clothes).
Keep an eye out for new types of pads!
Our Guides Related to Sleeping Pads
---
Backpackers.com Affiliate Policy: This guide contains affiliate links, which help fund our website. When you click on the links to purchase the gear we get a commission, and this goes a long way to creating guides, gear reviews, and other excellent content.