Western Mountaineering UltraLite Overview
There are few things more important than your sleep system when you're in the backcountry. Your choice of whiskey and whether or not your tent-mate snores can make or break a trip, but a bad night's sleep can turn you from John Muir to the Crypt Keeper in a flash. Luckily, the Western Mountaineering UltraLite down sleeping bag is here to save your hide.
Tough, super light, warm, and compressible, the UltraLite comes in as our Premium Pick for the Ultralight Backpacker.
Western Mountaineering UltraLite Star Rating
Comfort

Warmth

Durability

Fit
Summary
The Western Mountaineering UltraLite is a high-powered sleeping bag meant to keep you cold and comfy in most conditions. Weighing in at 1 lb 13 oz for a 20-degree bag, the UlraLite uses 850-fill down and 12D ExtremeLite shell fabric for the ultimate in fluffy warmth and surprising durability. Western Mountaineering makes their sleeping bags with fit, function, and most importantly warmth in mind, and this is their top-of-the-line bag.
At 29 ounces for a 6-foot bag which is rated to 20 degrees (Fahrenheit), we feel the UltraLite classifies as ultralight, but diehard gram counters might disagree. Quilts are the rage with many Ultralight Backpackers, but the design features, comfort, and easy use of sleeping bags still make them more accessible to most backpackers. If you're willing to spend upwards of $400-$500 on a sleeping bag or quilt, we think a bag is a better investment. Also, if you have milder weather, we feel the Western Mountaineering SummerLite is your best bet, which is a fully-featured bag rated to 32 degrees that comes in at just 19 ounces, and has the same construction as the UltraLite.
Choosing the best sleeping bag for your adventures is huge! Check out our comprehensive guide to sleeping bags and quilts to help you decide what is right for you. And make sure to read the full review of the Western Mountaineering UltraLite below — it's a sleeping bag unlike any other.
Western Mountaineering UltraLite Video Review
Western Mountaineering UltraLite Specifications
| Feature Type | Feature Specs | What This Means |
| --- | --- | --- |
| Weight | 1 lb. 13 oz. (455 g) | Extremely light for a sleeping bag rated to 20° F. Heavier than similar quilts, but with a hood, down collar, and double sided heat you will be warmer. |
| Type | Mummy Bag | This is a classic mummy bag that hugs your body for maximum warmth. Narrows from shoulders to hips to feet with a large hood that tightens around you. More information on sleeping bag types in our Guide. |
| Size | 6'0″ (180 cm) | We tested the 6'0″ bag, which is standard for "Regular" sizes of men's sleeping bags. Western Mountaineering also offers this bag in 5'6″ and 6'6″. |
| EN Testing/Temperature Rating | 20° F | Western Mountaineering is a smaller manufacturer, and does not participate in EN Testing. They do provide accurate temperature ratings, which have been tested throughout the years. More on temperature ratings and EN testing in our Guide. |
| Insulation Type | 850+ Fill Power Goose Down | High quality down with lots of loft are used in this bag and all Western Mountaineering sleeping bags. More on insulation type in our Guide. |
| Water Resistant? | Yes | Standard DWR treatment. Will shed moisture, but is not exceptional at fending off a lot of it. Down is not hydrophobic, but regular. |
| Fill Weight | 16 oz. Down Fill | Different than Fill Power, Fill Weight is how much the down weighs in the bag. In this case, more than half the weight of the bag is down. That's a lot. |
| Shell Fabric | 12D ExtremeLite | Western Mountaineering's ExtremeLite shell fabric has a small Denier number, yet remains very tough. Specialized for compression and weight. More on shell fabric in our Guide. |
| Baffle Pattern | Horizontal Continuous | The baffles wrap all the way around the bag, allowing you to push down around to mitigate cold spots. More information on baffle patterns in our Guide. |
| Zipper Length, Type, Placement | Full Length, #5 YKK, Left or Right | The zipper can be on the left or right, goes nearly to your feet, and uses #5 YKK coil zippers. There are also two pull tabs and directions for venting. |
| Draft Tube? | Yes | Nice, large draft tube that has tough plastic-like exterior coating to reduce snagging. Works very well. |
| Neck Baffle? | Yes | Oversized (and overstuffed) neck baffle creates heaps of warmth at your neck when sleeping. |
| Pocket? | No | The UltraLite is all about weight, and pockets aren't a necessary feature. |
| Manufacturer Warranty | Lifetime | Western Mountaineering offers lifetime warranty against manufacturer defects, and will repair or replace at no cost to you. They design extremely high quality bags, so this doesn't happen often. |
| Retail Price | $499 (for a 6'0″ bag) | Premium for a reason. High quality materials, construction, and engineering means a very high cost. These are cult bags for a reason. Not often on sale, so you've got to bite the bullet if you want one. |
Gear Review of the Western Mountaineering UltraLite
Origins: Easing You In
I have to admit I'm a Western Mountaineering fanboy. I own two of their bags and I love them. You might think "love," really? Can you "love" a sleeping bag? Yes, of course you can. And yes, I seriously LOVE them. These Western Mountaineering bags have taken me everywhere — from the High Sierra to the forests of Arkansas — and never let me down when it counted the most. So, when a Western Mountaineering bag came up for testing, I knew I had to pounce and try a model I hadn't used in the field.
Spring is a finicky time for southern California weather: one day it's 85 and dry, the next it's 60 and socked in. I knew I'd have to head to the local mountains to find some solid weather to test the UltraLite.
I planned two trips in my home range, South Los Padres National Forest: one to Sheep Camp west of Mount Piños at 8,400 feet and a second to Beartrap Camp in a canyon on the north slope of Pine Mountain at 5,000 feet.
The trip to Beartrap went off without a hitch. The weather was perfect, the streams were flowing, and I had a great time. The trip to Sheep Camp was far more interesting. Yeah…interesting is the word I'll use.
You can read my review of the Outdoor Research Helium II for the full rundown of the weather, but long-story short: it was cold as hell, windy as hell, and, if it wasn't for the Western Mountaineering UltraLite, I would have truly slept like hell.
Revelation: The Moment I Knew
After dinner at Sheep Camp, the wind kicked up a notch, so I begrudgingly crawled into my tent. I changed into my Patagonia Thermal Weight Capilene baselayer top and bottoms, pulled on my thick wool socks, and hunkered down to read while the wind raged on.
I'm a big fan of down's coziness and zipping into a lofty down sleeping bag is something I fantasize about while on the trail. When I slipped into the Western Mountaineering UltraLite after being whipped around by the frigid wind, it was a welcome relief and pleasure. The initial warmth and comfort of this bag would be my last moment of happiness until morning coffee.
The gusting wind buffeted my tent all night, and I tossed and turned praying for the mercy of dawn. (Dramatic, I know, but a sleepless me is a waking nightmare, even more so when out in the woods.) By the wee hours of the morning, the temperature had dropped significantly and hovered around 25 degrees (Fahrenheit). I was testing a sleeping pad at the time as well, but the pad was only rated to 30-degrees. The UltraLite is rated to 20 degrees, but that temperature assumes you'll have an insulated pad to handle some of the warmth. What could possibly go wrong, right?
I woke up cold, that's what. The combination of the cold ground, cold air, and inadequate insulation in the sleeping pad left me curled up in the bag for maximum warmth.
In lesser bags, dipping so close to the advertised rating with an insufficiently insulated sleeping pad could have spelled disaster. Fortunately for me, the UltraLite kept back the cold just enough that I could still doze in between rattling gusts of wind. This was the moment I knew the UltraLite was another from the line of Western Mountaineering bags that I could trust with my life.
Digging Deeper
If you're unfamiliar with Western Mountaineering, they are based in San Jose, California and have been manufacturing sleeping bags by hand in the United States for over 30 years. Their commitment to craftsmanship, simple design, and quality materials has set the bar for down insulated gear. As their top of the line, super-light model, the UltraLite demonstrates this ideology throughout.
For insulation, Western Mountaineering uses 850 fill-power down to achieve high loft, an incredible warmth-to-weight ratio, decent compressibility, and surprising durability given the weight of the bag. The UltraLite features five inches of dreamy loft to insulate you from the cold and hug you like a cloud as you sleep.
Fill weight and fill power are two important metrics to consider when choosing the right bag for your conditions, and Western Mountaineering provides both for the UltraLite (and all their bags). Many other manufacturers don't list loft measurements. Two bags with similar fill weights but different constructions can have significantly different loft measurements and resulting warmth.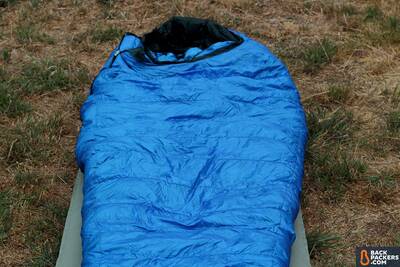 Western Mountaineering uses their ExtremeLite 12D for the UltraLite's shell. While it's very lightweight, it manages to still be durable, breathable, water-resistant, and compressible. Even in high winds with vents open, condensation built on the walls of my tent. The UltraLite took moisture well as the footbox touched the walls of the tent. As you probably know, down and water don't get along. But ExtremeLite shell kept the water from seeping through, and my feet from getting cold and wet.
The UltraLite is (as you can probably guess), lightweight. At 29 oz. it's an average weight among close competitors, like the Marmot Plasma 15 (31 oz) and the Mountain Hardwear Phantom 15 (33 oz).
The included stuff sack fits the bag easily: it isn't so big that the bag takes up tons of room, and it's not so small that it's impossible to stuff. The stuffed size is quoted at 7"x13", but it was a bit longer when I stuffed it. It still fit nicely across the bottom of my Osprey Atmos 50.
Attention to detail is obvious when you examine the UltraLite's hood and chest. A full down collar with bungee drawcord and hook-and-loop attacher seals around your shoulders to combat the natural bellows effect of your body moving in the bag. The collar is filled generously with down (far better than some competitors, with so much down it's like sleeping with a scarf) and feels great even when cinched tight.
Another cold-busting feature, the full zipper draft tube keeps the chill from sneaking through the zipper teeth and has a full-length stiffener to minimize the zipper from catching. I haven't seen a zipper that never catches, but the UltraLite only snagged a couple times. The fabric is so silky and light that undoing a snag is super easy. The zipper is also two-directional, which allows you to dial in ventilation at the foot of the bag in milder temperatures.
The hood features a full drawcord and another hook-and-loop — you aren't going anywhere when you're fully zipped and fastened into a Western Mountaineering bag. Western Mountaineering also cites a "reverse differential" hood, which is a larger piece of fabric next to your head than there is on the outside of the bag. This creates extra space for down to fill, and when there's more space for down to loft, it gets warmer.
The final interesting feature touted by Western Mountaineering in the their three-season bags is continuous baffle construction. Many brands use this type of construction, but WM highlights it as a feature that allows you to dial in the warmth of the bag. Many sleeping bags have baffle chambers that segregate the down into the top, side, and bottom of the bag.
With continuous construction, the down is free to move anywhere along the horizontal baffles. In cold weather you can push the down to the top to reduce heat loss, and in milder weather you can  push it to the bottom for more cushion and less insulation. In preparation for a cold night at Sheep Camp, I pushed more of the down to the top of the bag, and this helped me to achieve a modicum of comfort.
Comfort 
5 Stars
Down is divine and the UltraLite feels like a dream. The generous baffles and fill hug your body and feel great after a long day on the trail. The liner fabric is soft and silky. In warmer temperatures and without long baselayers, I've felt clammy before in Western Mountaineering bags. But for cool nights (which is what this the UltraLite was made for), it felt great.
Warmth 
4 Stars
The UltraLite is functionally warm very close to its rated 20-degrees, but my feet did get cold even in the 30's. My feet are prone to being cold and I was using a two-season sleeping pad, so this may have been the issue.
Pro tip: if you special order from Western Mountaineering, they can overfill the footbox with extra down for a small fee. I did this for my SummerLite and it was totally worth it when temps dipped to 28-degrees on the John Muir Trail.
Durability 
5 Stars
I only had the UltraLite for a month, but I can vouch for Western Mountaineering's construction and fabrics. I've had the Apache MF 15-degree for five years of solid use and it still looks brand new.
In terms of long-term durability and warmth, down is king. Down is usable three to five times longer than synthetic insulation, making down items a much better investment if it makes sense in your typical backpacking climates. I couldn't agree more. All hail the king!
Fit 
5 Stars
I'm 5'8 and medium build (I'm taken so don't mistake this as a Tinder profile) and the 6'0″ UltraLite was perfect for me. The UltraLite is an efficiently-cut mummy bag and is really most comfortable for back sleepers. I tend to end up on my side or stomach at some point in the night and did experience some cold spots at the shoulder when on my side. Stomach sleeping was actually pretty comfortable. Because the bag fits closely, it does move well with you, which is good for rollers, just don't expect to flop around inside. The footbox is sufficient and allowed my feet to fall outward comfortably.
If you are wider at the shoulder or just want more room to spread out, try the Western Mountaineering AlpinLite which is "just a wider version of [the UltraLite]." Remember though: more space in the bag means more air you have to heat up and energy your body must exert to stay warm.
Grievances
My one grievance with the UltraLite really speaks to the brand rather than any problem I had with the sleeping bag itself: Western Mountaineering is elusive. They're a small company, and only distribute in specialty outfitters and online. This can make it difficult for those outside of major cities and outdoor hubs to see, feel, and try on a Western Mountaineering bag before pulling the significant trigger (the UltraLite 6'0″ comes in at $499.95).
When I'm giving other backpackers advice, my general spiel is "try before you buy." For dirt bags and others watching every penny, gambling on a high-ticket item like a sleeping bag without ever seeing it or touching it is a tough sell. Western Mountaineering certainly makes up for this with word of mouth and an almost cult-like following (I have two bags and I'm just one person!), but for those who like to go into an REI and handle their gear, this is not the best option.
That's about the brand, though. I'm somewhat embarrassed to say I have no grievances with the UltraLite sleeping bag itself. I went into the testing a bit biased (you could call it experienced!) because of my extensive history with Western Mountaineering's products, and I left feeling no less enamored. I am very good at finding faults in things, so I consider this a happy failure.
Final Word
They did it again with the UltraLite sleeping bag: warm, comfy, lightweight, and fully-featured. Western Mountaineering? More like Best-ern Mountaineering. I regret that pun immediately.
Where to Buy Western Mountaineering UltraLite
A 6'0″ Western Mountaineering UltraLite was tested for this review. That's the "Regular" sized version. They also offer a 5'6″ version, presumably for women, and a 6'6″ version, presumably for taller men. However, Western Mountaineering doesn't specify gender on its bags, and the fit of the bag is meant to be comfortable regardless of your gender. The temperature ratings, however, are geared toward men. The UltraLite is rated to 20 degrees, which is roughly equivalent to 30 degrees for most women. It's best to email and ask if you're concerned about gender and correct temperature.
While this is a warm, three-season bag, you might run cold in some environments. You can ask to have the footbox overstuffed if you're concerned about warmth, or opt for a warmer bag.
You'll find the Western Mountaineering UltraLite below. You'll also see the SummerLite, which is the same construction with less down. The SummerLite is rated to 32 degrees, and perfect for warmer, summer adventures. The SummerLite is truly ultralight as well, weighing in at 1 pound, 3 ounces.
Compare Western Mountaineering UltraLite and SummerLite prices below.
Review Policy: We do not accept payments or gifts from brands and vendors, and strive to provide unbiased, independent advice. Brands typically provide review samples which we return, and in some cases we purchase the item so we can keep using it long after the review. Affiliate Policy: We support the hours that go into our reviews and testing through affiliate commissions on purchases made through links in this article. These don't effect the outcome of our reviews or selection of gear, as per our Review Policy.