YETI Rambler 36 Overview
YETI is a brand known for building burly, superb insulated gear. I was given the task of reviewing and putting to the test their Rambler 36 oz Bottle, which was exciting for me…I love putting burly gear through its paces. Constructed of 18/8 food-grade stainless steel, YETI declares the Rambler 36 to be dent and condensation resistant, even with a powder coat finish. It is also dishwasher safe and has a wide mouth for easy cleaning. All this, while keeping your beverage however you like it — hot or cold — with double-wall vacuum insulation.
For those who like an extra large (and in charge) drinking device, this bottle is ideal: a nice wide mouth, claims of being basically indestructible, a heavy design so it won't roll away in the wind, and 36 ounces of empty space. I really put this bottle to the test and feel confident in all the claims YETI has made based on the abuse I put this Rambler through.
For these reasons, we've awarded the YETI Rambler 36 oz Bottle our Premium Pick for the Car Camper.
YETI Rambler 36 Star Rating
Lid

Durability

Form Factor

Insulation
Summary
The YETI Rambler 36 is an extra large, rugged insulated bottle meant for those who like to throw stuff around. The screw-in lid has an extra-wide grip for easy carry, the bottle itself is nearly unbreakable, and it holds 36 ounces of liquid, more than other bottles in this class.
While the insulation is not the absolute best around, it will keep hot liquids piping or 8-10 hours, and cold liquid icy for nearly 16 hours.
Read the full YETI Rambler 36 review, and all about my rigorous testing, below.
YETI Rambler 36 Specifications
| | | |
| --- | --- | --- |
| Feature Type | Feature Specs | What This Means |
| Weight | 21.9 oz. (620 g) (when empty) | This is an extremely heavy bottle. Very durable, but not for hiking. |
| Volume | 36 oz. (1.06 L) | Slightly more volume than your standard 32 ounce (1 L) bottles. This extra bit is nice for those who like to stay hydrated. |
| Body Material | 18/8 Medical Grade Stainless Steel, No Sweat Design | Highly durable steel. Double wall vacuum insulation means no sweat on the outside. Powder coat brushed on some models. |
| Insulation Time | Hot: 8-10 hours, Cold: 16-20 hours | YETI does not claim cold or hot times. These time frames are based on our testing. |
| Mouth Type | Wide | Very wide mouth that can fit ice cubes, water filters, or soup if necessary. YETI also has an "Over the Nose" technology on the lip so you can see inside and clean the bottle easily. |
| Lid | TripleHaul Cap | A huge, heavy duty cap that can fit three fingers for easy carrying. Much larger than most lids, adds to durability. |
| Height | 10.75 in. (27 cm) | Very tall bottle. Height includes the cap. |
| Base Diameter | 3.75 in. (9.5 cm) | A very wide bottle. |
| Mouth Diameter | Not Listed | No specs on the mouth diameter, but it bevels in from the full width of the bottle. |
| Free Of | BPA | Stainless Steel is naturally free of BPA. The plastic cap is also BPA-free. |
| Other Sizes | Rambler 18, Rambler 26, Rambler 64 | YETI offers this same bottle build in four different sizes. We prefer the 36 ounce size because it's a decent amount of water and can be hauled around. A smaller bottle is perhaps too heavy and rugged for the amount of water. |
| Manufacturer Warranty | 5-Year Limited Warranty | YETI offers a five year warranty against defects in material and workmanship, which only applies to the original owner. This is pretty solid, but it would be nice to see lifetime warranty from YETI. That said, it's a very durable product. |
| Retail Price | $49.99 | A very high price for an insulated water bottle. Worth it if you value extreme durability and size. |
Gear Review of the YETI Rambler 36
Revelation: The Moment I Knew
I took this Rambler 36 bottle with me to the mountains for a very brisk camping trip. And then down south to the rugged desert of New Mexico for some relaxing car camping and ever-necessary hammock swinging.
What I discovered in the course of my high and low trips is that this bottle actually is bomb-proof. (Well, not literally. I don't have access to those kinds of testing materials.) This discovery was made when I dropped it off a cliff — it bounced and rolled its way to the shores of the lovely Rio Grande! I retrieved it before it could make the mighty plunge, and after a good deal of scrambling to make sure I didn't lose my test sample.
Shocked, and breathing hard, I found the Rambler 36 without scratches, dents, or scuffs. No leaks and no hard feelings. It was love.
Digging Deeper
Lid
The lid of this Rambler is called the TripleHaul Cap, a fancy name that actually lives up to expectations. The lid can be held with three fingers, not just one or two like the average bottle. Very clever, YETI!  Those two extra fingers make carrying this large bottle extremely comfortable. The lid is indeed leak-proof, it's easy to screw on, and, because of its size, very hard to misplace.
Durability
I dropped this bottle more times than I can count. Mostly I dropped it on rocks, from above, where it rolled and rolled, hitting more rocks. Taking blows of that impact that would be critical to many bottles, but not for the Rambler 36. It seems that this stainless steel cannot be harmed. A most excellent discovery.
Form Factor
This is a massive bottle. It's four ounces larger than most competitors (36 instead of 32) and because of its double wall construction, it's pretty heavy (one pound five ounces). It will not fit in cup holders or backpack pockets, places that many bottles are designed to fit. But because of its burly nature, you can just kind of toss it wherever, something I almost prefer to cup holders. And the lid ensures an easy carry, making the size and shape of this bottle a-okay in my book.
Insulation
I was really curious to test out the insulation on the Rambler 36. YETI is a brand known for high quality insulation, but they don't list any specific hot or cold times for this bottle. This is different than most manufacturers that try to sell you on those claims, so it was interesting to do blind tests of hot and cold.
The first test I did was quite scientific and super meticulous (that's some sarcasm, folks). The "hot liquid" test. This test took place in the high mountains, where the highs were no higher than 40 Fahrenheit and the lows at night were around 15 Fahrenheit. At around 4 p.m., I filled this bottle with boiling water, screwed the cap on and sat it in the middle of some rocks. The next morning at around 10 a.m. (18 hours later), I unscrewed the lid and took a sip. While my water was still warm, I was kind of surprised to find that it was not hot. It wasn't water I could make tea with, and it wouldn't necessarily warm me up in an emergency.
The second test I did was the "cold liquid" test. I filled the bottle up with mostly ice and a bit of water until there were no gaps. Sealed the lid, then sat it in the middle of some New Mexico sand from 10 a.m. to about 2 p.m. the following day — a 16 hour test. When I opened the Rambler 36  the ice was all still ice and that water was still… very cold water. Just as I had left it.
So it would seem that the Rambler 36 performs extremely well for cold, and a little less so for hot. This is quite normal in the insulated bottle world. I later executed another "hot liquid" test, but this test was for 8 hours instead of my original 18 hours. At the end of this test, the water was still very hot. So, if you stick with a more standard amount of time, this bottle does well keeping liquids hot, too.
Grievances
I was pretty disappointed that this didn't insulate my hot drink for over 18 hours. A lot of times when I camp, I like to get hot water ready at night to have in the mornings, because I am lazy and because hot water the second you wake up is the best.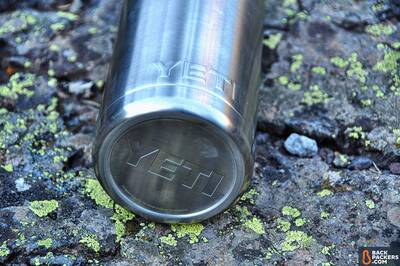 And I don't think this bottle is really able to do that. If I had tested more in the 12 hour range the liquid may have been hot, but with my test, it just didn't turn out as beautifully as I had imagined. All in all, that's a pretty big task that most bottles cannot perform. So I'm not that mad.
If you want gnarly hot insulation check out the Klean Kanteen Insulated Classic, another insulated water bottle I tested and loved."
Final Word
If you need a bottle you can throw around and beat up, that will still love you and never leak, the YETI Rambler 36 Bottle might be the best one you'll ever use. Especially if you love cold drinks and desire quantity. And don't we all desire quantity with quality? The answer is yes. Always yes.
Where to Buy YETI Rambler 36
We tested the Rambler 36 Bottle in the stainless steel color. YETI also offers a number of colors with brushed powder coating, which is more prone to scratches.
YETI also offers the Rambler Bottle series in 18, 26, and 64 ounce capacities. All of these have a similar build. We prefer the 36 ounce version because it is the right amount of water for the weight.
Compare YETI Rambler 36 prices below.
Review Policy: We do not accept payments or gifts from brands and vendors, and strive to provide unbiased, independent advice. Brands typically provide review samples which we return, and in some cases we purchase the item so we can keep using it long after the review. Affiliate Policy: We support the hours that go into our reviews and testing through affiliate commissions on purchases made through links in this article. These don't effect the outcome of our reviews or selection of gear, as per our Review Policy.