The REI Member Moment is a special event to celebrate all of us REI Co-op members. This is the time of year that REI puts out some of their best deals on highly sought-after gear, and when your freshly-acquired membership dividends will be bankrolling your outdoor budget.
We couldn't help but make a wish list of all the gear we want to get our hands on this year. Read on to see some of the awesome outdoor equipment all REI Co-op members can save big on during the 2021 REI Member Moment event. And if you're not yet an REI member, now is the right time to sign up for fantastic savings.
The Benefits of REI Co-op Membership
The fact of the matter is that you need to be an REI Co-op member to take part in the celebration. If you're already part of the crew, great! Scroll down to the deals and details.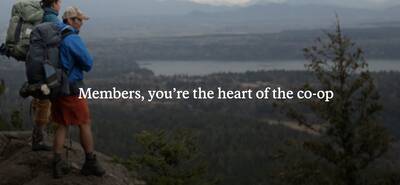 If you're not yet a member, here's what you need to know. REI Co-op members benefit in a number of ways. Members:
Get access to special deals and sales like this one.
Receive dividend payments every year based on how much they spend (think free cash back in your pocket).
Score big discounts on REI gear rentals, classes, tours, and outdoor events.
And much more. You can get a full rundown of the benefits and become a member right now over at the REI Membership page.
It'll cost you a one-time payment of $20 for a lifetime membership. That's it. You're likely to save at least that much in discounts after a few purchases.
2021 REI Member Moment Discount Details
Here's the scoop on the REI Member Moment event.

All REI Co-op members save 20% on one full-price item and an extra 20% on one REI Outlet item through March 29th.
Be sure to use the coupon code MEMBER21 at checkout. The code is valid from March 19th through March 29th at REI.Com, REI Outlet, and REI stores.
Hand-Picked Deals for You
Here are a number of our favorite pieces of gear that members can grab at a discount while the REI Member Moment event is on!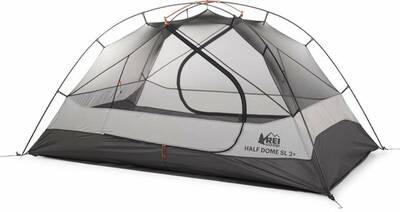 The REI Co-op Half Dome SL 2+ is a camping and backpacking staple. This tent is a comfortable size for couples who like to stretch out, or for any pair of adventurers that plan to share their floor space with a dog or small child. We reviewed and awarded the standard Half Dome 2+ as our Classic Pick for Wilderness Backpackers, and this SL version is even better.
Weighing in at a pound less than its previous iteration, the Half Dome SL 2+ is a great leap forward for backpackers who live by the mantra that every ounce counts. While light enough for backpacking, this tent is also spacious enough for lightweight car camping adventures. It has ample storage space with plenty of pocket options, set up is a breeze, and it's pleasantly versatile.
Simply put, the REI Co-op Half Dome SL 2+ is a highly recommended two-person tent. Don't pass this deal up!
See the REI Co-op Half Dome SL 2+
---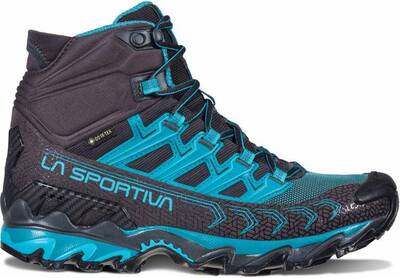 Crush miles and mountains with a pair of La Sportiva Ultra Raptor II Mid GTX Hiking Boots laced to your feet. These lightweight mid hiking boots are designed much like the brand's popular trail runners, but with increased stability and support for those who need solid footing on wet and rocky trails.
The FriXion rubber outsoles provide firm traction that doesn't quit, and the Trail Bite heels are yet another precaution against sudden slips. GORE-Flex nylon mesh has been paired with GORE-TEX linings to create undeniably waterproof, breathable, and comfortable uppers while the multifaceted lacing harnesses reign it all in for a customized fit.
For those who have been eyeing a sweet deal on a pair of lightweight boots, this is the time to strike.
See the women's La Sportiva Ultra Raptor II Mid GTX Hiking Boots
See the men's La Sportiva Ultra Raptor II Mid GTX Hiking Boots
---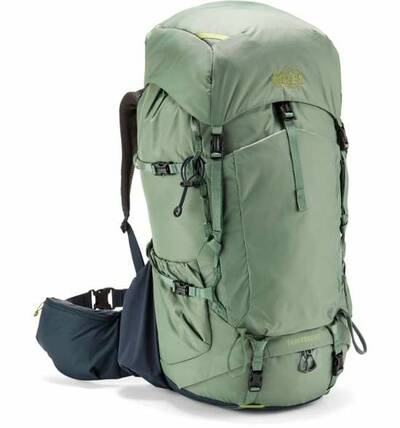 The REI Co-op Traverse 60 Pack is a well-rounded backpack for explorers who prize comfort and durability over ultralight characteristics. This backpack features an ultra-durable 300D bluesign-approved ripstop nylon exterior that's been fitted with an adjustable back panel and well-cushioned contact points at the hipbelt and harness.
There is an array of pockets situated all over this pack, and most of them are quite large. Dual mesh and ripstop hipbelt pockets give you grab-and-go versatility that's big enough for hefty snacks and modern smartphones. Accessible side pockets provide extra storage organization options, and the large front stuff pocket can stretch to meet your storage demands.
A rain cover is included as are multiple Packmod compression straps that'll help you keep all of your gear in place.
See the women's REI Co-op Traverse 60 Pack
See the men's REI Co-op Traverse 60 Pack
---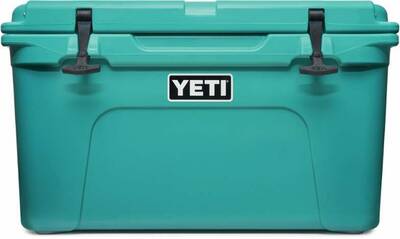 YETI essentially developed its own category of outdoor gear in creating its line of high-performance coolers. The company's coolers have been universally praised for their outstanding insulation capabilities. By using high-quality rotomolded polyethylene, YETI has created a range of coolers that can keep ice frozen solid for days on end and withstand bear attacks. How cool is that?
The YETI Tundra 45 cooler, in particular, can fit over two dozen beverage cans within its 32.9-liter capacity. The three-inch-thick walls and lid are strong enough to stand or sit on. There's a wealth of other features worth mentioning as well such as padlock corners, tie-down slots, two-person haul handles and one-person recessed handles, and secure T-Rex latches. The list goes on.
YETI products are not often seen below full retail price. This is a rare opportunity to get your own YETI at a great discount.
See the YETI Tundra 45 Cooler
---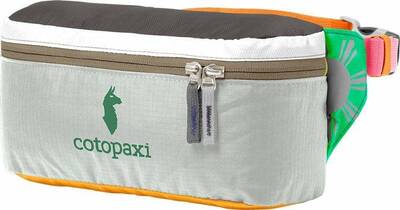 Fanny packs have made a comeback as a hip and handy catch-all for urban wanderers, globetrotting travelers, and day hikers alike, especially fresh-looking and well-made standouts like this Cotopaxi Bataan Fanny Pack. The fun, colorful styling of this waist pack makes it a stylish accessory all its own.
It's remarkably useful as well. The three-liter capacity is more than enough for most short-term adventures. There are two internal mesh pockets to help you keep things organized, and the dual zippers make it so that everything easy to access.
What makes this fanny pack extra special is that each one is designed by its creators in the Philippines, and so no two are alike. The design of your Cotopaxi Bataan Fanny Pack will be entirely unique!
See the Cotopaxi Bataan Fanny Pack
---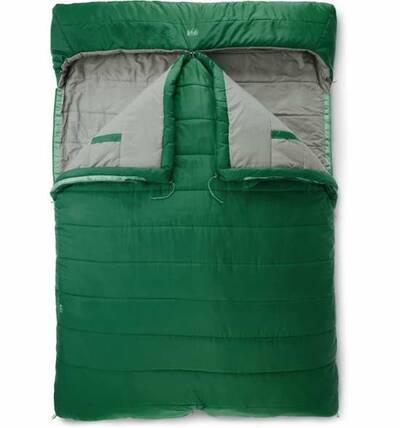 Here at Backpackers.com, we love our sleeping bags. As far as we're concerned, slipping into a fluff-filled sleeping bag at the end of a hard day of hiking is one of the best feelings in the world. This REI Co-op Siesta Hooded 25 Double Sleeping Bag has a distinctive design that has been engineered for backcountry couples—specifically those who prefer to car camp.
The thick, plush fill and rectangular shape is ideal for large, square tents, or perhaps even a campervan. You and your partner are sure to be kept at the right temperature through the night in this 25-degree sleeping bag. That's because it has independent hood zones for each sleeper, as well as dual two-way zippers so that each person can customize their own ventilation situation.
Inside, there's a nifty stash pocket for your overnight necessities so that you won't have to reach out into the cold frigid night for your phone or chapstick.
See the REI Co-op Siesta Hooded 25 Double Sleeping Bag
---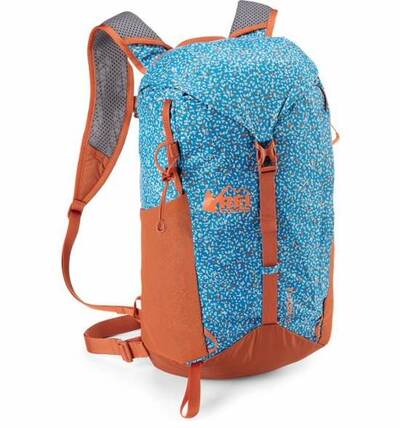 The REI Co-op Flash 22 Print Pack is slowly becoming the standard stuff-and-go backpack. We reviewed it, awarded it, and loved it. This is because it's generally affordable, often on sale, comes in a huge range of colors, and has all the basics someone needs to hike, explore a city, summit a peak, and travel internationally.
The Flash 22  weighs 13 ounces (just under a pound), holds 22 liters, has one main chute for gear, two external mesh pockets for water bottles or other essentials, an external zip pocket for small essentials, and a hydration bladder compartment. It compresses small and can hold up to 15 pounds comfortably.
The Flash 22 Print Pack takes the classic backpack and spruces up the colors. Get a bold one now on sale now during the REI Member Moment.
See the REI Co-op Flash 22 Print Pack
---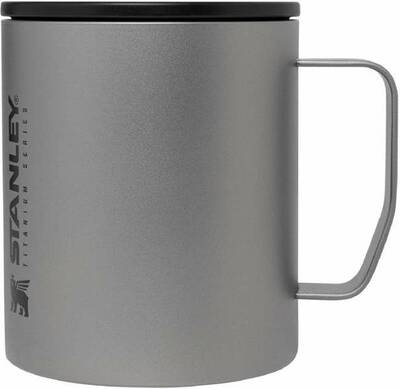 Keeping your hot drinks hot and your cold drinks ice cold is what the Stanley Stay-Hot Titanium Camp Mug does best. The TiVac double-wall vacuum insulation will keep liquids hot or cold for hours on end. As this mug is made from titanium, it's both amazingly durable and unbelievably lightweight.
The press-fit, drink-thru lid makes sipping a cinch, and the titanium handle creates a solid and comfortable hold. Few moments in life can beat a tranquil evening next to a campfire under a starlit sky with friends at your side and a warm drink in your hands.
Stanley's been at this for over a century, and they know how to make excellent drinkware. That's why this mug comes backed by a lifetime guarantee.
See the Stanley Stay-Hot Titanium Camp Mug
---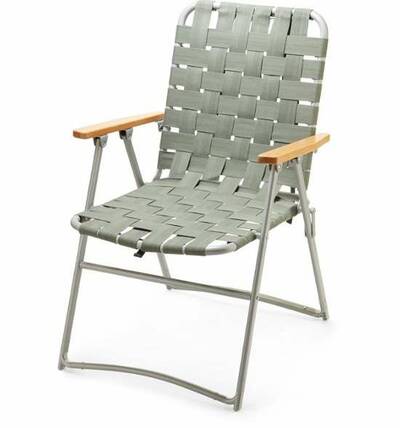 There are times when the best part of being outdoors is having a moment where you can sit back and chill. The REI Co-op Outward Classic Lawn Chair will make a great addition to your backyard or your car camping kit. It's been equipped with backpack straps and a carry handle so that you can easily carry it to your intended relaxation destination.
This isn't the typical bulk-order lawn chair that you've sat in at your neighbor's kid's birthday party—the seat of the REI Co-op Outward Classic Lawn Chair is actually comfortable, and the webbing doesn't pinch. The spun polyester straps have a herringbone detail that gives them a touch of character.
You're going to enjoy your time in this chair no matter where you take it.
See the REI Co-op Outward Classic Lawn Chair
---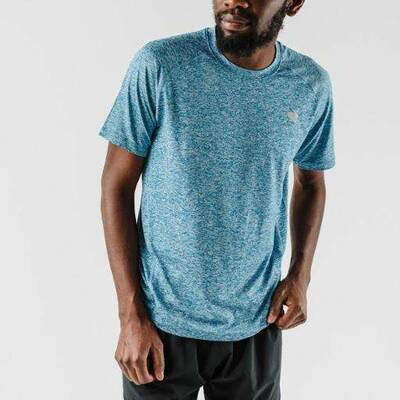 The rabbit EZ T-Shirt is comfortable to a T. This running shirt's Quick N' Fit fabric is comprised of 94% polyester and 6% spandex, giving the shirt enough fit to look good without making it clingy. It's a moisture-wicking, fast-drying, cozy-as-can-be athletic top that you'll want to wear all day long—and hey, nobody's stopping you!
rabbit is a California-born company that prides itself on its clean sports initiatives and runner-first approach to product design. Their shirts are made in the USA with the intent to be easy to run in, and easy to chill in.
There are multiple sizes and vibrant colors of the EZ T-Shirt to choose from during the REI Member Moment event. Which one is your favorite?
See the women's rabbit EZ T-Shirt
See the men's rabbit EZ T-Shirt
---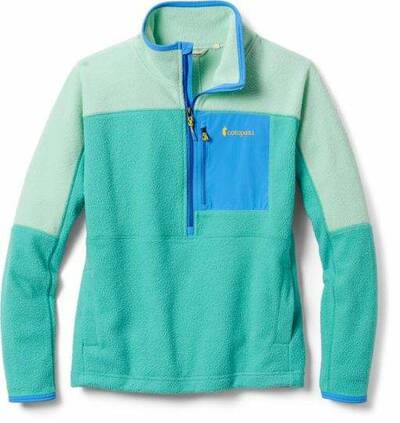 The Cotopaxi Dorado Half-Zip Fleece Jacket is ideal for brisk spring days and cool summer nights, and its refined stature will layer well when temperatures drop. In usual Cotopaxi fashion, this fleece features bright blocks of color and bold styling, plus the soft shell is made of 100% recycled polyester.
There are two hand warming pockets as well as a zippered woven stretch nylon chest pocket that's all set for securing your valuables. The elastic hem and cuffs make for a good fit, and the half-zipper allows for effortless ventilation control for when your hike heats you up and when the setting sun brings a chill to the air.
Show off your style with this fashionable Cotopaxi Dorado Half-Zip Fleece Jacket.
See the women's Cotopaxi Dorado Half-Zip Fleece Jacket
See the men's Cotopaxi Dorado Half-Zip Fleece Jacket
---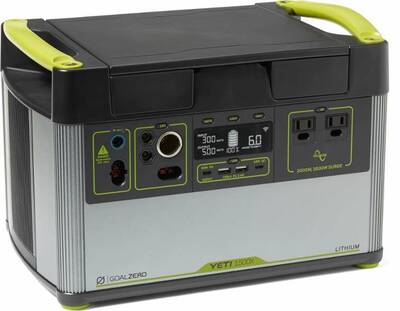 Power up your campsite with the Goal Zero Yeti Lithium 1500X Portable Power Station. Campers and overlanders who venture out to off-grid locations, but still enjoy the luxuries that come with electricity, need a powerhouse such as this that can increase their long-term outdoor comfort. More than a one-trick battery, this Goal Zero power station can pump out AC and DC currents, and it can charge any USB-connectable device.
The digital LCD display will let you know how much power remains of the 1516 watt-hours that the power station can hold at full charge, including how much time you have left at the current output levels before it runs dry. You can use this power station to power luxury camp items such as electric cooking griddles, outdoor lights, laptops, portable refrigerators, and smartphones.
The power station can be recharged via a wall outlet, car charger, or solar panel. Items like this enable you to stay in the outdoors for longer.
See the Goal Zero Yeti Lithium 1500X Portable Power Station
---
This post is Sponsored by REI
All images courtesy REI, All Rights Reserved.
Backpackers.com Affiliate Policy: This guide contains affiliate links, which help fund our website. When you click on the links to purchase the gear we get a commission, and this goes a long way to creating guides, gear reviews, and other excellent content.