Meals bring us together. Whether heating soup in the backcountry, frying rice at the campground, or grilling burgers in the park, cooking is an act of love, an outward display of humanity.
Creating, enjoying, and sharing meals with one another are among the greatest experiences in life. Camp Chef makes it possible for you to bring this with you wherever you go. The Camp Chef Mountain Series, in particular, is a collection of high-quality, portable cooking systems designed to travel.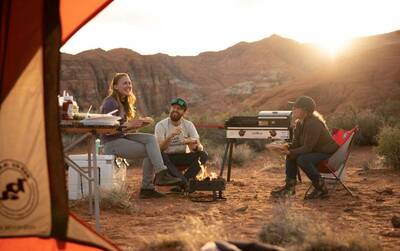 Backpacking, car camping, tailgating — you name it — there's a Camp Chef cooking system for every form of adventure.
Camp Chef Cooking Systems: The Mountain Series
Every cooking system in the Mountain Series was designed to be lightweight and portable, all while retaining the category-leading performance that Camp Chef is known for.
Innovative, Top-Tier Engineering and Design
Camp Chef comprises a team of passionate outdoor-lovers who believe that every great hike should be rewarded with an equally amazing meal. The company aims to enable five-star dining experiences everywhere, from the backyard patio to the world's most remote wildernesses.
Located in Utah adjacent to the Bear River Mountain Range, the Camp Chef team regularly tests its products in rigorous outdoor conditions. Build quality needs to withstand bumpy offroad rides and overstuff backpacks. Flame power and reliability must hold strong during strong gusts of desert winds. It's all a part of the equation in making a Mountain Series cooking system.
The Camp Chef Mountain Series Lineup
No matter how big or small you desire in a cooking setup, there is a Camp Chef cooking system for you. The Camp Chef Mountain Series has a solution for your next trip through the frontcountry or backcountry.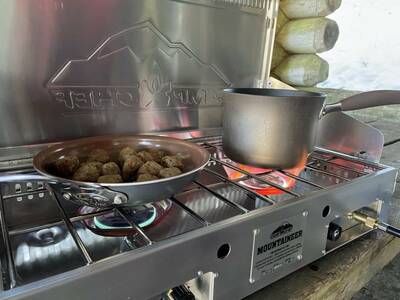 The Camp Chef Mountaineer is the crown jewel of the Mountain Series. This stove is made from aluminum to keep its frame lightweight and durable, and its suitcase-style design makes it easy to transport from the car or raft to the picnic table. It pumps out 40,000 BTUs, is self-igniting, and has exceptional simmer control.
Leg accessories can be attached to make this a standing stovetop. We've got more to say on the Camp Chef Mountaineer in our upcoming deep dive, so be on the lookout for that piece in the coming weeks.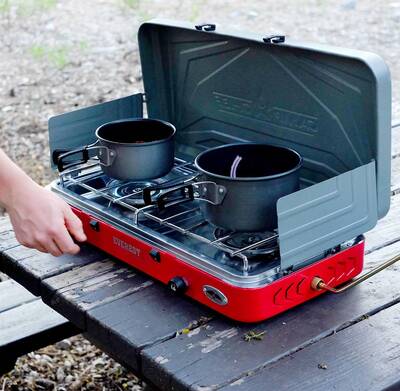 The Camp Chef Everest is a favorite in road-tripping and car camping circles. It's the perfect size and has an ideal power output (20,000 BTUs) for most. We reviewed an older version of the Camp Chef Everest a few years back, and it has been updated several times since. We loved it then, and it's even better now.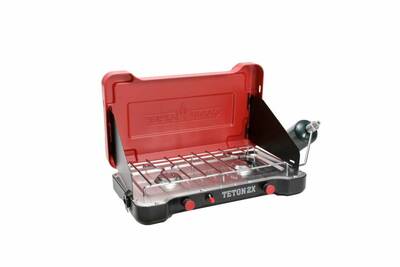 The Camp Chef Teton is a solid choice for those who appreciate the overall design of the Everest but are looking for something a bit lighter and more compact. The Teton produces 10,000 BTUs, which is still more than enough to cook a meal and boil water with. Plus, it weighs less and has smaller dimensions than the Everest.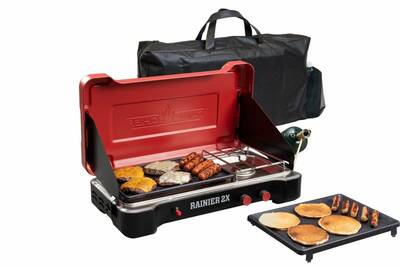 The Camp Chef Rainier is one part traditional gas burner and one part bacon-frying, pancake-cooking griddle. This combo stovetop pumps out 18,000 BTUs and is perfect for those who like making breakfast at camp.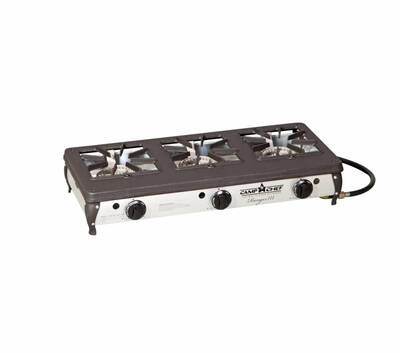 The Camp Chef Ranger is the ultimate combination of power and portability. You can opt for either a two or three-burner stove, with each burner putting out 17,000 BTUs on their own.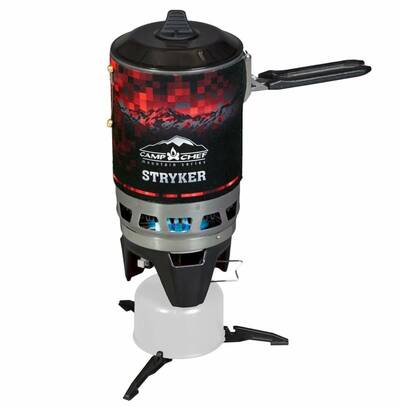 The Camp Chef Stryker is the go-to for backpackers, mountaineers, and anyone else who wants an exceptionally lightweight and compact stove for the backcountry. There are butane, propane, and multifuel versions of the Stryker to meet your needs, whatever they may be. Each Stryker has matchless ignition and can heat a pot of hot water in less than two minutes.
---
This article is sponsored by Camp Chef.
Backpackers.com Affiliate Policy: This article may contain affiliate links, which help fund our website. When you click on the links to purchase the gear, we get a commission, and this goes a long way to creating guides, gear reviews, and other excellent content.