Nothing says love like sharing your favorite gear in the outdoors. Whether hiking, car camping, or backpacking, sharing means splitting the weight and packing space, which makes your outdoor adventures even more enjoyable.
No matter who you adventure with — a partner, friend, or family member — gift yourself and your adventure buddy a piece of outdoor equipment that both of you can enjoy. The gear we're featuring here can be packed or carried by a single person but can benefit two or more happy campers.
Keep reading to learn about some of our favorite shareable outdoor gadgets. The outdoors is better when we share it together.
---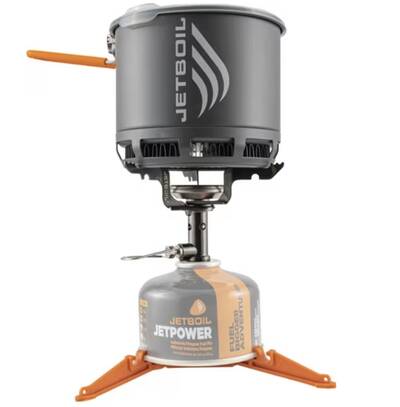 Dinner for two in the backcountry has never been easier. The Jetboil Stash Cooking System is the lightest and most compact Jetboil stove yet, so the argument won't be who has to pack it, it will be over who gets to pack it.
This backpacking stove boils a liter of water in 5 minutes and has a 27-fluid-ounce capacity, making it the perfect backcountry stove for two people. Share an evening meal together while you share an outstanding view of the night starscape.
See the Jetboil Stash Cooking System
---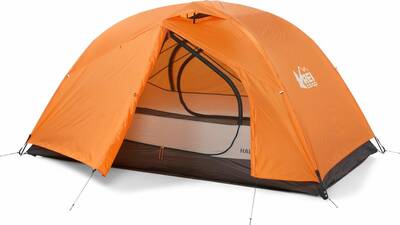 Share the load when you and your partner split a 2-person tent. REI's Half Dome is a lightweight backpacking tent that you can carry together or split to share the weight.
This tent comes with pre-bent pole architecture which provides a larger floor plan and liveable space for two people and their gear. It has two doors and vestibules for additional storage. It also has color-coded poles to simplify the setup.
Want a bit more info on this tent? See our full review of the Half Dome 2+.
See the REI Co-op Half Dome 2 Tent
---
Filter your and your companion's water at the same time with the Platypus 4L Filter System. This lightweight system can quickly filter 4 liters in 2.5 minutes and can store up to 8 liters, allowing you to transport and store water for larger groups as well.
The Platypus Filter system comes with two reservoirs, both colored and labeled separately to keep your water easily identifiable and safe. Only one person needs to carry a water filter!
See the Platypus GravityWorks Filter System
---
Cozy up with your partner for the night with the most comfortable night of sleep you can get car camping. The Exped Megamat Duo is a double-wide air mattress that will completely fill a wide 2-person tent or the back of your car.
This sleeping pad combines foam insulation and air for nearly 4 inches of cloud-like comfort to lie on — it's among the most comfortable camp mattresses out there. A mini pump is included to help you inflate the pad.
Want to know more? See our full review of the Exped Megamat 10.
See the Exped Megamat Duo Sleeping Pad
---
Not every adventure is made for being totally unplugged. The BioLite 1500 BaseCharge allows you and your partner to simultaneously charge your laptops, phones, or anything else you need to stay connected while camping.
The BaseCharge is a compact and lightweight generator that offers power when you need it. So plug in your laptop and bust out some snacks for movie night at camp after a long day of hiking. A portable power station like this is a great way to add a touch of glamp to your camp.
See the Biolite 1500 BaseCharge
---
For those who like to travel far into the wilderness, the Garmin InReach Mini is a piece of shareable gear that you won't want to leave behind. The InReach Mini has SOS capabilities, so you can get help when in trouble.
It also comes with 2-way communication to contact your loved ones at home in case of an emergency or to let them know you'll be home later than expected. This GPS device also has a compatible app to help plan trips, access topography maps, and create waypoints and courses to sync to your handheld device. Only one per hiking group is necessary, so long as you stick together.
---
The perfect camp speaker, the JBL clip is waterproof and easily portable, so you can bring your music or audiobook with you and enjoy it together by your campfire, or while cooking dinner after a day of backpacking.
This speaker is also dustproof and has up to 10 hours of playtime. There's debate over whether people should be playing tunes out at camp, but we think that as long as you're respectful of who and what's around you, feel free to vibe as you please.
See the JBL Clip 4 Bluetooth Speaker
---
Whether car camping and lounging around the fire, setting up camp while backpacking, or going on an evening hike to watch the sunset, the REVEL GEAR Trail Hound Camping Lights will add a bit of mood lighting to your night.
The lights come on a 30ft strand that can be plugged into a USB outlet to make them transportable. These lights are small enough to fit in your pocket and are rain and dust resistant, and come in both rainbow and solid color options.
See the REVEL GEAR Trail Hound Camping Light
---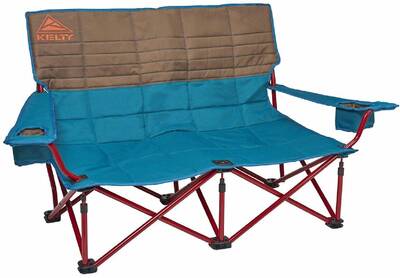 Cuddle up after a long hike or around the fire at night with the Kelty Low Loveseat. This camp chair for two is constructed with a durable steel frame and has adjustable armrests so you both can be comfortable.
It comes with 2 insulated, adjustable beverage holders and a padded roll-tote storage bag so you can take it anywhere. It's a fantastic chair for camping couples.
---
Perfect for road trips, weekends at the campground, or after hiking picnics, the Yeti Roadie 24 Cooler takes up less space in your car, making more room for your gear or your pup.
It keeps your food and beverages colder for longer than most other coolers and comes with a quick latch system to hold the lid in place. And, while you might be sharing this cooler, the handle makes it easy for one person to transport.
---
All images courtesy REI, Backcountry, and Moosejaw, All Rights Reserved.
Backpackers.com Affiliate Policy: This guide contains affiliate links, which help fund our website. When you click on the links to purchase the gear, we get a commission, and this goes a long way to creating guides, gear reviews, and other excellent content.