Arc'teryx Cerium LT Hoody Overview
Plush and rugged don't usually end up in the same sentence when describing a piece of backpacking gear — it's one or the other. Yet the Arc'teryx Cerium LT Hoody manages to live up to both adjectives in the most extreme sense. The down jacket is a literal collection of the softest, smoothest, most carefully assembled coat of fine feathers you will ever drape about your body. It is also a literal juggernaut of resistance, strength, and super powered warmth.
Of course, the Arc'teryx Cerium LT Hoody also has all the basic requirements of a down jacket, like minimal weight, sturdy zippers, a high collar, a form-fitting hood, and down-stuffed hand warmers.
The delicate balance of all of these elements makes the Arc'teryx Cerium LT Hoody our Premium Pick for the Wilderness Backpacker, the Day Hiker, and the Car Camper. You'd be hard pressed to find a better down jacket for any of these backpacker types.
The price is extreme, but it's justified with quality. Read more about down jackets in our comprehensive guide, and see why we recommend the Arc'teryx Cerium LT Hoody below.
Arc'teryx Cerium LT Star Rating
Comfort

Durability

Warmth

Packability
Summary
The Arc'teryx Cerium LT Hoody is a down jacket that hits nearly everything a weight- and cold-conscious backpacker could want. It is light, filled with premium goose down, incredibly puffy, and has a large hood that is quite cozy. The cost is extreme, but for that you get a precise fit, premium materials, and a very capable down jacket.
Update: We tested the Arc'teryx Cerium LT in 2016. At the end of 2017 Arc'teryx updated its Cerium LT line to include an internal chest zipper pocket, a waist hem cinch to keep in the warmth, and increased the length of the back of the coat to more fully cover the butt. This added about an ounce of weight. These were literally all of our complaints about this excellent down jacket, so it's now even better! It has not received any significant updates since then, just color changes.
Cerium LT Hoody Video Review
Cerium LT Hoody Specifications
| Feature Type | Feature Specs | What This Means |
| --- | --- | --- |
| Weight | 10.8 oz. (305 g) | Not the absolute lightest, but still quite light. Feels like you're wearing hot air. |
| Insulation Quality | 850-Fill, Coreloft 80-100 g/m2 | One of the higher down fill powers on the market, and very high quality. Also a decent amount of synthetic insulation. |
| Down Type | European Grey Goose and Coreloft | Fine goose down combines with synthetic insulation in water-prone areas. Called Down Composite Mapping. |
| Down Fill Weight | 3.3 oz. (93.5 g) | Very high fill weight means a very puffy, warm coat. This is just the fill weight for the down, and it's hard to assess the fill weight of the Coreloft. It's a very warm jacket. |
| Shell Fabric | Airetica 100% nylon, 20x10D ripstop nylon | Proprietary fabric from Arc'teryx, very strong, light, and silky to the touch. Still quite durable, too. |
| DWR Treatment | Yes | Standard treatment on external fabric. Synthetic material in cuffs and shoulders helps to resist moisture too. |
| Number of Pockets | 3 | Two zippered hand-warmers, and now a zippered internal chest pocket! |
| Stuffs Into Itself | Yes, sort of | Stuffs into an included stuff sack, which can be found in the internal zippered pocket. |
| Adjustable Hood | Yes | One toggle to pull it tight. Large hood otherwise. |
| Adjustable Waist | Yes | The newest version has an adjustable hem at the waist. Keep that warmth in. |
| Hood/Jacket Option | Hooded and Jacket | Comes in hooded or non-hooded. |
| Gender | Men's, Women's | Options for all. |
| Sizes Available | XS-XXL | Form fitting, many options. |
| Manufacturer Warranty | Lifetime Warranty | Materials and workmanship covered for "practical lifetime of product." Excellent warranty. |
| Retail Cost | $379.00 | A premium price for a premium jacket. |
Gear Review of the Arc'teryx Cerium LT Hoody
Origins: Easing You In
A cold, dry climate is what makes a down jacket purr, so I decided to head to the Sespe Wilderness outside Ojai, California, a desert known for its scalding days and freezing nights.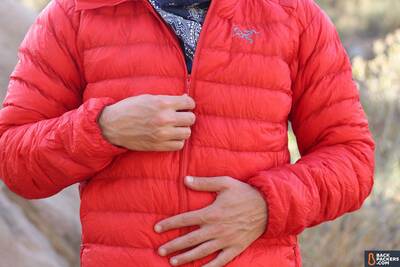 Down jackets are also regaled for their incredible lightness, and at a mere 9.8 ounces (for a Men's Small) the Cerium LT Hoody lives up to that expectation. This means that on a backpacking trip it should fit into your pack in a rather invisible way. It's there if you need it, but takes up very little room if you don't.
Shoved into the drysack at the bottom of my backpack with the rest of my clothes, the Cerium LT Hoody made no fuss during my hike. It packed into the included stuff-sack (permanently tied into a pocket for safekeeping) measured less than the size of a standard Nalgene. I will say the stuffing took a bit more time than I thought it should.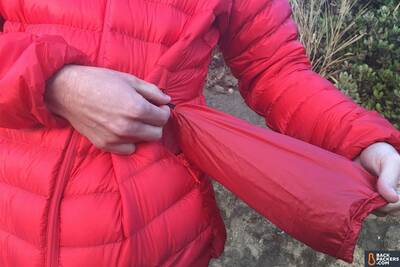 All of this is well and good, but a bit par for the course.
A down jacket truly starts to shine when the stars come out. And it did shine, with a sort of ethereal cardinal glow. Once donned, the cold bite of the desert air dissipated.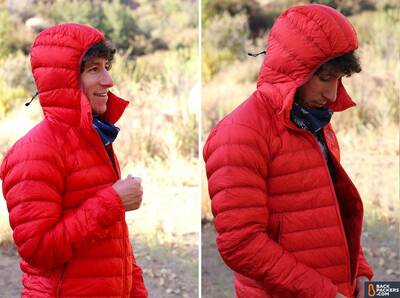 In fact, I had to keep it zipped open until well after sunset such was the furnace of the jacket's construction. Then the zipper went up, the hood went on, and I remained toasty throughout the frigid night.
Revelation: The Moment I Knew
For me, the coldest, soul-sucking moments in the wilderness are the first 30 minutes of morning. Yes, technically the 4 a.m. hours can be colder, but you're hopefully in your sleeping bag by then, telling yourself "I will not pee, I will not pee."
Yet once the sun's up you have to pee, and boil water, and greet the day. My moment of revelation came as I was surveying the splendor of sunrise.
I tend to use hand-warmer pockets frequently. I prefer them over gloves. There's just something about sticking my hands in pockets for warmth that feels very natural.
Not only did these pockets work exceptionally well, but they felt like the softest, warmest cloud known to man. The Cerium LT Hoody has 850-fill down, and it's sewn in such a way that the baffles are incredibly puffy. Even if you've just pulled it out of a compressed state, the down lofts immediately and puffs up.
I played with the stuffed down baffles on the inside of the hand-warmer pockets that morning, and do every single time I put on the Cerium LT Hoody. I grab hold of a baffle, compress it, and feel it as it puffs back up. It's silky smooth and sort of endlessly entertaining, not to mention super warm.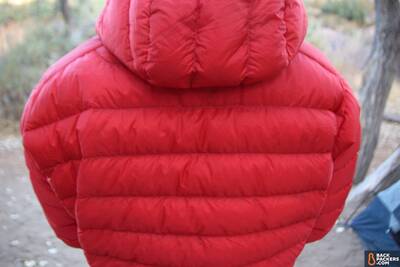 You can do this with any part of the jacket, including the hood. The sheer touch of it has made me love the Cerium LT.
Digging Deeper
Digging deeper on the Cerium LT Hoody is easy because there's so much to talk about.
The hood has an adjustable elastic cord that makes tightening it around your face easy. This shields off wind and provides a tight, custom fit.
The jacket itself, as I mentioned, is constructed with 850-fill down, but it also utilizes Arc'teryx's Coreloft 80 and Coreloft 100 synthetic insulation. This stuff fills the popular Arc'teryx Atom LT Hoody (the synthetic alternative to the Cerium LT), but it also makes its way into the Cerium LT.
Arc'teryx knows that a down jacket, despite your best intentions, will eventually get wet. Instead of going the hydrophobic down route, the company opted to put synthetic insulation in key areas prone to getting wet, creating a water resistant down jacket that will work in critical situations.
Coreloft is used in the cuffs of the sleeves, the shoulders, the underarms, and mouth area of the jacket.
You can feel the difference, too. The synthetic parts have much less loft, and don't feel like down. You don't lose much warmth in those areas, yet when they do get wet they'll dry faster and the jacket will remain usable.
Coupled with the insulation types is a DWR-coated exterior that keeps down firmly inside the coat (no feathers have leaked yet). The exterior is silky soft, yet feels very durable.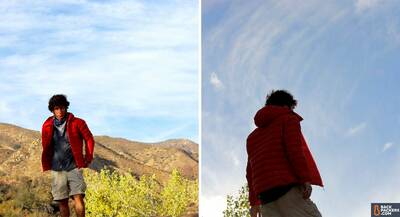 Finally there's the weight. The Cerium LT Hoody is so, freaking, light. It really is like donning a cloud — a thin, wispy white one at that.
Comfort 
5 Stars
The Cerium LT is so light I can barely feel it, yet so warm and cozy I never want to take it off. It's a jacket I want to wear as much as possible, and the fit is perfection.
Durability 
5 Stars
The Cerium LT is so thin-seeming and light you'd expect it to fall apart, but it doesn't. After countless uses on backpacking and camping trips I don't have a single rip or hole. The sleeve tips are a tad black from campfire, but function perfectly. The zipper feels like it could be too small, but it zips up just fine, and I don't foresee an issue. I have been very impressed with overall durability, but don't take a knife to the thing!
Warmth 
5 Stars
The Cerium lT is surprisingly warm. I wore it, a lightweight Glacier fleece, and a baselyaer on 20-degree nights in the Sierras and was toasty — and I tend to run cold. I am often zipping it to my mid-chest, rather than all the way up, and only use the hood if it's windy. You can certainly find warmer jackets, but in terms of warmth for weight this jacket is outstanding.
Packability 
4 Stars
While it does compress very small, the included stuff sack is a bit too small for the actual jacket. It takes longer than I'd like to stuff down. These days I just throw it in my pack loose and let it compress that way. Arc'teryx should make the included stuff sack a bit larger so the process is quicker.
Style
If the Michelin Man teamed up with Mr. Clean for a Crossfit session he may end up looking like the Cerium LT. It's a classic puffy with horizontal lines, yet Arc'teryx knows how to tailor a coat to look good.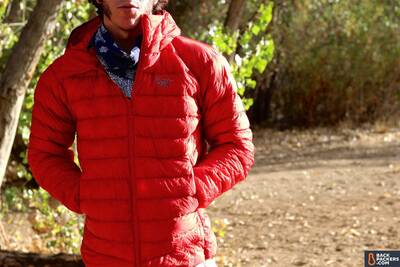 Grievances
In my estimation there is only one major fault with the Cerium LT Hoody: It doesn't have an adjustable waist. The hood is perfect in that you can loosen or tighten it for the weather. The waist-line is elastic, like the cuffs, so it does hug you a bit. But when it's literally freezing or below you'll want to be able to tighten the waist so no heat can escape, yet you can't.
I imagine this is a weight-saving practice, but to me it would be worth the extra ounce or two to get an adjustable waist hem that will keep in warmth.
Also, if you're a chest pocket kind of person, you're out of luck with the Cerium LT Hoody. If that and the adjustable weight and chest pocket are a must-have for you, we recommend the Patagonia Down Sweater Hoody.
Final Word
High cost comes with high expectation, and the Arc'teryx Cerium LT Hoody delivers. A feathery touch combines with superb style and finishes with an unprecedented warmth for weight. It's the only thing I want to wear in the morning.
Where to Buy Arc'teryx Cerium LT Hoody
We reviewed the Men's version the Arc'teryx Cerium LT Hoody. There is also a Women's version, which is the same jacket contoured for a woman's body. You can find both below. There's also the Arc'teryx Cerium LT Down Jacket for Men and the Cerium LT Down Jacket for Women. This is the same coat in every way except for the hood. We recommend it if a non-hooded down jacket fits better in your layering system.
Compare Arc'teryx Cerium LT Hoody and Jacket prices below.
Review Policy: We do not accept payments or gifts from brands and vendors, and strive to provide unbiased, independent advice. Brands typically provide review samples which we return, and in some cases we purchase the item so we can keep using it long after the review. Affiliate Policy: We support the hours that go into our reviews and testing through affiliate commissions on purchases made through links in this article. These don't effect the outcome of our reviews or selection of gear, as per our Review Policy.