Bedrock Sandals Cairn 3D PRO Adventure Overview
The Bedrock Sandals Cairn 3D PRO Adventure are armored hiking sandals for minimalists who want support and protection, but without the confines of excess fabric and materials.
There is one flaw, one major pain point, in every human being: our feet. As the foundation for our legs, torso, arms, and head (the whole freakin' body!) these relatively small, delicate feet are meant to carry us from one place to the next. But they're soft, vulnerable, and susceptible to tiny abrasions — basically these high maintenance pods of transport require armor to get us through our days.
Enter the sandal. Sandals alleviate this concern for people like me, who prefer minimal fabric (shoes are a bit much) but more support and protection than your good ol' human sole. Bedrock Sandals, founded in 2011, designs sandals for those who want to run (or trek) without all the bulkiness but with confidence normally inspired by shoes. The Bedrock Cairn 3D PRO Adventure is one of their beefiest models, with thick Vibram Megagrip soles, a zero-drop profile with an anatomically molded footbed, and three points of adjustment in four straps.
We have reviewed the Bedrock Cairn 3D PRO Adventure sandals because of the diverse range of potential one has when rocking them, making them ideal choices for Day Hikers, Wilderness Backpackers, Ultralight Backpackers, Urban Hikers, and Car Campers.
Wearing sandals while adventuring is definitely a "to each their own" experience, but if you are on the fence or already donning some strappies, continue reading for the full Bedrock Cairn 3D PRO Adventure review. And check out our Best Hiking Sandal guide to see where they rank!
Bedrock Sandals Cairn 3D PRO Star Rating
Comfort

Durability

Soles

Straps and Webbing
Summary
The Bedrock Sandals Cairn are an outstanding minimal hiking sandal, and the Cairn 3D PRO takes the original model to another level. With a slightly molded footbed for more comfort and grip, the Cairn PRO's use a Vibram MegaGrip sole for maximum wet traction, have a 3-way adjustable strap system, and use a thick sole and lugs to help you tackle any terrain. Hike and backpack capable.
Bedrock Cairn 3D PRO Adventure Specifications
| Feature Type | Feature Specs | What This Means |
| --- | --- | --- |
| Weight | 10 oz. (283 g) per sandal | A moderate weight for a hiking sandal. Certainly not the heaviest out there, but not the lightest either. For the burliness, the weight is great. |
| Category | Open-Toe Hiking | We categorize hiking sandals in four classes. Open-Toe Hiking sandals are best for warm weather, frequent water crossings, and legitimate hiking and backpacking. |
| General Fit | Standard | The width on the Cairn 3D sandals is fairly standard. |
| Strap Material | Polyester and nylon webbing, metal and acetal plastic hardware, military-grade Velcro | Bedrock uses high quality materials, including a very comfortable toe-post, hard-to-break straps, and high-end Velcro. |
| Strap System | 4 straps, 3 adjustments, Y-Strap System | The Y-Strap system uses 3/4 inch wide straps to stabilize the foot and reduce pressure points. The adjustments are necessary, so these aren't quite slip ons, but they are very secure. |
| Midsole | Not Listed | Bedrock Sandals doesn't list the midsole material. |
| Sole | Vibram Megagrip | Vibram's Megagrip soles are very grippy, and best for wet surfaces. The Cairn 3D (regular) uses Regolith, perfect for dry surfaces. The sole is 16 mm thick, the lugs are deep, and you can't feel sharp ground beneath your feet. |
| Sizes Available | 5-15 unisex sizes | Bedrock Sandals are unisex, and claim that a women's 6 is a men's 5. Best to try on before purchase. They don't have half sizes, so sizing could be an issue. |
| Manufacturer Warranty | Limited Lifetime | A legit limited lifetime warranty on hiking sandals. |
| Retail Price | $110 | A high price for very burly, yet minimal sandals. If you are searching for that perfect pair, this may be it. But it'll cost you. |
Gear Review of the Bedrock Cairn 3D PRO Adventure Sandals
Origins: Easing You In
Many summers ago, before I knew the glory of hiking sandals, I spent my days bumming around a tropical island in a pair of knock-off Rainbow flip flops, nursing blisters between my big toe and its neighbor. One day while collecting sea glass and scoping ocean creatures in the reefs and tide pools, a small but powerful wave destabilized me, causing one flip flop to get caught under the reef and the other to float away, towards the shore, leaving me to hobble back to the sand across the sharps-as-glass reef.
The moral of the story? When adventuring, get a pair of sandals with straps that secure the sandal to your foot.
Fast forward to my current adventure-ready self: while at the bi-annual Outdoor Retailer in Denver, I made friends with the folks at Bedrock Sandals and was immediately sold on their minimalist yet sturdy sandals — not to mention the company art and environmental advocacy!
But let me tell you, deciding to don them was not an easy decision. Sure, these sandals are rad in many ways, they just had one hiccup that may (or may not be) something for you to consider.
When choosing a hiking sandal there is one important question to answer: Toe-post or no toe-post?
It's a question you must answer for yourself. Personally, I am a no-toe-post lady. And the Bedrock Sandals are a toe-post kind of company.
Why am I anti-toe-post? Warning, what I am about to reveal is sexy-hot-hot: I love wearing socks with sandals. After a long hike or a run to the market, all I want is my comfy socks and worn-in hiking sandals. I have been ridiculed for this fashion choice, but I am steadfast. As a side note, the "socks with sandals" life is currently being hyper popularized by a couple leading outdoor brands, and even on our site! Someone call Vogue, I'm high fashion!
So, I broke out of my routine this summer. I rocked the heck out of the Bedrock Cairn 3D PRO Adventure sandals. They were immediate companions at the conference, helping me wrap up a seven mile day of walking, and due to the amount of traveling this summer they become instant accessories with the help of a Heroclip carabiner, attached to the outside of my carry-on.
Outside of city walking, I took the shoes on bike rides, hikes, kayak trips, and store runs. While not a solid choice for biking up cobblestone Seattle-streets (let's be honest, no sandal is great for that), they were certainly nice when cruising the California coastline and for a whole lot of walking.
With their serious support they were great sandals for lugging heavy bags, which made them a perfect choice for summertime urban hikes in Seattle's mini-wilderness, Interlaken Park, and great post-hike shoes when wandering dustier trails.
Revelation: The Moment I Knew
Testing the Bedrock Cairn 3D PRO Adventure sandals for me was much like dating someone you meet from an online dating app. My first impressions were formed by the chill, artistic company vibe and the cute yet rugged design of the sandals. I swiped right so hard.
Much like a new relationship, our first few "dates" were somewhat awkward and uncomfortable, but deep down both of us knew that we had something more and had to work past this phase. My feet did not totally appreciate the pre-molded foot bed — it's quite stiff at first — and the toe-post, as I mentioned, took a lot for me to get used to. Finally, the Cairn 3Ds need to be adjusted every time you step into them — the Y-strap system is great, but isn't that super simple "slide" in that flip flops have. If you don't adjust them, they rub, and then you might not love your new beau. Don't be lazy like me!
We started to add some miles to our relationship but it was not until I took the Cairn 3Ds to the beach for a sunset walk that we started to get really close. I walked the sandals right into the ocean and let the waves and sand wash over us in a moment of brisk, chilly passion. Throughout the rest of the day I felt the Cairn 3D's tough footbed softening and molding to my feet. The beauty of a long-lasting, truly form fitting hiking sandal. From that day on we have had a more connected, comfortable relationship. We are now going steady.
Digging Deeper
Bedrock Sandals has a mini cult-following of people who "get it". I have been given nods of approval from strangers on the streets and made new friends at barbecues who, too, rocked the Bedrocks. The brand is for people who like the idea of being barefoot but do not relish the idea of Vibram finger shoes — sometimes feet need to breathe!
The Cairn 3D  PROAdventures are Bedrock's most beefed-up line of shoes, complete with a 16mm base stack height (quite thick) that's also zero-drop, the "Y-Strap system" that prevents slippage and provides three points of adjustment, and Vibram Megagrip soles, which are crazy sticky, especially on wet surfaces. Each sandal weighs in at roughly 10 ounces, which is a reasonable weight for how much sole they've got. Bedrock Sandals also has a re-sole program available if those burly bottoms every burn out.
The wider straps and deeply lugged soles give the Bedrock Cairn 3Ds an edge when comparing them to sandals in their class. The slightly defined shape — called the anatomically molded footbed — adds extra toe-traction and deflects debris (aka evil micro-thorns) from slipping between the footbed and soft underfoot.
The Bedrock Cairn 3Ds come in seven colors that suit fashionistas of all walks of life. I reviewed the turquoise pair, and found the color to remain vibrant no matter how much trail dust and city grime covered it. You can't say the same for my feet, though.
Comfort 
4 Stars
Much like a pair of stiff jeans, the Cairn 3D sandals became more comfortable over time. The footbeds become soft and mold to your feet, especially after walking in water. The pre-printed 3D shape offers support, but may not be comfortable for everyone — the original Cairn doesn't have the 3D support, and will be preferred for those people. Lastly, the toe strap that lives between the big toe and its neighbor may cause what I can only imagine as a "wedgie" on the toes — and what some people imagine as the only natural grip possible!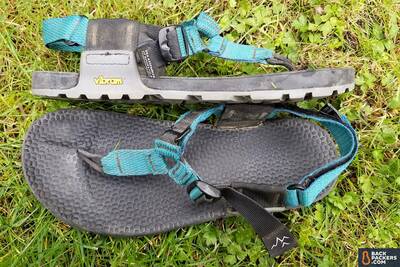 Due to both of those points being very personal preference, I give the Bedrock Cairn 3D a solid four on the scale of comfort.
Durability 
5 Stars
These are the sandals you can test for a year and still need more time to see where and how they break down. The quality-crafted Cairn 3D sandals are heavier than other hiking sandals I have owned, but they are hands-down more capable of offering that sense of stability, confidence, and security.
Soles 
5 Stars
These sandals know what my sole needs. One word: Vibram. Okay, more than one word: heavy-duty traction for hilly walks, no slippage while docking my kayak, and the ability to step on unpleasant things and not feel them poke through. The Megagrip outsoles on this sandal are crazy burly, and give tons of support for a minimalist sandal.
Strap and Webbing 
5 Stars
There are three adjustment strap points — one on either side of the foot, and behind the heel. It is very customizable and simple. Once your fit is set using the inner footstrap and the heel strap, you can loosen and tighten using the sliding strap on the exterior.
The materials are sturdy but do not rough up the feet, instead they hold the feet down for all types of activities, giving the Cairn 3D sandals their reputation.
Fit
The wide footbed and three-strap adjustment points on the Cairn 3D sandals make them friendly for many feet types. One odd, albeit necessary note: if someone has long toes then perhaps try on a couple sizes to make sure the toes aren't creeping over the edge of the sandal.
Grievances
The Cairn 3D sandals are stellar adventure companions, which makes it so hard to tell you my grievances, for fear I will tarnish the bond I have made with them.
My first grievance is that the sock-wearing capability is non-existent to mildly inconvenient. I do not own toe socks, do you? And I was not about to go and purchase a pair, mainly because, well, I hate toe socks for a mini-list of reasons that we can get into over a cup of coffee. I can't fault the sandal for that really, but I can complain about it!
Secondly, my toes occasionally went numb while wearing the Cairn 3D PRO Adventure sandals, typically when standing still or sitting with pressure. My guess is that the shape of the foot bed slightly elevated my toes and created a biological response that my marketing-mind doesn't quite have the authority to speak to. This, however, did not prevent me from wearing the sandals consistently and exhaustively. I powered through because the sandals kick butt in many other ways.
Final Word
If you are looking for comfort, long-term stability, good looks, and adventure, give the Bedrock Cairn 3D PRO Adventure sandals a try. Go ahead, swipe right.
Where to Buy Bedrock Sandals Cairn 3D Adventure
We tested the Bedrock Sandals Cairn 3D PRO Adventure hiking sandals. The sandals are unisex, and Bedrock says a size 6 for women is equivalent to a size 5 for men. The brand doesn't do half sizes, so you'll want to make sure a pair is roughly the length of your foot for a correct fit.
There are a few other models to consider that are very similar. The Cairn 3D PRO Adventure Sandals (what we tested) uses a Vibram Megagrip outsole, while the Cairn 3D Adventure Sandals uses a Vibram Regolith sole. Regolith is better for dry traction, Megagrip is better for wet traction. The PRO version is also a bit more expensive.
Finally, Bedrock offers the original Cairn Adventure Sandals, which are very popular. They are the exact same except for the 3D molded footbed, which offers a bit more support and toe traction. They come in a regular and PRO version as well, with the different Vibram outsoles.
All of these are excellent sandals, and vary based on your preference and activity. Get the pair that fits best with your frequent use.
Compare Bedrock Sandals Cairn 3D PRO Adventure (and regular) prices below.
Review Policy: We do not accept payments or gifts from brands and vendors, and strive to provide unbiased, independent advice. Brands typically provide review samples which we return, and in some cases we purchase the item so we can keep using it long after the review. Affiliate Policy: We support the hours that go into our reviews and testing through affiliate commissions on purchases made through links in this article. These don't effect the outcome of our reviews or selection of gear, as per our Review Policy.