Black Diamond Spot Overview
A headlamp is like a football kicker — you don't think about it until you need him, but at that point it becomes exceedingly important that he does his job. You want your headlamp to be light, packable, durable, long lasting, multi-modal, easy to use, and bright enough to keep the darkness of an eerie wilderness at bay. Plus, wouldn't it be awesome if it was also waterproof?
Pan right as the Black Diamond Spot walks onto the field, then take a wide shot of the crowd as they stand and erupt in spontaneous applause!
That's right outdoor fans — the Black Diamond Spot boasts all of the above features and more — making it our Classic Pick for nearly every Backpacker Type: Wilderness Backpacker, Day Hiker, Car Camper, and Urban Hiker.
Black Diamond Spot Star Rating
Comfort

Durability

Brightness

Battery Life
Summary
The Black Diamond Spot is a classic, powerful headlamp from an industry leader. It features 300 lumens, single button functionality, dimming, a battery life indicator, red and white lights, and PowerTap, which allows you to turn on the light 100% with a single touch.
The Spot puts form with function for a sleek headlamp.
Do yourself a solid and visit our comprehensive headlamp guide to learn more about this essential piece of tech, and see why we recommend the Black Diamond Spot headlamp below. It will be very illuminating.
Update: We tested the Spot in 2017. In 2018 Black Diamond released a slightly updated version of the Spot, giving it 300 lumens instead of 200, which is a large improvement. In 2019 they revamped their entire headlamp line, and the Spot is now called the Spot325. It has 325 lumens instead of 300, a redesigned body that's more compact, an extra button for switching between light modes, a more robust battery life indicator, and slightly updated lights. We have found the Spot to be the most easy, reliable, bright headlamp for its price range, and will be testing the new line of headlamps soon.
Black Diamond Spot Specifications
Feature Type
Feature Specs
What This Means
Max Lumens (Light Output)*
200
More than enough light for around camp. A decent amount for night hiking.
Beam Distance*

High: 80 M (262 feet)

Low: 16 M (52 feet)

Throws a long beam, and goes very low. Good versatility.
Battery Time*

High: 50 hours

Low: 200 hours

Extremely long battery time, which is great for emergencies and extended trips.
Beam Type(s)
Spot, Flood
Can get a long, focused beam or a short, wide beam. Versatile.
Modes
PowerTap, Dimmable, Strobe
PowerTap allows you to switch from a powerful light to lower light with a simple touch. Convenient and works well. All light modes can dim, and a red strobe is included.
Red or Green Light?
Red
Standard red light. Fairly powerful.
Water Resistance
IPX8
Can be submerged in water for over 30 minutes. One of the highest ratings on the market in the outdoor industry for headlamps.
Tilt
Yes
Pre-set tilts that have a wide range, can be adjusted with one hand, and stay put.
Lock Mode?
Yes
In the off mode, press the main button down until you see a small light blink four times. Locked.
Battery Type
AAA
Takes three AAA. Works with alkaline or NiMH.
Headband Type
2 Band
Standard two band headband. Two cinch points in the back.
Weight
3.2 oz. (90.7 g)
Reasonably lightweight.
Manufacturer Warranty
3 Year Limited Warranty
Not the best warranty in the industry, but decent.
Retail Cost
$39.00
For what you get, this is a solid price.
*Studies show that manufacturer claims on Max Lumens, Beam Distance, and Battery Time are inflated compared to traditional ANSI standards. Our listed specs are those of the manufacturer, which are typically accurate for the first 2-10 minutes of the headlamp's use with a full charge. While this is unfortunate, it is currently industry standard, which means most headlamps suffer from these inflated specs and wash across the board.
Gear Review of the Black Diamond Spot
Origins: Easing You In
I have been backpacking and exploring the wilds of the world since Nintendo released its first console (seriously, I just looked it up, 1985.) Unsurprisingly, and like most of you, I've had some form of lighting system on every trip. Yet, to be completely honest, I've spent very little time thinking about the particular kind of lighting.
Then I ran a 50K in Nepal with a borrowed, inferior headlamp and got lost in the Himalayan jungle because I couldn't see the course markings. True story. It ended up being fantastic fodder for a writer (complete with a rescue by local villagers that included a tractor ride across Class III whitewater), but I would have much preferred to cross the finish line and be able to freaking see.
Have you ever noticed that you don't really appreciate something until it has been taken from you? A headlamp is now one of those things for me. And man, I wish I had the Black Diamond Spot during that 50K in Nepal.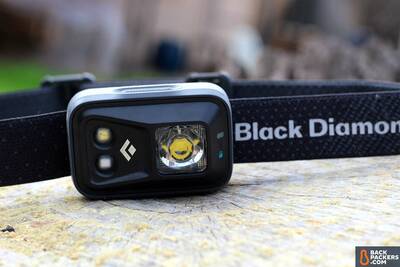 Revelation: The Moment I Knew
After that debacle I was given the Black Diamond Spot headlamp to review; it came with me on an adventure to Pinnacles National Park. As we wound our way upward through an oak forest my headlamp was the last thing on my mind, but when the trail descended into an unexpected and super cool cave system I was suddenly very glad I'd decided to throw the Spot in my bag.
It proved plenty light for navigating the narrow path through the cave's depths. Here, the dimming feature was fantastic. I was able to easily regulate the brightness of the Spot as we crossed patches of the cave system that were lit by varying degrees of arcing sunlight. The more you dim, the better your battery life will be too…but more on that in a moment.
The second revelatory moment came when the sky erupted later that day — great torrents of water crashed down upon us as we went about our camp making duties. My only consolation? I would now be able to fully test the Spot's waterproof capabilities. Yes, it's rated IPX8, which means it's fully submergible in more than 3 feet of water for thirty minutes.
What's a little light rain? The headlamp rocked. We were stubbornly committed to cooking our steaks on the fire come hell or high water, and the Spot performed flawlessly all night. As did the steak. Yum.
Digging Deeper
A few weeks later, a friend and I cross-country skied into Tuolumne Meadows. That's a serious trek, and the sun dropped below the horizon before we reached camp. So we strapped on our headlamps and kept skiing. As we neared the ski hut we were looking for, both of us turned to the left and pierced the night with our dual headlamps.
Guess what? The beam from my Black Diamond Spot clearly reached further, even though my friend was using a headlamp that was supposed to be brighter.
On paper the Spot has a maximum of 200 lumens. Certainly bright enough to night hike in the snow for a while, but definitely not the brightest headlamp on the market. It's clear advertising doesn't always equal reality, but it felt a bit too good to see the Spot outperform a "better" model (which will remain unnamed.)
The next night we skied out to the meadow to check out the New Year's Eve sky. I used the red light on the Spot to illuminate the trail without killing my night vision, which is kind of the point when stargazing. The Spot also allows you to switch to the red light mode without having to cycle through all the other modes, unlike many other headlamps. Very cool.
Comfort
Very comfortable. Some headlamps are oddly lumpy, heavy, or bob unpleasantly on your forehead, but the Spot is snug and light. You are still strapping a foreign object to your face though, so keep in mind that comfort is relative.
Durability
Impressive. I used the Spot in pouring rain and in below freezing temperatures. No issues whatsoever.
Brightness
As mentioned, I was blown away by how bright the Spot was. Brightness can mean the difference between finishing a race and getting lost in a high mountain jungle. It can mean the difference between finding a ski hut and spending the night in the cold. Stay bright my friends!
Battery Life
I used the Spot on two different trips for a total of about 5 hours (much of which was in extreme cold), and didn't have to change the alkaline batteries once. Dimming and using the red light saves battery life over time, but when I had to use the max settings for trail finding at night in the snow, the Spot performed. Of course you should always have at least one set of spare batteries, so it's not really an issue.
Style
Super sexy. I'm married so I'm not on Tinder, but if I was, my profile picture would just be me and my headlamp. I jest. If we can agree that buying a headlamp for style is ridiculous, I will concede that the Spot is sleek and functional, which is really all you can ask for in a headlamp.
Grievances
Two issues to note.
First, I found the headband a little hard to adjust. Yes, I was attempting to resize it in the rain and while it was on my head (so maybe my expectations were simply unrealistic), but I had to remove it from my head completely and spend a few minutes to get the Spot properly sized. Black Diamond updated the headband from last year's model, and it takes some getting used to.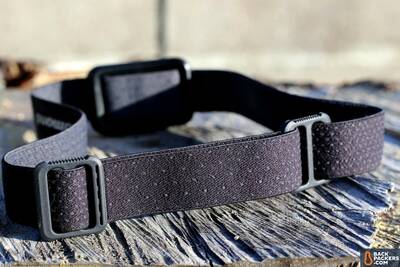 Second, I found all the features a bit hard to learn. For instance, you can supposedly lock the Spot so that it doesn't turn on in your bag and drain battery – a feature I couldn't quickly figure out and therefore ignored – and then it turned on in my bag. The red strobe setting doesn't come naturally, either. After some solid time everything makes sense (a four second press will lock the light), but out of the box it's a head scratcher.
Final Word
Black Diamond was spot-on when creating this headlamp! Wait, wait. This headlamp really hit the spot! All puns aside, the Black Diamond Spot is a superstar that exemplifies all that a headlamp should be. It will help you see a long way, for a long time, in terrible conditions. Perhaps the biggest endorsement I can give? Next time I go to Nepal, I'm bringing the Spot.
Where to Buy Black Diamond Spot
The 2017 edition of the Black Diamond Spot was tested for this review. The updated version offers 300 lumens instead of 200, and small tweaks to the light design.
In 2019 Black Diamond released a further update to the whole line, including the Spot 325, which has be redesigned in a number of ways (see our Update above). You can find both models below.
Compare Black Diamond Spot prices below.
Review Policy: We do not accept payments or gifts from brands and vendors, and strive to provide unbiased, independent advice. Brands typically provide review samples which we return, and in some cases we purchase the item so we can keep using it long after the review. Affiliate Policy: We support the hours that go into our reviews and testing through affiliate commissions on purchases made through links in this article. These don't effect the outcome of our reviews or selection of gear, as per our Review Policy.