Montbell Thermawrap Pro Overview
As a minimalist adventurer I am always in search of gear that meets multiple criteria. Is it practical? Is it efficient? Is it durable? And when I am on the quest for a new synthetic insulated jacket, I have a long list of specific features: Is it packable? Is it good for camping, hiking, and casual biking? Is it washable?
The Montbell Thermawrap Pro is constructed with soft nylon and proprietary synthetic insulation, which makes it surprisingly warm but not bulky. The jacket has an attached hood that can be easily tightened around the face, offers ample storage space with large pockets, and can be washed with regular laundry.
The Montbell Thermawrap Pro synthetic insulated jacket is our Budget Pick for the Car Camper due to its multi-use functionality, commendable features, and low price tag.
Check out our guide to synthetic insulated jackets to see why any Car Camper should consider grabbing a puffy, and read the full review of the Montbell Thermawrap Pro below.
Thermawrap Pro Specifications
Feature Type
Feature Specs
What This Means
Average Weight
Women's 12.9 oz. (365 g)
Men's 15.1 oz. (428 g)
On the heavy side, by a couple ounces, for synthetic insulated jackets.
Insulation
Exceloft synthetic insulation, 80g/m2
Exceloft is proprietary insulation by Montbell, and 80 grams of it is a lot. This means extra warmth and thickness. Read more on synthetic insulation in our Guide.
Shell Fabric
20-denier Ballistic rip-stop nylon
Montbell's proprietary rip-stop. Abrasion resistant, with a solid denier count. Fairly tough. Read more on shell fabric in our Guide.
Lining Fabric
20-denier Ballistic nylon taffeta lining
Tough interior lining, but a little bit sticky and clammy when overheated or against the skin.
DWR Treatment
Standard DWR treatment
This helps to bead off a very light rain or drizzle. It will wear out over time and can be reapplied.
Number of Pockets

2 zippered hand pockets

2 interior drop-in pockets

Large exterior pockets with durable zippers. Interior drop-in pockets don't close, but are a nice touch for storing gloves or small valuables.
Stuffs Into Itself
No. Stuff sack included.
The ThermaWrap Pro is way too large to stuff into itself due to the extra insulation. It fits into an included stuff sack, but packs down pretty big.
Hood/Jacket Option
Only Hood
Montbell only makes this in a hooded version. It's meant for warmth, and it delivers.
Adjustable Hood
Yes
Two toggles to pull the hood in tight, and a hook-and-loop flap on the back to adjust fit. Usable options for full coverage.
Adjustable Waist
Yes
Two toggles in zippered hand pockets to adjust the waist of the jacket and keep in body heat.
Gender
Men's and Women's
Available for both gender's with no major changes except for the fit.
Sizes Available
S, M, L, XL XXL
Plenty of sizes for most people. Comes in three color options for each gender, too.
Manufacturer Warranty
Lifetime Manufacturer Warranty
Products are covered for manufacturer defects and workmanship for the product's lifetime. Wear and tear is on you, but it can be repaired by Montbell for a reasonable cost.
Retail Cost
$219
Not the cheapest jacket, but signifigantly less than most synthetic insulated jackets on the market. You can only buy from Montbell, which keeps their costs low.
Gear Review of the Montbell Thermawrap Pro
Origins: Easing You In
Happily located along the Southern Californian coastline, I'm a fan of convenience camping and spontaneous road trips. It's easy to throw my bicycle and tent in the car and drive to a beach campsite nestled at the foot of a mountain range. (If that sounds ridiculously lovely, you're right, it is.) I take proactive efforts in living a minimalist lifestyle, so I research extensively when looking at new pieces of gear. The new gear, in this case the new jacket, needs to pack easily, keep me warm, and be multifunctional.
In order to test the Montbell Thermawrap Pro's full car camping capabilities — and its merits as a general outdoor synthetic insulated jacket — I packed up my car with my gear, bicycle, and best friend. After an almost-too-easy thirty-minute drive, we set up at a campsite hidden by oak trees with views of the ocean.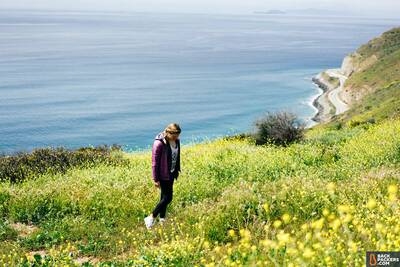 The sun neared the horizon, the wind picked up, the temperature dropped, and the Thermawrap Pro made its way out of my duffel bag. Enjoying the last bit of sunlight, my friend and I went for a casual mountain bike ride on the fire roads behind the campsite. The jacket, while not designed for heavy cardiovascular activity, was a great choice for our mellow, yet chilly, ride.
Revelation: The Moment I Knew
As a female who appreciates apparel that can look good while being good, I have a hard time saying "Yes! to the dress." To the jacket, I mean. Women-specific clothing tends to run tight, come in candied colors, and often makes no attempt to be practical. To me, practicality means I can take the gear wherever I want. It needs to fit seamlessly into my life.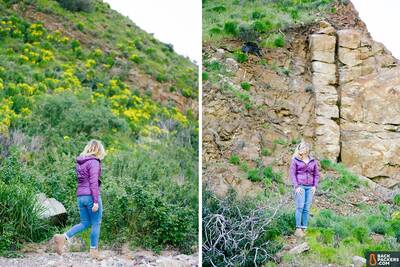 It was not until long after the sun went to sleep that I appreciated the Thermawrap Pro's level of practicality.
First, I layered a flannel and a long sleeve shirt underneath the jacket, yet it still felt light and agile. Too many synthetic puffies make you feel, well, puffy. The Thermawrap Pro is not thin, but it's also not thick and bulky. Layering was a breeze.
Second: I'm a faller. A spiller. My gear needs to fit in with my clumsy ways or it won't survive. That night while on a moonlit beach walk I pocketed my flashlight to better appreciate the atmosphere. The Thermawrap Pro has large zippered exterior pockets and two interior drop-in pockets, which are deep enough to carry bottled beverages and the aforementioned flashlight. Immediately after this I walked into a giant shrub, right as the ground decided to drop twelve inches. The prickly beast of a bush swallowed me alive.
Once I found stable ground and inspected myself, I turned on the light and checked out the Thermawrap Pro. There were no tears on the jacket — phew. The Thermawrap Pro's nylon exterior may feel soft and thin, but it's also abrasion resistant.
I navigated safely away from the shrub and found an empty beach with a clear sky. Dotted bursts of starlight were overhead as I lay down on the cold, wet sand. I put the hood over my ears and tightened the drawstrings, holding in my body's warmth. The Thermawrap Pro stayed snug, and the nylon material was resilient against the chilly wind and damp sand.
Digging Deeper
The Thermawrap Pro rocked an adventure-filled car camp, and there are a few more features worth mentioning that I haven't covered.
Montbell uses Exceloft, which is a proprietary synthetic insulation. It's stuffed quite full — the specs are listed at 80 g/m2 — which is more than most comparable jackets. That is coupled with hidden draw cords in the pockets that allowed me to cinch the jacket around the waist. Basically, it's really warm. It is so warm, in fact, that I can't wear the jacket year-round because I live in a place where sandals are common winter attire.
The Thermawrap Pro has a hood with its own list of features. It can be secured down with hook-and-loop closures (like Velcro) in case someone wants it away from their face, or it can be adjusted and secured with two toggles. Three points of adjustment meant my face was always protected in windy conditions — especially when relaxing on a windy beach at night.
At home I unpacked from my camping trip and threw the Thermawrap Pro into the washing machine. It reeked of campfire smoke and sweat and had a light dusting of grit and sand. My philosophy is that an adventure doesn't count unless something gets dirty. Obviously I need a jacket that can keep up. The Thermawrap Pro washed beautifully, a huge benefit of synthetic insulated jackets over their fickle (yet warmer!) cousins, the down jacket. The Thermawrap Pro came out clean and enjoyed laying out in the sun to dry, regaining energy for it's next adventure.
Finally, Montbell includes a nylon stuff sack, making the jacket compact and easy to pack away.
Comfort
The Thermawrap Pro is surprisingly soft and light for a synthetic insulated jacket. It zipped up easily over base layers without making me feel like a fluffy marshmallow. However, when worn without a base layer and against bare skin the interior nylon material can feel sticky and mildly unpleasant.
Durability
While the Thermawrap Pro and I are still in the honeymoon phase, I feel that the jacket has the power to withstand several seasons of wear. The nylon is abrasion resistant and very forgiving of my tendency to stray from the beaten path.
Fit
While I may not be the woman Sir Mix-a-Lot sings about, I'm also not reminiscent of a twig. Of course, women are all different shapes and sizes, so I will blatantly say that this jacket was tight around my hips. The upside is that tightness acts as insulation and kept in my body heat with ease. For the less hippy, there are elastic drawstrings sewn into the bottom of the jacket in case one needs to tighten them up and retain heat. The men's model is the same, so it's easily adjustable for everyone.
The only fit issue that stood out was the length of the arms. My arms are slightly longer than average for my 5'6'' frame, but I felt that most ladies would appreciate longer sleeves. The sleeves barely covered my wrists, almost reaching my the base of my hands. During cold conditions it was not possible to snug the sleeves down over my hands to prevent my fingers from freezing. The sleeves are also narrowed around the wrist for a snug fit. I assume this is the same as the men's jacket, but haven't tried one out.
Style
The Montbell Thermawrap Pro comes in three colors for women; fuschia, cherry red, and black. While color may be the most trivial (perhaps vain) feature, we all know it can play a huge part in our purchase, especially if the piece is intended for everyday adventuring. While I am a simple go black or go home type of gal, I fell in love with the Thermawrap Pro for its fit and comfort. In the end pigment doesn't matter so much, and there's a black option for those that want it.
With a form-fitting style and non-bulky fill, the Thermawrap Pro is a stylish, yet practical, choice for any fashion-focused car camper.
Grievances
If I'm honest, it took a while to come up with a legitimate concern for the Thermawrap Pro. It has small issues here and there, but that's going to be true of any piece of clothing.
After wearing the Thermawrap Pro in a variety of situations beyond the car camping scenario, such as hiking or causally riding my bicycle, I will note that the breathability is a concern. The jacket performed admirably for car camping and is perfect for non-sweaty activities. However, the ability to be used in cardio activity is a qualifier for me in jacket choice, and I found it easy to get overheated while wearing the Montbell Thermawrap Pro.
One other concern is that the soft nylon material is porous, making it an easy target for stains. While enjoying campfire cooked sweet potatoes doused in coconut oil I accidentally tipped my plate, causing the hot and oily spud to land on the front of the Thermawrap Pro. I cleaned it off the best I could in the moment, but the jacket will forever bear evidence of my clumsiness. I will note that I have washed the jacket multiple times since the incident and the stain is barely noticeable.
Final Word
Ever had jacket-envy when all your friends are wearing their sleek puffies around the campfire? Well, now is the time to kick in the ugly face of jealousy! The Montbell Thermawrap Pro is an affordable, lightweight, practical, and warm option for camp-side strutting.
Where to Buy Montbell Thermawrap Pro
The Women's version of the Montbell Thermawrap Pro was tested for this review. There's also a men's version, of the same name, which has the same features and materials, while the fit is different. You'll find both items below for purchase from the Montbell website. Montbell is a Japanese manufacturer, and is not found in online retailers or most big-box stores. They do this to keep prices low and assure quality of their products across the board.
Review Policy: We do not accept payments or gifts from brands and vendors, and strive to provide unbiased, independent advice. Brands typically provide review samples which we return, and in some cases we purchase the item so we can keep using it long after the review. Affiliate Policy: We support the hours that go into our reviews and testing through affiliate commissions on purchases made through links in this article. These don't effect the outcome of our reviews or selection of gear, as per our Review Policy.