Nalgene ATB Bottle 22oz Overview
Using disposable plastic water bottles is a thing of the '90's. People are getting wiser about their plastic consumption and trash output by investing in bottles that function beyond holding water once, and they typically want something durable and ergonomically pleasing. Nalgene is a leader in the water bottle industry and a maker of a classic, the Wide Mouth 32oz bottle (the one that looks better every time you put a new sticker on it).
The Nalgene ATB 22oz looks nothing like its uber popular brethren, but it's still an inexpensive, durable option for the active person who needs a water bottle and a lid that pops up to keep out the grime. The All Terrain Bottle (ATB) holds 22 ounces of water, is shaped by a malleable yet tough plastic body, and has a unique plastic spout that is protected by a clear pop-up bubble. Living up to its spill-proof reputation, the ATB's locking mouthpiece is a convenient and classic way to drink on the move.
For its cost, history of hydration, and versatile form factor, we are awarding the Nalgene ATB 22 oz. bottle our Budget Pick award for the Wilderness Backpacker, Day Hiker, and Car Camper.
See why we recommend the Nalgene All Terrain Bottle 22oz for active lifestyles below.
ATB Bottle 22oz Specifications
| | | |
| --- | --- | --- |
| Feature Type | Feature Specs | What This Means |
| Weight | 3.75 oz. (106 g) (when empty) | Extremely lightweight for a bottle made of such durable plastic. |
| Volume | 22 oz. (650 mL) | Holds enough water to hydrate you without being too heavy. |
| Body Material | LDPE | Low-density polyethylene is used in a lot of plastic substances, most notably plastic bags. In this water bottle is it durable, and a tiny bit malleable. Hard to break. |
| Mouth Type | Sipper and Wide | The ATB is a sports bottle with a pop-up sipper mouth that you can drink from. The full lid unscrews and it is very wide. |
| Lid | Pop Cap | The lid has a clear cap that protects the sipper from dirt. It pops open easily, and closes the sipper automatically when closed. |
| Height | 9.5 in. (241 cm) | A fairly tall bottle. |
| Base Diameter | 2.75 in. (70 cm) | Fairly narrow bottle. Will fit in most cup holders, bike cages, and all backpack pockets. |
| Mouth Diameter | .5 in. (1.27 cm) | The sipper has a tiny diameter, making sure you don't spill easily. |
| Free Of | BPA, BPS and Phthalate | The plastic used is free of all known harmful chemicals. |
| Other Sizes | 32 oz | Nalgene offers the same bottle-type and cap in a 32-ounce capacity. This is nice, but too big for active hydration. |
| Manufacturer Warranty | Subject to Submission | Nalgene is so huge that it doesn't have a listed warranty. However, there are reports of people sending in broken Nalgene bottles (which is rare) and Nalgene typically replaces them for free. Your use will vary. |
| Retail Price | $7.50-$9.00 | Cheap for a bottle that will last a long time. |
Gear Review of the Nalgene ATB Bottle 22oz
Revelation: The Moment I Knew
The first outing with the Nalgene ATB was to the gym for a spin class after a mildly embarrassing life blooper. I was teaching the class (gotta keep up on that cardio during the 40-hour city grind) and the week before I had brought my MiiR 27oz stainless steel bottle, placed it cautiously in the center console bottle holder without the lid, and go figure, I knocked it over, spilling water down my shoes and across the floor.
After that incident the Nalgene ATB became my new gym companion. It keeps water inside and dirt out, and is always easily accessible during a time when screwing and unscrewing a lid is just not realistic — when I'm sweaty and yelling at others to get more sweaty, lid-screwing is not necessary. The ATB has a simple pop lid with a sucking drinking motion — it's not dirty, I promise. Almost no hand is required, and no lid to fiddle with. Just for a good measure, I purposely knocked it down in class and the lid did not break nor did the water explode everywhere.
Good work, ATB, you passed the gym test.
Digging Deeper
Lid
This section has been broken down into two categories because the lid comes in two significant pieces: the Top Cover and the Sipper (names entirely created by me!).
The Top Cover is a plastic dome with a pop-up lever that protects the Sipper. Said plastic dome pushes down and locks into the bottle, preventing spills, and can easily be removed by unhinging the plastic hinge piece (thingamajigger if you need the technical term). The bubble lid cover is sturdy, and reminds me of UFO's. This is okay because I am cool with aliens and would be stoked to introduce them to backpacking and discuss our perspectives of the stars.
The Top Cover pops reliably and keeps water in, and dirt out.
The ATB has a unique bottle spout mouth piece — the Sipper — that differs from standard cycling bottles that have the soft plastic spout. The ATB mouthpiece is actually a hard plastic piece with a mini ledge at the water spout. Mini ledge, you ask? Yes, the ledge is there so your teeth can pop it open easily during active moments. This is common among sport water bottles, but the hard plastic Sipper means it'll last a long time instead of getting chewed up like most other bottles.
But — and it's a big but — the pull is pretty tight. I refrained from this method because I like my front teeth just as they are and was worried about all the over-biting I'd have to do. Instead I simply pulled the mouthpiece open with my fingers (gasp!). This works, but I think putting grubby hands on the mouthpiece defeats the purpose of the space dome protector.
If you have teeth of steel the Sipper may be just right for you.
Durability
Nalgene has a reputation for durable, lightweight, lifeproof bottles, and the ATB does not stray from the family tree. The ATB is convenient and inspires confidence with its thick plastic and non-flimsy construction. However, it's not the same super-hard plastic (officially known as Tritan Plastic) used in the more popular Nalgenes. It is a bit softer, which encourages you to squeeze the bottle, but I couldn't really squeeze the bottle — whether that was due to weak hands or strong plastic, it's hard to tell. It sits in between an easy squeeze and the incredible hardness of your typical Nalgene.
Form Factor
The shape of the ATB 22oz is an exaggerated classic bottle form with a narrower middle, allowing for easy hand holds and carrying. The diameter of the bottle is standard and fits into all cup holders, side pouches, and bicycle bottle cages, making it an all-around all-terrain kind of bottle.
Drinkability
Nalgene makes solid bottles that many of us have likely stored in our cabinets (or on our nightstands). The ATB can easily become a nightstand companion and adventure hydrator. If anything, the ATB outshines other bottles because taking a sip from it at 2 a.m. is not a splashy experience. Raise your hand if you've ever spilled half a Nalgene on your face in bed!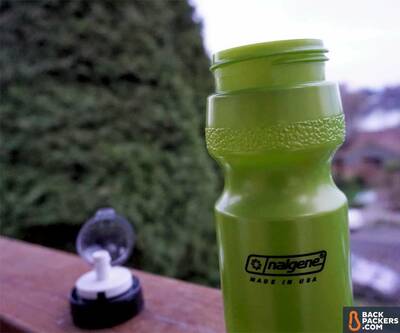 Other than the Sipper being too tough for my teeth, the actual drinking is pleasant and concise.
Grievances
While I wouldn't say this is a bad bottle by any standard, I would say the Nalgene ATB 22oz is for people who like this particular style of bottle. As you'll find out from a lifetime of water bottle usage — this category of gear is surprisingly specific to the user. That's why there are so many on the market (and in the sea, but that's another discussion), and why people go through many before finding "the one" bottle to rule them all.
Take a look at the pictures — envision you and the ATB, merrily skipping along whatever path of life you take it down. Is it functional for you? Is it suiting your hydration needs? Do you enjoy the UFO space bubble on the top? Do you want a pop-up Sipper that is tough to open but durable? Give it a thought, consider this review like a synopsis of an online dating profile…for a water bottle.
When it comes to my personal preference I opt for another family member of the Nalgene tribe: the classic 32 oz Wide Mouth. It is more convenient for traveling purposes when you have a carabiner, it is what I use to gauge my daily water intake, and is a solid unit of measurement for everyday size comparisons.
If you want a smaller, active hydration kind of bottle, consider the time-tested yet inexpensive Nalgene ATB 22oz bottle. If you don't — don't come complaining to me when you get it and don't like it.
Final Word
Nalgene continues to churn out high-grade bottles that hold their shape during any type of activity. The ATB 22oz. is a true all-types of all-terrain bottle meant for those who want to hydrate on the go.
Where to Nalgene ATB Bottle 22oz
You can find the Nalgene ATB Bottle 22oz in brick and mortar stores like Target, Wal-Mart, etc. and online. They have made this bottle for a long time, and it's a standard. They do offer a 32-ounce version, but we think that form factor is too big to need active hydration, and would prefer the classic Wide Mouth in that size.
Compare Nalgene ATB Bottle 22oz prices below.
Review Policy: We do not accept payments or gifts from brands and vendors, and strive to provide unbiased, independent advice. Brands typically provide review samples which we return, and in some cases we purchase the item so we can keep using it long after the review. Affiliate Policy: We support the hours that go into our reviews and testing through affiliate commissions on purchases made through links in this article. These don't effect the outcome of our reviews or selection of gear, as per our Review Policy.