NEMO Forte Overview
The world of sleeping bags can often feel like a cozy maelstrom of choices — there are so many models to choose from, all touting a laundry list of features and specs . We value a few critical things when looking at a bag: reasonable warmth, functional features, comfortable design, and a price point that matches what you're getting.
The NEMO Forte 35 is a unique bag that hits each of the marks above. It is one of NEMO's "spoon bags" — a design that's in response to the general discomfort of the classic mummy bag. It provides way more space around the knees to stretch (built for side-sleepers, primarily) and traps almost as much body heat. It also has NEMO's pillow pocket, small items zippered pocket, and Thermo Gills, which are two zippers on the front of the bag that can adjust the temperature.
Due to the features and price we're awarding the NEMO Forte 35 our Classic Pick sleeping bag for Car Campers. We like the wider design, and feel most campers will prefer this over being wrapped in a mummy bag. And with it you've got a solid backpacking bag on hand, too, for those campers who are also Wilderness Backpackers!
Check out our full guide to sleeping bags, and read the full NEMO Forte 35 review below.
NEMO Forte 35 Star Rating
Comfort

Warmth

Durability

Fit
Summary
The wide array of NEMO's features add up to a unique sleeping bag, and the synthetic insulation means the Forte 35 has an affordable price tag. It packs small, and the weight makes it excellent for summer backpacking or nearly year-round camping (with extra blankets, of course!).
NEMO Forte 35 Specifications
| Feature Type | Feature Specs | What This Means |
| --- | --- | --- |
| Weight | 2 lbs 7 oz. (1.1 kg) | Not crazy light, but not super heavy either. A decent weight for a synthetic 35-degree bag. |
| Type | Spoon Bag | NEMO's Spoon Bags have more room in the hips and knees to allow comfy side sleeping. A major feature of this bag. |
| Size | Regular, Long / 6'6″ (198 cm),  7′ (213 cm) | Offered in two sizes, the Forte 35 should fit most people. |
| EN Rating | 27 F Lower Limit | This bag is tested to a Lower Limit of 27 F. The suggested 35 F is for comfort, and is pretty accurate based on use. Read more about how temperature ratings are determined in our guide. |
| Insulation Type | Synthetic, Stratofiber | Stratofiber is the name of NEMO's synthetic insulation. It provides solid loft and heat for a synthetic material, is water resistant, and packs down quite small. Read more about sleeping bag insulation in our Guide. |
| Fill Weight | 18 oz (510 g) | The bag's weight is nearly half insulation, which is a good sign it will be warm. Our tests proved this to be true. |
| Shell Fabric | 40D Nylon Ripstop DWR | A burlier fabric than most lightweight sleeping bags. The fabric feels thick, yet is nice to touch. Read more on sleeping bag and quilt shell fabric material in our Guide. |
| Lining Fabric | 30D Nylon Taffeta DWR | Very comfy and sturdy lining fabric. Feels good against the skin. |
| Water Resistant? | Yes | With DWR coating on the interior and exterior and synthetic insulation this bag is quite water resistant. |
| Baffle Pattern | Vertical | This bag uses vertical baffles, which aren't the best for warmth but are best for moving around. Read more on sleeping bag and quilt baffle patterns in our Guide. |
| Zipper Length, Type, Placement | Full Length Left Zipper, Double Slider, #5 YKK | A solid zipper on the left-hand side. Snags a normal amount. |
| Draft Tube? | Yes | A decent draft tube runs along the zipper to prevent cold air from seeping in. |
| Neck Baffle? | Yes (Comforter) | The Blanket Fold is insulated fabric that you can cover your face with, stuff in around your neck, or leave off if you're warm. Works very well. |
| Pocket? | Yes | Small zippered pocket for electronics or a headlamp. |
| Manufacturer Warranty | Limited Lifetime Warranty | NEMO offers an excellent warranty on its products, so if pieces of this bag fail, like the zipper, get in touch. |
| Retail Price | $159.95 | A fair price for a high quality synthetic sleeping bag. |
Gear Review of the NEMO Forte 35
Origins: Easing You In
I'm one of those people that prefers a sleeping bag to blankets when I travel, and when I sleep in the outdoors, I'm looking for cozy. I've used high-end down bags like the Western Mountaineering UltraLite and super basic bags like REI's Trail Pod series. Every bag has its positives and negatives, and what excited me about the NEMO Forte was the smattering of features — all very high-end feeling and engineered well, classic NEMO — coupled with the surprisingly affordable price tag.
I am also the type of person who, when sleeping in a mummy bag, constantly wakes up with the hood underneath my head and the zipper pressing into my chest. Not exactly cozy. A side-sleeper bag seemed like an obvious fix for me, and NEMO's Spoon Bags series (there are a few versions of them) have a great reputation, so I wanted to put it to the test.
I took the Forte on three big trips. First, a 5-day late summer backpacking trek in the Sespe Wilderness. Mileage was low and camp comfort was the name of the game. The NEMO Forte 35 performed admirably — it allowed me to sleep on my side, back, stomach, and twisted up any-which-way. The features were easy to use right off the bat, and I slept (and lounged) without issue.
The second trip was a car camp on a friend's property, a few miles from the little coastal town of Cayucos. Two nights, late-night games, and a surf sessions galore. Once again, and in colder temps (low 40's), the NEMO Forte 35 did not disappoint.
The final trip was a January car camp in San Simeon Creek Campground, just south of Big Sur. Temperatures dipped low again, and I found the Forte 35 to be quite cozy.
Revelation: The Moment I Knew
It's funny to have a revelatory moment in the few seconds after you wake up, basking in the afternoon sun of a solid nap, but that's where mine came. Backpacking in the Sespe Wilderness in summer means heat. And heat makes me sleepy.
I took a few naps during the peak heat throughout my five days on the trail — right around 90 degrees and dry as can be — seeking the shelter and shade of my tent. Now, you might say that 90 degrees is a terrible temperature in which to even use a sleeping bag. Normally I would agree.
But I tend to sleep better when there's a light cover over me, and all I had was the Forte. I unzipped most of the bag, slipped inside, covered myself, and zipped down the Thermo Gills. This is a fancy name for two temperature-regulating zippers on the exterior of the bag, right near your torso. When closed, they give the bag its full warmth. When open, they let the bag breathe a bit more.
I slept like that, and awoke feeling covered without overheating. To me, that is a huge feat, and makes for a very versatile sleeping bag. That moment was coupled with the built-in pillow pocket, which I had stuffed with my down jacket, for an extremely comfy nap.
Digging Deeper
Now, I'm fully aware that a story about how a sleeping bag performs in 90 degree weather is not the most realistic use case. So, let me assure you, when temps dipped into the low 40s I zipped those Thermo Gills up, closed it all the way, and cinched the hood tight. And it was just as comfy.
The Forte 35 nearly holds true to the 35 degree temperature rating, but it won't overwhelm you with warmth. I used a beanie when things got colder, and slept on a down jacket stuffed into the pillow pocket, adding a bit of extra warmth around my head. What really ups the warmth factor is the small comforter that comes out near your neck. You can arrange this easily to cover your whole neck and face, or move it out of the way. Instead of adjusting the hood, or using another piece of clothing, this small bit of insulated fabric allowed for near-perfect head temperature adjustments in the dark.
The hood is interesting on the NEMO Forte. It's taller and wider than your standard mummy, which took some getting used to. It does have cinches to pull it really tight around the face, which worked well and was more comfortable than other bags I've tried, but it was also a little awkward for more casual use. The top of the hood really wanted to either fall down to my eyes, or not be anywhere close to my head. I think the design could be a little rounder and closer to the head.
The small zippered pocket worked well to store and warm my phone, but the pillow pocket was a true highlight. I'm always struggling to find the perfect pillow set up in the wild, especially because as a side and stomach sleeper most bubbly pillows — filled with air! — are not what I'm looking for.
I took the NEMO Fillo backpacking pillow on this trip, and while it was better than other air pillows I've tried, in the end I didn't use it. Instead, I found the Forte's pillow pocket to be absolutely perfect when I stuffed my down jacket inside. With a little rearranging I had a solid down pillow that wouldn't move, and had no air inside.
The outer material of the Forte is plenty durable, and the inner feels great against the skin. Some synthetic bags have a tendency to get stiflingly hot — not so with the Forte 35.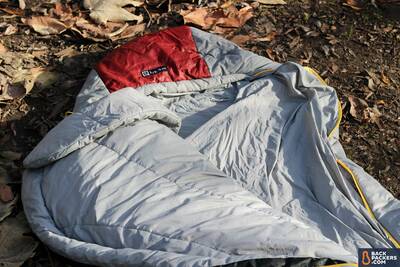 Finally, the Forte 35 packs down extremely small for a synthetic bag. The included stuff sack is high quality, and I never had an issue stuffing it in there. I was really blown away by how small this got, making it a perfect camping/backpacking crossover bag.
Overall this bag's features are outstanding for the cost, and I used each of them.
Comfort 
4 Stars
Spoon Bag for the win. I have never slept more comfortably in the outdoors, specifically because I could lie on my side, knees splayed, without feeling totally cramped. The bag did not shift in the night, and the toe box is well shaped to let your feet splay.
The hood is the only element that wasn't quite right, and thus I dock a point. It wasn't a huge issue, but when it got cold I had to choose to either have the hood totally clamped down or mostly off with a beanie. I also think the draft tube is too soft, which allows the zipper to get stuck about half the time you're zipping up. Most bags suffer from this, so it's not terrible, but I hoped to see a stiffer tube material to prevent this.
Warmth 
4 Stars
For a synthetic 35-degree bag, the warmth on the Forte 35 was almost true to form. It performed decently in 40-degree temperatures but did suffer in the 5 a.m. hours, mostly due to the spoon bag shape. My legs were a little cold, and every time I switched positions I could feel the cold sleeping bag material that my body hadn't occupied in a while. This is typically why mummy bags are the best for warmth.
All that said, most sleeping bags are not 100% true to their temperature ratings, so the Forte 35 does pretty well. Plus I was still cozy at 90 degrees due to the Thermo Gills, which are a fantastic feature for dialing in your warmth.
Add the small comforter that you can literally cover your face with if you want, and I think this bag is quite versatile in its warmth.
Durability 
5 Stars
While I haven't scraped this bag over a jagged pile of rocks, I lived in it for five days, and have not been kind to it. Nary a scratch, rip, or tear on the thing. The zippers and draft tube are made well, but I wish they did not catch as much as they do.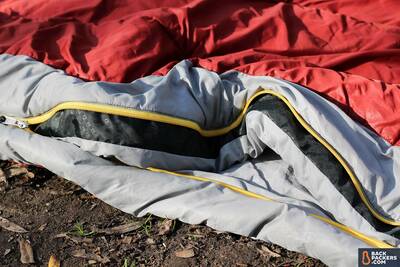 For its price, this will last a very long time.
Fit 
5 Stars
The fit on the Forte 35 was outstanding. Room in the shoulders, and room in the hips. This allowed me to sleep on my side or stomach with ease, and roll around in the night without getting tangled up.
Grievances
The only real grievance I see with this bag is the shape of the hood. I'd like it to more casually cover my head without enveloping it completely. I opted not to use it most of the time and just wore a beanie because I didn't want fabric over my eyes and nose. That said, when it got down to 35 degrees I did use the hood, and when fully cinched it worked well, but there wasn't a good medium setting.
The draft tube catching is annoying, but it's no worse than the majority of the bags on the market, so I can't fault them much for the price.
Final Word
The NEMO Forte 35 sleeping bag is a side-sleeper's dream. Synthetic, feature-filled, and reasonably priced. Join the Spoon Bag movement.
Where to Buy NEMO Forte
We tested the NEMO Forte 35 in size Regular. It also comes in Long. The Forte line also comes in a 20-degree version, which weighs a bit more and has more insulation meant for colder temperatures.
NEMO also offers the women-specific version of this bag, called the Viola 35 and 20. The Viola has all the same features but is shaped a bit differently to fit a women's physique. It's also a bit heavier to account for women usually running colder than men, thus keeping the degree rating the same across both genders.
Finally, NEMO offers a down line of Spoon Bags, which utilize the same features and shape, but have down insulation of varying qualities. The mid-range versions are called the Disco (Men's) and Rave (Women's), have 650-fill down, and compress quite small. The high-end versions are the Riff (Men's) and Jam (Women's), have 800-fill down, and are premium sleeping bags. All are offered in 15 and 30 degree versions.
While the above are excellent, for a relatively affordable synthetic bag with plenty of room and features for comfort, we like the Forte and Viola.
Compare NEMO Forte and Viola sleeping bag prices below.
Review Policy: We do not accept payments or gifts from brands and vendors, and strive to provide unbiased, independent advice. Brands typically provide review samples which we return, and in some cases we purchase the item so we can keep using it long after the review. Affiliate Policy: We support the hours that go into our reviews and testing through affiliate commissions on purchases made through links in this article. These don't effect the outcome of our reviews or selection of gear, as per our Review Policy.