Outdoor Research Cathode Hooded Jacket Overview
When I get a new piece of gear, I expect it to simply work. Not just in one specific setting, but through a variety of adventures and temperature changes. As an Ultralight Backpacker keen on making big miles each day, the last thing I want to spend time doing is taking on and off layers to accommodate for the smallest temperature fluctuation.
The Outdoor Research Cathode Hooded Jacket offers versatility for a wide variety of adventures. Its PrimaLoft Gold insulation has enough warmth to take me from chilly mornings to sun-baked snow climbs to evenings relaxing around the fire, and there's ample breathability to vent away perspiration while hiking hard.
The Outdoor Research Cathode Hooded Jacket is our Budget Pick for the Wilderness Backpacker and Day Hiker because of its stellar performance across a variety of conditions, its moderate price tag and frequent availability on the sale rack, and the Infinity Guarantee that comes with all Outdoor Research products.
Outdoor Research Cathode Star Rating
Comfort

Durability

Warmth

Breathability
Summary
The Outdoor Research Cathode Hooded Jacket is an insulated synthetic midlayer that's all about breathability. It uses premium materials like PrimaLoft Gold Insulated and a Pertez Quantum shell, and has a stretch double weave on the sides for maximum flexibility and breathability. It packs into itself, is warm enough to wear around camp, and shines on extended hikes and backpacking trips. While it's not cheap, it's significantly less than its competition.
Read the full review of the Outdoor Research Cathode Hooded Jacket below, and make sure to check out our comprehensive Guide to Synthetic Insulated Jackets. It's a complex category of gear, and we've covered every aspect of it.
Outdoor Research Cathode Specifications
Feature Type
Feature Specs
What This Means
Average Weight
11.3 oz. (321 g)
Fairly average weight for a synthetic insulated jacket with a hood. Not the lightest, not the heaviest.
Insulation
Primaloft Gold 60 g/m2
Primaloft Gold is the high-end industry standard for synthetic insulation. The Cathode has 60 grams of it stuffed inside (per meter squared), which is also standard. Lots of warmth. More information on synthetic insulation types in our Guide.
Shell Fabric

Pertex Quantum 100% nylon 22D ripstop shell

50D stretch double weave underarm panels

Pertex Quantum is the industry leader in most synthetic shells. It's durable, lightweight, and abrasion resistant. The Cathode has stretchy side panels, which help with breathability and mobility. More information on shell fabrics in our Guide.
Lining Fabric
Pertex Quantum 100% nylon 22D ripstop shell
Lining is the same as the shell fabric. Durable, fairly soft, and not too clammy. The mesh panels make breathability possible.
DWR Treatment
Yes
Standard DWR treatment makes light water bead off the jacket. After enough uses/washes it will need to be reapplied.
Number of Pockets

2 Hand Pockets

1 Exterior Chest Pocket

Three overall pockets allow for ample storage and a place to put your cold hands. All function well.
Stuffs Into Itself
Yes
Stuffs into the left-hand pocket, which has a carabiner loop for easy clipping to a harness or backpack.
Hood/Jacket Option
No
Only offered with a hood (or as a vest, but that's entirely different).
Adjustable Hood
Yes
A single adjustable hem and toggle on the hood lets the hood synch down completely. It's roomy and well designed.
Adjustable Waist
Yes
Two adjustment points in the waist allow for further insulation. Tighten them up if you're chilly!
Gender
Women's, Men's
Offered for both genders in three colors. Builds are the same except for fit.
Sizes Available
XS-XXL
Decent range of sizes, but XS is only for women, and XXL is only for men. Make sure you get a jacket that fits.
Manufacturer Warranty
Infinity Guarantee
Lifetime warranty for all products. Outdoor Research has an excellent warranty policy and customer service. If the jacket fails you, reach out.
Retail Price
$199.00
Steep retail price for a Budget Pick, the Cathode Hooded Jacket is often on sale. You can find it half off pretty regularly.
Gear Review of the Outdoor Research Cathode Hooded Jacket
Origins: Easing You In
Sometimes it feels like I'm surrounded by small things. My apartment is tiny, my tent is small, and my backpack, which I live out of nearly every weekend, is minimalist. So when it comes to gear, I'm not the type of person who's going to have a separate piece for every condition. On most trips I'm likely to have only one of each item I need, and I need each item I carry to serve multiple functions. (In case you're wondering, that's basically the Ultralight Backpacker mindset in a nutshell.)
When I took the Outdoor Research Cathode out on my first trip — a 45-mile, two-day backpacking excursion through the San Rafael Wilderness — I knew it would have to serve a variety of functions. The Cathode made its first appearance as I left my car and hiked off into the chilly morning. The synthetic insulation kept me warm in my running shorts on a 40 degree morning (Fahrenheit), while the mesh side panels wicked away sweat as I trudged uphill.
I was pleasantly surprised at how well the jacket fit under my backpack; there was no need for constant re-adjustments. The Cathode has a fitted design that stays put under straps and hip-belts with no bunching or riding up.
As the sun rose on that first day, I stowed the Outdoor Research Cathode, packing it into its left-hand pocket. The process was simple, and it packed down small enough to fit easily into my backpack. Later, when I made camp, I realized the packed size and shape could also double as a pillow. Versatile.
The sun had set by the time I arrived to camp, and the Cathode came out the second I stopped hiking. The Cathode performed admirably in keeping the post-exercise shivers at bay as I made dinner and set up my tent for the evening.
Revelation: The Moment I Knew
First off, I hate being hot when I hike…or maybe I just hate sweating. Whatever the reason, I'm usually the last person to put a jacket on, and the first to take it off once I get moving again. And before you ask: Yes, I was that kid in shorts in the winter.
However, the Outdoor Research Cathode totally blew away my preconceived notions as to how long a puffy could be worn while hiking. The first trip I took it on I wore it long after the sun had made its way into the valley I was hiking through, hours longer than I would normally have kept even my base layer on.
This jacket not only breathes well, but it also insulates. I know that combination seems unlikely, but I found it to be true on two occasions.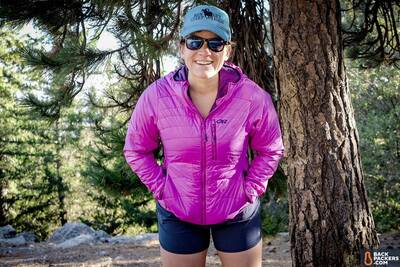 First, on my hike through the San Rafael Wilderness someone who-shall-not-be-named accidentally plunged their entire right arm into a river while filtering water. (Hint: it wasn't Voldemort.) With a down jacket you'd be seriously bummed, and seriously cold for a few hours while it dried. The Outdoor Research Cathode was dry in about an hour.
My next experience with The Outdoor Research Cathode was on a much more critical trip. I took the jacket on a snow travel and safety weekend in Mammoth Lakes, CA. A weekend where I knew I'd be postholing uphill for hours, glissading on wet California snow, and standing for long periods of time consulting maps. The jacket performed admirably, wicking away sweat during hard efforts, and keeping me warm while standing around or after sliding through the snow.
Breathability and insulation rarely go hand-in-hand. With the Cathode, I had both at my disposal.
Digging Deeper
The Outdoor Research Cathode is stuffed with all the features of a more expensive jacket, and better yet, they all perform well. Seriously, this jacket has some wizardry going on in there!
As I've already mentioned, this jacket is the bomb dot com when it comes to insulation plus breathability. Outdoor Research uses 60 g/m2 of PrimaLoft Gold synthetic insulation, paired with a Pertex Quantum shell material to keep you toasty warm while on the go or in front of the campfire at night. This is premier insulation, yet it's paired with breathable side and under-arm panels, which means that you don't have to stop every five minutes to adjust your layers.
Another feature that impressed me was the hood. It's big enough to accommodate a hat and a pony tale — an absolute must for me — while still closing down nicely around the face to keep the chill out. The hood, paired with a nice and roomy neck, means that I can keep warm on the trails as the sun and temperature drops, while still having enough neck mobility that I can whip my head around to double check that the stick I just heard breaking wasn't a cougar come to eat me. For real people, these are important things.
And last, but certainly not least, the Outdoor Research Cathode is comfortable. It provides a host of features that I really came to appreciate the more I wore it.
First, the lining material feels great directly against your skin. No weird plastic feeling; the Cathode feels soft with smartly placed seams to prevent rubbing. Next, I was really pleased by the cuffs: no extra fabric or weight, just a simple cinched closure that fit nicely around my wrist, but was still loose enough to allow me to check the time on my watch. Finally, the zippers feature big pulls and teeth, meaning I didn't have to spend my time prying fabric from the zipper, and I could get to my snacks without taking my gloves off. Snacks are life.
Comfort
I know that "forgettable" isn't exactly how manufacturers want their gear described, but it's the highest praise I can give the Outdoor Research Cathode. Where this jacket truly excels is on the trail, keeping you warm without overheating, worn under a pack without bunching or riding up. It's comfortable to the extent that you forget you're wearing it.
Durability
I tested this jacket on three separate trips, through dozens of unceremonious stuffings into a bag, crammed into dark spaces alongside other gear, and miles of hiking under a backpack. The Outdoor Research Cathode shows no sign of wear and tear. It's always hard to know how a piece of gear will last years down the line, but even after a few brief weeks with this jacket, I have a strong inkling that it can handle a beating and keep going.
Fit
The fit of this jacket definitely falls into the "fitted" or "slim fit" category, meaning that it will hug your frame with no bagginess or extra fabric. This means it's great for wearing under a backpack or a climbing harness as you won't have to deal with extra fabric bunching up. However, if you plan to layer anything more than a thin thermal underneath, or simply prefer a looser fit to your clothing, I would strongly suggest buying one size up.
Style
I'm actually quite partial to the styling of this jacket. It looks good while worn, and could easily take you from the trails to your favorite vegan smoothie place, if you're into that sort of thing.
Grievances
My biggest issues with the Outdoor Research cathode are largely applicable to the women's fit of the jacket, and can be distilled down into two words: boobs, and color.
Let's start with the boobs. This jacket is strangely tight around the chest area. I passed the jacket around to several girlfriends and we all agreed, if you're bigger than a B-cup, you're going to want to size up. The men's version likely doesn't have this problem, but it's worth noting that it may be tight across the chest as well.
Next, the colors. You have exactly three choices: bright "ultraviolet' pink, "baltic/typhoon" blue, and black. I thought 2017 was the year that manufacturers would move past the "shrink it and pink it" mentality, but it appears that's not the case with this Outdoor Research offering. To be fair the blue is a step in the right direction, and the men's version also only has three colors. But why is it always pink?
If you do buy the pink version you should feel very safe in the backcountry as you'll be visible from space should you need rescuing.
Final Word
The Outdoor Research Cathode is my set it and forget it jacket. It's comfortable, warm, breathable, and ready for any adventure. And best of all, it's now available in "so bright you can see it from space" pink!
Where to Buy Outdoor Research Cathode Hooded Jacket
A Women's Medium Outdoor Research Cathode Hooded Jacket was used for this review. The jacket is also made for men. It's called the same thing, and is exactly the same except for fit and the baffle pattern, which Outdoor Research has tweaked to better insulate both genders. This jacket is only offered with a hood. You can find both the men's and women's' Outdoor Research Cathode Hooded Jacket below.
Review Policy: We do not accept payments or gifts from brands and vendors, and strive to provide unbiased, independent advice. Brands typically provide review samples which we return, and in some cases we purchase the item so we can keep using it long after the review. Affiliate Policy: We support the hours that go into our reviews and testing through affiliate commissions on purchases made through links in this article. These don't effect the outcome of our reviews or selection of gear, as per our Review Policy.