Outdoor Research Helium Pants Overview
The Outdoor Research Helium Pants are a lightweight and breathable rain shell that'll protect your legs in a minimal storm. They weigh in at a nice and light 5.5 ounces and pack down quite small into their back zip pocket, making them a no brainer to toss into whatever backpack you're carrying.
I've been a fan of the Helium line (Outdoor Research makes a jacket as well) for a few years and was happy to test out these pants in the very wet, very muddy mountains of Southwest Colorado.
For the clean features, low weight and small pack size of these pants, we have selected them as our Classic Pick rain pants for the Ultralight Backpacker.
Outdoor Research Helium Pants Star Rating
Comfort

Durability

Breathability

Waterproofness
Summary
The Helium Pants are considered a staple rain pant for many backpackers concerned with ultralight gear. They have a basic ankle zip and just one pocket, making them as streamlined as possible and an excellent defender against basic rain.
If you want a rain pant that's a bit cheaper, has more pockets, and full zippers, the Marmot Precip Eco Rain Pants are a good option. But they're almost twice as heavy. If weight is your concern the Helium Pants are the way to go.
Read the full Outdoor Research Helium Pants review below, and see where they rank on our guide to the Best Rain Pants!
Outdoor Research Helium Pants Specifications
| Feature Type | Feature Specs | What This Means |
| --- | --- | --- |
| Weight | 5.6 oz. (160 g) | Super light rain pants. Built to be as light as possible. |
| Layer | 2.5-Layer | Most rain pants are 2.5-layer, allowing decent breathability, good against skin feel, and solid waterproofing. More on rain layers in our Guide. |
| Waterproof Membrane | Pertex Shield+ | An industry leading waterproof membrane for breathability. More on waterproof membranes in our Guide. |
| Face Fabric | 100% Nylon 30D Ripstop | Nylon is a common material for rain pants, and 30-Denier thickness is actually pretty high for the weight. |
| No. of Pockets | 1 Zippered Back Pocket | Just one zippered pocket on the back. You can store a small item here. |
| Zipper Length | Ankle | These pants unzip to just above the ankle, allowing easy entry and exit over shoes or boots. |
| Water Resistant Zippers | Yes | The ankle zippers are made with water resistant material and keep water out! |
| Storm Flaps | Yes | The back zipper pocket uses a storm flap to protect against water. |
| Packs Into Itself? | Yes | You can pack the pants into the back pocket. |
| Waistband | Elastic | A simple elastic wasitband keeps the Helium pants secure. |
| Fit | Casual | Rain pants typically fit casually to allow for layering. Our tester felt the women's model was tight in the thighs. |
| Seams | Fully taped | These pants have fully taped seams and will not let water in that way. |
| Manufacturer Warranty | Infinite Guarantee | Outdoor Research has an excellent limited lifetime warranty, so if any parts of these pants fail (like the zippers) get in touch! |
| Retail Price | $119 | A solid price for ultralight, highly functional rain pants. You're paying for brand name, lack of weight, and quality construction. |
Gear Review of the Outdoor Research Helium Pants
Revelation: The Moment I Knew
Mud season. It's not typically the best time to enjoy the High Country of the San Juan Mountains of Colorado. But there is something quite magical about this time of year: few people, baby animals, and the first signs of wildflowers.
These are a few of the reasons I decided to pack a backpack and hike up into the mountains for a few days of exploration. Knowing that I would be dealing with a lot of precipitation around 8,000 feet, it was a no brainer to toss the Helium Pants into my pack — or clip them on on, I should say. The Helium Pants pants compress small enough to store on the outside of your backpack, which is something I prefer to stuffing them inside. That way, when they rain comes, you don't miss a beat and can put them on right away without having to dig through your pack.
I knew I liked these pants when the first spring storm came thundering through and I was able to get them on without having to remove my backpack, my shoes, or anything, really. I simply unclipped and wiggled them on, using the handy dandy leg zips to get them over my boots.
Comfort
– 4 Stars
These are about as comfortable as rain pants come. The Helium material has the tiniest bit of stretch to it that is helpful if you're hiking uphill. For the price, you'd be hard-pressed to find a more comfortable pair that's so light. The elastic waistband is great when you need to pull them on in a hurry.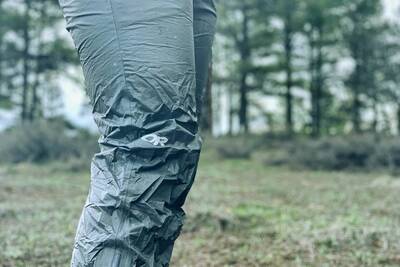 Durability 
– 5 Stars
I have not tested these pants in extreme conditions or through thick vegetation. I have however, used the Helium Jacket for many years and it is made from the same materials. It is very lightweight fabric that seems fragile, but I can assure you it's not.
When you consider the weight and the cost of either the jacket or the pants, it's downright burly. I plan to be able to use these pants for many years to come without hesitation of product failure.
Breathability
– 5 Stars
I find the Helium Pants to be wonderfully breathable and had no issues at all with trapped moisture or overheating. I hiked in them and ran in them and was always very satisfied with how they regulated.
Waterproofness
– 5 Stars
The Helium Pants are a very effective waterproof pant — no leaks or seepage. The seams are sealed well and they'll keep you nice and dry! A key feature Outdoor Research included is the ankle zipper, allowing you to get these pants on and off without having to remove your shoes or other layers. The zippers are sealed as well with nearly waterproof material, so you can rest assured that water won't be coming through and secretly soaking your clothes.
Fit
Rain pants are a layering piece, so be sure to size up. Most people like to go up one size, but honestly, my experience with the Outdoor Research Helium Pants is to size up at least two sizes.
In almost every pair of pants I own, I take a small. In most hard shell rain pants I take a medium. In the Helium Pants, I could have rocked a large or extra large without complaint. The cut of the thigh is extremely slim, so if you have muscular thighs or wide hips, consider going up two sizes. Especially if you're wearing them over anything other than tights.
Grievances
The only grievance I have with these is the fit. The cut of the thigh doesn't make a whole lot of sense to me. I have worn many bottoms by Outdoor Research and always take a small or medium. Like I said above, I could have happily taken a large or extra large in these. Something about the fit just isn't right, especially if you're used to how Outdoor Research fits in general.
A good rule of thumb with clothes: try them on! Performance-wise, the Helium Pants were outstanding.
Final Word
If you need a go-to pair of ultralight rain pants, get the Outdoor Research Helium Pants. It's hard to go wrong with them. They're lightweight, pack up tiny and even have a pocket. Yes, it is a small pocket. But hey! A pocket is a pocket. Keep a cool rock in that pocket. Put a snack in that pocket. The sky's the limit. They'll keep you dry and happy for many years.
Where to Buy Outdoor Research Helium Pants
We tested the women's Outdoor Research Helium Pants. They are also offered in a men's model, and are the exact same except for fit.
Outdoor Research only offers one version of these pants!
Compare Outdoor Research Helium Pant prices below.
Review Policy: We do not accept payments or gifts from brands and vendors, and strive to provide unbiased, independent advice. Brands typically provide review samples which we return, and in some cases we purchase the item so we can keep using it long after the review. Affiliate Policy: We support the hours that go into our reviews and testing through affiliate commissions on purchases made through links in this article. These don't effect the outcome of our reviews or selection of gear, as per our Review Policy.