Rain pants are a necessity for foul weather hiking. When the rain begins to fall and your boots start splattering mud onto your calves, there's nothing more comforting than slipping on a protective layer of rain gear. Most rain pants are extremely lightweight and pack down to nothing. They're not complicated compared to other types of gear, but there are a number of factors to consider in choosing the right pair.
We've put together a list of our favorite rain pants and broken down their key features so you know what to look for. Obviously you want rain pants that protect you from bad weather, but we've also taken the time to look at breathability, comfort, pockets, waistbands, and zipper configurations . From ultralight rain pants to heavy duty protection, we've got you covered, below.
Rain Pants Comparison Table
| Best Rain Pants | MSRP | Weight | Leg Zipper | Waterproof Membrane | See Rain Pants |
| --- | --- | --- | --- | --- | --- |
| Mountain Hardwear Stretch Ozonic Pant | $150 | 10.2 oz | Full Length | Dry.Q Active 2.5L | Women's, Men's |
| Marmot PreCip Pants Eco Full Zip | $100 | 11.4 oz | Full Length | NanoPro Eco 2.5L | Women's, Men's |
| Outdoor Research Helium Pants | $119 | 5.6 oz | Ankle | Pertex Shield+ 2.5L | Women's, Men's |
| Arc'teryx Beta AR Pants | $475 | 18.9 oz | 3/4 Length | Gore-Tex Pro 3L | Women's, Men's |
| Patagonia Torrentshell Pants | $99 | 10 oz | 3/4 Length | H2No Performance Standard 2.5L | Women's, Men's |
| The North Face Venture 2 Pants | $80 | 8.1 oz | Half Length | DryVent 2.5L | Women's, Men's |
| Marmot Minimalist Pant | $165 | 10.4 oz | Ankle | Gore-Tex PacLite 2.5L | Women's, Men's |
| Arc'teryx Beta SL Pants | $275 | 12.5 oz | Full Length | Gore-Tex Paclite Plus 2.5L | Women's, Men's |
| Columbia Rebel Roamer | $50 | 12.5 oz | None (Hook and Loop) | Omni-Tech Waterproof 2.5L | Men's, Women's |
| Helly Hansen Voss Pant | $40 | 14 oz | None (Snap) | Helox+ 2L | Women's, Men's |
The Best Stretchy, Fully-Featured Rain Pants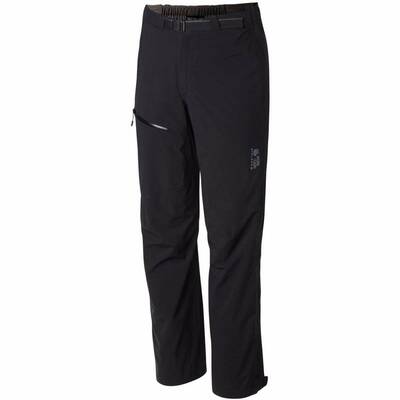 Mountain Hardware Stretch Ozonic Pant
The Mountain Hardwear Stretch Ozonic Pant is, as the name implies, a stretchy pair of rain protectors. It uses Mountain Hardwear's unique 4-way, all-over stretch, which is some of the best in the industry. The face fabric is a tough yet flexible 40D, and the waterproof tech is Dry.Q, another time tested feature from the brand.
The Stretch Ozonic pants have watertight zippers on either leg, an elastic back waist, and a flat built-in belt with a Velcro tab which helps to dial in the perfect fit. There are two full leg zippers for sliding on and off, and leg cuffs at the bottom that secure the pants to your boots. These will repel water, they will stretch with your range of motion, and they will be comfy the whole way.
See the Women's Mountain Hardware Stretch Ozonic Pant
See the Men's Mountain Hardware Stretch Ozonic Pant
---
The Best All-Around Rain Pants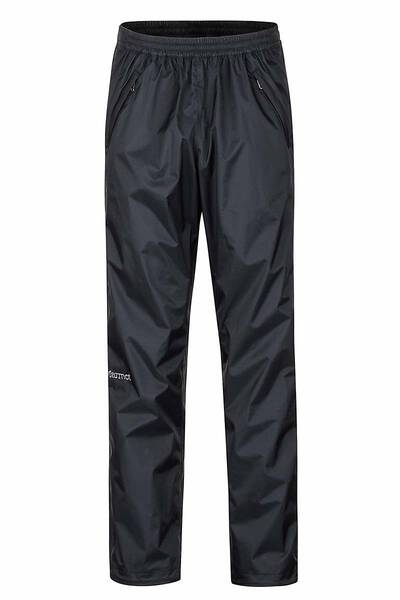 Marmot PreCip Pants Eco Full Zip
The Marmot PreCip pants are a tried and true classic, and Marmot has recently made them "Eco", meaning the NanoPro nylon ripstop is now 100% recyclable. Otherwise the pant is the exact same, and includes two zippered hand pockets, a zippered back pocket, an elastic waist, and full length leg zippers (though some models don't have the full zippers).
The pants are straightforward and feel slightly baggy to fit over other pants or have full freedom of motion. They come with a lifetime warranty, are fairly lightweight, and work well for almost any rainy outdoor activity.
Marmot PreCip Pants Eco Star Rating
Comfort

Durability

Breathability

Waterproofness
Summary
Now made with 100% recycled material, the Marmot PreCip Pants Eco have dual-slider full zips on both legs secured by velcro straps at the waist and metal snaps at the ankles, and can be locked down for maximum rain protection or opened wide for sweet sweat relief.
Read Full Review
See the Women's Marmot PreCip Pants Eco Full Zip
See the Men's Marmot PreCip Pants Eco Full Zip
---
The Best Ultralight Rain Pants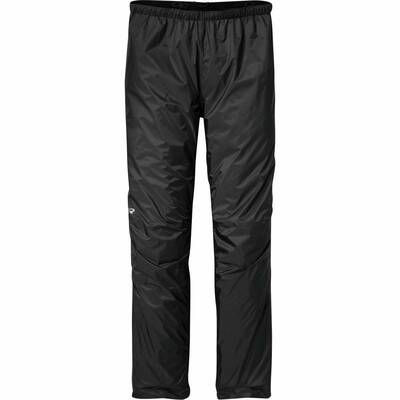 Outdoor Research Helium Pants
The Outdoor Research Helium Pants (like the jacket) are a standout in the fast and light category. They are essential emergency rain shell pants, which only weigh 5.6 ounces, but for most storms and environments they will get the job done, and take up very little room in your pack.
They use Pertex Shield+ for the exterior fabric, an excellent waterproof tech that sheds water well. The back pocket doubles as a stuff sack, there are reflective logos for night wear, and small zippers at the ankles for sliding over boots. These are not a feature-filled rain pant, but an ultralight shell that will fend off a surprising amount of inclement weather.
See the Women's Outdoor Research Helium Pants
See the Men's Outdoor Research Helium Pants
---
The Best Heavy Duty Gore-Tex Rain Pants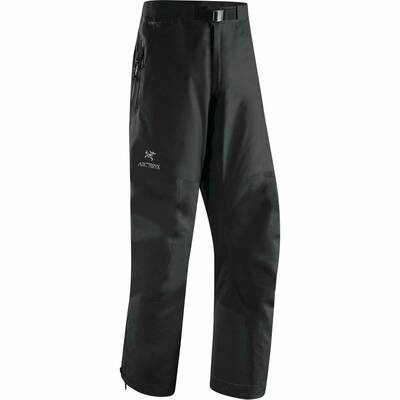 Arc'teryx Beta AR Pants
The Arc'teryx Beta AR pants are by far the most robust on this list, and they border on snow/ski pants. We've included them here because despite the large number of features and heavy fabric they are still a reasonable weight, and for those looking for a do-it-all rain and snow pant, the Beta AR may be it. The pants use 3 layer Gore-Tex Pro fabric, widely regarded as the most durable and breathable on the market. They have a regular (sort of loose) fit that's created with e3D patterning, a fancy process that gives more freedom of movement when layering, including articulated knees and a gusseted crotch.
Arc'teryx uses 3/4-leg-length WaterTight zippers for nearly full access, which also allows easy use of a harness or backpack, and a single WaterTight thigh zippered pocket for stashing an essential item. The pants have a flat belt, zipper at the crotch, and stretchy elastic at the back for a nice fit. Finally, and perhaps most importantly for serious trekkers, the Beta AR have a reinforced ankle cuff that can take a beating, which includes a snap, boot lace hooks, and a gaiter attachment for full coverage. These are the most durable and robust pants for the rain (and snow), but this is also overkill for most people, and the cost is hard to stomach unless you frequently encounter rough conditions.
See the Women's Arc'teryx Beta AR Pants
See the Men's Arc'teryx Beta AR Pants
---
The Best of the Rest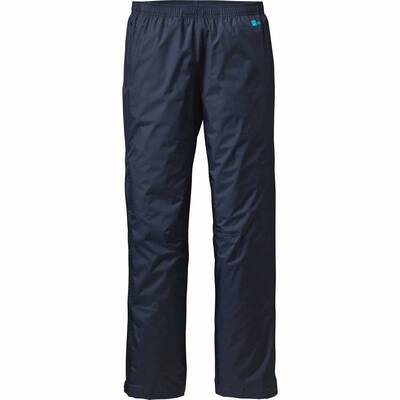 Patagonia Torrentshell Pants
The Patagonia Torrentshell Pants are solid protectors against water and wind. They are the most even keel of those listed here, with a medium price, a medium weight (around 10 ounces for a men's medium), two zippered hand pockets, an elastic hem, and cuff-to-thigh zippers for venting. They use Patagonia's 100% recycled nylon face fabric, and their in-house H2No waterproof membrane, which is decently breathable and waterproof.
They stuff into the left pocket for quick storage, and have a lifetime warranty. If the Patagonia fit (slightly slim) works for you, these are a good mid-range option. All this said, the Torrentshell line suffers some from durability issues after extended use, so you may be using the warranty.
See the Women's Patagonia Torrentshell Pants
See the Men's Patagonia Torrentshell Pants
---
The North Face Venture 2 Pants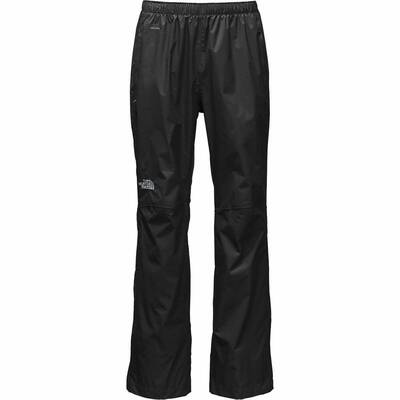 The North Face Ventura 2 rain pants are a giant company's answer to a simple watertight shell for your legs. Low on features, extremely light on weight (just 8 ounces!), the Venture 2 has a regular-to-baggy fit and works to keep rain off your legs. The pants have two zippered and covered hand pockets, an elastic waist with a drawcord, and velcro closures at the cuffs. They also use The North Face's DryVent technology, which is PU-based. They are quite thin, unlined, and just work. While we don't think they will keep water out as well as some of these models, they certainly fend off rain.
See the Women's The North Face Venture 2 Pants
See the Men's The North Face Venture 2 Pants
---
Marmot Minimalist Pant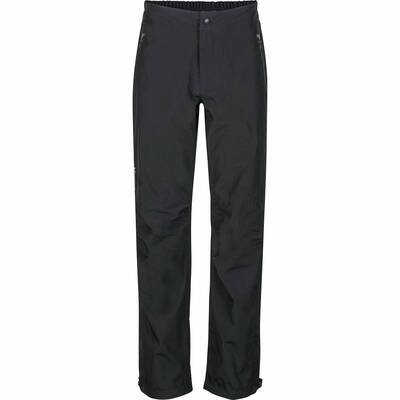 The Marmot Minimalist pant is one of the few on this list to use Gore-Tex PacLite technology, a breathable and very waterproof 2.5-layer membrane that's made from recycled polyester, different from the nylon used in a lot of pants on this list. This combines with a PFC-free DWR coating (a common environmental issue in many products) for a solid fabric profile. The Minimalist Pants have two hand pockets with water-resistant zippers, ankle zippers, and an elastic waist with snap closure. There's also a zippered fly, which is a nice touch.
The pants excel at mobility and waterproofness, but suffer some from an overly elastic waist with no way to cinch. They are also light, but not ultralight for the price and features. If you need Gore-Tex rain pants with a slim fit, these are great, but you can get more options for roughly the same weight and function above.
See the Women's Marmot Minimalist Pant
See the Men's Marmot Minimalist Pant
---
Arc'teryx Beta SL Pants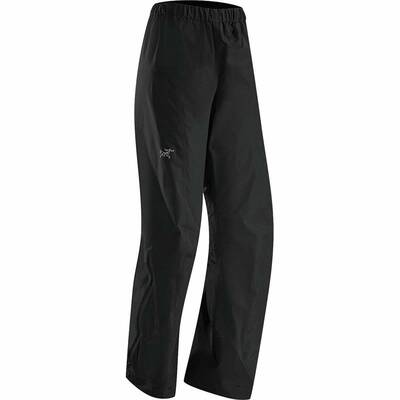 The Arc'teryx Beta SL Pants are an updated entry that takes over from the wildly popular Alpha SL pants. The Beta SL utilize the new Gore-Tex PacLite Plus membrane, which is a 2.5-layer that breathes well, packs small, and remains very lightweight. These pants have two basic adjustments at the waist, full-length leg WaterTight zippers, and lace hooks for securing your cuffs. The pants have articulated knees and a gusseted crotch, and are slightly baggy (even for Arc'teryx) to easily slide on and off. While these aren't the most robust rain pants Arc'teryx offers, they are a good mix between solid rain pant and emergency shell. That said, they lack pockets, which is definitely a turn off for some people.
See the Women's Arc'teryx Beta SL Pants
See the Men's Arc'teryx Beta SL Pants
---
Columbia Rebel Roamer (Women's Storm Surge Pants)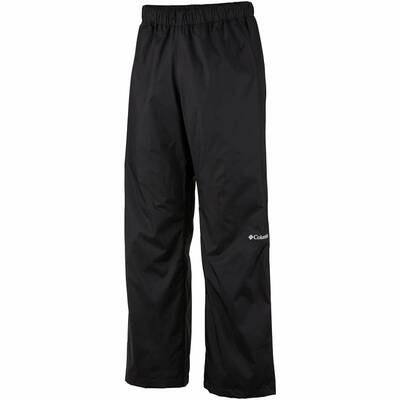 The Columbia Rebel Roamer men's pants (and women's Storm Surge) are as basic as rain pants get, and for this, they do an excellent job. They are oversized to squeeze over boots and layer with your other, warmer pants (or shorts), they have an elastic waistband with a drawcord for tightening, and they have small hook-and-loop (like Velcro) adjustments near the legs to close out water when wearing, and slide on easier when not. And that's it. No zippers, no pockets, no nothing. This means stuff can't break, but it also means you have to like the fit, the breathability, and the pants as they are. That said, they do repel water well, and breathe decently for no manual ventilation. For the price they excel as basic rain pants for hiking.
See the Men's Columbia Rebel Roamer
See the Women's Storm Surge Pants
---
Helly Hanson Voss Pant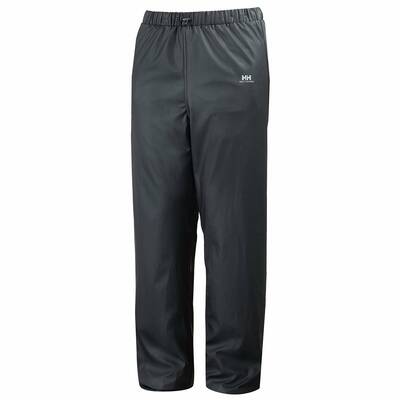 The Helly Hansen Voss Pants are the most inexpensive on this list, and do the job of a basic rain pant. Like the Columbia Rebel Roamer, they don't have much in the way of features. An elastic waistband and snap closures around the ankle cuffs are all you're working with. The fit is slightly oversized for layering, and the waterproof technology is Helly Hansen's Helox+, a PU fabric that keeps water out, but doesn't breathe very well. These pants work for basic hikes and extended walks in the rain. If you like this brand, or prefer the fit, they are equal to the Columbia pants, but they don't have as long a warranty.
See the Women's Helly Hanson Voss Pant
See the Men's Helly Hanson Voss Pant
---
Rain Pant Features
Best Use Cases for Rain Pants
Rain pants are best used in any situation where your legs are going to get wet! We can simply punctuate that last sentence and move on to the next topic.
While that broad statement is correct, I think we will all benefit by digging a little deeper into what makes certain rain pants work in certain conditions. Not all rain pants are made equal, after all. Depending on the weather and your intended activities, there are a number of scenarios where different styles of rain pants will come in handy. Let's go over them.
Weather
When it rains, it pours — that's the saying, but how often is that true? Sometimes it drizzles, sometimes it mists, sometimes it hails and mudslides. And, more often than not, you'll find yourself in an on-again off-again wet weather situation.
That's how it is up here in the Pacific Northwest, at any rate. Don't like the weather? Wait five minutes. Am I right?
The majority of rain pants are going to keep you dry on your average rainy hike, but if you go off adventuring into blustery storms or through extended periods of inclement weather you're going to want a tougher pair of pants with more features
An inexpensive pair, like the Columbia Rebel Roamers, will keep your knees dry like a pack of unopened Saltine crackers in mildly wet conditions.
Rain plus wind, however, is another matter entirely. You'll want something more robust in harsh weather, like the Mountain Hardware Stretch Ozonic Pant, which has watertight zippers and leg cuffs that secure the pants to your boots, and stretchy material that allows you to hike hard to get through (or out of) said storm.
If strong storms are your idea of fun, consider the Arc'teryx Beta AR Pants and their 3 layers of Gore-Tex Pro weatherproof fabric, which will handle pretty much any kind of water, whether it's frozen into large clumps of hail or coming down in a torrent.
Our recommendation: take an average of your wet conditions outdoors, and buy the rain pants that works best for those.
Type of Trip
Weather is something you'll always have to keep in mind, as is the length of outdoor adventure. Extended stretches of wet weather require a different rain pant strategy than a simple day-hike in the woods.
Long-distance backpackers and wilderness campers who like to disappear into the wild for days or weeks at a time are best served by lightweight, breathable rain pants that will dry quickly in brief periods of sunlight. The 2.5-layer Gore-tex PacLite membrane on pants like the Marmot Minimalist and Arc'teryx Beta SL are ideal for week-long (or more) wilderness excursions.
Rain pants can also come in handy for in-town rainy excursions or short day hikes. Rain or shine, sometimes you just have to go outside, and solid rainfall won't take more than a few minutes to drench your denim. For this sort of casual, as-needed use the more budget-friendly options on are list are more than sufficient. If ease of use is key, we suggest a rain pant with some form of leg zippers so you can slip them on before hitting the trail, and off when you get back to the car. In fact, keep a pair in the trunk of your car for muddy dog parks and mist-laden beach walks.
For anyone that's constantly at elevation, hitting trails hard rain or shine, we recommend the upper tier of rain pants on our list, like the Mountain Hardwear Stretch Ozonic or Arc'teryx Beta AR.
Key Features
Rain pants have a few key features worth considering. They're all essentially waterproof, but comfort and convenience are just as important — otherwise you'd be saving money by poking leg holes in a trash bag and taping it around your waist. (Though we're not here to judge if that's how you roll.)
Fabric
There are plenty of waterproof fabrics in the world. Unfortunately, many of those fabrics don't breathe well or feel good against your skin. That said, rain gear has made a lot of headway in recent years.
Gore-Tex is a supremely hydrophobic membrane featured on many types of gear, like boots, jackets and, of course, rain pants. Some of the materials used with Gore-Tex membranes can feel thick and unpliable, though modern wearable applications, like the Pro and Paclite variants on our list, are breathable and do well to minimize Gore-Tex's rigidity.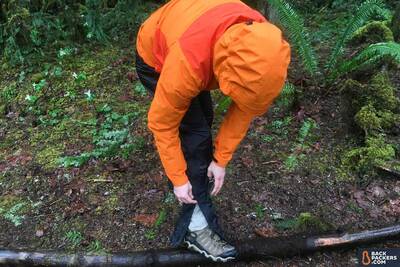 Nylon is also used in many waterproof products. The material is thin and gentle on your skin. Waterproof nylon layers, however, are coated in polyurethane, which give it a plastic-like feel that creates a "swishing" noise that some people find irritating. Nylon is durable and light, though it can take a while to dry after it gets wet.
Like nylon, waterproof polyester is also treated with polyurethane. The material is generally a little less comfortable against your skin than nylon, but it wicks away moisture and drys faster than nylon.
Typically rain pants will be worn against your skin, so finding something that is bearable for the amount of time you normally wear them is important. After all, sweating from the inside does little to fend off water, which is the whole point!
Waistband
If you've ever put on a pair of underwear (let's hope so), then you know what an elastic waistband feels like. Sometimes it can be a little too tight, and after a long period of use it can become loose.
Many of the rain pants you find will come with a stretchy waistband in the standard S/M/L range of sizes. They'll typically feel similar to one another, with sizing and fabric bringing in some variation. You probably know what to expect.
The more feature-heavy rain pants can have button snaps, fly zippers, and belts. These added comforts will help you dial-in the perfect fit on your new pair of pants, but, though they're constructed with waterproofness in mind, they do provide more openings for water to slip inside your pants compared to basic elastic waistbands.
Pockets
Rain pants come with a surprising variety of pocket options. Basic rain pants like the Columbia Rebel Roamer have no pockets to speak of, while next-tier pants like The North Face Venture 2 have zippered hand pockets. Further up the chain, the Arc'teryx Beta AR pants come with additional WaterTight storage pockets.
Consider your basic pocket needs. Do you already have accessible hand pockets in your favorite rain jacket? If so, you likely don't need a second set in your rain pants, though maybe you need pockets for storage.
Pro Tip: If you're planning to keep your phone or wallet in a pocket, be sure that the pockets have waterproof zippers or stormguards to keep your items dry. Stormguards are flaps of waterproof fabric that cover the zipper.
Zippers
Technically speaking, the most waterproof zipper is no zipper at all. Water resistant and waterproof zippers do a fine job at keeping the weather outside of your rain pants, but they can't prevent user error. There's always a chance that you'll accidentally leave a pocket open or a leg zipper halfway zipped. Yet you'll find zippers for pockets and in the legs of most rain pants — these aid in storage, breathability, and the whole "putting on and off" experience.
There are two main types of zippers.
Watertight zippers are like a space shuttle's airlock — nothing is getting in or out unless you open the door. The teeth are incredibly fine and hugged closely by waterproof materials. This is as good as watertight openings get.
Water resistant zippers, on the other hand, do a good job at keeping water out as long as there is no added pressure pushing water through the zipper's teeth. Strong winds and precisely targeted raindrops will still slip moisture through, and you can expect a pocketful of water if you happen to fall butt-first into a creek. Water resistant zippers are often aided by stormguards, such as in the Marmot PreCip rain pants, which have full-length leg zippers covered by stormguards that are fastened in place with metal snaps.
Finally, you'll notice how different rain pants have varying zipper lengths along the legs. Full and three-quarters length zippers aid in breathability and make putting on/taking off the rain pants quick and easy. Ankle zippers also aid slightly with ventilation, but they are primarily used to adjust how the cuff of your pants fits around your hiking shoes.
Choosing a pair of rain pants with an ideal leg zipper length is all about personal preference. Get full-length zippers if ventilation is a major concern of yours, or opt for no zipper at all if saving ounces is your ultralight priority. That said, zipper-ready breathability comes in handy during snack breaks under trailside shelters and periods when the weather lighten's up. You don't want to look like a fool with your pants on the ground just to feel a breeze between your knees– I say zippers are for winners.
How to Buy Rain Pants
Any pair of rain pants on our list will work well on their own, but have you considered how well they'll work with your current gear setup?
Pair Rain Pants with Rain Jackets
Style and function become one in the world of rain gear. Nearly all rain pants have a rain jacket soul mate they were destined to be paired with. The Arc'teryx Beta SL Pants look great and work best with the accompanying Beta SL Rain Jacket; the same can be said for the Marmot PreCip Eco Pants and its PreCip Rain Jacket sibling. (In the above photos we matched the Marmot PreCip Eco Pants to the Arc'teryx Beta SL Hybrid jacket, and they didn't quite line up!)
In those matching sets, the hem of the rain jacket appropriately covers the waistband of the rain pants — the items complement each other. You can create your own look with gear from different brands, but be sure that the bottom of the jacket extends over the waistband of your rain pants to avoid wet hips.
Backpacks Too!
The same consideration should be in mind when pairing your rain pants with a backpack. Where does your pack's hip belt rest? Is it going to rub against your waistband, resulting in chafe? Will a heavy pack push down your pants, causing them to droop and leak?
This is a very important and often overlooked factor. The up-and-down hiking metronome of your backpack can lift your rain jacket or sink your rain pants if everything doesn't line up properly. Bring your pack along when you test new rain gear in-store, or make sure to walk a few blocks around the house if you order them online.
If you do have these issues on trail, try adjusting your pack straps and hip belt snugness until the issue is resolved.
Used vs New
Used rain pants may look fine as long as they're free of rips and tears, but they may no longer be waterproof. Ask to test used rain gear with a cup of water or a nearby garden hose before you buy, making sure to pay special attention to any seams. You may notice that the fabric wets through in some spots.
New gear should always be as waterproof as the manufacturers claim it to be. Used gear? Not so much.
If the pre-owned discount is too good to pass up you can still re-waterproof old rain gear using the methods we outlined in our How to Use Waterproofing Spray Guide, but then you will have to add in the cost of buying the spray as well. Unless you're dead set on a used pair, and re-waterproofing your gear over the years, it's probably better to buy new rain pants.
---
Backpackers.com Affiliate Policy: This guide contains affiliate links, which help fund our website. When you click on the links to purchase the gear we get a commission, and this goes a long way to creating guides, gear reviews, and other excellent content.