Petzl Tikkina Overview
Wearing a headlamp sometimes makes me feel like a unicorn. But instead of a large glittery horn, I have a powerful, illuminating beam of light shooting out of my head. I also feel a bit like a superhero. Yeah, a superhero unicorn.
Whereas every superhero needs a sidekick, every explorer needs a headlamp. The Petzl Tikkina headlamp provides utmost simplicity at a fair price, with three different settings of illumination and a comfortable headband. It also packs a super-powered beam for its cost — a cliche, late-night infomercial price of $19.95.
For all these reasons the Petzl Tikkina headlamp is our Budget Pick for the Day Hiker, Car Camper, and Urban Hiker.
Petzl Tikkina Star Rating
Comfort

Durability

Brightness

Battery LIfe
Summary
The Petzl Tikkina is a simple, classic headlamp. With one color (white), three modes of brightness, and a large on/off button, it makes using and wearing a headlamp about as basic as can be, while still providing ample light.
For useful information on anything and everything headlamps, check out our comprehensive guide. For full Petzl Tikkina review, read below.
Update: We tested the Petzl Tikkina in 2017, and it remains unchanged in lumens, design, and color. For the price, it is an excellent headlamp from a well-respected manufacturer.
Petzl Tikkina Specifications
Feature Type
Feature Specs
What This Means
Max Lumens (Light Output)*
150
Fairly bright for a small, inexpensive headlamp.
Max Beam Distance*
180 ft (55 m)
Decent illumination for a flood beam.
Max Battery Time*

60 hours (on high)

220 hours (on low)

Excellent battery life. A standout for such a small package.
Beam Type(s)
Flood (wide)
Allows a more even, close field of vision. However, it does still project pretty far!
Modes
Low, Medium, High
Three modes of white light: 5 lumens, 100 lumens, 150 lumens. All accessed with a click.
Red or Green Light?
No
Just the white light.
Water Resistance
IPX4
Protected against water spraying the headlamp, but not submersion.
Tilt
Yes
Preset range of tilt, accessible with one hand.
On/Off Switch
No
Unfortunately it has no locking mechanism.
Battery Type
AAA or rechargeable CORE battery
Takes 3 AAA batteries, or the CORE rechargeable kit that works with many new Petzl headlamps. CORE is sold separately.
Headband Type
2-band, washable
Comfortable band that can be washed.
Weight
3.03 oz (85.89 g)
Decently lightweight for a large headlamp.
Manufacturer Warranty
5 Years
Solid warranty for an electronic device. Make sure to read guidelines for condition of headlamp.
Retail Cost
$19.95
Cheap for what you get!
*Studies show that manufacturer claims on Max Lumens, Beam Distance, and Battery Time are inflated compared to traditional ANSI standards. Our listed specs are those of the manufacturer, which are typically accurate for the first 2-10 minutes of the headlamp's use with a full charge. While this is unfortunate, it is currently industry standard, which means most headlamps suffer from these inflated specs and wash across the board.
Gear Review of the Petzl Tikkina
Origins: Easing You In
Most of my time with the Petzl Tikkina headlamp was spent hiking through the winding streets and dirt paths of my Ventura County suburban kingdom. The Petzl Tikkina was not my only companion; I had Keoki with me, a furry golden retriever. This is one spirited animal — you could wake him up at 3:30 in the morning, suggest a round of fetch, and he'd beat you out the door.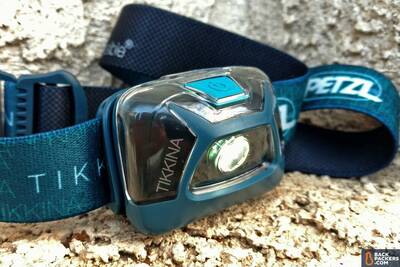 In a sense, the Petzl Tikkina headlamp is a lot like Keoki: they are both ready to go at a moment's notice, they are both quite trustworthy, and they are both very simple.
Let's focus on that simplicity: the Tikkina has no variation in beam color. Just white. (Sorry red and green light lovers.) The white beam is initiated through the power button on top, has three pre-determined modes of brightness, and that's about it!
I took the Tikkina and Keoki through the suburban trails of my hometown — Long Canyon and the Upper Las Virgenes Open Space Preserve — each night of the week to stretch the legs and test the light. It's always peaceful there; only a few people scattered about, and when the sun sets I typically have the place to myself.
Hiking with Keoki and the Tikkina every night of the week developed into a wonderful, well-lit routine. The jovial naïveté of a golden retriever was ever-present, just like the effectiveness and ease-of-use of the headlamp.
Revelation: The Moment I Knew
What made the Petzl Tikkina stand out was its straightforward dependability. There are three levels of brightness, each of which is tailored for specific environments. Its flood beam was broad enough to see in front of me and around me on all settings.
The three brightness options on the Tikkina are: 5 lumens, 100 lumens, and 150 lumens. (For more information on the measurement of a lumen, allow me to (again) plug our guide to headlamps.) The beam distance varies from just 32 feet (10 meters) at its lowest setting — the one I used the most around the house or for reading — to 180 feet (55 meters) at its most powerful setting.
The middle setting (131 feet, 40 meters of light) is the one I used most, especially when walking Keoki through the suburbs. There was still some soft, ambient light from the street lamps in the distance, but the Tikkina put a solid light on Keoki, who has a habit of getting away from me.
The maximum setting of 150 lumens is the widest, brightest, and whitest — my nickname in Chicago after a month of deep dish pizza and beer — and provided a solid amount of light on dark hiking trails. I knew exactly what was ahead of me on the high setting, both at a distance at around me. Despite being a "flood" headlamp, which is all about a short field of wide light, the Tikkina provided plenty of distance lighting, which I wasn't expecting.
Digging Deeper
With such a simple headlamp it's hard to dig super deep, mostly because there are just a few clutch features. But each feature of the Tikkina is well thought out and functional.
First, there's the single power button. It's large, has a tactile feel, and is accessible with or without gloves.
To access the different brightness levels, simply press the power button. One click gives you the low setting, a second click the medium setting, and a third the brightest setting. If you leave the Tikkina on one mode for long enough, pressing the power button will turn the headlamp off instead of switching to a different mode.
It's very straightforward and easy to operate, but you do have to cycle up through the modes each time you turn it on.
Moving onto another key element: the batteries. The Petzl Tikkina requires three AAA batteries. They're easy to switch out and oddly kind of fun to do so — just pop off the back lid and pluck them out.
However, the Tikkina is part of Petzl's new "Hybrid Concept" headlamps. This means the Tikkina can use a CORE rechargeable battery, which is lithium-ion and charges via a USB port. You have to purchase it separately (of course), and it costs more than the headlamp itself ($29.95), so view it as further step into the Petzl brand. Many of the new headlamps from the company can use the CORE battery, so if you have more than one headlamp it may be worth investing in this battery.
There are two final elements of the Petzl that are worth noting: the water resistance and the headband. The Petzl Tikkina is water resistant at IPX4, so a drizzle won't keep this headlamp from lighting up the place (but don't dunk it). The headband on the Petzl Tikkina is removable, washable, and quite comfortable.
Comfort
Many headlamps feel like an angry boa attempting to squeeze my brains out, but the Petzl Tikkina was more like one of those flowery garlands that girls who go to Coachella wear. It's soft, stretchy, and loosens a lot so you can wear a thick beanie or hat underneath.
Durability
The Tikkina has a thick and sturdy plastic coating covering the bulb and batteries as well as a high quality headband. I don't see any part of it breaking any time soon, but long term use can't be commented on. Petzl does have a solid warranty, so if it were to have issues, I'd guess it would be covered.
Brightness
The white beam of the Petzl Tikkina appears brighter than 150 lumens, and definitely seems like a flood plus a spot light, despite what the box says. It was bright enough for daily tasks, night walks, and a completely dark trail.
Battery Life
I lit up the Petzl Tikkina for five hours during my evening exploration with Keoki, and I used the headlamp around the house quite a bit. It remained bright with very little change as the batteries decreased, even though I used the brightest setting most often. Petzl claims the Tikkina will last 60 hours on high, and 220 hours on low. I believe them.
Style
With simplicity comes style; ad the comforting shades of blue make the Petzl Tikkina as hip as those Coachella girls I mentioned earlier. There are additional color options you can choose from if blue isn't your thing.
Grievances
While the Petzl Tikkina shines bright as a budget headlamp, there are a few standout issues.
First, I would have loved a dimmer option. Since the headlamp does not offer a different colored beam, the ability to dim between the three pre-set white modes would be useful. I'd like to customize exactly how bright I want the headlamp to be, and there are other models that have this feature (though not necessarily this cost).
Second, the power button is quite large, and without a lock mode for it, I could see it getting pressed by accident in a pack or in storage. This is a classic issue with headlamps, and one I would have expected Petzl to address from the get-go.
Finally, there's no red light. Everyone loves a red light. Yes, it's a budget headlamp that does what it does well, so it's not quite a grievance, but a red light would make it much more useful for multiple activities.
Final Word
The Petzl Tikkina is plenty bright, has a crazy wide beam, three versatile light modes, and a five year warranty. All for under twenty bucks.
Where to Petzl Tikkina
The new Petzl Tikkina was tested for this review. It hit mass market in Winter 2017, has 150 lumens, and is a "Hybrid Concept" model. The new version is different than the previous version, which had 80 lumens. When looking to purchase make sure you have the new model selected.
Compare prices for the Petzl Tikkina below.
Review Policy: We do not accept payments or gifts from brands and vendors, and strive to provide unbiased, independent advice. Brands typically provide review samples which we return, and in some cases we purchase the item so we can keep using it long after the review. Affiliate Policy: We support the hours that go into our reviews and testing through affiliate commissions on purchases made through links in this article. These don't effect the outcome of our reviews or selection of gear, as per our Review Policy.