Rab Xenon X Hoodie Overview
Every now and again, a piece of clothing or gear comes along that challenges your loyalties and possibly your whole belief system. It shakes you to your core…or at least to your long johns. For me, the Rab Xenon X synthetic insulated jacket, a storm resistant technical hoodie built for the backcountry and climbing, is that piece.
The Xenon X's controlled warmth, minimal weight, weather-shedding fabric, and silky lining sets it apart from nearly every other jacket I've used, including down jackets. Yeah, I said it. As such, the Rab Xenon X is a backpacker-spanning highlight for synthetic insulated jackets, coming in as the Classic Pick for the Wilderness Backpacker, Ultralight Backpacker, and Day Hiker.
Rab Xenon X Star Rating
Comfort

Durability

Warmth

Breathability
Summary
The Rab Xenon X Hoodie is a standout synthetic insulated jacket. A combination of premium matierials, like Primaloft Gold Insulation Active and Pertex Quantum shell fabric make the piece equally warm, durable, and comfortable. The jacket has precise and thought-out zippered pockets, is incredibly cozy to wear, and will last a lifetime.
Read the full Rab Xenon X review below, and check out our extensive Guide to Synthetic Insulated Jackets to get smart on picking your next puffy.
Update: The Rab Xenon X Jacket was updated to newer insulation in colors in 2016-2017, and has not been updated. The features, weight, and material remain the same. We still highly recommend this piece.
Rab Xenon X Video Review
Rab Xenon X Hoodie Specifications
Feature Type
Feature Specs
What This Means
Average Weight
12 oz. (343 g)
This is a standard weight for most synthetic insulated jacket. Not too heavy, not too light.
Insulation
Primaloft Gold Insulation Active, 60g/m2
Primaloft Gold is the high-end industry standard. The Insulation Active version is more breathable, and 60 grams of it is standard for synthetic insulation jackets. More info on insulation types in our Guide.
Shell Fabric
Pertex Quantum
Pertex is high quality shell fabric known for strength. The Quantum fabric is extremeley lightweight, strong, and packable. More info on shell fabrics our Guide.
Lining Fabric
100% Nylon Ripstop
A fairly generic lining fabric on the spec sheet, but the Rab Xenon X's lining is crazy comfortable. One of the coziest around.
DWR Treatment
Yes
A solid DWR treatment plus the Pertex Quantum shell makes for a highly resistant outer layer.
Number of Pockets

2 zippered hand pockets

1 zippered internal chest pocket

The pockets are comfy and large. The hand pockets have insulation in the front and back of the pocket, providing extra warmth.
Stuffs Into Itself
Yes
Stuffs into the interior chest zip pocket. It's not small when stuffed, but does work as a pillow.
Hood/Jacket Option
No
The Xenon X is only offered with a hood.
Adjustable Hood
No
This hood only has elastic around the brim to keep it tight. This is a drawback because you can't fully tighten it to your face, but it's a scuba hood and is already pretty form fitting.
Adjustable Waist
Yes
Two adjustable toggles allow the hem to be cinched to you, trapping in your warmth.
Gender
Men's and Women's
The same jacket, offered in men's and women's. Only the fit changes.
Sizes Available
XS-XXL
Plenty of sizes, and it fits true to size, if a little long in the torso.
Manufacturer Warranty
Limited Lifetime Warranty
Rab products are covered for life for the original purchaser, as long as they have proof of purchase. Coverage includes manufacturer defects and issues with workmanship/materials. Pretty standard in the outdoor industry.
Retail Price
$235
Not the cheapest of the market, not the most expensive. The plushness of this jacket outweighs the cost and will last you years.
Gear Review of the Rab Xenon X Hoodie
Origins: Easing You In
I love goose down. It's one of nature's most amazing creations. The warmth-to-weight ratio is phenomenal, its compressibility is unmatched, and it feels like a warm hug from Big Bird. While I've used and own my share of synthetic insulated jackets, I always reach for my goose down pieces on technical trips when weight, warmth, and comfort matter most.
Then I received the Rab Xenon X. I was interested to test a piece of Rab gear as I'd always been curious about the company — they're UK-based and don't get a ton of play in the U.S. — but I wasn't particularly exhilarated by the proposition of another synthetic insulated jacket. I like down, as most gear-coveting backpackers do. But, I had a busy couple of months ahead, and I'm open-minded. Who doesn't want to test the mettle of a new jacket, synthetic or not? I took it to a whole host of locations: from Joshua Tree and Los Padres National Forest to Yosemite and Sierra National Forest.
I'll cut the suspense: the Xenon X makes me seriously reconsider my allegiance to down.
Revelation: The Moment I Knew
Moments of truth came to me on several occasions over the months of testing, but all of them were about the Xenon X's fabric. For the shell, Rab uses a Pertex Quantum fabric specially developed for their line. They quote it as being 20% lighter than original Quantum and it touts the best packability of the entire collection of Pertex fabrics. I know it's early in the story for heavy tech talk, but for me the fabric is simply amazing. Time and again the shell of the Xenon X shed wind, rain, ice, and dirt and kept me comfortable and crushing.
When hiking to Lilly Meadows and Sheep Camp in Los Padres National Forest on two separate trips, cold, gusting wind and sleet made for miserable conditions. I've hiked and camped in these mountains in every season, but when those first blasts of winter air hit me, I said to myself: "What the hell am I doing?"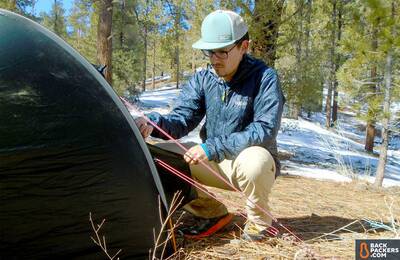 The Xenon X consistently fended off the icy winds and kept me cozy, even with a single layer of base garments. In sleet and melting ice, the Pertex Quantum face fabric shed moisture like a dream. This allowed me some extra time before needing to reach for my ultralight storm shell, and performed better than other synthetic puffies I've used in similar scenarios.
Sitting around the campfire outside Joshua Tree National Park, the high desert winds swept in and could have derailed a pleasant evening. The Xenon X didn't flinch and allowed for serious steak grilling and s'mores action. Wind protection is often written in the byline of synthetic insulated jackets, but it doesn't always deliver. The Xenon X had no problem.
Things get even better when you look at the Xenon X's liner fabric. Rab uses a tightly-woven nylon that feels like butter. It's seriously one of the coziest jackets I've ever worn. I'm a polar plunge kind of guy, and all bodies of water are fair game unless otherwise noted. After two trail runs into a local canyon, I jumped into the creek that runs through. It was stupid cold. After hopping out, I popped the Xenon X on, and all in the world was well. The lining fabric felt great even when wet, then dried within minutes from my body heat and the sun.
This series of harsh use cases clinched it for me: the Rab Xenon X is in the running for best synthetic puffy I've ever used.
Digging Deeper
As I've said, the Xenon X takes weather protection seriously. This is partly the Pertex Quantum shell, and partly the Primaloft Gold Insulation Active, which is better for breathability and four-way stretch than standard Primaloft Gold. (For reference, Primaloft Gold is generally considered the premier synthetic insulation on the market.)
New tech is one thing, but real-world tests are another. As light as the Xenon X is (12 ounces), it kept me comfortable in conditions ranging from mild desert afternoons in the 70's (Fahrenheit) to frigid nights in the mountains below freezing. It's marketed as an "active" insulation, and does regulate a wide variety of temperatures, but the protective outer shell makes this jacket better for stop-and-go activities rather than highly aerobic output over long durations.
In terms of features, the Xenon X is riddled with everything a premier synthetic should have. A stiffened storm flap and tough Vislon zipper keep warmth in and yuck out. Elastic at the cuffs and hood hug closely to your body, but don't bind. A scuba style hood covers a good portion of your face, protecting you from whipping wind. An elastic dual drawcord hem seals the deal, stopping spindrift and wind from creeping in. Reflective logos at the chest and cuff are a nice touch and offer better visibility in low light and a microfiber chin guard keeps your whiskers safe and comfy when zipped up tight.
Details are everything, and Rab did something small but extremely valuable in the Xenon X's pockets. They have insulation behind and in front of the pocket bag. In other jackets I've owned the pocket bags only have insulation in front. I noticed a difference. My hands were much warmer in the Xenon X's pockets than in competitor's. Cold hands are a huge bummer, so I was stoked.
While it works great for the backcountry and hikes, Rab designed this jacket with climbers in mind. Durable fabric paired with thoughtful design make belays a bit more tolerable. The Xenon X features a noticeable drop tail hem that covers a bit more of your backside. This keeps your buns warm when you're perched on cold granite and working the ropes. The double-pull zipper makes it easy to sit down while wearing a bulky harness and allows you to keep your jacket closed while breaking for your partner.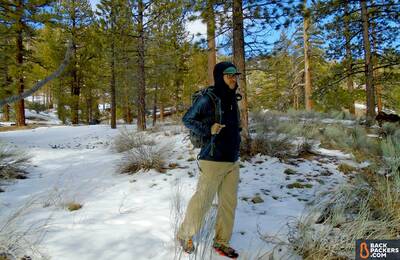 Finally, if you've read my other reviews, you know I'm not 100% in favor of stuffable products. As a backpacker I don't feel it's especially necessary, but I know designers have climbers and runners in mind. One aspect of stuff-ability is the jacket's pack size, which I still think doesn't matter. But in the backcountry, another benefit is that stuffing the jacket results in a pillow. The problem with insulated jackets is that most stuff pockets are far too small to make the resulting pillow remotely usable for an adult. It's more like a lounging cushion for a hamster.
The Xenon X changed my mind. The internal stuff pocket is large, making it great for storing a snack or drying wet gloves, and the resulting pillow is actually practical! I always bring a small inflatable pillow on overnights, but I forgot it on my trip to Lilly Meadows. The Xenon X stepped in and made for a great night's sleep.
Comfort
5 Stars
Do I even need to tell you again that the Xenon X is freaking cush? The liner is so soft and the insulation feels great. So great that I wrote a love letter to it:
Durability 
5 Stars
Pertex fabrics are durable, and the Xenon X was no exception. After almost two months of testing, the jacket shows no signs of wear. Even after sitting in a pile of pine sap (because of course I did), a treatment with performance wash got all but the most stubborn spots.
Warmth 
5 Stars
The Xenon X is nearly as warm as it comes for an "active" synthetic insulated jacket. I was comfortable down to freezing temperatures, which says a lot for both the Primaloft used in and the wind-blocking abilities of the shell.
Breathability 
3 Stars
While the  Xenon X is made with "active" insulation, and touted as being a good breathable piece, I didn't quite find that to be true. It was much better at solid warmth than real breathability. This works for most backpacking scenarios, and even climbing scenarios where you're spending a lot of time on the wall.
If you're looking for a synthetic insulation that breathes like no other, consider the Patagonia Nano-Air Hoody.
Fit
The Xenon X fits true to size. I wear a medium in everything and was happy with a medium here. I was able to wear minimal layers without feeling baggy, but also bundle up underneath without feeling confined. Compared to others, the hem was a bit narrower than I'm used to.
Style
Between David Bowie and Elizabeth II, the Brits have a lot of explaining to do when it comes to style. (Rab is an English brand.) The Xenon X, however, looks sharp on or off the mountain. It does look a bit techy (shiny fabric and scuba hood), but it is a technical hoodie, and I like it.
Grievances
In any relationship, there are disagreements. When it comes to the Xenon X and I, there is only one quirk I am not on board with: the direction of the zipper.
If you've ever noticed, most men's jackets have the zipper slider or buttons on the right-hand side. This is because most people are right-handed, so it's easier to zip up. (Women's zippers vary, but are often on the right-hand side too.) The primary zipper on the Xenon X is flipped. This again has to do with the Brits — European zippers are almost always on the left-hand side. It's a small annoyance, but I've got enough small annoyances in my life (slow drivers in the fast-lane, other people's children, always sitting in tree sap) that this extra little bit isn't needed.
In case you're wondering, yes, that's a tiny little grievance. I seriously loved this jacket, so it's nit pick.
Final Word
The Rab Xenon X is the total package: beautiful, smart, fun, thoughtful. Don't tell anyone, but the Xenon may be the one I take home to mom.
Where to Buy Rab Xenon X Hoodie
The men's version of the Rab Xenon X jacket was tested for this review. There is also a women's version available, which has the exact same features as the men's but fits differently. Rab only offers this jacket as a hoodie, and there are three distinct color options for each gender. You can see both men's and women's Xenon X below.
Review Policy: We do not accept payments or gifts from brands and vendors, and strive to provide unbiased, independent advice. Brands typically provide review samples which we return, and in some cases we purchase the item so we can keep using it long after the review. Affiliate Policy: We support the hours that go into our reviews and testing through affiliate commissions on purchases made through links in this article. These don't effect the outcome of our reviews or selection of gear, as per our Review Policy.