Reef Fanning Low Overview
Flip flops are a piece of gear that few people think to review, let alone something as ubiquitous as the Reef Fanning Low. It's just a footbed, a leather or synthetic strap, and maybe a toe post, right? On one level, yes, that's exactly what a flip flop consists of, and many are similar in their general construction. But, like every piece of gear under the sun, there are levels of quality, of function, of usefulness.
The Reef Fanning Low is a highly useful, functional flip flop that fits nearly everything a casual piece of footwear is made for. The Low is the second rendition of the Reef Fanning, a flop worn round the world by college students, parents, and surfers alike. Made for (and named after) surfing icon Mick Fanning, this line of flop is meant for beach use, casual use, and beer drinking barbecues.
We recommend the Reef Fanning Low (and it's big brother, the Fanning) for Car Campers and Urban Hikers who want to hit the beach with a beer often. We also recommend it for Wilderness Backpackers who want a lightweight camp shoe to lounge around in after a long hike. That said, do not backpack in these.
Read the full Reef Fanning Low review below, and see where they rank on our guide to the Best Flip Flops!
Reef Fanning Low Star Rating
Comfort

Durability

Soles

Straps and Webbing
Summary
The Reef Fanning Low is synthetic with a faux leather toe strap that provides plenty of cushion without being too heavy. The sandal grips well, especially on sandy rocks, and dries out quickly even when totally soaked. The sandal holds up for months, protects the bottom of your feet, and has a built-in bottle opener, an often-gimmicky occasionally awesome feature that comes as a surprise.
Reef Fanning Low Specifications
| Feature Type | Feature Specs | What This Means |
| --- | --- | --- |
| Weight | 7.7 oz. (218 g) per sandal | Quite light for a sandal, medium-range weight for a flip flop. You won't feel it on your feet, and barely in your pack. |
| Category | Flip Flop | Flip flops are a laid back sandal. Stick your feet in and relax. See our list of the best flip flops and how to find the best one for you in our guide. |
| General Fit | Standard | These sandals fit well, and aren't too wide or narrow. They are only offered in whole sizes but tend to be accommodating. |
| Strap Material | Synthetic Leather with no-sew hot melted overlay | The strap feels excellent against the skin and dries quickly. It doesn't really feel like leather, but is comfy. |
| Strap System | 1 Strap | A single strap goes over your foot, and a toe post secures the toes. Simple. |
| Footbed | EVA | EVA is a soft, spongy material that many shoes and sandals are made of. It's a standard material for synthetic flip flops and is comfy in this sandal. |
| Sole | Herringbone rubber with Bottle Opener | The sole is scored and has excellent traction for being a very minimal flip flop. The big feature is a bottle opener in each footbed, which is a little over-the-top but works well. |
| Sizes Available | 6-14 for Men, no half sizes | No half sizes here, but for flip flops that usually works out fine. |
| Manufacturer Warranty | 1 Year Warranty | Not the best warranty, but still pretty good for a flip flop. If a strap breaks, the sole gets worn through, or the bottle opener breaks be sure to contact Reef. |
| Retail Price | $55 | A moderate-to-high price for a comfortable, simple flip flop. You're paying for those bottle openers, solid EVA foam, and the Reef brand. |
Gear Review of the Reef Fanning Low
I am a bit of a flip flop guru. It's not aggrandizement or ego, don't worry. It's just a life of refusing to wear socks, tie laces, or do anything other than "slip" something onto my feet. For some reason I hate all of the above actions, and therefore wear flip flops well beyond their typical seasons. I have been known to wear flops into winter, despite high 30 temps and gusty mornings.
I also live in the small beach town of Ventura, and went to college in Santa Cruz, so have had good reason to wear flip flops for many years.
My go-to flop, against which all others are usually judged, is the classic Rainbow Leather Sandal with arch support. This is a leather flip flop that provides enough support, malleability, and durability to get one through multiple years of adventure.
The Reef Fanning Low, on the other hand, was totally new to me. The Fanning — the Low's big brother — had been around for years but I never had a pair. I preferred leather.
But it was time for a new flip flop and the Reef Fanning Low was calling, especially cause I was a beach rat this past summer and wanted ample traction while scaling rocks. I also wanted to see how the synthetic side of flops were doing.
I wore the Reef Fanning Low sandals for months. During the last two months of summer, throughout all of fall, and yes, into winter. I took them on backpacking treks as camp shoes, brought them to every campsite I hit, and walked in them daily. Small hikes, long beach days, river walks — you name it, the Reef Fanning Low was present.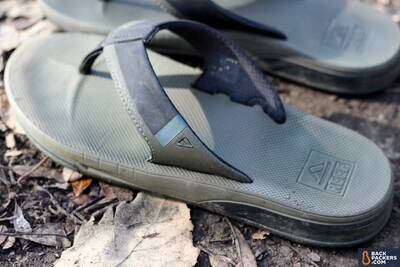 The best flip flops are the ones you simply slip on when heading out the door, then don't think about till you're home. The Reef Fanning Lows were this, to a T. They gripped rocks, held to my feet, dried and shook out sand readily, and, above all, I still use them today.
Revelation: The Moment I Knew
Revelatory flip flop moments are few and far between, mostly because they're little slips of material on your feet and are meant to stay out of the way.
I'd say I had two in my five-plus months of use.
The first was on a backpacking trip in the Sespe Wilderness. I wore hiking boots for the trail and thick brush walking (yes, I was reduced to laces and full coverage), but all my lay time was spent either barefoot or in the Reef Fanning Lows. They only weigh seven ounces, and slipped into the outside mesh pocket of my Osprey Atmos 65 AG easily, which made them always-on-hand.
It was hot, I was not hiking with a backpack for a while, and I wanted to scramble up and down some rocks. My feet were tired of boots and socks, so I slipped on the Fanning Lows, knowing this would be a solid test of traction.
You see, most flip flops are not known for traction. It's just not a quality they typically need. But Reef knows that most beaches have rocks, and most people who want a solid, beach-worthy flip flop actually scramble rocks fairly often, especially those looking for surf.
I rolled up my pant-legs and started scrambling down the mountainside in flip flops. They held onto the large, sharp rocks of the Sespe well. Even my toes, when at an angle and pressed heavily against the toe post, did not feel an overly sharp bite, and I did not lose grip. A flip flop with traction is a solid backcountry camp shoe.
The second time was more playful. The claim to fame of the Reef Fanning Low (and regular Fanning) sandals is bottle openers that are built into both footbeds. This is an over-the-top feature, and is more culturally "cool" than useful 90 percent of the time.
Yet, while camping in Cayucos, I found myself and a group of friends at the beach with ice-cold beers and no bottle opener. A couple of the guys got nifty, using the edges of keys or lighters to open bottles, but I could never quite figure that out.
So I took off my shoe and cracked a cold one.
It worked easily, took a second, and I continued to relax. The bottle openers are only sometimes useful, but when you need them they work well, and provide a decent talking point. Everyone was confused at first, then stoked, then we all tried opening beers with sandals like it was some engineering feat.
Digging Deeper
Flip flops are not known for their intense features and specifications. The goal is simplicity. That said, the Reef Fanning Low sandals do have a few nifty things going on.
First is the bottle openers, mentioned above. Each sandal footbed has them. I thought that with use they might rip out of the sandal, or cause some sort of walking issue, but I haven't noticed anything unsavory yet.
The second is the synthetic leather upper. It's a well-sized strap that covers your foot, and I found the soft, fake-leather material to grip well and feel good. It also dries quickly so even if the bottom of the sandal is a little wet, the top part never felt like it was squelching while walking.
Reef uses a small "airbag" under the heel, which looks like see-through plastic injected with air bubbles. This provides a bit of lift and cushion, and is the main reason I believe the sandals are so comfortable. They really do feel good, if minimal, to walk in. The regular Fanning sandals have a much thicker airbed if you need more support.
The sandals use an EVA footbed, which is super comfy, and the traction on the bottom clings to rocks better than you'd think.
Comfort 
4 Stars
The Reef Fanning Low sandals are comfortable enough that I will wear them entire days without noticing much. The toe post feels good, and the small grips around it help to keep your toes close, so that's a plus.
That said, these are minimal flip flops in a sea with much more comfortable competition, so I'm docking a point. Check out the Best Flip Flop guides to see what is more comfortable.
Durability 
3 Stars
Durability is tough when it comes to sandals. I have worn these extensively, and they are still going strong, especially in the toe hold, strap, and midsole, which is where a lot of sandals have breaking points.
That said, along the way a small piece of the outsole tore off. The part that tore off is around the bottle opener section, and while the opener is totally intact, I think the hole in the bottom of the shoe allowed something to get wedged under there. I was hard on the sandal, but didn't go out of the way to rip open the bottom, so I'm docking it two points.
I think the bottle opener is a point of weakness for general durability, so tread a bit cautiously.
Soles 
4 Stars
Outside of the tear and the bottle opener, I find the Reef Fanning Low soles to be outstanding on grip. I had no issue with traction on sandy, wet, or smooth rocks, which was quite the surprise. There's nothing like carrying a surfboard under one arm, a cooler under the other, and scrambling down a large pile of rocks. They held up, and for that they got four stars.
I can't overlook the tear, though, so minus a point.
Strap and Webbing 
5 Stars
There is a very simple strap and webbing system, typical of flip flops. Despite the main strap not being leather, I really loved how it felt. It never rubbed raw, it dried quickly, and molded just a bit to my feet, allowing a secure fit.
The toe post is also comfy, and has held up to my shenanigans, which is a good sign.
Fit
I typically wear an 8.5 in Men's shoes, but Reef only offers the Fanning Low in whole sizes. I went with an 8 and that size fit me perfectly. So I'd recommend the size down if you're halfway. That said, I like my flip flops close around my feet, without too much extra room at the toes or heel, and this fit the bill.
Grievances
Overall this sandal is excellent, and I can see why it's so popular. But there are a couple things that didn't work perfectly.
The outsole, while plenty grippy, is made of soft material that ripped during my use. It wasn't big enough to affect much, and I didn't stop using the sandal, but it did rip. This was around the bottle opener area, which I believe is a weak spot.
And, while the bottle opener is awesome for rare days, I don't think I'd take a weak spot in exchange for it. I use my sandals for a good deal of basic hiking and rough terrain, so I'd trade a more stable outsole over the bottle opener.
Plenty of people aren't like me in this regard, and would very much prefer a bottle opener. Think about your use case and if you need a super durable outsole or beer-cracking functionality.
My last grievance is that the Reef Fanning Low is not made in a women's model. The original Reef Fanning is offered in both genders, which is great, and I think the Low would do well for women, too.
Final Word
The Reef Fanning Low is a rock-steady sandal that excels at grip while staying minimal and light. Perfect for beach days, especially if you want to crack a cold one.
Where to Buy Reef Fanning Low
Reef is a massive brand, and the Fanning Low is second only to the original Fanning in terms of placement. You should be able to find the Fanning Low in most places where active sandals are sold, including outdoor retailers, surf shops, even some department stores. At the time of writing the Fanning Low is only offered for men, and we really hope Reef makes a version for women, as we like the sandal a lot!
That said, we also like the original Reef Fanning. It has a thicker sole with even more air in the heel, which offers more support. It's also offered for women. So if you want more support, we do recommend that model.
Compare Reef Fanning Low and Fanning prices below.
Review Policy: We do not accept payments or gifts from brands and vendors, and strive to provide unbiased, independent advice. Brands typically provide review samples which we return, and in some cases we purchase the item so we can keep using it long after the review. Affiliate Policy: We support the hours that go into our reviews and testing through affiliate commissions on purchases made through links in this article. These don't effect the outcome of our reviews or selection of gear, as per our Review Policy.