Flip flops are the most comfortable piece of footwear a human can put on. Maybe not for extreme hiking, nor heavy labor, and likely not for six or so months out the year — depending your climate — but for everything else, they're peachy. Backyard barbecues, the beach, a walk with the dog, groceries around town, you get the idea. If the weather is good, and you desire ease and comfort, we find the flip flop to be ideal.
The footwear style has also been around the longest, with leather thongs dating back to Ancient Egypt (and further), and has continued to make slight improvements over the years. We list the best flip flops of 2019 below — some are best for water activities, others for city comfort, and still others for hiking. Find the pair that suits your sole, and relax.
Comparison Table of Best Flip Flops
| Best Flip Flops | MSRP | Weight | Warranty | See Flip Flops |
| --- | --- | --- | --- | --- |
| Rainbow Sandals Single Layer Premier Leather | $54 | 5.5 oz | Lifetime of the Sole | Women's, Men's |
| Astral Filipe/Rosa | $75 | 6.5 oz | Limited Lifetime | Men's, Women's |
| Birkenstock Arizona | $99-$135 | 10 oz | 30 Days | Women's, Men's |
| Olukai Ohana | $65 | 8 oz | 1 Year | Women's, Men's |
| Chaco Flip EcoTread | $65 | 8.5 oz | Limited Lifetime | Women's, Men's |
| Teva Mush II | $25 | 3.5 oz | 1 Year | Women's, Men's |
| Reef Fanning | $55 | 9 oz | 1 Year | Women's, Men's |
| Sanuk Yoga Sling 2 | $38 | 6 oz | 1 Year | Women's |
| OOFOS OOahh Slide | $49.95 | 4.6 oz | 6 Months | Unisex |
| Sanuk Beer Cozy 2 | $36 | 6 oz | 1 Year | Men's |
| Havaianas Flip Flops | $18+ | 4 oz | 30 Days | Women's, Men's |
The Best Flip Flops
Rainbow Sandals Single Layer Premier Leather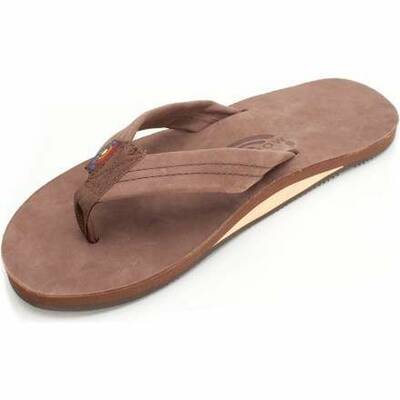 Rainbow Sandals are a staple in California, and have made their mark on anyone who likes the beach. The Single Layer Premium Leather model (with arch support) is the iconic sandal, and is as basic as it gets. Leather straps connect to a single thong-style sandal, your foot rests on premium Nubuck leather, there is a slight arch, and the outsole is a basic rubber. Rainbow Sandals, especially the leather models, are known for molding to your feet, thus requiring a break-in period. The company has a famous "Lifetime of the Sole" guarantee, so if you wear through the sole before anything else breaks, you can get another pair. This doesn't happen often.
See the Women's Rainbow Sandal Single Layer Premium Leather
See the Men's Rainbow Sandal Single Layer Premium Leather
Astral Filipe (Women's Rosa)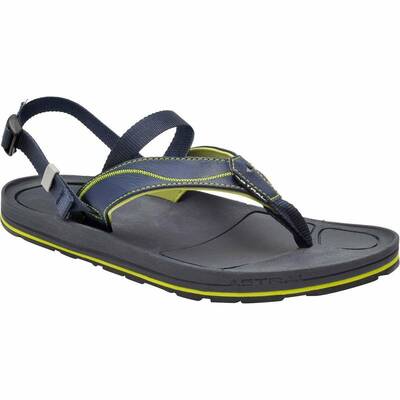 The Astral Filipe (and Women's Rosa) is a water- and hike-ready flip flop that conveniently converts to a hiking sandal with a removable strap. Astral is known for water products, and the Filipe uses its G Sticky rubber compound in the outsole and in specific areas of the footbed to seriously increase traction when wet. The Filipe has a cushioned synthetic leather strap and toe post in true flip flop fashion, and the removable ankle strap is made of polyester and has a ladder lock to dial in fit. At roughly 6 ounces this is a very capable flip flop, and excels at both comfort and ruggedness. The lifetime warranty helps, too. The only downside is misplacing the strap if you're not wearing it.
See the Men's Astral Filipe
See the Women's Astral Rosa
Birkenstock Arizona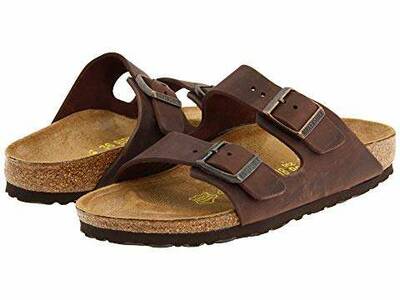 10 oz per sandal (men's)
$99-$135
Best For: Urban Hiker
The Birkenstock Arizona sandal is iconic. It's known for two key things: comfort, and a hippy's definition of style. The sandal is a go-to for casual urban hikers, mostly because it's well-made, comes in a variety of styles and colors, and is outrageously comfortable. This comfort is due to the footbed, which Birkenstock has used since 1774. You read that right. Solid support in key places combine with a cork midsole to create a sandal that molds well to your feet, and the EVA outsole is soft yet firm, giving you a cushy step. The upper is made of a number of materials, including leather, Birko-Flor, Birkibuc, and EVA, all of which are comfy. Two adjustment points keep the sandal as fitted as you want. There's no toe hold, and no back, so these aren't meant for active pursuits. Also, the Arizona is not great with water. All that cork can absorb too much, and you won't want to let it dry in the sun.
See the Women's Birkenstock Arizona
See the Men's Birkenstock Arizona
Olukai Ohana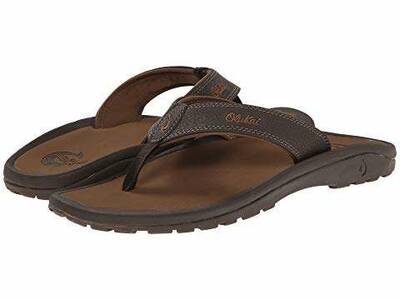 The Olukai Ohana flip flop is one of the most well-rounded sandals around. It is comfortable, durable, has decent traction, and is styled simply and evenly across both genders. The base model is synthetic all the way around, with a footbed that is easy to walk in even when wet, and traction that can grip in rocks, streams, gravel, or dirt. There is arch support and a natural curve at the toe. Olukai also makes a leather-strap version of this sandal, if you prefer that. All that well-rounded-ness will cost you though, and they are a bit heavy for flip flops.
See the Women's Olukai Ohana
See the Men's Olukai Ohana
Chaco Flip EcoTread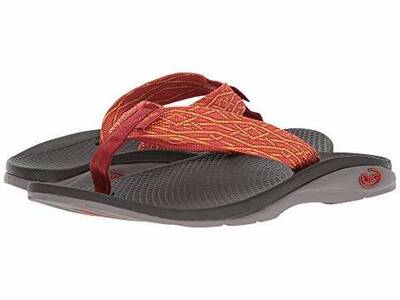 The Chaco Flip EcoTread is like a flip flop on steroids. Chaco is known for incredibly durable and comfortable hiking sandals, and that design approach shows in the Flip EcoTread. The flip flop uses Chaco's classic LUVSEAT midsole, which provides a ton of support and is what made Chaco, Chaco. The straps have subtle color, but they're comfortable and will last. The soles are made with a 25% recycled rubber compound (thus the "ECO" part of the name), and they have a 2mm lug depth. They are great in water, great with traction, and are solid enough to hike in if you want. The ECOTread Flips are heavier than most flip flops by a couple ounces, but they'll last longer than most on this list. If you like the Chaco support, you can't go wrong.
See the Women's Chaco Flip EcoTread
See the Men's Chaco Flip EcoTread
Teva Mush II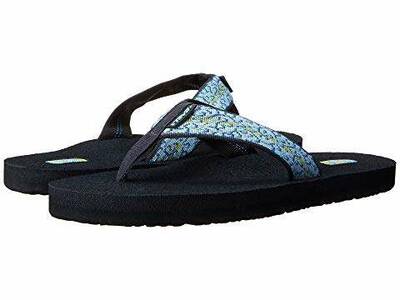 The Teva Mush II flip flop is a steal for name-brand, memory-foam-esque sandals. The design is a classic thong sandal that's all about light weight (under 4 ounces) and excellent comfort. That comfort is due to the Mush footbed and EVA constructed midsole and outsole. The footbed remembers your foot after each use and morphs into your perfect sandal. The outsole is a bit stiffer, providing a solid surface to walk on. For the price, these are excellent, but don't expect ample traction, support, or durability. Also, they absorb water pretty seriously, so aren't great as shower sandals. We recommend them for Wilderness Backpacker and Ultralight Backpacker as camp shoes due to their weight — do not try to backpack in these!
See the Women's Teva Mush II
See the Men's Teva Mush II
Reef Fanning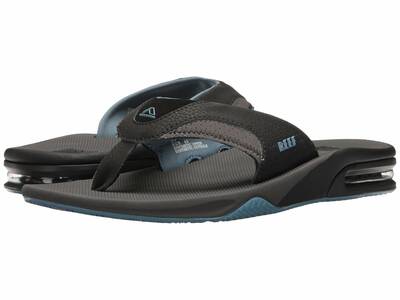 The Reef Fanning flip flop, made famous by pro surfer Mick Fanning, is arguably the king of synthetic beach sandals. The wide toe strap is made of synthetic nubuck leather, offering a supple feel that grips well. The footbed is comfortable, slightly squishy, and does not slip when wet at all. The sandals have solid arch support and use a "heel airbag" enclosed in soft PU at the heel. This gives support without being hard on the foot, and is unique. Finally, the sandals have a bottle opener built into the footbed. Beyond great traction, this allows you to crack a cold one on the sand or at the BBQ. This functionality works well, but can cause a slip in overly rocky terrain.
See the Women's Reef Fanning
See the Men's Reef Fanning
Sanuk Yoga Sling 2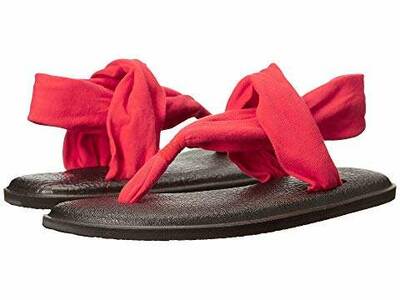 The Sanuk Yoga Sling 2 is arguably the ultimate yogi flip flop. It uses a two-way stretch knit top to secure your foot, and it actually does a decent job. The fit is easy once you get the hang of it, and it keeps the sandal right on your feet. Sanuk uses the yoga mat footbed that it's known for, which is squishy, comfy, and has a distinct feel. The outsole is very basic, so we don't recommend for any extended hiking. The Yoga Sling 2 is a comfortable fashion statement, and only made for women. We love it for walking around town (likely heading to yoga), or extended road trips, but wouldn't take it anywhere where solid activity is necessary.
See the Women's Sanuk Yoga Sling 2
OOFOS OOahh Slide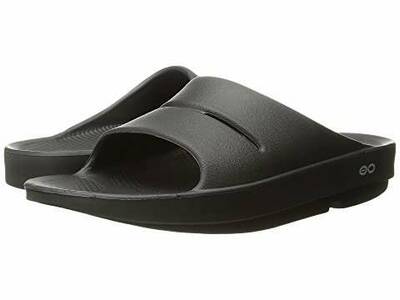 The OOFOS OOahh Slide sandal has a lot going on, just in the name. OOFOS is a company founded on the idea of recovery — shoes made for after the run or hike. They use a proprietary closed-cell foam in all sandals called OOfoam, which claims to absorb 37% more impact than normal foam materials used in footwear. The OOaah Slide sandal is the thong-less version (the OOriginal is the thong version). The upshot? They are crazy comfortable. They feel great on tired feet, work well in water, and are crazy light. Due to the weight and recovery aspect, we think they may be the ultimate camp shoe for backpackers.
See the OOFOS OOahh Slide
Sanuk Beer Cozy 2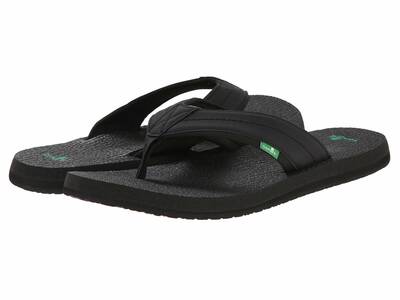 The Sanuk Beer Cozy 2 takes after the original Beer Cozy, a flip flop designed to chill. Sanuk is known for using yoga mats (literally) as the footbeds of their shoes — to much acclaim. The Beer Cozy 2 takes after this tradition, giving it a very squishy, soft, and cozy vibe. The new version added some arch for more support, and a slightly updated toe strap, which is made of synthetic leather and lined with soft neoprene. The outsoles are called Happy U, and do a good job around town. Overall these sandals are comfy, but a little pigeon-holed. There are lighter flip flops, more supportive flip flops, softer flip flops, and better flip flops for trekking. That said, if you love that yoga mat feel, and love Sanuk, this is a great choice. Men's only.
See the Men's Sanuk Beer Cozy 2
Havaianas Flip Flops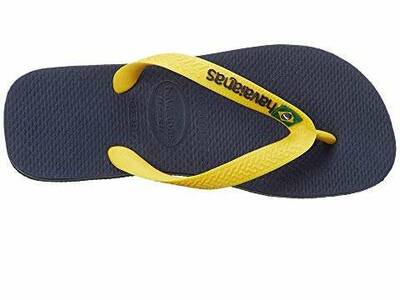 Havaianas Flip Flops are on this list because they're classic, basic, and cheap. The sandal comes from Brazil, and has an international audience. They are made of rubber, contain relatively no "spec" information, are low-to-moderately comfortable, and last a couple years (maximum), depending on use. While we don't recommend them for any serious hikes, the Havaianas Flip Flops are the perfect go-to for your absolutely basic flip flop.
See the Women's Havaianas Flip Flops
See the Men's Havaianas Flip Flops
Flip Flops Features
Activities
We touched on uses above, but we want to be clear that a flip flop can be quite versatile, depending on the model. None of them will get you as far as our hiking sandals, but the right flip flop can get you through most of life if you're dedicated. Here are the best uses for a flip flop:
Water: Most flip flops were made to deal with water. From sandy beaches to river dunks, flip flops are easy to slip on and off around the water, dry quickly, usually float, and actually mold to your feet more with water.
Urban: In the right climate flip flops can be great for casually strolling around a city. Especially if the streets are clean.
Barbecue: We think a backyard or park barbecue may be the perfect environment for a flip flop. You can slip them off to feel the grass beneath your feet, or throw 'em on for a little support and to keep your feet clean.
Travel: We love lightweight flip flops for travel. They are typically light, fold up easily, or carabiner to a pack in an instant. Throw them on when the weather is right, or use them occasionally for a change-up in footwear. This includes communal showers! Having just one pair of shoes for an entire trip is not ideal.
Backpacking Camp Shoes: Some flip flops excel at being chill shoes to wear after a long backpacking trek. You want a flop that is light as possible, with decent support and some traction.
Camping: Flip flops are ideal camping shoes. You'll probably take boots or hiking sandals with you too, but a pair of flips to slide on and off in the night, and during the entire day, is a no-brainer.
Toe Post or No Toe Post
Flip flops have one key factor that puts people in two camps — toe post or no toe post. The toe post is the technical term for the thong-like fabric that sits between your big toe and the index toe. Basically: do you want something between your toes?
If you do, you're in luck — most flip flops have toe posts. In fact, some people would argue that a flip flop has to have a toe post. We are not those people. But we do list a lot of flip flops with toe posts, because they are more common.
The other kind of flip flops have nothing between your toes, but a strap that goes over them. You'd be surprised how passionate people are about this issue. We list a couple flip flops without a toe post, notably the Birkenstock Arizona, which has two large straps, and the OOFOS OOahh Slide, which has a large strap (and which is offered with a toe post, too). These are both more casual, comfort-oriented flip flops.
Reasons to Use a Toe Post — Or Not
To help make this decision, the main thing we recommend is trying on a pair of flip flops. You'll know almost immediately if you like the toe post, or if it rubs you the wrong way (literally). But we'll give you a few pointers on why a toe post is loved and hated:
Solid grip: Toe posts give your feet a solid thing to grip when walking, thereby making the sandal sit permanently close to the forefoot. This can be comforting and give you more a sure step. See the Astral Filipe, Chaco Flip EcoTread, and Olukai Ohana for traction plus a toe post.
Angled straps: Because the toe post sits right in the beginning of your foot, the attached straps angle nicely outward over your feet. This usually feels "right". Most sandals without a toe post have a large cross strap, which feels more like a shoe covering than a sandal.
Wears Quicker: A toe post takes more frequent abuse than a strap over your toes, which means that it may be the first piece of the sandal to break. If it does break, you basically can't wear the sandals any more. It's much harder for a large covering strap to break, and if it does the sandal company may repair it for you, because they're really not supposed to break.
Whatever you decide is most comfortable is the way to go. A flip flop company's reputation can be built on the comfort of a toe post, and some require breaking in to feel excellent, but most should not chafe too bad.
Materials
When it comes to activity, style, and how you want your feet to feel, we find the material of a flip flop to matter. Explore the most common materials below. Note that these refer mostly to the material of the upper straps and webbing, not the outsole or mids, which we'll get into below.
Leather
Leather is the original sandal material, and it has stood the test of time. Leather molds to your feet, lasts a long time, is a natural product underfoot, and just feels good. Some leather sandals, like Rainbow Sandals, are great in the water and actually mold to your feet through sweat and the sea. Other sandals, like the Birkenstock Arizona, use leather (suede) and are not meant for the water. Know which leather your sandal has.
Pro Tip: Leather sandals are often stiff out of the box. Wear them in and, if your sandals do well in water, use a bit of it to start the molding process. They will quickly become the most comfortable sandals you own.
Synthetic Leather
Synthetic leather is often listed as a material. What does this really mean? It's a synthetic material that's made to feel like leather. Why? Leather feels great. Synthetics compare, but never quite live up to the real thing. That said, most of the sandals on this list use synthetic leather because it's cheaper to produce, easier to work with, forgoes the animal rights issue, dries quickly, and feels pretty good.
You'll find this most commonly in the large straps of a sandal, which rub against the skin. For excellent examples of synthetic leather, look at the Olukai Ohana, Astral Filipe, Reef Fanning, and Sanuk Beer Cozy 2.
Polyester
Polyester is a common material for flip flop straps, especially those that need to dry quickly. They are often thin and water-ready. While they're not as cushy as synthetic leather, they feel good and weigh very little. The Chaco Flip EcoTread and Teva Mush II use polyester webbing.
Neoprene
You can find neoprene in some flip flops, especially those focused on comfort and water sports. The neoprene is often in a piece of the upper strap, is very soft against the skin, and lasts a long time. The Astral Filipe uses neoprene effectively.
Nylon
Nylon is the most common material for the toe post of a sandal, especially in more active footwear. It doesn't rub, lasts a long time, and is quite strong.
Footbed
The footbed of a sandal is the key component for long-term comfort. Flip flops have relatively few parts, and the part that you'll literally spend the day on is the footbed. Due to this brands often have unique footbeds. Get one that provides the right arch support for you, can excel during your main activities, and one that lasts.
Some notable footbeds found in the sandals above are:
Chaco LUVSEAT: Found in the Flip EcoTread, the LUVSEAT footbed and midsole are renown from Chaco, and provide tons of support and are podiatrist approved. They are heavy though!
OOFOS OOfoam: Found in the OOaah Slide, OOFOS created proprietary Impact Absorption Technology that helps feet to recover after runs. It's incredibly light, cushy, and helps your feet recharge.
Sanuk Yoga Mat: Sanuk's whole mission is founded on the comfort of yoga mats as footbeds. The Yoga Sling 2 and Beer Cozy 2 use yoga mats as footbeds, and provide that uniquely squishy feel.
Birkenstock: Birkenstock is known for footbeds of many comforting materials, including cork and leather, and for their highly supportive and detailed design. If Birkenstock footbeds feel good initially, they will feel great over time.
Teva Mush: The Mush II from Teva utilizes their well-known "mush" footbed, which is crazy comfy EVA foam. It has lots of give for your feet, and makes you feel like you're walking on giant sponges — in a great way.
Outsole
Outsoles are all about traction, and are therefore very important in every other kind of footwear, like hiking boots and sandals. For the flip flop, an outsole is just not as important. Does it matter? Yes. Is it critical? No.
Flip flops are not built for heavy trekking, and therefore aren't required to grip on literally everything. That said, you want an outsole that will last and give some traction on wet or sandy rocks.
The Olukai Ohana, Astra Filipe, and Chaco Flip EcoTread soles all have the most rugged, terrain-gripping design, and can be used for hiking in addition to general flip floppiness.
One slightly gimmicky standout in the outsole category is the Reef Fanning (and Fanning Low), which include a bottle opener. You can crack a cold one with either flop. It's a bit silly, but does come in handy.
How to Buy Flip Flops
Flip flops are found pretty much everywhere, from brick and mortar department stores to surf shops to outdoor recreation hubs. Each will have different models with different abilities, but overall a good flip flop is not hard to find.
Online Retailers vs Real Stores
While you should try on most footwear before buying, flip flops may be bought online in solid confidence. If you know your toe post preference and what material flop you want, any of the above sandals will perform well.
That said, trying on a sandal in person is going to provide a better understanding of how they feel, which is still essential.
If you know your model or brand, check out online retailers for serious discounts.
Used Flip Flops vs New Flip Flops
Some outdoor items are fine used — backpacks, tents, headlamps, to name a few. However, footwear is not the best category for used goods. Unless they are in pristine condition, we don't recommend buying used footwear. That's even truer for flip flops, because whoever wore it before you probably sweat directly into the shoe, which, despite frequent washes, still constitutes a very "used" feeling.
Future of the Flop
As we said at the beginning, the flip flop is arguably the oldest footwear on the planet. It has remained an easy way to keep your soles from bleeding, and will remain that for years to come.
While we don't see a ton of innovation in the flip flop space, we have noticed that they are getting more specific in their use. A handful of flip flops on our list are actually decent at light hiking, and will last for years. Others are built for yoga, or the beach, or even from recovering after a long hike or run.
As outdoor gear continues to expand, the gear will get more specific. This is true of the flip flop, and we are stoked. Get the flip flop that best fits with your lifestyle, and then wear it. Cause they're chill.
---
Backpackers.com Affiliate Policy: This guide contains affiliate links, which help fund our website. When you click on the links to purchase the gear we get a commission, and this goes a long way to creating guides, gear reviews, and other excellent content.