REI Camp Bed 3.5 Overview
Sleeping on the REI Camp Bed 3.5 is like taking your normal mattress with you on a camping trip, if your normal mattress compressed, rolled, and fit into the back of your car easily. The REI Camp Bed 3.5 is a good companion for any car camper looking for the cushy half of a great sleep system (you still need a sleeping bag to go along with it). Its 3.5-inch thickness, 6.0 R-value, and self-inflating foam system will help take any hesitant camper out of the house and into a tent.
Due to its comfort and price, the REI Camp Bed 3.5 is our Classic Pick for the Car Camper.
REI Camp Bed 3.5 Star Rating
Comfort

Durability

Inflation and Deflation

Packability
Summary
The REI Camp Bed 3.5 is a large and in-charge self-inflating sleeping pad, with over 3 inches of cushion between you and the cold ground. The sleep surface is soft and stretch polyester, giving it a nice feel, and the bottom is extremely durable. Packing it away is the main downside, as it takes a little while and is very hard to stuff in the included stuff sack. Only meant for camping, where it excels.
It does not have the attribute of versatility, and shouldn't be considered for backpacking treks, but as a car camping-specific pad, it's hard to beat the level of comfort for the overall cost.
For the full gear review of the REI Camp Bed 3.5 read on, and see where it stands on our guide to the Best Camping Mattresses.
Update: The Camp Bed line by REI used to have 2.5 and 3.5 models. REI has since discontinued the 3.5 inch, and made some large updates to the Camp Bed line overall. It is now offered in one style, which has a 2.5 inch height, two low-profile flat valves for inflation/deflation, an R Value of 6.8, a weight of 3 lbs 10 ounces, and a cost of $99. The Camp Bed still has 150D polyester bottom and a soft stretchy polyester fabric on top, it still has premium foam, and it comes in a Regular or Extra Large size. We miss 3.5-inch height, but the other updates are excellent, especially the flat vales, weight, and price. We find the streamlined Camp Bed is still an excellent sleeping pad for the cost and it remains our Classic Pick for the Car Camper.
Camp Bed 3.5 Specifications
Feature Type
Feature Specs
What This Means
Weight
4 lbs. 9 oz.
A heavy sleeping pad, no doubt about it. Luckily your car will be doing the majority of the hauling.
Type
Self-Inflating Pad
The Camp Bed 3.5 has foam inside that inflates very quickly once the valves are open. It takes maybe 20 seconds. More on sleeping pad types in our Guide.
R-Value/
Temperature Rating
6.0
This pad will keep you warm in all four seasons. More on R-Values and temperature rating in our Guide.
Shape
Rectangle
There's no taper on this pad. Like a real bed! More on sleeping pad shapes in our Guide.
Sizes
Regular, XL
We tested a size Regular, which is already bigger than most sleeping pads. The XL is huge, weighs almost two pounds more, and is fit for queens and kings.
Thickness
3.5 in. (8 cm)
As the name implies, when full of air this gives you 3.5 inches off the ground. That's a ton of lift. You won't feel the floor.
Length
72 in. (182 cm)
Average length for sleeping pads, will fit a six-foot person comfortably. Get the XL if you're bigger than that.
Width
25 in. (63 cm)
This width is five inches wider than standard sleeping pads. You won't roll off.
Packed Size
6.25 x 26 in. (15 x 66 cm)
The Camp Bed 3.5 doesn't fold width-wise like other pads, so it's a long, large tube. Nothing small about it, but it'll fit in the car easily. More on sleeping pad packed size in our Guide.
Baffle Type
Flat
The Camp Bed 3.5 doesn't have baffles. The foam inside gives it a flat surface, which is typical of self-inflating sleeping pads. More on baffle types in our Guide.
Valve Type
2 twist and pull valves
Two oversized twist and pull valves on the Cap Bed 3.5. They are high-flow, and allow easy inflation. Deflation is a bit harder. More on valve type in our Guide.
Material Type/Thickness

Soft stretch polyester top

150D polyester bottom

REI doesn't list the Denier-count of the top, but it's probably 150D as well. This is a very thick, durable fabric and the pad resists tears well. More on Denier thickness in our Guide.
Breaths to Inflate
Less than 5
This self-inflating pad will pop up all by itself. To get complete firmness add a couple of extra breaths.
Manufacturer Warranty
Limited Warranty
REI has a stellar return policy within a year (you can return anything), but after that it's a bit more vague. This is especially true with sleeping pads, which are notorious for failing under "user use", rather than a flaw with construction. Treat this pad well and it will treat you well.
Retail Price
$119.00
A solid price for a solid car camping pad. You'll sleep better than you thought you could.
Gear Review of the REI Camp Bed 3.5
Origins: Easing You In
One of my favorite things about camping is the mornings. I love waking up to the sound of birds chirping, the sun peeking through beautiful pine trees, and being warm and cozy in the cool morning air. When packing for my trip to Yosemite National Park, I knew from previous experience that the nights and mornings tend to be a bit cooler in spring. For this reason I left my smaller backpacking sleeping pad at home and loaded the REI Camp Bed 3.5 into the car. It didn't squeeze into the same tiny nook, but wasn't hard to fit, either.
Upon arriving at our campsite, the tent was up quickly. My husband and I have it almost down to a science. Poles, tent, sleeping pads, sleeping bags, and then food! It's a routine with clear rewards, which makes the whole thing go fast.
We were impressed with the ease and minimal setup of the Camp Bed 3.5. I unrolled the pad, pulled and twisted the two valves open, and listened to air filling the mattress. That was basically the whole of it. Of course we had to add a little of our own breath to fully inflate the mattress — no self-inflating pad actually inflates the entire way — but this was done with a few final puffs, and left us plenty of time to catch the sunset.
At the end of the day I laid down to rest and thought about the hike we had ahead of us: a 7.6 mile trek up to Yosemite Point, the top of Yosemite falls with a gain of almost 4,000 feet in elevation. The plan? Wake up refreshed and well rested, ready to tackle the waterfalls and elevation.
Revelation: The Moment I Knew
The true test of a sleeping pad is how you feel the morning after. Waking up after a full night's sleep on the REI Camp Bed 3.5 enhanced my morning even more than I could imagine. My husband noticed right away, because I gave him a cheery "Good morning!", which is not usually the case in the woods.
I've had some unfortunate backpacking experiences where I went to bed far from the ground, but in the morning the dirt and I seemed to be face to face. Sleeping pads that lose inflation over night are simply the worst.
This didn't happen in the slightest with the Camp Bed 3.5 — I was still as elevated and insulated in the morning as I had been the previous evening. The valves sealed tight, which is what you always expect, but don't always get.
But it was really the sheer number of inches I was off the ground that put me in such a good mood. The Camp Bed is a self-inflating pad, constructed with open cell foam. This is what creates the cushion, and the foam automatically fills with air to keep you from kissing the ground.
The 3.5 component of the title refers to the Camp Bed's 3.5 inches of thickness once fully inflated. The foam absorbs the air and traps it, like a sponge. The bigger and thicker the sponge, the more heat it can retain. I had a bad experience camping on a pool floaty before — not recommended — as it's very different than an inflatable pad with foam. With the sponge-like thickness, instead of floating down onto the ground, you'll be floating on your dream cloud in style.
If the thickness sounds appealing, yet you're concerned about the firmness of the pad, don't be. Unlike other thick air pads or mattresses, which usually have a bounce to them especially when moving around on the pad, the Camp Bed's self-inflating foam makes it very stable. It moves a little if you jab a knee or elbow in, but not much. You're also able to adjust the firmness of the pad by releasing a bit of air through the valve. Yes, you have the convenience of remote controlled comfort in the woods by a touch of the quick release valve.
The first thing I did after inflating the pad was take it for a test drive on the grass. The padding seemed equal all around, perfect for my bony hips and knees. I was also impressed that regardless of the thickness, the pad still had a convenient weight for car travel, a fair 4 pounds 9 ounces. The quality of padding is quite impressive for this small of a package. I honestly felt bad that my husband had to sleep on our backpacking pad and I had the pad fit for a princess — AKA me.
Digging Deeper
With temperatures dropping into the lower 40's that night I was glad I had opted for the Camp Bed 3.5 instead of my lighter and thinner backpacking mattress. While smaller and compact backpacking pads are great for the weight-concerned, they can't really compare with the comfort of this pad, and the insulation provided. The last thing I wanted to do is shake the tent all night with my shivering.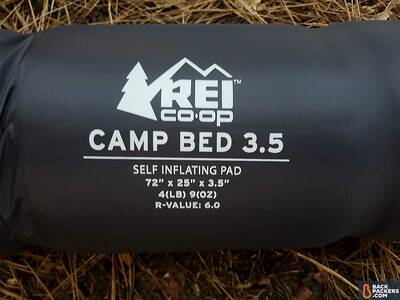 All sleeping pads come with either an R-Value or an estimated temperature comfort rating. This helps you gauge the insulation the pad provides. A sleeping pad's main job, other than to provide a nice cushion between you and the ground, is to keep your body heat from escaping out of your sleeping bag. If you don't have the right insulation for the temperature you will find yourself shaking with cold.
R values range from 1-9 — 2-3 is the standard R-Value for a summer overnight outing, and 5 is considered good enough for most four season camping. The Camp Bed 3.5 offers an R-Value of 6.0, which is more than enough for basically any temperature. I was plenty warm and not surprised that I didn't turn into a popsicle overnight.
Another aspect of the Camp Bed that really impressed me was the small sound value it had. What is the "sound value," you ask? It's the level of sound a pad makes every time you switch sleeping positions. My restless sleeping creates quite a bit of sound — not an AC/DC level of noise, but give me a squeaky air pad and I can get pretty close. I would credit the soft polyester top of the pad to be the sound barrier that deafens any restless sleeper. There were no concerts that night.
Beyond the two large valves for inflation and deflation, the Camp Bed 3.5 is really simple. It comes with two hook-and-loop straps (like Velcro) to help you roll it up, and the included stuff sack.
Comfort 
5 Stars
You can call me a "rock and roll" sleeper. I start on my back, then move to my side, back, side, stomach, side, and sometimes even wind up diagonally. Even with boney hips and knees, each position I slept in on the Camp Bed 3.5 was extremely comfortable.
I didn't encounter the "middle taco" deflation effect that usually happens around 3:00 a.m., either. This is when you find your air mattress so deflated you wake up to your hip digging into that one stick you forgot to remove under your tent's footprint. My snores made it all through the night, as did my hips.
Warmth 
5 Stars
I used the Camp Bed 3.5 for one day and night in Yosemite and didn't baby it in the slightest. Long-term durability can't really be commented on, but the polyester texture, welded seams, and 150-denier bottom material all appear quite durable.
In general you should take it easy with sleeping pads. They can get holes, and if they do you will have to repair them, or have a bad night's sleep. The REI Camp Bed 3.5 is built to last many car camping experiences.
Deflation and Inflation 
3 Stars
Inflating the pad is a pretty simple task. The two twist and pull valves pop open and inhale the surrounding air rather quickly. However, to have it reach its firmest state additional air is needed. I found that it's best to close the smaller valve and blow into the larger one yourself to reach full inflation. This takes maybe five big breaths.
Deflation involves a certain style, a finesse you might say. While the two valve self-inflation system easily allows air in, out is a different story. You have to leave the valves open to deflate (obviously), but they also suck in air automatically when open, so you're constantly battling the self-inflating aspect of the pad while trying to deflate it.
For me, deflation involved multiple rolls, including my favorite, the burrito roll. Laying across the pad length wise and slowly rolling yourself across the sleeping pad is a fun and efficient way to get a lot of the air out. It's also a great ice breaker for your neighboring camp mates. Once you lay on it to get all the air out, quickly roll it up like a traditional mattress. Use the hook-and-loop straps to cinch the pad down and keep it in place, and it's finally ready to be stuffed into its stuff sack.
Packability 
3 Stars
The REI Camp Bed 3.5 is great for a multi-day car camping trip. After using your best wrestling moves to return it into its stuff sack, the REI Camp Bed squeezes nicely into a corner of your car. However, weighing in just over 4lbs I wouldn't recommend it for a backpacking trip.
Grievances
The comfort is killer on the Camp Bed 3.5, but it does have one main issue.
Like some sleeping bags, once you take the sleeping pad out of its convenient sack it never seems to want to go back in. Like, this really doesn't want to fit back in there. I wish REI would have made the stuff sack bigger. This would have allowed for a much easier packing up procedure, and is a note for most pad manufacturers, especially those of the car camping variety. The self-inflating foam coupled with a twist and pull valve means the pad is constantly taking in some air while you're trying to roll all the air out, so there's a bit of struggle.
I had to bust out wrestling moves in order to make the REI Camp Bed 3.5 fit back into the included stuff sack. In fact, I have ripped a previous pad's sack because of this issue, and don't have a good track record with keeping stuff sacks free of holes. Some of you may be meticulous and able to roll it down perfectly, but most of us will just roll it up, tie it off, and leave it out of the sack altogether. This works, but isn't great for long term durability.
Final Word
The REI Camp Bed 3.5 soothed my rock and roll sleeping soul and kept me warm. Super thick, leak-free, and easy to inflate, I woke up rejuvenated and ready to take on the John Muir Wilderness.
Where to Buy REI Camp Bed 3.5
We tested the REI Camp Bed 3.5 Regular. This size is 72 inches long, 25 inches wide, and 3.5 inches thick in the color Willow. There is also an Eclipse blue available. If you prefer something a bit larger, there is an XL size available too. The pads are not gender specific, but due to height and warmth both genders should enjoy their sleep on the Camp Bed. This pad is only sold by REI, and the sizes can be selected at checkout.
REI also sells an REI Camp Bed 2.5, which is the same construction but an inch thinner. If you don't want such a high sleeping surface (or don't want to spend as much money), consider this pad. It's listed below as well.
Review Policy: We do not accept payments or gifts from brands and vendors, and strive to provide unbiased, independent advice. Brands typically provide review samples which we return, and in some cases we purchase the item so we can keep using it long after the review. Affiliate Policy: We support the hours that go into our reviews and testing through affiliate commissions on purchases made through links in this article. These don't effect the outcome of our reviews or selection of gear, as per our Review Policy.