The best camping mattresses are essential to a fun and relaxing outdoor vacation. If you're not getting a good night's rest, you're not going to enjoy the wilderness to its fullest. Camping mattresses offer comfort, insulation, and are subject to a number of individual preferences. Do you like a firm or soft mattress? Are you sleeping alone or with a partner?
We've identified the best of the best and assembled a thorough list for you below. After examining each camping mattress for qualities such as R-Value, weight, and comfort, we listed out the best camping mattresses across a variety of construction types. Each is unique with its own restful merits, and you're sure to find one that fits the bill.
This list is more geared towards camping mattresses used in car camping, road tripping, and overlanding. If you're looking for backpacking sleeping options, check out our guide to the Best Sleeping Pads for Backpacking.
Camping Mattress Comparison Table
The Best Camping Mattress for Couples
Exped MegaMat Duo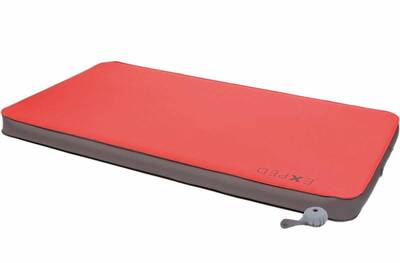 The Exped MegaMat Duo is a category-defining product and has helped to assure people that you can be as comfortable in the woods as at home. This premium camping mattress is constructed with thick self-inflating foam, has a nearly 4-inch height with 3D edges (like a real mattress), and is pretty much beyond comfort.
The MegaMat Duo comes in two sizes, but we think the biggest version (the size of a Queen mattress) is where it really shines. There are two flat valves, one for inflation and one for deflation, and it comes with a mini pump for getting it super firm. Finally, it is packed in a SideWinder stuff sack, a new take on a typically awful process of packing up your large camping mattress. The Exped MegaMat Duo doesn't pack down very small, but it is still portable and is really the best camping mattress out there. For those that want the single-person version, check out the MegaMat 10.
Exped Megamat 10 Star Rating
Comfort

Durability

Inflation and Deflation

Packability
Summary
The Exped MegaMat 10 is more than a sleeping pad, it's a real bed that happens to pack up small and fit in tents. If you want to know true comfort while sleeping at camp, experience the MegaMat. It is high off the ground, full of premium foam, holds air extremely well, and is pretty easy to pack up come morning.
Read Full Review
See Exped MegaMat Duo
---
The Best Camping Mattress for One Person
Therm-a-Rest MondoKing 3D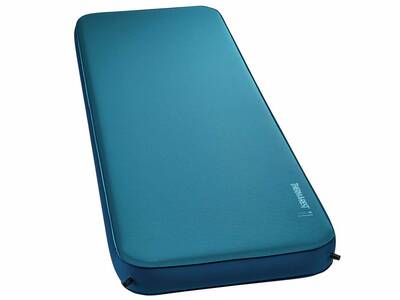 The Therm-a-Rest MondoKing 3D is another top-of-the-line camping mattress that rivals your bed at home. It's quite similar to the Exped MegaMat series, especially with the 4-inch height, vertical sidewalls, and uber comfortable foam core. The MondoKing 3D differs with an R-value of 11.4, which is crazy high and therefore incredibly warm. It has 50D face fabric, which is decently durable, and two traditional twist and pull valves, which allow you to inflate and deflate. The sizing is also different from the MegaMat 10 and Duo.
Overall we think this is an excellent choice, and incredibly comfortable, but typically choose the MegaMat because of its stuff sack, its increased durability, and the Duo size. That said, the MondoKing 3D is one of the comfiest singles camping mattresses out there, and it's worth every penny.
See Therm-a-Rest MondoKing 3D
---
The Best Camping Mattress on a Budget
REI Camp Bed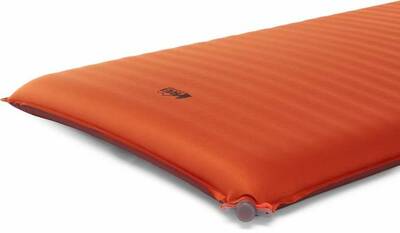 The REI Camp Bed is a surprising mix of comfort, warmth, and portability for a camping mattress. The mattress has 2.5 inches of height, giving you a standard amount of space off the ground. The mattress is constructed with a slip-resistant polyester top that keeps you on your bed all night. The Camp Bed features two new low-profile, quick-closing high-flow valves for easy inflation and deflation.
For the cost, you get a very comfortable, extra-wide single camping mattress that will last many years when treated well.
REI Camp Bed 3.5 Star Rating
Comfort

Durability

Inflation and Deflation

Packability
Summary
The REI Camp Bed 3.5 is a large and in-charge self-inflating sleeping pad, with over 3 inches of cushion between you and the cold ground. The sleep surface is soft and stretch polyester, giving it a nice feel, and the bottom is extremely durable. Packing it away is the main downside, as it takes a little while and is very hard to stuff in the included stuff sack. Only meant for camping, where it excels.
Read Full Review
See REI Camp Bed
---
The Best Budget Camping Mattress for Couples
Klymit Insulated Double V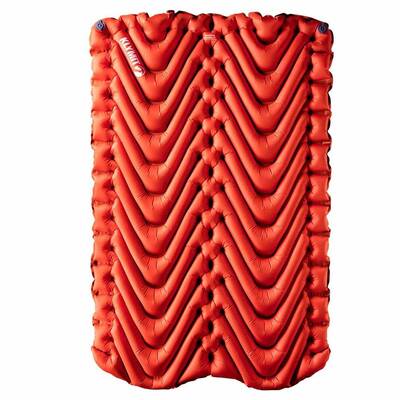 The Klymit Insulated Double V brings impressive and unique body-mapping technology to an oversized, two-person sleeping pad. Klymit shook the industry with their V-baffle design, meant to support you no matter what direction you lay. They have a whole range of pads that use this, and we think the best bang for your buck and comfort when looking for a couple's car camping mattress is the Insulated Double V.
This mattress has two easy-to-use flat valves, is nearly 50 inches wide, and has an R-Value of 4.4, which will keep you warm in most climates. Klymit also builds side rails into this pad (and others like it), which help to keep you from sliding off. Even with all that it packs up relatively small and doesn't weigh a ton for a couples camping mattress. Get this if you're used to sleeping with two, or even if you really want to stretch out. If you want a luxurious single pad that also works for backpacking in a pinch, we recommend the Insulated Static V Luxe, which is the extra-large single-person version of this pad.
Klymit Insulated Static V Star Rating
Comfort

Durability

Inflation and Deflation

Packability
Summary
The Klymit Insulated Static V is an air pad with a unique baffle system that provides 2.5-inches of thick, premium air cushioning. It's a budget-conscious pad from an innovative company. Plus, it manages to blow up with only 10-15 breaths, which is less than other air pads.
Read Full Review
See Klymit Insulated Double V
---
The Best Self-Inflating Camping Mattress
SylvanSport Cloud Layer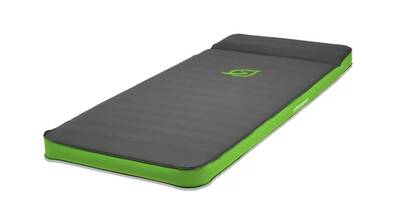 The SylvanSport Cloud Layer Mattress brings the comfort of home to your camp. This 4-inch thick mattress is self-inflating using an innovative dual-valve system and fast-fill polyurethane foam that puffs up fast. Simply unroll your Cloud Layer Mattress when you get to camp and it'll be inflated before you get your campfire started. Additionally, the waterproof stuff sack doubles as an air pump so that you can dial in your desired level of firmness without wasting your breath.
This oversized mattress measures 80-inches by 34-inches, giving you room to spread out and roll around without slipping off the mattress. Though the Cloud Layer works well in any camping situation, it excels when paired with the Cloud Layer Sleeping Bag. Also, if you're looking to add a camping trailer to your arsenal, the Cloud Layer Mattress was designed to fit perfectly in the bed frame of the versatile SylvanSport Go Camping Trailer.
See SylvanSport Cloud Layer
---
The Best of the Rest
Therm-a-Rest Luxury Map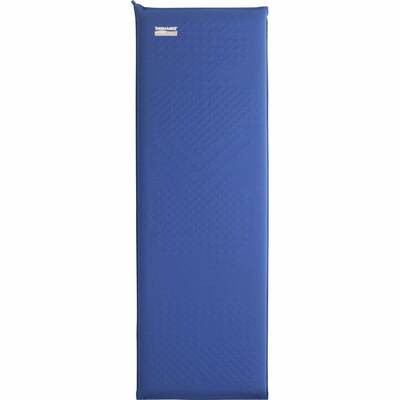 The Therm-a-Rest Luxury Map is a go-to sleeping pad that's built for comfort and long-lasting durability. The "Luxury Map" refers to unique pressure point mapping in the foam, which allows you to settle more evenly on your pressure points while sleeping, creating one of the most comfortable sleep experiences on this list. The Luxury Map comes in three sizes, all of which are meant for a single person. We prefer the Large, as it isn't terribly expensive, yet will more than accommodate most people. It has an R-Value of 6.8, which means you can use it all through winter, and it weighs just over four pounds.
The packed size is the main flaw, as it's quite large when packed up (all that foam!), but for most car campers this is a non-issue. Therm-a-Rest has an outstanding warranty and has made this pad to last with a 50D slip-resistant top fabric, and a heavy-duty 75D polyester fabric on the bottom. If you want a high-quality, single self-inflating camping mattress that can roll up and feels like your bed at home, consider the Luxury Map. Compares most closely to the REI Camp Bed, but is more comfortable (and more costly).
Therm-a-Rest Luxury Map Star Rating
Comfort

Durability

Inflation and Deflation

Packability
Summary
The Therm-a-Rest Luxury map is a self-inflating camping mattress that puts comfort over everything. With slip-resistant fabric, a 3-inch inflated height, and luxury foam, it'll feel like you're sleeping at home, on your own bed, night after night.
See Therm-a-Rest Luxury Map
---
REI Trailbreak Self-Inflating

The REI Trailbreak is a self-inflating camping mattress that does a surprisingly good job at providing a soft, warm surface for sleeping outdoors while being budget-friendly. It has just 1.75 inches of thickness, which is not a ton, but the foam inside is soft enough that you feel like you're laying on very padded ground, rather than a fully raised bed like some mattresses on this list.
The Trekker has an R-Value of 5.1, which is quite warm and would work well in four-season conditions if necessary. At two and a half pounds the Trekker is no problem to throw in the car, and for those who don't mind weight on their back it's not even that heavy, so this could work as a dual purpose pad for the occasional backpacking trip. We haven't found a better camping mattress on the cheap, and find the Treailbreak to work very well.
See REI Trailbreak Self-Inflating
---
Coleman ComfortSmart Deluxe Cot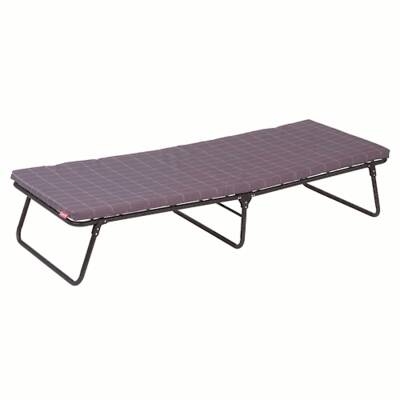 The Coleman ComfortSmart Deluxe Cot is a popular camping mattress that is a step away from most products on this list. It's a cot that props you completely off the ground. It does this with a folding steel frame, which collapses when not in use, though it's still quite large. On top, the ComfortSmart Deluxe has a foam mattress pad that's covered with a ripstop material.
If you are set on sleeping well off the ground and have the space to haul it, the ComfortSmart Deluxe Cot is a good choice for those who prefer the most bed-like sleep possible and don't want to spend too much. Otherwise, we find other mats to more comfortable, and most others much more portable.
Coleman ComfortSmart Deluxe Cot Star Rating
Comfort

Durability

Packability
Summary
The Comfort SmartDeluxe Cot is supremely easy to set up and take down, and it offers superior comfort for those who want to sleep off the ground.
Read Full Review
See Coleman ComfortSmart Deluxe Cot
---
REI Kingdom Sleep System Insulated 40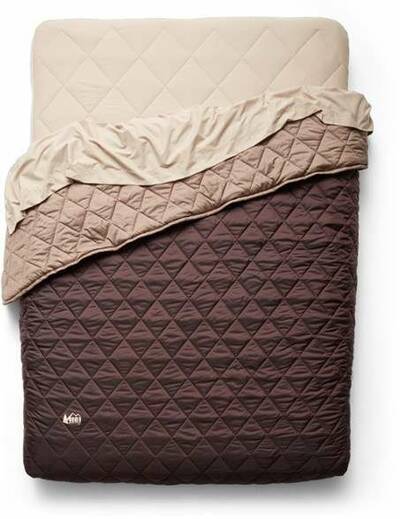 The REI Kingdom Sleep System may surprise you, in that REI offers a fully functional air mattress the size of a queen bed. Billed with "sleeping outdoors doesn't have to mean roughing it" language, the Kingdom Sleep System is all about a convenient, fully-featured bedding package that will take you from the car to your tent palace in a few fell swoops. We tend to prefer self-inflating pads as camping mattresses, but the extra goodies in the Sleep System, and the fact that's it a one-stop purchase that includes your bedding as well, means it deserves a place on this list.
The REI Kingdom Sleep System has an R-Value of 3.6, which is impressive for a 6-inch air mattress (usually they run cold!). Still, we wouldn't use this in winter. The mattress is absolutely huge, and it weighs 15.5 pounds, so you'll need a place in your car for it, and definitely won't be lugging it far. The Sleep System comes with a quilted mattress cover that's padded and an insulated top quilt and top sheet for maximum coziness. If you were really cold you could throw a double sleeping bag on top of that, but we imagine most people that want this will choose it for summertime leisure campouts. The REI Kingdom Sleep System will still cost a decent chunk of change, but if you plan to solely camp in warm climates, want a bed that looks and feels kind of like home, and don't want to buy separate sleeping bags, this is a good option. You can also buy just the Air Bed for $129.
See REI Kingdom Sleep System Insulated 40
---
Sierra Designs Air Bed Mattress 2-Person

The Sierra Designs Air Bed is a classic pump mattress, the kind you probably slept on in spare rooms as a kid or adult. This one has a slight camping bent, in that it's made with durable materials, weighs only 6 pounds, and has a battery-operated pump so you don't need a wall outlet.
If you want a basic air mattress for the outdoors, this is a good choice. That said, air mattresses typically run quite cold because that they have no real insulation, unlike many of the other mattresses on this list. If you plan to use it in warm weather only and want a mattress that works in the home and camp (or car), this is a good choice! It can also easily double as an in-home guest mattress.
See Sierra Designs Air Bed 2-Person
---
Camping Mattress Features
Below we list the most important features of camping mattresses. Make sure to choose the model that fits your lifestyle best!
Camping Cot vs Air Mattress vs Self-Inflating Mattress
When it comes to camping mattresses, there are three standard forms that most people consider: self-inflating mattresses, air mattresses, and camping cots. You could always throw a pile of blankets on top of a bulky slab of memory foam, but then you'd have to wave sayonara to all of your vehicle's storage space. Buh-bye rear window visibility!
The more compact camping mattress alternatives each have their own advantages and drawbacks, but that's why we're here — to give you the lowdown before you make your purchase.
Self-Inflating Mattress: Self-inflating mattresses can inflate themselves because of their unique construction. A layer of foam is encased in an airtight shell, so when the mattress is unrolled and allowed to decompress the expanding foam pulls in air through the inflation valve. How cool is that?
They do inflate themselves, but you'll have to put in a couple of breaths or squeeze a small pump to make the mattress firm. Self-inflating pads condense down much better than most large camping air mattresses and can be equally or more comfortable for a night in a tent or under the stars.
Most of the mattresses on this list are self-inflating, mostly because they are the most appropriate for easy portability, provide excellent comfort, and can take a beating. While they don't offer the most height and "bed-like" experience, they are better suited to camping trips.
Some, like the Exped MegaMat Duo and Therm-a-Rest MondoKing 3D, are the most comfortable pads on the market. Others, like the REI Camp Bed, are more like souped-up sleeping pads.
Air Mattress: Classic air mattresses in the camping sense typically provide many inches of inflated ground separation to keep you comfortable and feeling at home. Nearly every air mattress comes supplied with a battery-powered pump these days, but it's not a guaranteed feature. Foot pumps and corded electric pumps do exist, so be sure to get the pump that works best for you.
That said, there are thinner air mattresses that are modeled after backpacking pads, but souped-up for camping.
Air mattresses can be quite comfortable, especially versions that are paired with padded mattress covers, but they can be annoyingly bouncy when shared by multiple people. For this reason, you may prefer an individual mattress for each person. Either way, air mattresses deflate and can be rolled up tightly for decent storage. Depending on the model, they can be smaller packed than some self-inflating pads, but if they're quite thick they won't be.
You'll find large air mattresses, like the SylvanSport Cloud Layer Mattress, used as guest sleeping beds in houses as much as campsites, and a well-made one can be used for both! Other air mattresses, like the Klymit Insulated Double V, are more like souped-up air-filled backpacking mattresses.
Camping Cot: The primary benefit of a camping cot is that it lifts a person off of the ground for the closest bed-like sleeping experience available outdoors. Cots generally offer increased sleeping comfort by providing a flat resting surface that completely removes uneven dirt, gravel, and creepy-crawly bugs from the equation.
Cots have a frame, typically comprised of steel or aluminum, which folds flat for storage, though they are not nearly as compact as a deflated air mattress. They can be sizable and heavy. Many cots are topped with a nylon or polyester platform, but some, like the Coleman ComfortSmart Deluxe Cot, are equipped with a cozy foam layer as well.
Cots are most practical when you have a large vehicle with plenty of storage space or room on your roof racks.
What is R Value, and Why It Matters
R-Value is a measure of how well a camping mattress will insulate you from the cold ground. The higher the R-Value number, the better its insulation.
A good camping mattress will not only comfort you from the lumps and bumps of a campground, but it will also work with your sleeping bag to keep you warm. R Values are additive, which means you can put one mattress on top of another and add both of their R Values together for increased insulation — though this is a backpacking practice, and not one often used for car camping.
The R Values of the mattresses on our list are generally high and will provide you with great insulation no matter the weather, though we recommend an R-Value of 5 or higher for winter camping. Common sense logic would assume that the higher a mattress's R-Value the thicker and heavier it will be, but that's not always the case. The interior foam and air insulation components are what really matter.
Not all camping mattresses have listed R Values as it's not a measurement required by any regulatory body. The NEMO Cosmo 3D has a recommended outdoor temperature limit instead of an R-Value, while others don't provide any relevant rating at all even if they have decent insulation. It's up to you to be a conscious consumer.
Know that R Values typically apply to self-inflating mattresses and thin air mattresses, whereas very thick air mattresses typically have very little insulation, and cots rarely have any.
Pro Tip: R Values are a metric you can trust. If you choose a camping mattress without an R-Value rating, check the manufacturer or retailer return policy. It'd be best to test an unrated mattress at least once in cold conditions to see if it meets your needs.
Camping Mattresses for Couples vs. Single
We've all shared an air mattress at one point or another. And I'm sure everyone knows what it feels like when your partner gets out of bed and you drop to the hard ground like a sack of potatoes. There's also the dreaded bouncy-air-castle-effect when one person's tossing and turning results in the other embarking upon a motion-sickness-inducing midnight ocean liner ride.
But camping mattresses for couples have come a long way in recent years. With modern partition designs like the Klymit Insulated Double V, there's little chance you'll disturb your sleeping partner when you step out of the tent in the middle of the night. And with much more robust foam, like in the Exped MegaMat Duo, you get a true bed experience with relatively no bouncing around.
Couples sharing a mattress have the benefit of shared body warmth. It's a lot easier to snuggle under a sleeping quilt when you share a single mattress rather than two individual mattresses. A double-wide mattress could also be worth it for a singular sleeper who likes to stretch out without touching a cold tent floor.
Single camping mattresses have none of that displaced air nonsense experienced in shared mattresses. Having your own defined space can be quite nice in a tent shared with friends or family. With your own mattress, you can dial in the ideal firmness you desire. Forget about snuggling, though, because someone is bound to slip between the mattresses and come into contact with the frigid ground.
Best Valve Types for Camping Mattress
It's important to consider the type of valve you prefer in a camping mattress.
Twist and pull valves have been a camping mattress staple for ages. If you've ever inflated a camping mattress or sleeping pad, you've probably used a twist and pull valve.
They are easy to use and work well, but they're often not as air-tight as we wish they were. Many, though not all, don't hold air in while you're inflating the mattress, so you have to prevent this by using your mouth as a makeshift gasket or twisting the mechanism closed between breaths. They're also protruding and bulky, but they do get the job done.
Flat valves are the new kid on the block. Flat valves are less conspicuous and hold air better during inflation than traditional twist and pull valves. As a result, mattresses equipped with flat valves like the NEMO Cosmo 3D can pack down smaller and are easier to inflate or deflate. Some mattresses, like the Exped MegaMat Duo, have separate flat valves for inflation and deflation.
Bag-style or stuff sack pumps can also attach to flat valves, making for a quick-and-easy hand pump for those of you who would rather not waste your breath.
Single-cap valves are found on mattresses such as the Lightspeed Air Mattress, which require a pump to fill. These valves are huge and deflate with great speed like an untethered party balloon, but you do need a pump to inflate them, so make sure you bring extra batteries.
Height Off Ground
A critical consideration, though a subjective one, is the thickness of a camping mattress.
Typically, sleeping height directly correlates to how soft or firm a camping mattress will feel. Thick mattresses like the 6-inch REI Kingdom Sleep System will feel undoubtedly softer (and bouncier with all that air!) than the 1.75-inch REI Trekker. Both will keep you warm (the thinner REI Trekker actually has a higher R-Value), but the type of comfort each offers is vastly different.
The construction and insulation type also have an effect on the sleeping feel of a pad. The open-cell foam insulation in self-inflating pads is more rigid than a fully air-insulated mattress which can feel soft and floaty.
Be sure to try some mattresses in-store if possible, as you'll get a better sense of the thickness that suits you best.
How to Buy Camping Mattresses
Now that you have a good idea of what type of camping mattress you'd like to get, how do you buy it?
Camping Mattresses Online vs In Store
Either online or in-store is a great location to buy a camping mattress. At a physical store, you'll have the opportunity to ask the staff specific questions about the product, and they may let you unroll a mattress out of its packaging to give you a better look.
Outdoor retail stores often have a wide assortment of smaller sleeping pads that you can try out in-store. Thinner options that can work for backpacking like the REI Trailbreak will likely be inflated and waiting at your local REI, but you're not likely to find the larger mattresses already blown up.
More options exist online, many with various sizes and trims to choose from. If you've figured out the model of pad you want, it will be easier to scan and scrutinize the array of regular/long/wide options available online so that you can pick the right size for your body.
Used Camping Mattresses vs New Camping Mattresses
You can find used camping mattresses for cheap on Craigslist or the Facebook Marketplace, but not in any outdoor retail stores — camping mattresses are considered "bedding" in most states, and stores can't sell used bedding.
Though it's possible to save big bucks by purchasing used, the quality may not be what you desire. For instance, $20 may get a new-to-you camping mattress with a pinhole leak that'll completely deflate overnight. That's not something you want to find out during the first night of your week-long road trip.
It'd be best to test any used mattress you're considering buying. Don't just pay the seller and walk away, instead ask to inflate the mattress on location and sit on it. This is a good opportunity to listen for leaks and look for any tears or stains. Keep in mind that it may be difficult to detect a tiny leak initially, but you'll feel it after a full night of attempted rest.
If the risk of a slowly deflating mattress isn't too much of a concern for you, go for the bargain. If you prefer zero-risk coupled with a manufacturer's warranty, buy it new.
Lighter and Stronger
Camping mattresses are closing the gap between themselves and their smaller sleeping pad brethren. It's like how sport utility vehicles were once the behemoths of the road, but now they've become leaner and more comfortable as manufacturers have refined them over the years.
The best camping mattresses are lightweight and packable while providing solid insulation and a night of comfortable sleep. This trend will only continue as lighter fabrics and better insulation are engineered.
New flat valves are being introduced on many mattresses, and the next camping mattress innovation can't be far out!
---
Backpackers.com Affiliate Policy: This guide contains affiliate links, which help fund our website. When you click on the links to purchase the gear we get a commission, and this goes a long way to creating guides, gear reviews, and other excellent content.