REI Trail Pod 29 Overview
Light, fluffy, and warm (this is not about a waffle I promise), the REI Trail Pod 29 is the snuggly sleeping bag you probably always wanted to curl up in. A car camping bag that works in a pinch for backpacking, it's a really basic bag with a few techy twists, like the a full draw-cord enabled hood, an oversized footbox, and square baffles (like waffles, but different!).
The Trail Pod 29 has been redesigned by REI to be a truly unisex, "most of the time" bag with a generous cut and 29 degree temperature rating. These features and the sub-$90 price tag have led us to name the REI Trail Pod 29 as our Classic Pick for the Car Camper.
For those wanting a more traditional car camping sleeping bag that opens like a blanket, check out the Kelty Callisto 30 (our Budget Pick), or The North Face Dolomite, a nicer rectangular sleeping bag. When you're ready to upgrade your current worn-and-weathered bag, take a look at our comprehensive sleeping bag guide. It'll give you information on how to choose the right sleep system.
For the full review of the REI Trail Pod 29, read below.
2018 Update: The REI Trail Pod 29 was updated in 2018, and is now called the Trail Pod 30. The temperature ranges are basically the same, the colors are different, and elements of the materials are different (REI doesn't really specify its materials, but often changes them slightly based on customer feedback). The bag is still offered in three sizes, and has a relaxed fit. There is now a Trail Pod 15 version of the bag for those who want to venture into colder lands. While we still recommend this bag, we don't love that REI updated the name.
Backpackers.com Star Rating
Comfort

Warmth

Durability

Fit
Summary
Our star rating system highlights the most important features for sleeping bags and quilts and judges them based on our experience.
Trail Pod 29 Specifications
Feature Type
Feature Specs
What This Means
Weight

2 lbs. 15 oz.

 (1.04 kg)

A three pound bag is a decent weight, especially if it will keep most people warm in near-freezing conditions. Best for car camping, can be used for backpacking as well.
Type
Relaxed Mummy Bag
While the Trail Pod has a mummy shape and hood, it's a relaxed fit. Broader in the shoulders and footbox for increased comfort. More on sleeping pad types in our Guide.
Size
Regular: 72 inches
Short: 66 inches
Long: 78 inches
The Trail Pod 29 is a unisex sleeping bag, and we tested the Regular. Get the size that makes sense for you.
EN Testing/Temperature Rating
EN Lower Limit: 29°F
EN Comfort: 38°F
EN testing helps determine the warmth of a bag. The Lower Limit is typically the temperature range a man will be comfortable, while the Comfort limit is the temperature range a woman will be comfortable. However, most men sleep colder than the tests. View this as an upper 30's bag. More on sleeping bag EN testing and temperature rating in our Guide.
Insulation Type
Synthetic
REI doens't specify what kind of synthetic insulation, but it's not duck or goose down. Yet the insulation is softy and feather-like to the touch. More on sleeping bag insulation types in our Guide.
Water Resistant?
Yes
The synthetic insulation and DWR coating on the polyester shell makes this bag decently water resistant.
Shell Fabric
Polyester taffeta
REI doesn't elaborate on the Denier thickness of its shell (or lining). After use we've found it to be fairly durable, but not anything over-the-top. More on sleeping bag Denier thickness in our Guide.
Baffle Pattern
Squares
REI uses a unique offset square baffle pattern for the Trail Pod 29. They claim it helps to keep the insulation from moving around, and reduces cold spots. Works pretty well, too. More on sleeping bag baffle patterns in our Guide.
Zipper Length, Type, Placement
Full Length Left Zipper
The REI Trail Pod 29 zips all the way down, but it doesn't open up like a blanket. This means you have plenty of ventilation options, but can't use it as a quilt or blanket for two people. The zipper is on the left-hand side when laying down on your back.
Draft Tube?
Yes
A tube of insulation follows the entire zipper to keep the cold air from seeping inside.
Neck Baffle?
No, Face Muffler
There isn't a baffle under the neck for warmth, but there IS a small strip of insulation near your chin to keep cozy.
Pocket?
No
This is a simple bag from REI, but we do wish it had a pocket to place a headlamp or smartphone.
Manufacturer Warranty
Limited Warranty
You can return any product bought at REI for one year, for any reason. If you find manufacturing or workmanship issues with this sleeping bag after that year, definitely contact REI. They will replace or refund if it is their fault.
Retail Price
$89.95
A low price for a decently warm car camping bag that can go backpacking in a pinch. (If you see the price listed at $79.95, that's for the Short version of the bag.)
Gear Review of the REI Trail Pod 29
Origins: Easing You In
Summer came quickly this year, heating up the the sandy beaches and my own professional life. I accepted a rad job in a new city and gave myself a few weeks to appreciate my warm Santa Monica mountains and idyllic sage-scented beaches. It was time for some cool breezes and vibrant evergreen hills.
Before my departure I met up with my Editor at my favorite coffee shop. After telling him my loose plans of car camping on the way up to Seattle, he handed me the best kind of gift a gear-nerd writer could ask for: a gray polyester bag of squish, better known as the REI Trail Pod 29 sleeping bag.
Let's be clear, I already have a sleeping bag for backpacking (Big Agnes Roxy Ann), one that I am wildly happy with after researching and judging many bags. However, upon first inspection, the REI Trail Pod 29 was much more plush, a desired trait for my casual (read: lazy) camping voyage. I was happy to take this bad bag boy with me, regardless of how jealous my Big Ag might get.
The day of departure came and I set my wheels north, embracing that surreal "holy crap" life change momentum. After hours (and hours) of powering through the yellowed desolate farms and fields of the ever-glorious armpit of California, I found my first moment of peace at the foothills of Mount Shasta.
The greenery, sparkling lake, and views of big mountains erased my memory of the previous nine hours. The sun was setting quickly as I drove up the highway in search of any informational sign indicating "tents go here." Within minutes my prayers were answered and I snagged the very last spot in the campgrounds overlooking Lake Shasta.
Revelation: The Moment I Knew
After some serious stretching I setup my cute double (wo)man tent, the Poler Rainbro.
Finally, the moment came when the REI Trail Pod 29 would be released from its cage! The sleeping bag was initially compressed, crinkly, and kind of lumpy. Not appealing. But, I know better than to judge a bag before it has a chance to grow. They need a little fluffing and plumping. I grabbed the Trail Pod and fluffed and plumped, anticipating the sweet moment when I could shut my eyelids for a few hours.
The REI Trail Pod 29 did not disappoint and after a moment of fresh air, the bag was plush and snuggly. After a brief walk to the lake and a peanut-butter with everything kind of dinner, I zipped myself into my tent and got into the sleeping bag. The zippers zipped up zippily, the bag quickly doubled my body heat, and there was enough fluff for me to envision clouds.
A few nights later I posted up at one of my new favorite car camping spots, Mossyrock park, just outside Mount Rainier National Park. My body and mind relaxed, observed, and casually pondered how it was all so green. My question was answered that night as the rain came down. I covered my poor bike under a bath towel (I forgot to bring tarps) and retreated to my polyester safe house.
Decked out in wool socks, leggings, and a long sleeved shirt, I easily warmed up once zipped into the Trail Pod. Just for kicks, I tightened the hood, embracing the claustrophobic sensation. Once steam started to build in the bag, I realized it was warmer than should be (keep in mind it was about 45 degrees). The socks came off and the hood mashed down into the perfect side pillow.
I paired the bag with the Sea to Summit Comfort Plus sleeping pad, a pad designed for backpacking, but one that's comfortable enough for pretty much any excursion. While the combination of the polyester bag and the pad's non-grippy nylon was a bit slippery, the two were comforting pals for a night of rain.
The REI Trail Pod was, once again, instantly warm, and the zippers glided seamlessly even with cold unprepared hands. I am familiar with the "damp bag" problem basic bags tend to have, but upon waking to a chilly, foggy sunrise, the Trail Pod 29 was still warm and dry. This was not the case for my bike.
Digging Deeper
REI may be picking up on the fact that people do not want to own multiple bags (or rather cannot afford and/or store them). With lightweight synthetic fill, a decently warm rating of 29 degrees, and the ability to pack down, the Trail Pod 29 can double as a backpacking bag for those unconcerned with gram counting.
Initially, I thought the price tag seemed a bit high for a basic camper bag, however after using it many times in a short span of time I began to notice its adaptability. The relaxed mummy fit was appreciated by friends who, much taller than me, needed a bag for an adventure. When fully zipped, the bag creates an almost-instant warmth, but when left unzipped it feels cool, perfect for those warm summer nights.
The hood is floppy and oversized and can be tightened on the right side to close up any sneaky gaps that let in chilly air. During warmer seasons, the hood can be scrunched into a pillow. While this may not be an intentional feature, I like to think REI will appreciate my rule-breaking ways.
The Trail Pod 29 has impeccable stitching and the seams are smooth and doubled up with extra strips of fabric. The zipper is on the left side and the metal pull tabs are guided with flat nylon cords, which are sewn on, just in case the knot unties. I have broken plenty of zippers and cords in my day, so this matters to me.
In short, the Trail Pod is built for longevity. For most outdoor people, adaptability + longevity = shopping satisfaction.
Comfort 
4 Stars
Let's face it, after a long drive and sentimental goodbyes to my loved ones, I was looking for comfort that not many inanimate objects can provide. The REI Trail Pod 29, while not being a very good conversationalist, was comforting enough. The sleeping bag is cozy and has medium-density synthetic fill and a large hood. The fill almost feels like feathers, but do not be fooled, it is still synthetic.
Warmth 
3 Stars
The first night with the REI Trail Pod 29 was spent next to a lake at higher elevation, introducing me to chillier temperatures than my beach bum was used to (around 45 degrees F). The sleeping bag made the introductions much easier, warming up quickly and retaining the heat better than other bags I have used.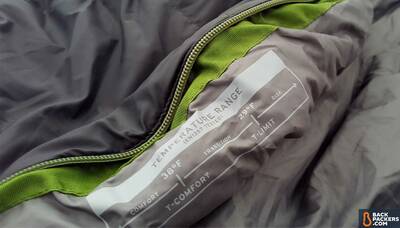 The bag and I have yet to adventure in freezing conditions, specifically under 29 degrees, but again, I recommend glancing at the comprehensive sleeping bag guide to fully understand temperature ratings. The Trail Pod should be comfortable for men and women to roughly 40 degrees, and will be usable to roughly 30 degrees.
Durability 
4 Stars
Unlike its basic bag competition from generic box stores, the REI Trail Pod 29 is crafted with sturdy zippers and a thick polyester shell. The stitching is decreet and the synthetic fill stays in place, while also being lofty. While I haven't taken this bag on a lifetime of random adventures, I can tell it will be worth the closet space.
Fit 
5 Stars
Keep in mind, there are different sized bags for different sized people. The Regular Trail Pod 29 was perfect for my 5'6" height and wide enough for my not-so-narrow shoulders. This is a true unisex sleeping bag from REI, which breaks the mold a bit. It's meant to fit either gender, and is offered in Short, Regular, and Long for whatever length you are.
Just like every bag is not for every body, I learned this late one evening (okay, early morning) after lending the bag to a couchsurfer. His 6'1" frame poured out the top –yet his only comment was how snug his feet felt in a "cloud-like pod".
Grievances
The REI Trail Pod 29 means well: dense plushness, water-resistant fabric, and roomy interior. However, the slick polyester fabric made my sleeping situation very prone to slipping and sliding. After trying to reposition the bag to stay in its "correct form", I gave in and woke up to the zipper on the opposite side in the morning. This could be remedied by a sleeping pad with stick-resistant fabric on the top, like the REI Camp Bed or Trekker, but it's important to note.
The polyester interior of the bag has a smoother feel. Unfortunately the fabric against my bare skin felt, well, icky. I wore long sleeves and socks to adapt to the bag, which helped add to the comfort.
My major grievance was a personal one. For all my effort, I was unable to grow fond of the "mummy" style. Car camper bags are all-around good guys, meaning their shape is a major contributing factor. When camping I like a bag that can unzip, lay out like a blanket, and be a vulnerable rectangle, like the Kelty Callisto 30 (our Budget Pick for the Car Camper). The REI Trail Pod 29 may protect me from the elements, but the bag will never be able to fully unzip from its footbox mummy design and expose its inner self.
If you like cocoon sleeping, you'll love this bag. If you're used to the rectangle, it may be too much despite the generous fit.
Final Word
After what has been a lifetime of sleeping around in different bags, I can only explain the REI Trail Pod 29 as an adaptable bag with a soft, squishy heart. Take this bag adventuring, keep it handy for overnight guests, let this bag work for its money!
Where to Buy REI Trail Pod 29
The REI Trail Pod 29 is a true unisex sleeping bag. It's offered in three sizes, Short, Regular, and Tall. We tested the Regular version of the bag, which is what most people will want. The 29 degree rating in the name really refers to men, as women sleep colder than men (usually), so think of this bag as warm at around 38 degrees Fahrenheit for anyone.
You can find the REI Trail Pod 29 below, and select size at checkout. If you see the price listed at $79.95, that's for the Short version of the bag. REI is the only seller of this bag.
Review Policy: We do not accept payments or gifts from brands and vendors, and strive to provide unbiased, independent advice. Brands typically provide review samples which we return, and in some cases we purchase the item so we can keep using it long after the review. Affiliate Policy: We support the hours that go into our reviews and testing through affiliate commissions on purchases made through links in this article. These don't effect the outcome of our reviews or selection of gear, as per our Review Policy.