REI Trekker 1.75 Self-Inflating Overview
The REI Trekker 1.75 Self-Inflating is a tried-and-true sleeping pad that has stood the test of time, providing warmth and support to sleepy campers at a great price. Fit for beginners and trail veterans alike, this self-inflating pad balances weight, size, and comfort to fit the needs of most outdoor enthusiasts.
The pad's rectangular shape can fit just about any body, and there is a "Long Wide" option for those of you who like to snooze sprawled out like a starfish. The topside sleeping surface is made of a brushed polyester that is soft to the touch and slip-resistant to keep you snug and secure, while the underside is designed for durability.
The above features and the bargain-basement retail price makes the REI Trekker 1.75 our Budget Pick for the Car Camper.
REI Trekker 1.75 Star Rating
Comfort

Durability

Inflation and Deflation

Packability
Summary
The REI Trekekr 1.75 is a self-inflating sleeping pad that shines in the campsite after a long night around the fire. Despite being just 1.75 inches off the ground, the pad has soft and comfortable foam in the middle, making it a restful experience. It inflates about 80% of the way by just opening the valve, and then you blow to top it off. The top fabric is anti-slip, keeping you on the pad all night, and the bottom of made of a durable polyester. Overall comfy, affordable sleep option if you're driving to your campsite.
The pad is solid, reliable, and comfortable, but it's a bit too bulky for extensive backpacking. Car camping is its primary purpose, but for those that love a multi-purpose piece of gear, the Trekker 1.75 is not a monster on your back. At 2 pounds 5 ounces it's still worth packing on the occasional overnight trip.
Learn more about sleeping pads in our comprehensive guide to that which makes you comfy at night, and read the full gear review of the REI Trekker 1.75 Self-Inflating sleeping pad below.
REI Trekker 1.75 Self-Inflating Specifications
Feature Type
Feature Specs
What This Means
Weight
2 lbs 5 oz (1 kg)
Lightweight for a car camping pad, but pretty heavy for backpacking. Works for both, but you will feel it on your back if carrying it.
Type
Self-Inflating Pad
This pad is made with foam that automatically sucks in air when the valve is open. Takes only a couple breaths for full inflation. More on sleeping pad types in our to Guide.
R-Value/Temperature Rating
5.6 R-Value
Very high R-Value. Will keep you warm (with an appropriately rated sleeping bag) well below freezing. More on sleeping pad R-Value in our Guide.
Shape
Rectangle
This pad does not taper at all. More on sleeping pad shapes in our Guide.
Sizes
Regular, Long Wide, Women's Regular
We tested the men's/unisex version in size Regular. You can buy a Long Wide pad, which is huge and comfy. There's also a women's specific model, which is shorter and not as warm.
Thickness
1.75 in. (4.44 cm)
Not the thickest pad around. Most self-inflating pads start around here, so the Trekker is not thinner than other pads, but you're pretty close to the floor.
Length
72 in. (182 cm)
Standard length for sleeping pads. Get the Long Wide version if you're taller than six feet.
Width
20 in. (50.8 cm)
Standard width for sleeping pads. You may want more elbow room, and the Long Wide would give you that.
Packed Size
4.75 x 21.25 in. (12 x 54 cm)
Not tiny, not massive. Fits in the car really easily. More on sleeping pad packed size in our Guide.
Baffle Type
Flat
This pad is flat, and doesn't really have baffles. This is true for most self-inflating sleeping pads. See more sleeping pad baffle types in our Guide.
Valve Type
Twist and Pull
The old-school twist and pull valve. Works fine for a self-inflating pad, as you don't need to blow it up that much yourself. See more sleeping pad valve types in our Guide.
Material Type/Thickness

Top: slip-resistant

Bottom: polyester

REI doesn't list Denier specs for the Trekker, which is pretty annoying. In our testing we found the pad to have durable and soft material on the top and bottom. More on Denier in our Guide.
Breaths to Inflate
1-2
Leave the valve open for about 15 seconds to "self inflate" most of the way. Then fill it up with a breath or two for firmness.
Manufacturer Warranty
Limited Warranty
REI has a no-questions return policy for a year after purchase. Beyond that, if there is a manufacturing defect or workmanship issue they will replace it. However, this is hard to prove with sleeping pads, which are often flat due to user error. Always worth contacting, but don't get your hopes up.
Retail Price
$69.95
A steal for how comfy this pad is. If you're on a budget, it's hard to do better.
Gear Review of the REI Trekker 1.75 Self-Inflating
Origins: Easing You In
Ah, the weekend. Isn't it wonderful? A couple days of freedom can go a long way to keeping my sanity in check. I don't know about you, but some weeks I can go Monday through Friday without getting any real time in the wilderness. My body starts to feel lousy when I go too long without crushing some trail miles.
Luckily there are plenty of nearby places for me to enjoy an overnight weekend excursion. The Siuslaw National Forest is right in my backyard, and it has a wealth of places to explore. Within its borders is a large chunk of the Oregon Coast Range, which holds coastal forests that get so wet with rain and ocean fog they're classified as temperate rainforests.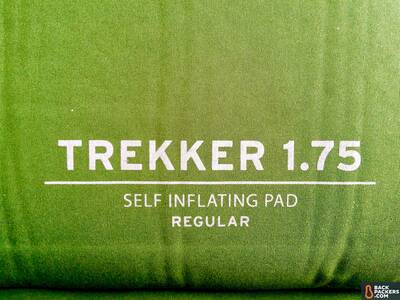 I packed the REI Trekker 1.75 Self-Inflating sleeping pad into my car with the rest of my gear on an overnight camping trip to Siuslaw's South Lake where I hoped to nab a few trout and get some hiking in on the Pioneer Indian trail.
Now, it seems that most people who drive out to these remote locations have pickup trucks. It makes sense. A pickup truck with big tires and a good suspension makes traversing the treacherous national forest roads that led to South Lake somewhat of a breeze. My choice of vehicle — not so much, though my little Volkswagen Rabbit and I did survive the trip. We pulled into one of the area's dispersed camping sites, relieved that the bumpy drive was at an end, feeling beaten like a bowl full of eggs.
Dark clouds were already rolling in, so I hopped out of my car and set the tent up right away. The Trekker 1.75 fit well in my Tarptent Double Rainbow, but I think it would have been a struggle to fit two of them in there side-by-side. The Double Rainbow is an ultralight backpacking tent, after all, and works when it's a solo camp. I'm sure the Trekker would fit just fine in a true car camping tent.
Revelation: The Moment I Knew
I spent over an hour casting out hooked Powerbait with little success before a light rain started to send ripples across the water's surface. The fish weren't biting, but that was okay. I'd rather be walking through the trees in the rain than standing lakeside, so I put my pole away and went for a hike along the trail.
The Pioneer Indian Trail was a pleasant hike under a canopy of tall fir and cedar trees.
The light drizzle thickened as evening set in, its thin sprinkles of rain morphing into fat drops that splashed hard and loud against the hood of my jacket. I soon made my way back to the tent for the night where I unrolled the Trekker 1.75 from its compression straps and laid it flat so that it could self-inflate. Within about 15 seconds the pad was filled with air, then I added a couple of breaths to bring it to full capacity.
At first the pad was too stiff, but with a quick twist of the air valve I let out just enough air to soften the Trekker 1.75 to where it felt comfortable. It was too early to fall asleep, but I didn't want to hang out in the rain any longer, so I fired up the Audible app on my iPhone and listened to Brandon Sanderson's The Way of Kings to pass the time.
Before I knew it a couple of hours had passed. I was lying down with my back against the Trekker 1.75 the entire time and hadn't noticed any uncomfortable aches or the gravel underneath my tent. With a story filling my ears and the Trekker lifting me off the ground, I had been completely removed from my outdoor setting. For a brief time I had forgotten all about the pad under my back, and that's the best compliment I can give it.
I eventually fell asleep on my side, as I always do, and though I woke several times to turn over during the late hours of the cool night, in the morning I felt refreshed and well-rested. The rain had faded with the dawning sunlight, leaving behind dewy grass and dripping trees. I rested in my tent, awake, enjoying the tranquil sounds, or rather, the absence of sound that could only exist during sunrise in the forest.
Digging Deeper
The REI Trekker 1.75 Self-Inflating sleeping pad is made of a durable polyester lining on the outside and a 1.75-inch thick open-cell foam on the inside. There's a single inflation valve, and that's about all there is to it, and that's all there needs to be. You want bells and whistles? No thanks — not on my sleeping pad.
I had no issue with my body slipping off the pad during the night, though my feet found their way to the cold tent floor a couple of times. The Trekker  1.75doesn't have any inflatable bumpers to keep you centered. It's a flat cushion that doesn't give you any indication that you're about to scoot off its edge, making it easy for your limbs to slide to the floor as you sleep. This is true of any pad without a bumper in the 20-width variety.
My back was comfortable for extended periods of rest with the Trekker 1.75. My sides, on the other hand, needed to rotate every couple of hours. I never felt like I was touching the ground, but the pad would have benefitted from a better cushion than the rocky surface I had decided to pitch my tent on. I had to keep it full of air and somewhat stiff to not feel the gravel. At 1.75 inches thick, this makes sense. A lot of car camping pads today, more luxurious models like the Camp Bed 3.5, are thicker just for this reason.
The Trekker 1.75 has a 5.6 R value that will hold up in all four seasons. It certainly kept me warm the entire night in the damp forest with temperatures hovering around the mid 40s. I used the Trekker overnight once more in my own yard during a family gathering. My house is perched right on a bay, and is constantly ravaged by the blunt forces of coastal weather. This led to a cold, windy, wet night, but I stayed warm in my tent with the help of the Trekker.
The polyester fabric on top of the pad is soft and was only a bit noisy when I moved around inside my sleeping bag. It's nothing like those crinkly ultra-lightweight air pads that sound like you're opening a family-sized bag of Doritos every time you move a muscle.
At the end of the day the Trekker 1.75 rolls tight with ease and stays tight with its two included compressions straps. It then slides right into its stuff sack and is ready to be taken on the next adventure.
Comfort
Thick and full of hot air, just like your favorite politician! Jokes aside, the Trekker 1.75 will keep you comfortably warm and off the ground. It is a little on the thin side for die-hard side-sleepers though.
Durability
I haven't had this product for long, but it feels sound. I don't think there is a risk of it tearing or popping while it's inside your tent, no matter what you're doing in there. As always, take standard precautions with this pad. Sharp objects will puncture it.
Deflation and Inflation
I was impressed with how quickly and fully it inflated itself. A breath or two was all it took to make it firm. Rolling it empty was easy-peasy.
Packability
Easily compresses and packs into its stuff sack. The size and weight is actually pretty minimal for car camping, but I'd prefer to get a smaller pad for backpacking trips. It's too big for my pack.
Grievances
Is it okay to say none? Or, at least, no real complaints. As a budget car camping sleeping pad the REI Trekker 1.75 is everything I would want it to be. For the money it's well-insulated, comfortable, packable — it marks all of the boxes on the checklist.
If I were looking at this pad as a backpacking item I would have a few words to say about its size and weight, but it's not even bad in that regard.
The only slight issue is its thickness. I wasn't 100% comfortable on my side. If you're deadset on a thick, plush resting surface you may find the Trekker 1.75 a tad close to the ground.
Final Word
Whether you're new to the outdoors or an experienced adventurer, you can sleep easy on the REI Trekker 1.75 Self-Inflating sleeping pad without breaking your back or the bank.
Where to Buy REI Trekker 1.75 Self-Inflating Sleeping Pad
We tested the Regular size of the unisex REI Trekker 1.75 Self-Inflating sleeping pad. It's also offered in a Long Wide, which is better for taller/larger people, or those who want a lot of room to roll around. There is a women's specific version as well, which is shorter in length and not quite as insulated (though we're not really sure why). We find the Regular unisex version to be a great pick for nearly every camper. You can find it and the Women's specific model below.
Review Policy: We do not accept payments or gifts from brands and vendors, and strive to provide unbiased, independent advice. Brands typically provide review samples which we return, and in some cases we purchase the item so we can keep using it long after the review. Affiliate Policy: We support the hours that go into our reviews and testing through affiliate commissions on purchases made through links in this article. These don't effect the outcome of our reviews or selection of gear, as per our Review Policy.