The North Face Cat's Meow Overview
The North Face Cat's Meow is an ideal sleeping bag for your three-season camping adventures. It has synthetic insulation to combat condensation, dew, and rogue storms, and is a roomy mummy shape to make sure you stay toasty warm on those crisp spring nights. An age-old classic in The North Face line, the current Cat's Meow is the Jack of all trades when it comes to sleeping bags.
Comfortable, lightweight, affordable, and a cinch to clean, The North Face Cat's Meow is our Premium Pick for the Car Camper.
You can find more expensive sleeping bags out there, but the majority of car campers don't need anything over $200. The Cat's Meow compresses well and is light enough to be taken into the backcountry, which we think most car campers will appreciate, especially those looking to start backpacking, or those who want a no-hassle bag for both the backcountry and car camping.
Snuggle your way through the world of sleeping bags with our comprehensive sleeping bag guide, and see the full gear review of The North Face Cat's Meow below.
Update: The North Face typically updates this bag every year and two, and 2018 saw a slight update. The new bag is a few ounces lighter, has a slightly different color, uses "Heatseeker Guide" insulation instead of "Heatseeker Pro", includes pad loops to attach to a pad, and is offered in 4 sizes. While this is a good update, we'd like to see the insulation improve to have a more accurate warmth rating. This bag is leaning more towards backpacking, so we will be recommending a new higher end bag for car camping.
The North Face Cat's Meow Star Rating
Comfort

Warmth

Durability

Fit
Summary
The North Face Cat's Meow is a mummy bag with synthetic insulation that's built as a solid hybrid for backpacking and camping alike. With a generous cut in the shoulders and tight feet, the bag retains heat well and has a fully adjustable hood. While it's not the warmest bag on the market, it packs up small and easily, and lasts years.
Cat's Meow Specifications
Feature Type
Feature Specs
What This Means
Weight

2 lbs 11 oz (1219 g)

This weight is for the Regular size bag. On our scale it actually came out a little lighter, too. Surprisingly lightweight for a synthetic sleeping bag, likely due to the mummy shape.
Type
Mummy Bag
The Cat's Meow is a classic mummy with extra wide shoulders and a larger footbox. It tapers, hugs your body, but still has a bit of room. More on mummy bags and other types of bags in our Guide.
Size
Regular
Regular size fits up to 72 inches, or 6 feet. This is standard across the industry for men. It's also offered in a Long, and Regular and Long in the Women's version.
EN Testing/Temperature Rating

EN Lower Limit: 22°F / -5°C
EN Comfort: 33°F / 0°C

This bag has been EN Tested. The EN Lower Limit means it's tolerable for men or warm sleepers to 22°F, and very comfortable for men or warm sleepers at 33°F. More on EN testing and temperature rating in our Guide.
Insulation Type

Heatseeker Pro

A fancy name for pretty standard synthetic insulation. More on insulation types in our Guide.
Water Resistant?
Yes
The synthetic insulation and DWR treatment on the outside means the Cat's Meow is built to handle wet climates. A reinforced footbox and hood also helps with this.
Fill Weight

1 lbs 10 oz (737 g)

This is how much insulation is in the bag. This bag is more than half insulation, which is good, but other bags have more.
Shell Fabric

Body: 20D Ripstop Nylon

Hood/Footbox: 30D Nylon/Polyester Taffeta

This Denier thickness is on the low end of standard for sleeping bags, and helps to keep the weight of the bag down. Reinforced footbox and hood are a great addition. More on shell fabric in our Guide.
Baffle Pattern
Vertical
Vertical baffles on synthetic bags are more common. They help to keep the insulation in place. More on baffle patterns in our Guide.
Zipper Length, Type, Placement
Full Length YKK Zipper, Left or Right
The zipper goes all the way down to your feet (but doesn't open fully). The one we tested is on the right side, but it can be either. It's a solid zipper with large pulls.
Draft Tube?
Yes
A solid draft tube helps to block incoming cold air. Works well, but gets snagged in the zipper, so placement isn't perfect.
Neck Baffle?
No
Neck baffles are usually found in high-end down bags. This is a synthetic bag.
Pocket?
Yes
Small interior zippered pocket meant for storing a headlamp, smartphone, or any on-hand item.
Manufacturer Warranty
Lifetime Guarantee
The North Face guarantees all of its products their lifetime for manufacturer defects and workmanship issues. However, the process does take a while to complete, so be prepared to be without your bag for a while.
Retail Price
$189
A fair price for a lightweight synthetic bag that works on camping and backpacking trips.
Gear Review of The North Face Cat's Meow
Origins: Easing You In
My weeks of testing The North Face Cat's Meow sleeping bag has felt a lot like getting reacquainted with an old friend after many years. Back in 2005 I bought a Cat's Meow to serve as one half of my bed on a 13-month global walkabout, covering 15 countries across four continents. The North Face has produced the Cat's Meow for many years, and it remains a staple for many backpackers and campers.
I tested the current Cat's Meow every night for several weeks, sleeping either inside or just outside my tiny home. The spring nights were chilly, and morning mist was common. I can confidently say this is still the great sleeping bag it was all those years ago, only a little lighter in weight.
I also want to note that the Cat's Meow is a hybrid sleeping bag — it works for camping and backpacking, whether you're trekking into the wilderness or internationally, as I did in 2005. For campers like myself, who want one bag that can go beyond the car (or tiny house), the Cat's Meow really shines.
Revelation: The Moment I Knew
While I've had consistently comfy nights sleeping in the Cat's Meow, it was on my trip in 2005 that I really got to see this sleeping bag shine. Despite 12 years, the essence of the bag has not changed, so I'll recount that epic moment for you.
I was two months into a five-month loop through India, traveling through the alpine mountains of Tamil Nadu in the south. Prior to reaching this region I'd been sticking mostly to the coasts and low deserts where the weather was much warmer.
I arrived to the mountains in February, and finally put to use the cold weather layers I'd been lugging around during the months leading up to this moment. That night I layered on my rain pants for a little extra warmth, piled a rain jacket over my midweight fleece and thermal long sleeve, dawned my double-layer fleece beanie, and tucked my pant legs into my thick wool socks. It was cold, to say the least.
After inflating my sleeping pad, I crawled into the Cat's Meow, wrapped myself in a tarp to keep off the dew, and zipped myself up completely. Then I synched the draw cord in the hood, leaving just an opening for my mouth. That night it dropped into the mid 30's, and although I felt slightly chilled by daybreak, I slept pretty well overall. Overnight, the clouds had settled into the valley below, and when I finally emerged from my polyester cocoon I was greeted by the most breathtaking sunrise I'd ever seen. The clouds below were ablaze in a fiery orange hue as the sun emerged over them, and I stood there in amazement.
Although I used that tarp to mitigate some of the moisture from the dew, it didn't do much for me as far as condensation was concerned, and the sleeping bag was still pretty wet on the outside when I woke up. However, since it was a synthetic sleeping bag, it only took a couple hours of laying out in the sun before it was completely dry again. By the time everyone was up and we'd all had some breakfast, my Cat's Meow was dry and ready to be packed up.
Digging Deeper
There are really a few key elements to take into consideration when choosing the right sleeping bag: packed size and weight, cost, how easy it is to launder, how it performs when wet, how easy it is to zip and unzip in the middle of the night, and if it'll keep you warm enough under the conditions in which you intend to use it.
As with most things in life, we have to weigh out which things are most important to us, and make some sacrifices, since it appears that no sleeping bag will "provide it all". With that said, The North Face Cat's Meow gets pretty close.
It weighs well under three pounds, which is extremely light for a synthetic bag rated to 22 degrees. It also packs to a small-ish package, and comes with a compression sack to make this process easy, in addition to a large mesh storage sack for simple storage.
These features highlight the fact that the Cat's Meow works excellently as a hybrid sleeping bag for both car camping and backpacking. Less room in the car is always good, and while you can get a cheaper or roomier bag for camping, the versatility of the Cat's Meow will allow backpackers to go on any adventure of their choosing.
The Cat's Meow is a deluxe mummy bag — it has a bit more room in the shoulders, torso, and feet than your typical mummy bag, a large hood, and fancy features like a pocket to store your phone or headlamp. The insulation used is The North Face's Heatseeker Pro, which is a fancy term to describe pretty standard synthetic insulation. The bag has vertical baffles, which are more about increasing comfort than warmth.
There is a standard YKK zipper with large zipper pulls, making it easy to locate and use in the dark. The hood has an adjustable toggle for tightening in case you need extreme warmth over your face — or if you really love being swaddled.
Comfort 
4 Stars
It's a really comfortable bag to sleep in. The fabric feels soft and fluffy…think marshmallow cocoon. The long zipper makes getting in and out easy. That said, it's a little slippery, so if you don't have a grippy pad you will slide around in the night.
Warmth 
3 Stars
While it's very comfortable and decently warm, I didn't find the 22 degree rating to be entirely accurate. The Cat's Meow has a Lower Limit rating of 22 degrees, and a Comfort rating of 33 degrees. This is an official measurement from EN testing, but it means that for most men the Cat's Meow should be comfortable at 22 degrees and above, and for most women it should be comfortable at 33 degrees and above.
I used the Cat's Meow, paired with a Therm-a-rest Z-lite mat, inside my tent, pitched in a grassy field. I wore a beanie, fleece neck warmer, synthetic long sleeve shirt with a lightweight fleece jacket over that, synthetic tights with a pair of pants over that, and thick wool socks. The sleeping bag was zipped up and the hood draw cord was synched. I woke up cold in the middle of the night, threw on my down hoody, and was able to fall back asleep after that, but still with slightly cold legs. When I awoke in the morning, the top of the sleeping bag was saturated with moisture, and the dew on my car was frozen. The temperature that night got down to the high 20s.
I may be a cold sleeper, and I'm shorter and lighter than the average "man" that the EN tests for, but I didn't find the claimed temperature rating to be accurate for me. I found the Cat's Meow could be used in the mid-20's in a pinch, but worked much better if the temperature didn't fall below the mid 30's.
If you're overly concerned about cold, consider a warmer bag, or make sure to bring layers. If you don't plan to be in freezing conditions, the Cat's Meow should provide enough warmth.
Durability 
4 Stars
The body of the Cat's Meow is made from 20D ripstop nylon, while the hood and footbox are constructed with a thicker 30D nylon polyester taffeta fabric. These Denier thicknesses are pretty standard for lightweight sleeping bags, which means that the Cat's Meow is tough enough to withstand even the most aggressive sleepers, yet it still weighs in at just under three pounds.
The only part of this bag that I advise to handle with extra caution is the draft tube in relation to the zipper. When the fabric gets snagged, don't force it out quickly or it may tear the fabric on the draft tube.
Fit
4 Stars
Mummy-style bags in general are not particularly known for being roomy when zipped up. Since these bags keep you warm by trapping your body heat, they make them as form-fitting as possible so that there's less airspace to heat up. The roomier the bag, the tougher it becomes to make it warm enough without sacrificing its lightweight-ness.
That said, the Cat's Meow does give you a little extra room in the shoulders, torso, and footbox. It doesn't feel claustrophobic in there, and gives you some room to move your arms and feet around.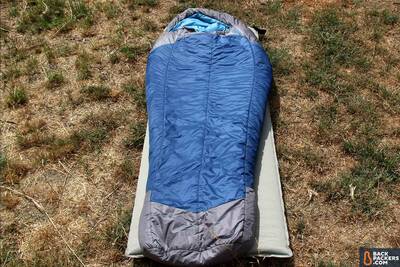 As with all mummy bags, this fit works great for sleeping on your back or side. However, I wouldn't try to sleep on your stomach while zipped up in it, or you might find yourself suffocated by the hood, or totally twisted up in the zipper when trying to get up. If the weather is warm enough, you can keep the bag partially zipped, and can sleep whichever way you like.
Grievances
Beyond the slightly inflated warmth specs of the Cat's Meow, the only real issue I have with it is the zipper.
Unfortunately, the zipper too often gets snagged on the draft tube when trying to zip the bag shut. The draft tube is large on this bag, which is a good thing: it blocks cold air from seeping in through the zipper. But the draft tube is bulky.
It's mainly a problem when you get chilled in the middle of the night and want to zip up to get warmer. Instead of being able to zip it up while still mostly asleep, that darn snagging zipper forces you to wake up and focus on backing up the train without tearing the fabric. It's not really the zipper that's the issue. The zipper itself is great, but if the draft tube only had a strip of slightly stiffer fabric running its length (as I've seen on some other sleeping bags), this would be a non-issue.
Final Word
When nighttime temperatures drop and you want a warm, easy-to-clean sleeping bag, The North Face Cat's Meow is the way to go. A premium bag that doesn't break the bank, the Cat's Meow is a great choice whether you're reaching your outdoor haven by car or foot.
Where to Buy The North Face Cat's Meow
We tested the newest version of the men's Cat's Meow for this review. We tested the Regular version with a right-hand zip. Old versions are still out there in various places — there are a lot of differences between the two. The best way to tell is that the new version uses Heatseeker Pro insulation, has vertical baffles, and a reinforced footbox and hood which are different in color. There is also a new women's version, which is similar to the men's, but has much more insulation to make it suitable down to 22°F for women and cold sleepers. This means women's bag is heavier. It's also shaped differently in order to conform with a woman's physique.
Both the men's and women's Cat's Meow 22 sleeping bags can be found below. We will do our best to make sure prices come up for the new version of the sleeping bag.
Review Policy: We do not accept payments or gifts from brands and vendors, and strive to provide unbiased, independent advice. Brands typically provide review samples which we return, and in some cases we purchase the item so we can keep using it long after the review. Affiliate Policy: We support the hours that go into our reviews and testing through affiliate commissions on purchases made through links in this article. These don't effect the outcome of our reviews or selection of gear, as per our Review Policy.