The North Face Dryzzle Jacket Overview
I've suffered through many wet Pacific Northwest winters without a proper day-to-day rain jacket. Going outside at certain times of the year usually means I'll be returning home dripping wet, in dire need of a change of clothes. Want to go for a stroll on the beach? Get wet. Take the dog for a walk? Get wet. Run from the parked car into the grocery store? Yeah, you guessed it: bags, food, me, all wet.
The stylish North Face Dryzzle Rain Jacket has renewed my enthusiasm for venturing out in bad weather, giving me confidence that I won't have to peel off layers of soaked-through cotton when my trek is done. It's a 2.5-layer rain jacket made with GORE-TEX Paclite, which creates an impenetrable, waterproof wall that is both lightweight and well-ventilated.
We're naming The North Face Dryzzle Rain Jacket our Premium Pick for the Car Camper, Urban Hiker, and Day Hiker. For $200 it keeps you dry and looking good whether you're walking downtown or hiking up a mountain. There are more expensive rain jackets out there — like the Patagonia M10 or Arc'teryx Zeta LT — and we recommend those for more serious trekkers that need heavy rain and snow protection. For the more casual user, though, the Dryzzle does more than enough.
The North Face Dryzzle Jacket Star Rating
Comfort

Durability

Breathability

Waterproofness
Summary
The North Face Dryzzle Jacket is a well-made rain defender with premium materials that sells for much less than your typical premium shell. It uses the Gore-Tex 2.5 Layer Paclite for a membrane, has large pit zips for venting heat, and is cut casual for layering and use in both city and backcountry environments.
If getting wet is something you're all too familiar with, I recommend checking out our comprehensive rain jacket guide to learn what it takes to choose the right gear for you and how best to care for it. Read on for the full North Face Dryzzle Jacket review.
The North Face Dryzzle Specifications
Feature Type
Feature Specs
What This Means
Weight

12.91 oz (366 g)

Average weight, if a little heavy, for rain jackets. Weight due to many features and durable construction.
Layer
2.5-Layer
2.5-layer rain jackets strike a good balance between waterproofness, breathability, durability, and weight. More info on rain jacket layers in our Guide.
Waterproof Membrane
GORE-TEX Paclite
GORE-TEX Paclite is an active, breathable, light membrane from GORE-TEX. More info on rain jacket membranes in our Guide.
Face Fabric

Solid: 50D 98 g/m2

Heather: 75D 102 g/m2

Two different fabric thicknesses for this jacket, both of which are fairly high Denier counts. It's a durable rain jacket.
No. of Pockets
2 hand pockets, 1 external chest pocket
Fully zipped pockets. Chest pocket has a media port, and hand-warmer pockets are comfortably sized. Hand pockets are covered by a storm flap.
Pocket Placement
Casual
The hand pockets will not work under a hip belt or harness. They work great for casually resting your hands.
Pit Zips/Vents
Yes
Two large pit zips for venting and increased breathability.
Water Resistant Zippers
Kind Of
The main zipper and hand-pocket zippers have storm flaps, so they're not water resistant. The chest pocket zipper is water resistant, and the pocket itself is made with PU construction for full waterproofness.
Storm Flaps
Yes
Storm flaps over the main zipper and hand-pockets help to keep water out. The main zipper storm flap buttons at the bottom to keep it secure.
Packs Into Itself?
No
The North Face Dryzzle Jacket doesn't pack into its own pocket.
Hood
Adjustable Hood
Three separate adjustment toggles on the hood make for a very custom fit. However, hood does not articulate well initially.
Fit
Relaxed
The North Face claims this is an "Active Fit", but for TNF that means a more casual fit. You can layer easily underneath.
Seams
Fully taped and sealed
All seams are taped and sealed. No water gettin' through.
Manufacturer Warranty
Lifetime Warranty
The North Face covers all of its products for their lifetime against defects of workmanship or manufacturing. They have a good policy and reputation, but it can take time to get an item assessed and repaired.
Retail Price
$199
Comparable to other rain jackets in its class, The North Face Dryzzle is fairly cheap for a GORE-TEX jacket.
Gear Review of The North Face Dryzzle Jacket
Origins: Easing You In
Working from home, I make myself stick to a rigid schedule to ensure I stay productive. This includes walking my dog, Huckleberry, three times a day, rain or shine. Most of the time in Oregon — it's rain.
Huckleberry and I are lucky to have a tidal beach and some forest trails around our neighborhood, so the walks are always interesting and enjoyable. She prefers the beach because it's where the shrimp are, and she knows that she can dig deep enough to find some juicy ones to snack on.
I often have to towel off the dog and hang my clothes around the fireplace when I get home. It's become a well-established part of the process, but once I got my hands on The North Face Dryzzle Rain Jacket I couldn't believe how much more enjoyable the dog walks became. No more hanging clothes by the fire!
I was surprised at how well the Dryzzle kept me dry, even in the gusting coastal winds. The three-way adjustable hood, hem cinch, and Velcro wrist straps worked together to lock down my defenses against mother nature's forces.
It worked so well on the beach that I decided to take the jacket with me on some fishing trips out into the Tillamook National Forest. Some of my ventures were day trips to car-accessible lakes where I stood dockside angling for trout, but others involved hikes of five or ten miles to more remote locations, including an overnight camping trip at Mt. Hebo.
Revelation: The Moment I Knew
I was lucky to snag a few fish during these trips (no record-breakers), but the Dryzzle further impressed me with its hikability (Is that a word? Well, it is now). Wearing a waterproof rain jacket, I expected to sweat like a pig stuck in a sauna as I trudged uphill through the moss-covered trees, but the accessible pit zips and breathable GORE-TEX Paclite material kept me as cool as a cucumber.
That's often the issue with waterproof rain jackets, isn't it? You wear one to protect yourself from the elements, only to end up sweating enough to make the purpose of the jacket obsolete. Not so with the Dryzzle. I've worn this jacket nearly every day for the last month, and it just doesn't wet out. It's become my go-to for just about everything.
There was one moment in particular where I was trekking through the woods on my way up Mt. Hebo to see the view from its summit. I was hiking at a moderate pace, nothing too strenuous, but all of a sudden a hunter's gunfire blasted through the forest and I could tell that the shooter was no more than a couple hundred feet away from me.
I booked it like a racehorse out of the gate and shouted, "Hey! Hiker here!" as I ran toward a cluster of trees for cover. Thankfully, the gunfire ceased at my call. As I peered through the trees I could see a dude standing next to a black pickup truck that was parked on a dirt road just above my location. I assume the guy was testing out a new toy or simply firing away for the fun of it, unaware that there was a public hiking trail directly in front of him, but he never said a word to me. He just hopped in his truck and sped off.
Adrenaline swimming through my veins, I started back up the trail at a good clip faster than I was before. I opened the Dryzzle's pit zips, undid the main zipper a bit, and burned away the pent energy from that jarring experience. Despite the moisture dripping down from the forest canopy and my own heated perspiration, the Dryzzle kept me cool and dry.
Another feature of the Dryzzle that I've come to appreciate is its combination chest pocket and media port. I love listening to podcasts whenever I'm alone, especially if I'm out on a walk, and after narrowly avoiding those gunshots I needed a distraction to calm my nerves. Keeping my iPhone dry is a daily struggle, but it's been made so much easier by using the watertight chest pocket and popping the headphone cord through the media port inside the top of the pocket. With the Dryzzle I can listen to my favorite shows without worrying the phone will turn up dead after getting home.
Life is so much easier when simple problems are solved by simple solutions.
Digging Deeper
Let's talk some specifics. What is it that makes the Dryzzle such a versatile rain jacket?
It starts with The North Face's GORE-TEX Paclite membrane, the laminate material which allows the Dryzzle to remain breathable while being durable, waterproof, and windproof. The Paclite membrane is comprised of an oleophobic (oil-hating) polymer that lets your evaporating sweat pass out into the air, but stops most anything else from penetrating the fabric. GORE-TEX has a number of waterproof membranes, some of which are more durable and heavy duty. Paclite is known for how lightweight and breathable it is.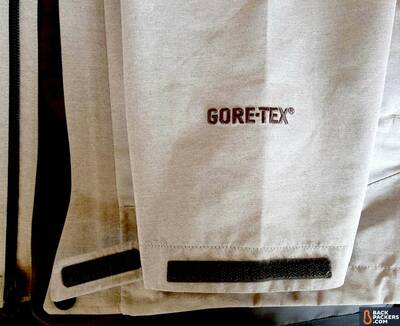 All other aspects of this jacket serve to complement the GORE-TEX Paclite further, ensuring that you stay dry no matter the weather conditions. As mentioned earlier, the hood is fully adjustable with three hem cinches. This coupled with the adjustable waist hem and Velcro cuffs allows you to batten down the hatches so rain cannot get in, no matter how big or small you are in the jacket.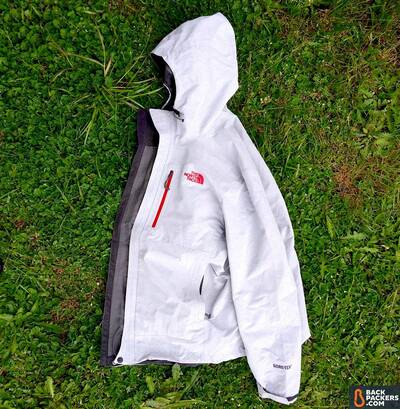 The chest pocket and hand pockets are all fitted with watertight zippers or storm flaps to keep your items safe. The chest pocket, which has that nifty media port, is even constructed with polyurethane (PU), which is a truly waterproof material. It'll take a lot of rain at odd angles to let water in there. The main zipper is easy to use and has a reinforced storm flap, which folds over the zipper without fail.
The Dryzzle has a very relaxed fit that allows you to layer to your heart's content, and at just under 13 ounces it doesn't feel like it's weighing you down.
The rain jacket will keep you dry, but you're going to need something else to keep you warm in brisk temperatures. I often wore a small down puffy underneath for the sake of coziness, and not once did its down feathers see a drop of rain. I'm used to my water-resistant synthetic coat soaking through after a little while out in the rain, then later having to throw it in the dryer to keep it from getting moldy. It certainly felt amazing to have that warm layer of goose feathers remain dry all day long. All I would have to do is shake off the Dryzzle at the end of the day. No mold, no dryer — no problem.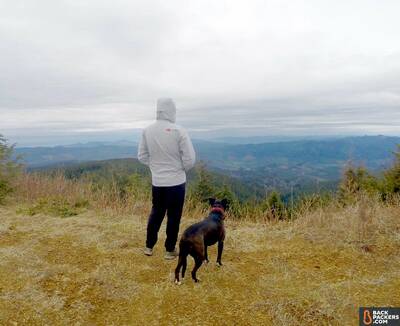 Comfort
The Dryzzle is comfortable, that's for sure. The material was pleasant against my skin and adjusted well to my body movements, never hindering my range of motion, even when casting a lure out into the lake. Luckily, I never had to test its swimwear capabilities.
Durability
I wore this jacket everyday for a month and I trust that it will last for a good long time. The quality of its construction seems top-notch, and there ain't no twig on no tree nowhere gonna tear it a new one.
Fit
It's a relaxed fit that doesn't make you look frumpy. I'm 5'10, 180 pounds and the medium-sized Dryzzle jacket fit me well in all the right places. No pinching, no hanging excess fabric. It's just right with enough room to layer properly.
Style
I'm no finicky fashionista, but this jacket is on point. Khakis, jeans, rain pants, and those hikertrash short-shorts all go well with it. Plenty of color options, too.
Grievances
The hood was my only real issue with The North Face Dryzzle Jacket. It's big enough to fit a helmet underneath, which is a good thing. While bicycling or skiing in foul weather you would want to wear a helmet underneath it, and it cinches down small with its three adjustable cords for when you're not wearing a helmet. Still good.
But no matter how tight I got that hood to clamp down on my noggin it just would not move with me when I turned my head.
Whenever something caught my attention and I wanted to look to my left or right, I only had one eye to do it with because the other just slid right behind the rigid edges of the hood. My big nose was the only thing that stopped my face from disappearing completely into its void whenever I swiveled my head. This is called articulation in the clothing industry, and it's an important feature manufacturers often overlook.
It's actually kind of amazing that this continued to happen even when I had everything cinched down tight. Maybe when some age has been rubbed into the jacket it will lose its stiffness and this issue will fade. The Dryzzle is good enough otherwise that I would keep it around long enough to see if that's the case.
Another small grievance: the Dryzzle doesn't pack down as small as I expected it would. I couldn't get it to roll completely into any of its pockets, at least not without a hydraulic press, but the Dryzzle is not trying to be an ultralight backpacker's jacket. It'll roll into a ball that you can throw in your car or travel pack just fine, and that's all it needs to do.
Final Word
The North Face Dryzzle is the best day-to-day rain jacket I have ever worn. It keeps the rain off, keeps the sweat out, and keeps me looking fresh no matter where I decide to strut it.
Where to Buy The North Face Dryzzle Jacket
The North Face Dryzzle Jacket in a Men's Medium was tested for this review. It's also offered as a Women's Jacket — all the materials and features are the same, except for the fit and colors. In general The North Face runs big, so if you're unsure of size go smaller. You can find both the men's and women's North Face Dryzzle Jackets below.
Review Policy: We do not accept payments or gifts from brands and vendors, and strive to provide unbiased, independent advice. Brands typically provide review samples which we return, and in some cases we purchase the item so we can keep using it long after the review. Affiliate Policy: We support the hours that go into our reviews and testing through affiliate commissions on purchases made through links in this article. These don't effect the outcome of our reviews or selection of gear, as per our Review Policy.