The North Face Thermoball Hoodie Overview
The North Face Thermoball Hoodie is one of the newer "innovations" in the synthetic puffy scene. It made a splash with fancy Thermoball technology, a highly competitive price point, and a quilted, uber-puffy exterior that has The North Face haters hating, and The North Face fanboys and fangirls swarming.
All the hype aside, it's a surprisingly warm synthetic insulated jacket that mimics the feel and insulative properties of down while resisting water, drying quickly, and bringing overall coziness to your life.
The casual fit, oversized hood, and extreme warmth for its weight make it our Classic Pick for the Car Camper and Urban Hiker.
The North Face Thermoball Hoodie Star Rating
Comfort

Durability

Warmth

Breathability
Summary
The North Face Thermoball Hoodie is an honest attempt to replicate the warmth, compression, and general feel of a down jacket. It gets quite close, and along the way provides a huge amount of warmth for a lightweight synthetic jacket. While it doesn't pack down as small as some competitors, it is warmer than most, and cut a littler longer and larger than most, to increase coverage. Best around a campfire or in town (if you like the look), the Thermoball has an outstanding hood and is soft to the touch.
This jacket simply excels at night around a campfire, or in the crisp early morning with a few eggs on the skillet. If you're stuck in a city and want a synthetic puffy that can take a beating, stay warm, and compress well, this jacket will perform. However, you have to be on board with the quilted look. If you want something more plain, consider the Rab Xenon X.
To get the full scoop on synthetic insulated jackets, check out our comprehensive guide. All of your questions will be answered. For a full North Face Thermoball Hoodie review, just keep reading.
The North Face Thermoball Hoodie Specifications
| | | |
| --- | --- | --- |
| Feature Type | Feature Specs | What This Means |
| Average Weight | 13.23 oz (375 g) | An average weight for a synthetic insulated jacket. It feels larger than other jackets that weigh this much, mostly due to the Thermoball puffiness. |
| Insulation | PrimaLoft Thermoball | Thermoball is a unique collaboration between The North Face and Primaloft, one of the leading manufacturers of synthetic insulatin. It aims to mimic down in warmth, shape, and puffiness. More on synthetic insulation in our Guide. |
| Shell Fabric | 15D 33 g/m² 100% nylon | This is a relatively thin outer fabric. Around 20D is more common. This gives the outside a silky smooth feel. We've found it to be quite durable, but you'll want to be careful with it. More on shell fabric in our Guide. |
| Lining Fabric | 15D 33 g/m² 100% nylon | This lining fabric is the same as the shell fabric. Still silky smooth, feels great against the skin. Only gets clammy when it's really hot out. |
| DWR Treatment | Yes | Standard DWR treatment. Sheds some water, but not meant for serious rain. |
| Number of Pockets | 2 hand pockets | These are extremely large hand pockets that can fit a wallet, headlamp, smartphone, and your hand. That might not be comfortable, but they all do fit. |
| Stuffs Into Itself | Yes | Technically it can stuff into one pocket, but we find it's easier to stuff in any spare space you have. The shape it takes when stuffed in a pocket is large and silly. |
| Hood/Jacket Option | Both | The Thermoball comes in both a Hoodie style and a hoodless Jacket style. For more warmth, get the Hoodie. See our Where To Buy section for links to the Jacket style. |
| Adjustable Hood | Yes | Two point adjustability, easily accessed on the front of the hood. Tightens around the face for increased warmth. |
| Adjustable Waist | Yes | Seals in warmth in a cinch. |
| Gender | Men's & Women's | Both styles offered for both genders in a number of colors. |
| Sizes Available | XS-XXL | Basically all sizes for either gender. The North Face wants you to be able to wear this jacket. |
| Manufacturer Warranty | Lifetime Guarantee | The North Face has a solid warranty. They cover all products for their lifetime for manufacturer defects or workmanship issues. Their send and repair service does take a little while, so be prepared to be without your jacket for some time. |
| Retail Price | $220 | In the world of nice synthetic insulated jackets, this is a reasonable cost. Less than some higher end models, par the course for most others. We'd wait for it to go on sale and try to grab one for under $200. |
The North Face Thermoball Hoodie Review
Origins: Easing You In
As a tester of synthetic puffies, I feel quite lucky. I basically get to wear a nice, new, super warm jacket around town, around the campfire, and around my entire life. Getting the feel for how a piece of clothing performs in the day to day ritual is critical to understanding its value, and I've put about 60 solid days on The North Face Thermoball Hoodie.
Southern California is coming out of its "cold" period, and that cold is incomparable to the true winters of the rest of the U.S. But the mornings have a bite, the local mountains still manage to drop into the 30's on some spring nights, and the foggy coast is cold and wind-whipped for my weekly dawn surf sessions.
The Thermoball Hoodie has accompanied me on every adventure, and kept me warm without fail. I have tried a number of synthetic puffies over the years, including the legendary Patagonia Nano Puff (which I own and love dearly), and none have managed to provide the warmth and silky touch that the Thermoball exhibits.
Revelation: The Moment I Knew
There are two moments for me, and both of them have to do with warmth.
First, dawn patrol surf sessions. After getting out of cold ocean water I typically hobble to the car, pop open the trunk, and get out of my thick wetsuit as fast as possible. The shivering stops the second the Thermoball Hoodie goes on. I towel off a bit, but almost immediately put it on against skin and hair that's wet with ocean water.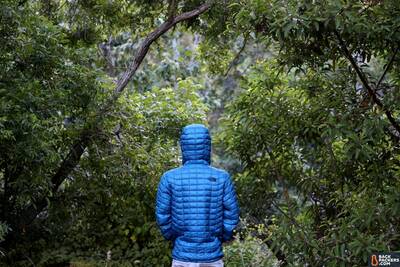 I would baby a down jacket, but not the Thermoball. It absorbs sea water like a champ and still warms me up in under a minute, effectively cutting the wind, too, which is half of the reason I'm so cold. All while looking good.
The second moment was more recently at an overnight car camping trip along the coast. The temperatures were projected in the upper 50's for night, which is by no means cold. Around dinner time a wind came through the Leo Carrillo Campground, and that estimated temperature dropped. Significantly.
I got cold, so I dug around the tent for the Thermoball and popped it on. Not only was the cold gone, but the wind was once again gone. It's a decent wind blocker, which comparable down and synthetic jackets have never quite managed. The oversized hood kept the cold and wind out of my face and ears, too.
Digging Deeper
The North Face Thermoball, from the outside, may look like a pretty standard puffy. But it's actually the first in a line of new technology from The North Face and Primaloft, a major manufacturer of synthetic insulation.
The "Thermoball" in Thermoball Hoodie has to do with the tiny, unique clusters of synthetic insulation that Primaloft created for this jacket. They mimic the clusters of down. This makes the internal construction of the Thermoball quite different than other synthetic insulated jackets, and is part of the reason it's so warm. The North Face claims the Thermoball tech is roughly equivalent to 600-fill down, which I find to be accurate, if a little underselling. It's a really warm jacket.
The hood is my favorite feature on the Thermoball Hoodie. It's huge, has two handy adjustable cinches at the neck, and closes tightly on the face when needed. For more casual use this large hood is excellent, rather than the scuba-style hood of many more technical jackets. I can fit a helmet, beanie, or hat under it no problem, and it's large enough to give me a laid back, yet totally ensconced feel.
The Thermoball Hoodie also has a two-point adjustable waist hem, and elastic cuffs. The waist hem is standard (and works well), but the cuffs use an internal elastic sewing method. This means the Thermoball-filled jacket extends a bit past the elastic cuff on my wrist. This looks good, provides extra warmth around the hands, and leaves plenty of room for a watch. It's a sweet little detail.
Finally, the Thermoball Hoodie has two massive zippered hand-pockets, which are large enough to fit a 32 ounce Nalgene inside. Not that I would ever do that, but to give you a sense of the size:
These are plenty cozy, but why are they so big? Perhaps to stuff the jacket inside. You can stuff the Thermoball Hoodie in its own pocket, but the resulting package is fairly large, and pretty awkward looking.
While this is a nice feature to put on the "list of features", in practicality it isn't all that useful. I just stuffed the jacket into a pack or duffel, or threw it into the car loose. It's plenty durable, despite the shimmering silk look.
Comfort
I always felt like a sci-fi eskimo in this jacket. The quilted, numerous baffles coupled with the massive hood and puffy arms scream complete comfort in the cold. The material feels great against bare skin — it's a silk-esque experience that hasn't faded with use — and it layers without a hitch.
Durability
I've shoved this in backpacks, duffels, a messy car, among surf gear, and camped around a blazing hot fire with plenty of sparks. It does not have a hole, scratch, or tear. The fabric is surprisingly heavy duty for how light it feels, and the zippers, stitching, and cords are all well made.
Warmth
The warmth of the Thermoball was a surprise, and made me feel like it had nearly succeeded in replicating down. the jacket is quite stuffed with insulation, but doesn't have the extra weight to prove it, and I always felt warmer in this jacket than other synthetic competitors (like the Patagonia Nano Puff).
Breathability
While the Thermoball did well with warmth, it was not built for breathability. This is not an active synthetic insulation, and doesn't try to be. Don't get this jacket if breathability on uphill hikes is your main purpose.
Fit
The North Face Thermoball Hoodie fits like all North Face products: bulky and large. A design trend of this major manufacturer is to oversize their clothes, either for cool baggy appeal or to make sure it fits larger-sized people, I can't claim to know.
I'm 5'6", typically wear a Men's Small, and tested a Men's Small. It's very long in the torso, but the sleeves fit well, with a little bunch at the elbows. There is plenty of room to layer underneath, but I can still put a rain shell over it if I need to. The hood is oversized, which I like.
Style
If you love tiny squares of shimmering fabric, this jacket is for you. The synthetic puffy look of this coat is very up to personal taste. I find it to be distinctive and a bit of a status symbol, whereas others don't like it at all. The North Face does offer it in black, which reduces some of the sheen, but it's still a big ol' puffy coat. If that's not your thing, don't buy one and then complain about how quilted it is.
Grievances
While I fell in love with the warmth of this jacket, specifically the warmth of the hood, I had a couple serious concerns. They're all about the pockets.
First, there are only two pockets on this jacket. Where is the chest pocket? I love having an extra pocket to store my phone, notes, wallet, or just about anything in a pinch. This is especially true on a jacket meant to combat cold, because my hands go in the hand-warmer pockets in order to keep them, well, warm.
The North Face has made the two hand pockets extremely large to make sure my hands and other stuff can fit in there, and that has worked. I can fit a wallet, cell phone, and a hand all in one pocket. But it's not as comfortable or convenient as it could be.
The second issue: the hand pocket zippers. They are stitched in such a way as to make them stealthy; they don't appear to exist when looking at the jacket from the front, and add a lot to the style. But the way they are stitched makes opening them with one hand difficult. I found it getting stuck often, and I should be able to close and open a hand-warmer pocket with one hand, no questions asked.
This could be "user error," but I'm a pretty experienced user, and pockets are pretty basic. I'd take more obvious pockets for easier opening flow, but both at the same time would be preferable.
Final Word
Huddle in the huge hood and quilted heat of the The North Face Thermoball Hoodie. This shiny puffy will keep you warm at all costs and looking good while you hunker down in the cold.
Where to Buy The North Face Thermoball Hoodie
A men's North Face Thermoball Hoodie was tested for this review. It's also offered as a hooded women's jacket. The two have the same features and materials, but differ in fit. Thermoball is also one of the larger clothing lines developed by The North Face, as it's a specific insulation and look that goes into jackets and vests. There are a huge number of products that tout the "Thermoball" name.
We find that the only one truly comparable to the Thermoball Hoodie is the Thermoball Jacket, which is a full zipped, hoodless version of the Hoodie. Pick this is if you don't want or need a hood, but still love the look and comfort of the classic Thermoball design. You'll see links to buy both the Thermoball Hoodie and Jacket below.
Review Policy: We do not accept payments or gifts from brands and vendors, and strive to provide unbiased, independent advice. Brands typically provide review samples which we return, and in some cases we purchase the item so we can keep using it long after the review. Affiliate Policy: We support the hours that go into our reviews and testing through affiliate commissions on purchases made through links in this article. These don't effect the outcome of our reviews or selection of gear, as per our Review Policy.