Rain jackets, also known as rain shells, or hardshells, or even occasionally wind shirts, are one step up from a trash bag or the $2 poncho at Wal-Mart. (No judgement, that poncho works for some people.) For those who don't care about semantics or subcategories, rain jackets are the pieces of clothing that protect you from water and allow your body to breathe while exerting energy. They have many more attributes, which I'll parse below, but those are the most important ones, and also the most debated.
Thing is, rain jackets are an immensely complex category of gear to write about. The outdoor industry is known for geeking out to extremes when it comes to gear and rain jackets are their mecca. It can get swampy. Visibility becomes impaired. It's like staring into the center of a maelstrom, which, conveniently, is what you'd need a rain jacket for.
My goal with this Outdoor Guide is to educate outdoor enthusiasts about rain jackets, but not to dive into the boggling world of water pressures and extensive technological testing. The Guide walks the line between the rain jacket gear junkies and the casual users, who just want to keep themselves dry. Some key concepts are explanations of waterproof breathable (a problematic term), rain jacket layers, and wet out.
I'm ready. Are you ready? Get prepared with this Table of Contents, and strap your gear hat on. We're going to start with some history.
History of Rain Jackets
Like most outdoor protective layers, the innovation of rain jackets began in the burgeoning age of plastics. It started when the now-famous Bob Gore, son of Bill Gore, the founder of W.L. Gore & Associates, was playing with polymers in the basement in 1969 (like all young adults do!). Bob Gore stretched a polymer by the name of Polytetrafluoroethylene, or PTFE, and got it to expand.
This created expanded Polytetrafluoroethylene, also dubbed ePTFE, which is the main layer in any GORE-TEX rain jacket. Bill was proud of Bob, and the two went on to build a synthetic fabric empire that dominates, innovates, and sometimes controls the "waterproof" outdoor market.
The first edition of a GORE-TEX infused rain jacket was introduced in 1976. It was dubbed waterproof, breathable, and more versatile than anything else on the market. Bold claims lived up to the hype, because within a few years GORE-TEX was working with all the major outdoor manufacturers to produce what was, essentially, a new category of gear.
GORE-TEX patented the process for creating ePTFE and kept it under strict lock and key until the patent expired in the '90's. Twenty-five years was long enough to become a household name — any brand worth their salt had a line of rain jackets with GORE-TEX technology at their core.
The patent has since expired, and many brands have gone on to develop their own waterproofing technology. However, GORE-TEX is still the top dog.
What Does Waterproof Breathable Mean?
Waterproof breathable fabric is the key to all rain jackets, but to explain it correctly requires some technical elements. Fair warning.
Before GORE-TEX came along, "rain jackets" had simply repelled water. It's not so hard to keep water off your body with a jacket-like garment; this was done with Polyurethane (PU) or Polyvinylchloride (PVC), and worked to keep the water from getting inside.
The true challenge was letting your sweat, condensation, and body-warmed air out from the inside of the jacket. "Waterproof-breathable" is the term, and while most people think waterproof is what matters most, the outdoor crowd tends to disagree. Waterproof is only worth it if you also get breathability. Those PU- and PVC-infused jackets of yore had very little breathability. If you're hiking steadily in a jacket that doesn't breathe you will get wet — not from the pouring rain, but from your sweat.
Waterproof plus breathability keeps your skin from getting wet, your body from getting cold, and your trip from being a major bummer.
Bob Gore's stretching process in the basement led to ePTFE, which, it turns out, is a nearly perfect material for the waterproof-breathable conundrum. Ellis Brigham digs into the specifics, writing that, "[a] stretched PTFE membrane [contains] 9 billion microscopic pores per square inch. These pores are 20,000 times smaller than a water droplet (so rain can't penetrate) but also 700 times bigger than a molecule of moisture vapor (so vapor can escape)."
In essence, water can't get in, but the vapor from your sweat and air can get out.
Sounds perfect, right? It is in a way, but you also have to remember that ePTFE is a very thin membrane. The rain jacket itself is not made of ePTFE entirely, but rather has a layer of it sandwiched between other fabrics. The ePTFE layer in the middle of two or more fabrics is called a membrane, and is delicate. The holes in it are great for letting water vapor out, but they also tend to clog with dirt and oils, just like pores, and a clogged ePTFE layer doesn't do what it's meant to do.
Rain Jacket Construction Gets Complex
W.L. Gore & Associates' solution to this was to put another PU layer over the ePTFE membrane, but this brought about a third component of breathability — air permeability. A rain jacket must repel water, let water vapor from your skin out, and allow air to escape if you want true breathability.
The solution to this was yet another layer, which did let air and vapor out while keeping water from the outside getting in. Making this happen was no simple feat: thin membranes are stretched over other fabrics, then pressed together, then against your skin, all while you sweat along the trail in pouring rain.
In short, it's not a perfect solution, and each method of creating a rain jacket is subject to small flaws. There is no ultimate jacket.
Because none of them are perfect, it's important to consider what you will be using it for, and what you actually want out of a jacket. Some of the materials are more breathable, others more durable, others need to be washed often, and some don't feel good against the skin.
That said, the technology has improved tremendously since the gear category was pioneered in the '70's. Today, you can find something that works very well for your needs.
Before we get into the specific types of waterproof-breathable materials, it's important to discuss what "waterproof" really means, and what Durable Water Repellant (DWR) has to do with it.
Is Anything Really Waterproof?
There is a lot of debate in the outdoor world about the proof-ness of anything. For instance, nothing is truly "waterproof," as a highly pressurized beam of water can cut through concrete, steel, and most definitely your rain jacket.
With that in mind, the industry has decided that to be "waterproof", a rain jacket must not let water in at a standard amount of pressure, specifically 25 PSI. This is a scientific calculation that's tested in labs, and often written out as a long number, like "20,000 mm". This interactive infographic by Backcountry.com sheds light on the concept.
For most users those numbers don't mean much. Yes, they help to determine a rain jacket's resistance to water in a controlled environment, but there is no official body that validates and approves these numbers.
What's more: lab tests don't equal real life. Just because a coat technically resists a certain pressure of water, users encounter all sorts of rain and wind over long periods of time, don't use the jackets correctly, have their own fluctuating body temperatures, and layer differently beneath the jacket.
As such, field tests are a much better way of evaluating waterproof-ness. The question, "Does this keep me dry?" is what you should consider when looking at a rain jacket's waterproof-ness.
Durable Water Resistant (DWR) Coating
Durable Water Repellent (DWR) is the coating or spray that's applied to the face fabric of a rain jacket. It causes water to bead off the surface, and is the main method in which rain jackets are "waterproof" today.
However, DWR is a chemical coating that will get rubbed off. I say "will" because over time with wind, rain, dirt, tree branches, scratching, and tugging, the coating literally comes off.
What is Wet Out?
When the DWR coating gets scraped off it makes a rain jacket unable to shed the water on the outside. This water clogs the pores on the outside of the jacket, which creates a lack of airflow from the inside to the outside. The breathability factor is gone and you get drenched. This is called wet out, our wetting out.
Wet out is incredibly uncomfortable — your jacket will feel soaked on the outside, and your perspiration on the inside won't wick. Basically, wet all over.
There are a number of tactics for combating wet out — choosing the right one depends on your jacket's DWR coating and materials.
Even if your jacket has ample DWR it can still wet out. Yes, even with GORE-TEX. The ePTFE membrane helps to combat wetout (and is one of the reasons they can "guarantee" dryness), but with enough sustained rain it can happen. This occurs because the humidity inside your jacket is less than outside, and water, vapor, and air want to move from warmer to colder climates. In warmer, humid climates with tons of sustained downpour this happens often. Try to increase the humidity level inside your jacket — put on more layers, as long as they breathe well. It will help to keep the water flowing out of your body, rather than stewing in it.
The above happens in extreme rain conditions. Most of the time the DWR coating has wiped off and the water is settling onto the coat, blocking the air and water vapor from escaping. Wash your jacket, reapply DWR, and see how it works. See the Care section of this Outdoor Guide to make sure your jacket is in tip-top shape.
Types of Waterproof Breathable Materials
Now that you understand the essentials of the waterproof-breathable debate, let's get into the unique materials used by companies to create rain jackets. Note that I'll mention "layers" in a few of the descriptions below — these get more fully explained later in the Guide.
GORE-TEX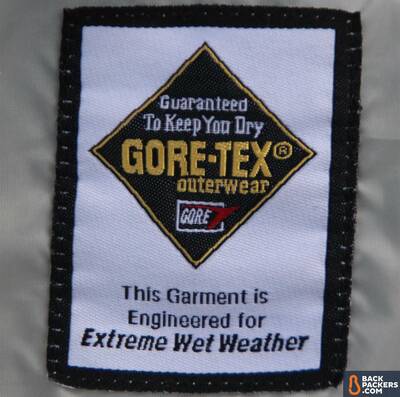 GORE-TEX is still the leader when it comes to ePTFE fabric. Their reign has diminished some, but the black diamond that says "Guaranteed to Keep You Dry" packs a punch for consumers.
GORE-TEX doesn't just have the one membrane, though. There are many types of GORE-TEX, each engineered for a different experience. However, all contain the ePTFE membrane in the middle.
Pro: Pro is the most durable and robust of the GORE-TEX line, often reserved for high-end rain jackets. It's a 3-layer construction coupled with a 40-denier face fabric and breathes well.
Active: Active, as its name implies, is for constant motion. It breathes better than Pro, but is still a 3-layer construction.
PacLite: Again, like the name, PacLite is often found in backpacking rain jackets due to its packability and weight. It's a 2.5-layer construction and much less bulky than Pro or other 3-layer fabrics from GORE-TEX. This allows it to pack down to a tiny package.
C-Knit: This is a new fabric from GORE-TEX that combines the ruggedness of Pro with a lightweight, soft feel. The material itself is nice on the skin, layers well, and is still a 3-layer construction, yet packs down very small.
eVent
eVent also uses an ePTFE membrane, and has its origins in General Electric and industrial air filters. The notable difference between this and GORE-TEX is that eVent doesn't use a laminated PU film to protect the microscopic holes in the membrane like GORE-TEX does. Instead, eVent uses a coating that goes around each fiber, thereby leaving the holes open, but protected. eVent is generally regarded as more breathable than GORE-TEX because of this, but has to be washed more often.
eVent also allows other brands to use its ePTFE membrane without attribution, which is radically different than GORE-TEX, who demands their name be on every coat they help to create.
Most notably, Mountain Hardwear uses the eVent membrane in their Q.Dry line of waterproof rain jackets. Other gear manufacturers use it as well.
Polartec NeoShell
Polartec is an industry name almost as big as GORE-TEX — they are most known for pioneering the fleece industry. Foregoing ePTFE altogether, NeoShell is a PU-based membrane that focuses on breathability. It is not as durable, nor as water resistant as its ePTFE-based competition, but for those who sweat a lot, or want an active, breezy rain jacket, this is a good option.
PU fabrics in general are also much stretchier, which is true for NeoShell and others below.
Pertex Shield +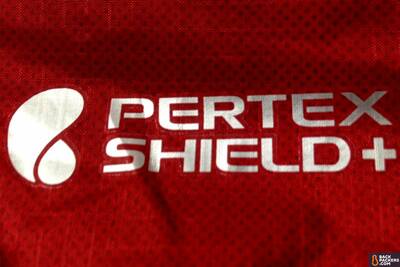 Another PU-based fabric, Pertex Shield + is very lightweight and very breathable for something that is solidly waterproof. Due to its lightweight nature, and the lightweight nature of the garments it gets used in, it's not as durable as a GORE-TEX coat. Pertex Shield + is often used in ultralight rain jackets.
Marmot NanoPro and NanoPro Membrain
This is Marmot's proprietary PU-based fabric. It's newer (released in 2014), and has rave reviews for waterproof qualities and breathability.
Patagonia H2No
This is Patagonia's proprietary fabric, also PU-based. It's used in much of their rain gear and tested extensively. Patagonia rain jackets are often used for alpine expeditions, around town, and in the backcountry. H2No works despite the slightly corny name.
OutDry Extreme
Columbia has teamed up with OutDry to create OutDry Extreme, a new waterproof-breathable fabric that's just hitting the market (as of 2015-2016). Instead of sandwiching the PU membrane between things (like everyone else), OutDry extreme garments put the membrane on the outside of the coat. This means no DWR coating is necessary, water resistance increases, and wetting out cannot occur. The seams are on the outside, too.
New technology is always viewed skeptically at first, but OutDry Extreme has been getting very positive feedback on its waterproof capability, with the caveat of breathability.
What are Rain Jacket Layers?
There is one final element of the rain jacket construction and waterproof breathability that must be discussed before we move on: layers. If you're a confused consumer, don't worry, I know. You'll be OK.
When looking for jackets you'll often see them labeled as 2-layer, 2.5-layer, or 3-layer. This will be in addition to whatever waterproof-breathable material is embedded in the jacket. For instance, a jacket with GORE-TEX could be 2-layer, 2.5-layer, or 3-layer, depending on the type of GORE-TEX used.
2-Layer Rain Jackets
The internal layer on a 2-Layer jacket is typically a mesh lining. This lining is treated, but isn't engineered to provide the amount of protection that higher-end laminates are capable of. The external layer on a 2-Layer rain jacket is a combination of a membrane and a face fabric bonded together. The mesh lets air and vapor into the waterproof-breathable membrane, which wicks it out of the coat, while the external layer keeps rain from getting in.
Two-layer rain jackets tend to be the more casual, lower-end, and won't break the bank.
2.5-Layer Rain Jackets
The .5 layer here is one (half) step up from a 2-layer rain jacket. Instead of the mesh lining, a very thin half-layer is printed onto the inside of the jacket. This protects the PU or ePTFE membrane from dirt and abrasion, while also wicking moisture up and out. The exterior layer is still the face fabric bonded to the membrane. This very thin printed layer is often not comfortable against the skin; some people say it's "sticky."
2.5-Layer rain jackets are standard for outdoor folk who need decent rain protection, don't want to spend gobs of money, and want their gear to be packable and light. They are the most common, and most reasonably priced. Recent innovations in 2.5-Layer laminates and materials make this an increasingly popular choice as a backpacking rain jacket.
3-Layer Rain Jackets
3-Layer jackets are the behemoths, utilizing a thick laminate on the inside of the coat, the middle membrane, and a thick face fabric with a high Denier number. The 3-Layer rain jacket is most commonly associated with GORE-TEX (because they invented it). These days it's often meant for more extreme environments, like alpine climbing.
Still, with today's technologies, a solid 3-layer rain jacket can be fairly lightweight, very comfortable, and last an extremely long time with proper use and care. You will pay a premium price for one though.
Rain Jacket Features
The long discussion on waterproofness, jacket materials, and layering has come to end! I'm now moving onto other features that make up rain jackets. These are the ones you'll be able to see with your eyes.
Hoods on Rain Jackets
Unlike other protective jackets, you need hood on your rain jacket. If you're not protected from rain on your head, you're going to be uncomfortable.
There are four key elements when looking at hoods:
Articulation: This isn't about language fluency — an articulated hood is a hood that moves with you as your head moves. A look to left and the hood is able to turn, rather than stretching awkwardly against your face. This is a nicer feature, and typically better cut rain jackets have hoods like this. Necessary for highly active pursuits.
Adjustable: Hood adjustability is key. Often in the form of drawstrings and toggles, you can pull the hood tightly around your face to protect from windy, side-blown rain. Some hoods have one adjustable point in the back, others have two more in front. Lower-end hoods have no adjustability, or a velcro flap in the back that makes the hood tighter or looser.
Stiff Brim: Another high-end feature, a stiff brim is essential when it's pouring. This keeps the rain from dripping right into your face.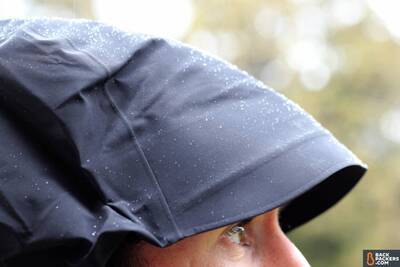 Depth: Finally, there's the depth of the hood. This depends on the individual, and how big their head is, but you want a deep hood. It won't do your face any good if it's sticking out in the rain.
Pockets on Rain Jackets
Everyone loves pockets. On rain jackets meant for hiking pockets are slightly less necessary, as you'll have your valuables stored somewhere safe, but most people like and use them as a comfort or last-minute measure.
There are three things to consider when checking out pockets on a rain jacket:
Hand-Warmer Pocket Location: Hand-warmer pockets are the ones meant for your hands (duh!), but for rain jackets there are two schools of thought. Some hand-warmer pockets are placed low on the jacket for more casual use, like a hoodie. Others are placed much higher up to avoid a backpack's hip belt or climbing harness. Which do you need? A few models try to do both, and put the hand-warmers slightly higher than usual. This may work, but often is awkward.
Chest Pocket: Do you want a chest pocket? Some rain jackets forgo hand-warmer pockets altogether, opting for a single chest pocket. (These are the lighter, more hiking-oriented coats.) Many people love chest pockets as you can store a wallet or phone simply on its own. Finally, do you want an internal or external chest pocket? One requires unzipping the jacket to reach, while the other has more potential for water leakage.
Mesh vs. Lined Pockets: The final pocket consideration is what type of material is used at the back of the pocket. Mesh lining consists of open holes. It's usually used in lower-end jackets, or jackets that need to breathe better. The mesh allows air to escape, especially when the pockets are opened. However, rain can get through those holes, into your other layers, and get you very wet. Lined pockets are sealed with the same waterproof technology as the rest of the jacket and keep your insides bone dry.
What kind of pocket person are you?
Zippers on Rain Jackets
A zipper must not stick, it must be reasonably operable, and it must last. This is true for any garment with a zipper, but rain jackets have a few other requirements. Zippers can be a weak link in your water protection, and when you're fussing with a poorly made zipper in serious rain it can be a real issue.
Look for these specific zipper add-ons for any rain jacket:
"Waterproof" Zippers: Keeping in mind that waterproof is not a real measurement, there are plenty of rain jackets that boast waterproof zippers. Two of the most common are YKK AquaGuard, and Arc'teryx's WaterTight zippers. These are different, but both use a polyurethane (PU) coating on the zippers and fabric near the zippers. This helps to keep water out, but will jack up the cost of your rain jacket.
Storm Flaps: Another protection against water is the storm flap, which will often be found on rain jackets that don't have a waterproof zipper. These are extra pieces of fabric that cover the zipper when zipped up. Snaps or velcro is used to hold down the flap, protecting the zipper from most water (but not all water). Some jackets have two storm flaps on either side, which adds weight but increases protection.
Pit Zips: Much debated in the outdoor world, pit zips were born for breathability. They are literally zippered areas under the armpits that, when open, allow air to pour out of your overly sweaty body. Many rain jackets have them, but with recent technology improvements in breathability they are becoming less popular, mostly because they add a lot of weight. However, if your jacket is thick and heavy, and you plan to do high exertion activity in humid, torrential climates, pit zips are clutch. The one issue is that they can let water in, of course.
Rain Jackets Need Taped Seams
Getting into the smaller, nitty-gritty elements of rain jackets, taped seams are critical. Think about all the different cuts of cloth that go into the jacket, each of which has to be put together, yet kept waterproof.
Manufacturers do this by using waterproof tape along the seams, gluing or heat-molding it onto the fabrics. These seams have gotten lighter, narrower, and much more durable in recent years.
More expensive rain jackets have fewer seams, and the tape they use to cover the seams is very thin and incredibly durable. Cheaper rain jackets have lots of tape, and it tends to fall away much sooner.
Velcro Cuffs are the Best Hand Closures for Rain Jackets
The "keep water out!" trend is critical, and where you hand meets your jacket is a problem area. Nothing is worse than a torrent of water sliding down your hands and into your sleeves.

Most rain jackets have velcro patches on the cuffs, which allow you to tighten them your to your wrist, thereby keeping the water out. Look for high quality velcro here, and a great degree of adjustability, because you may wear lots of layers, have a watch on, or use gloves.
A Hem Cinch is Nice
Much like the adjustable points of a hood, rain jackets often have hem cinches. This closes the jacket around your waist to keep out water, or keep in warm air (not usually needed).
How Packable Are Rain Jackets?
The final feature worth noting is packability. This is more important for backpackers who are worried about space and weight, but is a viable consideration for anyone. In the days of yore solid rain jackets were heavy, huge, and did not compress.
We've come a long way. Today even some 3-layer rain jackets are very lightweight, whereas the 2.5-layer category is often thin and compressible to a surprising degree.
Some rain jackets have a specific pocket they can be stuffed into — this is a nice feature when carefully placing the jacket in a backpack, and often protects the jacket from losing its DWR coating.
However, the more important aspect of packability is weight. You don't need a stuffing pocket to roll a rain jacket into its hood, fold it up, and stick it in your pack. Typically (though not always) weight correlates directly to packability. The thinner the material, the smaller it will get.
Care and Maintenance for Rain Jackets
Most people don't realize that washing a rain jacket is important. With all that water coming down, the jacket never seems dirty, right? Well, it is. After months of use your sweat and grime sticks to the inside of the coat, while dirt and debris riddle the outside, even if you can't see it.
A rain jacket functions best when kept reasonably clean, and you'll lose either waterproofness, breathability, or both if you don't.
Follow the Instructions
You know how clothing in the U.S. has tags on it, and those tags tell you how to wash those clothes? If you look, you'll find the same tags on your rain jacket. Legitimate outdoor companies will always include these tags on your coat, and they are the best guideline to follow when cleaning your jacket.
Often it's a lukewarm to cold wash on a low-agitation cycle with powdered detergent that does the trick. You can also wash a rain jacket on Delicate, and make sure you don't use liquid detergents, fabric softeners, bleach, or anything else. An extra rinse cycle (as opposed to soapy wash) will help take off all the excess soap.
Next is drying. It's always best to air dry a rain jacket when possible. If for some reason you need it to be dry immediately, a very low-heat, low time cycle in the dryer will be alright (as long as the printed instructions say so).
For jackets that have DWR coating (most do), after extended use you'll need to reapply. Make this call after giving the jacket a thorough wash and dry cycle, taking it into the rain, and seeing if it works.
If it's still wetting out, proceed to re-apply a DWR coat. Nikwax and Granger are the two most recognized DWR reapplication brands, and you can either spray it on or use it as a liquid wash. Follow the instructions on either of those brand's bottles to a T. Also, keep in mind that DWR is best sealed to the coat with a bit of heat, so using a light dry cycle or very carefully using an iron to seal in the DWR will provide best results.
Backpacker Types
With the entirety of rain jackets above, I'm at the point in this Outdoor Guide where I talk about why we chose the jackets we did for our different Backpacker Types. Before I get into those specifics, though, I want to denote three terms that are often used to describe a rain jacket, all of which are slightly different.
Hardshell: Some consider a hardshell a category of its own, different than other rain jackets. I don't, mostly because they aim to do the same thing as other rain jackets, just with a more robust construction. For the most part a hardshell is synonymous with a 3-Layer rain jacket. They are burly, more expensive, and often (but not always) heavier.
Rain Jacket: I've used this term throughout this article to mean any rain jacket, and I stick by that. However, some parts of the industry use this term to more specifically refer to 2.5-Layer coats that protect you. Basically, it's a separation between these and hardshells.
Rain shells: The last term is "Rain Shell", which makes matters more confusing. A rain shell in the industry is usually a very light, thin jacket that helps to defend against rain, but doesn't provide nearly the long-lasting protection of a hardshell or "rain jacket".
Rain jackets for the Wilderness Backpacker are a necessary precaution, unless you're heading to a desert with zero-percent chance of rain. Even then I might take one — always be prepared, right? For some backpackers in less precipitous climates a rain jacket will sit in their pack as an emergency layer, but for others it will be a staple of any trek throughout the year.
I recommend every Wilderness Backpacker have and take a rain jacket into the backcountry. Important features are a fine balance of breathability and waterproofness, pit zips if the jacket doesn't breathe well, and pockets placed above a hip belt. A deep hood and no-fuss zippers are also nice. Durability is key for those who go out a lot, as rain jackets are an investment.
The rain jackets we recommend for the Wilderness Backpacker are either 2.5-layer or 3-layer coats. The more expensive models are 3-layer, while the less expensive are 2.5-layer. These breathe well and keep the rain out.
In order to cut out excess weight, the Ultralight Backpacker will often take a rain jacket that is stripped down to the bare minimum. This means less pockets and less burly materials. Due to rain jacket construction, these lighter rain jackets often breathe much better, but don't have nearly the waterproof resistance or long-term wear that heavier jackets are capable of.
The rain jackets we recommend for the Ultralight Backpacker are mostly 2.5-layer construction, with the exception of one very light 3-layer jacket. For those that want serious durability, get the 3-layer and eat the extra 3-5 ounces.
The Day Hiker needs a rain jacket that stows easily in a small backpack, works in a light drizzle or downpour, and is easy to move around in.
The rain jackets we recommend for the Day Hiker are similar to the Wilderness Backpacker recommendations, but in place of 3-layer construction we recommend 2.5-layers, unless you want to spend money on the "best" jacket around, of course.
Car Campers need a rain jacket that simply works. Tents and cars do a great job of fending off the rain, so there is less of a critical need for rain jackets that are packable and uber light. Pockets are more important here, too.
That said, we don't think purchasing a separate rain jacket exclusively for car camping is necessary. If you have one for the backcountry or hiking, it will just as well work for car camping.
Our recommended jackets for the Car Camper are the same as those for the Day Hiker.
With the Urban Hiker things are just a little different. You want the rain jacket to protect from rain and weather, you want it to last many seasons, and you want it to be stylish enough to fit in at work, a bar, or around town.
Packability is not quite as important, but functionality is. The hand-warmer pockets need to be comfortable to rest your hands in, a chest pocket is very useful, and a low-profile or store-away hood is handy.
The rain jackets we recommend for the Urban Hiker focus on these elements, use all three layers of construction, and really depend on how much you want to spend.
Affiliate Policy: We support the hours that go into our reviews, testing, and guides through affiliate commissions on purchases made through links in this article.