Marmot PreCip Overview
The Marmot PreCip rain jacket will keep you dry and grinning even in the heaviest of downpours. It's a widely-used model that's solid, year after year, and the newest version totes a lighter, more breathable fabric than before. That, coupled with the multitude of adjustment capabilities, makes sure rain won't break through.
The Marmot PreCip rain jacket is low cost, lightweight, and able to shed rain consistently, which makes it our Budget Pick for the Wilderness Backpacker, Day Hiker, and Car Camper.
Marmot PreCip Star Rating
Comfort

Durability

Breathability

Waterproofness
Summary
The Marmot PreCip is a bit of an icon. A solid 2.5-layer rain shell for $100 (often on sale, too!), with closures at the waist and wrists to keep out water, a full hood, and two zippered hand pockets. It won't blow you away, but it will get the job done.
Slosh your way through the world of rain jackets with our comprehensive rain jacket guide, and see the full Marmot PreCip review below.
Update: We tested the Marmot PreCip in 2017, and it has not changed much since then. There are new colors and very slight material tweaks, but overall it remains the same jacket.
Marmot PreCip Specifications
| | | |
| --- | --- | --- |
| Feature Type | Feature Specs | What This Means |
| Weight | 10.9 oz (311.8 g) | Very lightweight. Packs up small, takes up almost no room in the pack. |
| Layer | 2.5-Layer | Face fabric is bonded to a PU membrane and has a very thin layer printed on the interior. Further explanation in our Guide. |
| Waterproof Membrane | NanoPro | Marmot's proprietary PU-based water resistant layer. Further explanation in our Guide. |
| Face Fabric | 50D 100% recycled nylon | Fairly tough exterior to protect against scratches. |
| Lining Material | Proprietary NanoPro waterproof breathable coated insert | Thin printed pattern on the inside, often clammy and uncomfortable in a 2.5-layer jacket. |
| No. of Pockets | 2 mesh-lined hand warmer pockets. | Open for breathability, decently sized. |
| Pocket Placement | In-between | Not quite high enough for a hip belt, not quite low enough for casual comfort. A hybrid that falls a little flat. |
| Pit Zips/Vents | Yes | Open up both vents when it starts to get steamy. |
| Water Resistant Zippers | No | Regular zippers protected by the storm flaps. |
| Storm Flaps | Yes | Velcro storm flap on main zippers and hand-warmer pockets. |
| Packs Into Itself? | Yes | Easily stuffs into a hand pocket, which has a carabiner loop for easy clipping. |
| Hood | Yes. Roll Away. | Hood rolls into itself and closes with velcro. |
| Fit | Casual | Can layer easily, though the arms taper toward the wrist quite a bit. |
| Seams | Fully taped | Won't let the water in until they wear off, which will take a while. |
| Manufacturer Warranty | Limited lifetime warranty | Covers manufacturer defects like broken zippers or velcro, but not general wear and tear. |
| Cost | $100 | A low price for a solid rain jacket. |
Gear Review of the Marmot PreCip
Origins: Easing You In
Have I ever mentioned how much I love hiking once the rains finally come? We don't get a whole lot of moisture in Southern California, but when we do it transforms an otherwise beige and dusty landscape into a lush subtropical paradise. The hilltops disappear into fog banks, radiant moss on the boulders reawaken, and the frogs exalt in harmonies from depths of the ravines. The Santa Monica Mountains in particular carry the sweet scent of sagebrush and newly-formed streams, which cross the single track trails, turning them into technical peanut butter slaloms. I can't help but smile (and turn into a little bit of a poet, apparently).
Although I adore hiking these hills the rest of the year, it's something special to experience this unique environment once the rains hit, and having the right gear for wet conditions makes a huge difference in my ability to enjoy that experience. Yes, it's still awesome if I'm drenched to the bone, but I find that it's much more pleasant to stand out in the pouring rain when my core remains toasty and dry.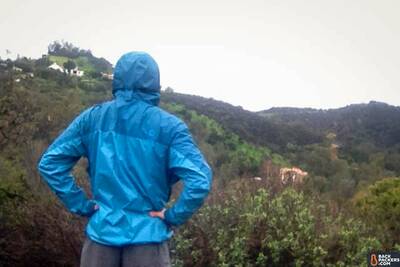 Here's where the Marmot PreCip rain jacket comes into the picture. I tested it for the past few weeks during surprisingly torrential storms to see how it holds up in the rain and as an exterior layer.
Revelation: The Moment I Knew
Way back in 2009 I bought a version of the Marmot PreCip, which I've used regularly as one of my rain jackets ever since. Although it's pretty snazzy-looking, it has a few design quirks that have been frustrating, like a zipper that constantly snags on the fabric. It also wasn't very lightweight or breathable, and I found that I'd still get soaked from my own sweat while hiking even if the rain couldn't get through.
Despite these issues, that old PreCip still served me well as a rain shell for any non-cardio activities like construction work, travel, and running around town.
Fast forward seven years — Marmot seems to have worked out many of the kinks I found frustrating with my original jacket. When I first picked up the PreCip for testing I was astonished at how light this new version was. The newest PreCip is even tangibly lighter than my own personal $300 rain jacket, weighing in at 10.9 ounces (for a Men's medium).
Since Southern California is technically a desert, I spent some time watching the clouds, waiting for my chance to get this jacket wet. Then the rains arrived — it's become one of the wettest winters in recent history — and I got to see what this new PreCip was all about.
On a recent jaunt to one of my favorite lesser-known trails in the Hollywood Hills I brought the Marmot PreCip jacket to shelter me from the downpour. Passing an old firefighter training course by the trailhead, I effortlessly slid the zipper up to my chin (they worked that kink out) and cinched the drawcord of the hood tighter around my face as the rain began to fall heavier on my head and shoulders.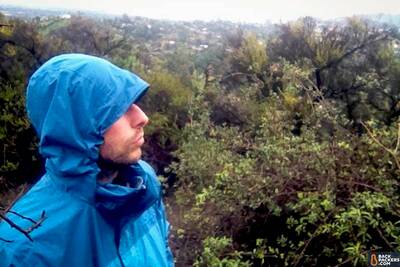 Clawing my way up the steep sections of the trail, it was only a matter of minutes before I felt the perspiration break on my scalp. The all-too-familiar steam began to billow out from under my arms. It's a tricky balance to find the sweet spot between getting warm but not breaking a heavy sweat while trekking in cold or wet weather. Since my genetics are highly adapted for staying cool and comfortable in temperatures exceeding 100 degrees fahrenheit, it's quite the challenge for me to not get drenched in my own sweat as I exert myself while out in the cold.
Fortunately, the Marmot PreCip is built with pit-zips for just this occasion. Pulling the pit-zips open and unzipping the main jacket zipper, I was able to mitigate my temperature fluctuation to a degree and allow for greater breathability. This helped me me stay a lot drier than I would have otherwise.
Digging Deeper
Although there are many standout features of the Marmot PreCip, they should be taken in context: namely, price. For $100 you get a pretty sweet rain shell from a reputable, warranty-backed company without breaking the bank.
Typically a lower-end jacket skimps on features, but that's not the case here. This jacket is highly adjustable — it has an elastic draw cord around the face of the hood to keep the wind out and a Velcro flap on the back so you don't lose your peripheral vision.
There are Velcro adjustments around the cuffs of the sleeves to tailor the fit, and another elastic draw cord around the waist to help trap in some body heat and keep out the drafts. Two zippered hand-warmer pockets open to a mesh interior (also meant to help with breathability), and it stuffs into its pocket easily.
Comfort
Worn directly against the skin felt nearly as clammy as the bottom of the Boston harbor — i.e., not great. But it was quite cozy with a thermal or fleece between my skin and the interior 2.5-layer.
Durability
Only time will tell how strong the materials actually are, but in general, I wouldn't hesitate to brush up against branches in this jacket. It feels tough enough, yet doesn't sacrifice packability.
Breathability
I'll say more on this below, but the new PreCip is supposedly 43% more breathable than its predecessor. It's meant to keep the torrents out and one's torso dry, but when truckin' up a steep trail it still got pretty steamy in there.
Waterproofness
Decently waterproof, especially with a fairly forward hood and solid closures around the waist and wrists. Keeping the water out is not so much of a problem, it's getting the water from your sweat.
Fit
Like a glacial blue exoskeleton hugging the contours of my chiseled form, the PreCip can be worn with a wide range of layering combos and still look good. It's broad enough around the torso and upper arms to accommodate multiple layers including a down jacket, and tapers down to a more snug fit as it gets to the forearms and wrists. It's a bit snug for down sleeves or multiple layers around the wrists, but it still works. I wear size medium in all my layers and didn't have to go up to a large PreCip to accommodate a down jacket underneath.
Style
Sleek, sharp, two-toned teal blue, and bearing an abundance of teeth with all these zippers, it didn't take long before my inner shark spirit animal began to surface. Offered in many colors, there's likely a PreCip for you.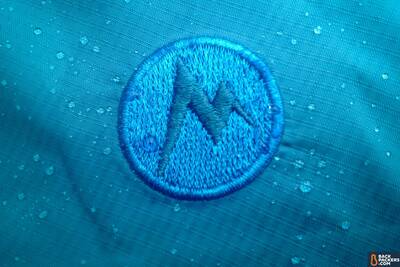 Grievances
The issue here (and it's not a small one) is breathability. I'm not exactly sure how they measure this, but the jacket is advertised as being "43%" more breathable than previous iterations, due to its new 2.5-layer NanoPro fabric. Yes, it's more breathable than the previous version, which I've owned and used for years.
However, it's not all that breathable. The pit zips are necessary to vent steam, and I found that during a truly hard hike in the rain it was not enough to move the sweat off my body, so I got soaked from the inside.
The Marmot PreCip doesn't use GORE-TEX or eVent, two ePTFE-based fabrics that are known for better breathability and water resistance. Those fabrics are more expensive, and this is a budget jacket. In the case of a rain jacket you will get more for paying more — in this case, you will get breathability.
If you're looking for a rain jacket that's lightweight, packs easily, and will be used in light rain spells or emergency situations, I still find it's hard to do better than the Marmot PreCip at a budget price. But if you're looking for a rain jacket that will breathe with the best of them during torrential rain and long uphill hikes, consider an option with fabric that breathes better.
Final Word
For $100 the Marmot PreCip rain jacket offers a super lightweight, packable shell that fends off any rain thrown your way, just as long as you're not climbing Everest.
Where to Buy Marmot PreCip
A men's Medium Marmot PreCip was tested in this review. It's also offered as a women's rain jacket: the Women's Marmot PreCip. The jackets are the same except for fit, and we recommend both depending on your gender and size.
Compare prices for the Marmot PreCip below. Also, it's often on sale, so try to grab it for less than retail price when you can!
Review Policy: We do not accept payments or gifts from brands and vendors, and strive to provide unbiased, independent advice. Brands typically provide review samples which we return, and in some cases we purchase the item so we can keep using it long after the review. Affiliate Policy: We support the hours that go into our reviews and testing through affiliate commissions on purchases made through links in this article. These don't effect the outcome of our reviews or selection of gear, as per our Review Policy.